Art
Get more with myNEWS
A personalised news feed of stories that matter to you
Learn more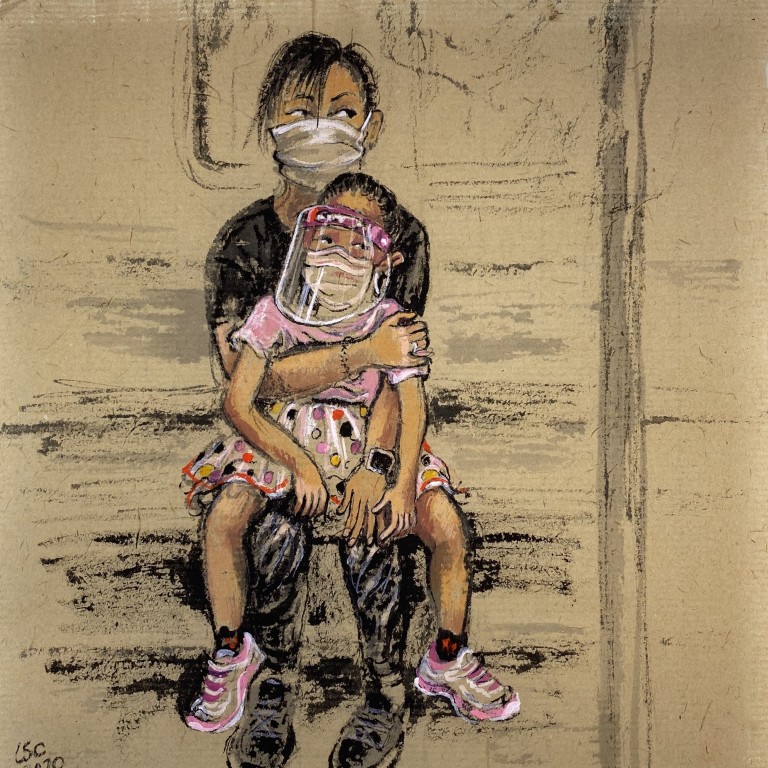 Online art exhibition captures pandemic scenes in Hong Kong – of loneliness, fear, but also the triumph of the human spirit
Louise Soloway Chan's virtual exhibition 'Contactless' is a showcase of 22 ink paintings on rice paper hosted by the Boundless Artists Collective
She hopes that when the crisis finally passes, the sketches will be a reminder not just of the horrors but of how the human spirit navigates adversity
Today is the opening of Louise Soloway Chan's virtual exhibition "Contactless", a showcase of 22 ink paintings on rice paper that capture Hong Kong scenes amid the pandemic.
"I'm an obsessive sketcher and always draw from life, from what's in front of me," says Soloway Chan via Zoom from Britain.
The artist was born in the UK and spent time in India before moving to her adopted home of Hong Kong in 1994. She's back in Britain temporarily to spend time with her family.
Many people in Hong Kong will have seen her work. In 2011, the MTR Corporation commissioned her to paint 12 huge bas-reliefs of Hong Kong street scenes, many depicting traditional dai pai dongs (open-air food stalls) as well as lantern and tea shops that have since fallen victim to gentrification. The works took six years to complete and are
permanently installed at the Sai Ying Pun MTR station
.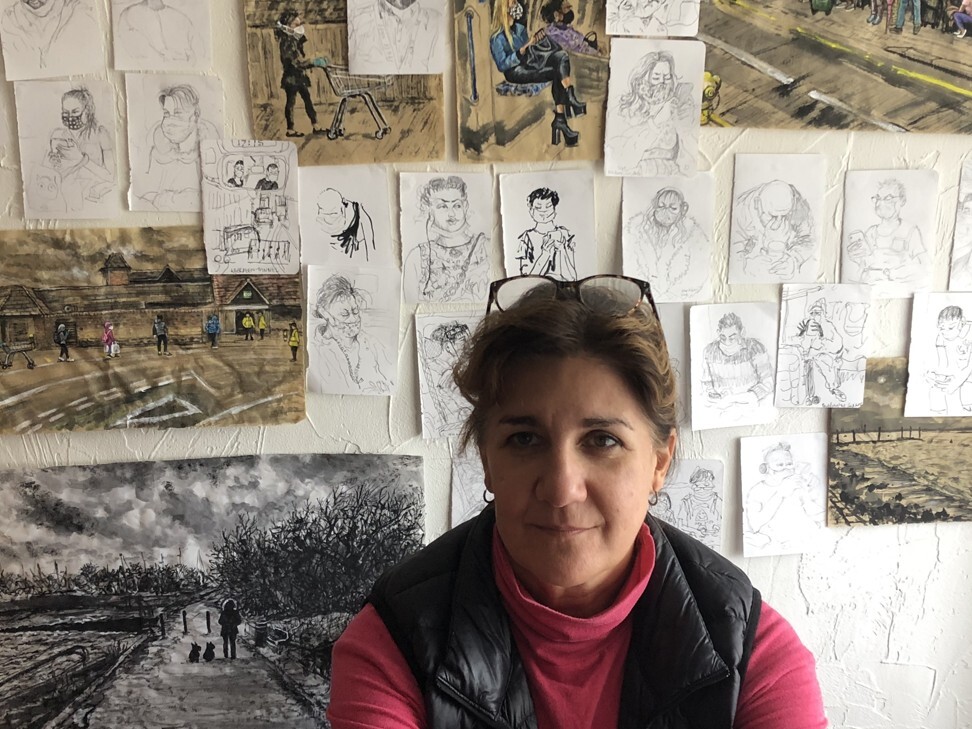 With "Contactless", which is being hosted by the Boundless Artists Collective and runs until December 15, Soloway Chan has provided a creative timeline of the city in crisis.
In one sketch, Chinese New Year lanterns hang in the street. "I sketched that in January, at the start of the pandemic. That was a crazy time when people were panic buying toilet rolls," she says.
"When the crisis finally passes, I hope this collection of inks will be a reminder of not just the horrors but the way life carries on, and how the human spirit navigates adversity."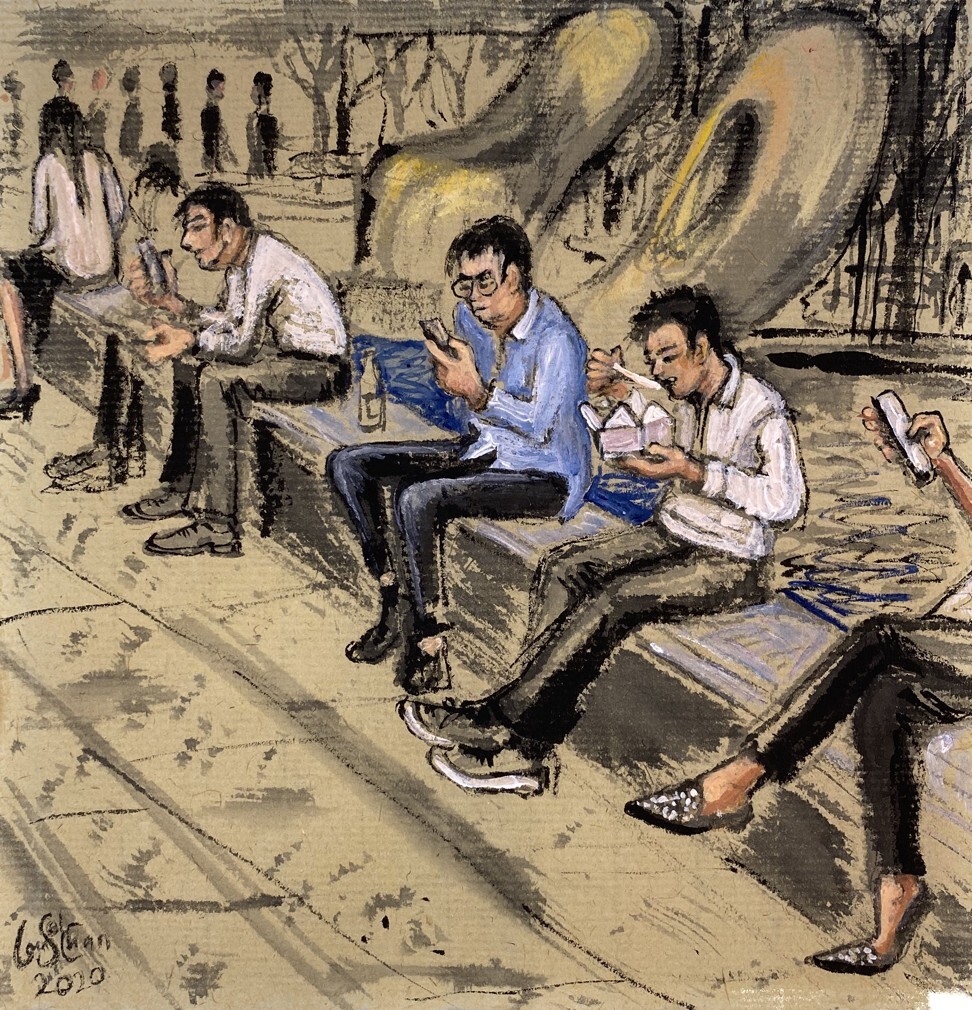 She also wanted to show how
isolation measures have created a climate of loneliness
, fear and anxiety, best seen in
Too Cool for School II
, a sketch of a nervous-looking woman in a face mask with a young girl on her lap, travelling on the MTR South Island Line. It's one of her favourites.
In a series of sketches titled Long Vacation, Soloway Chan captures the experience of the long-haul "horror flights" she has taken between Hong Kong and Britain during quarantine time.
"It was like entering a dystopian world. Rows of empty seats and passengers wearing long plastic coats or hazmat suits. It was extraordinary seeing Heathrow Airport empty, [with its] eerily quiet corridors with shuttered-up shops."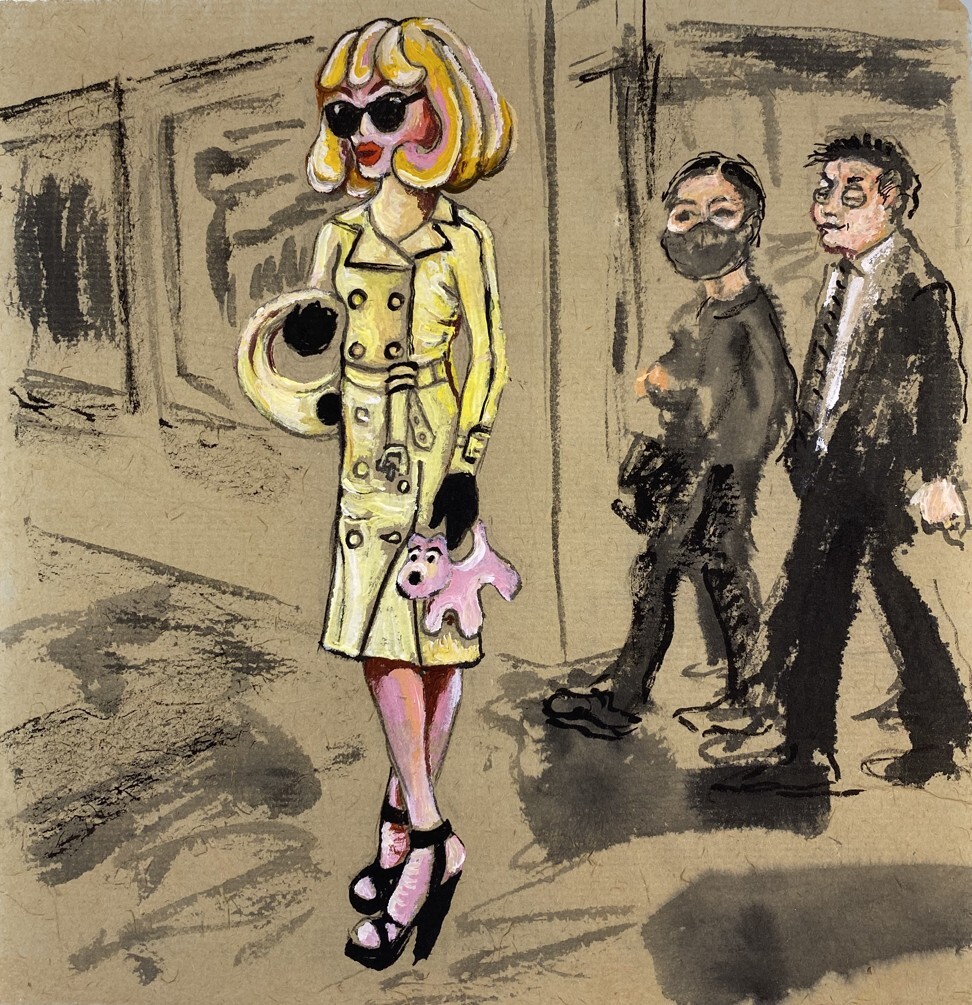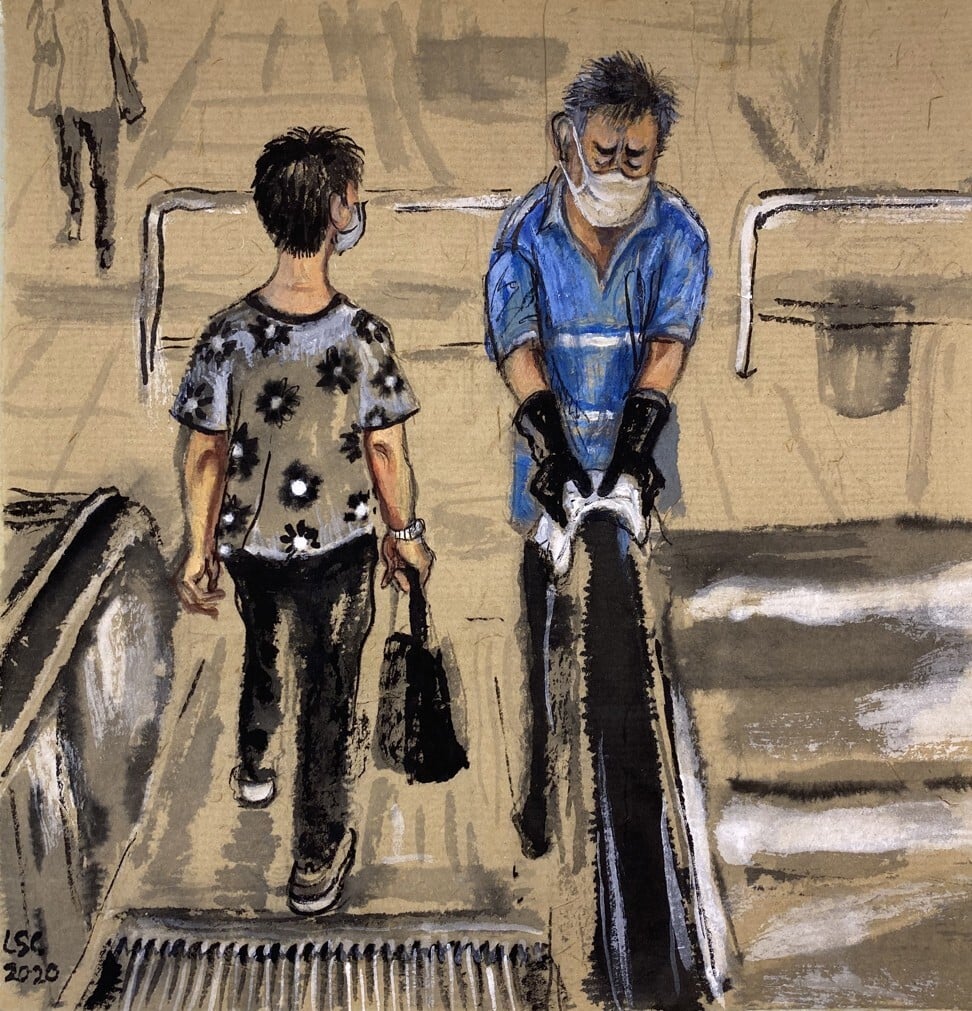 While Soloway Chan's quarantine time allowed her to focus on her art, there were some painful moments.
"The worst thing about quarantine was a tooth abscess that developed on a [UK to Hong Kong] flight. Thankfully my dentist sent antibiotics that eased the pain during the 14 days," she says. "The day I cut my quarantine band I headed straight to the dentist for a root canal."
It seems fitting, then, that Soloway Chan's work is also a tribute to the people who continue to work during the crisis, from street sweepers to medical workers to "the admirable dentists who are still working amid the virus, all decked out in full PPE [personal protective equipment]," she says, adding that her dentist visit is captured in Everything is in Control.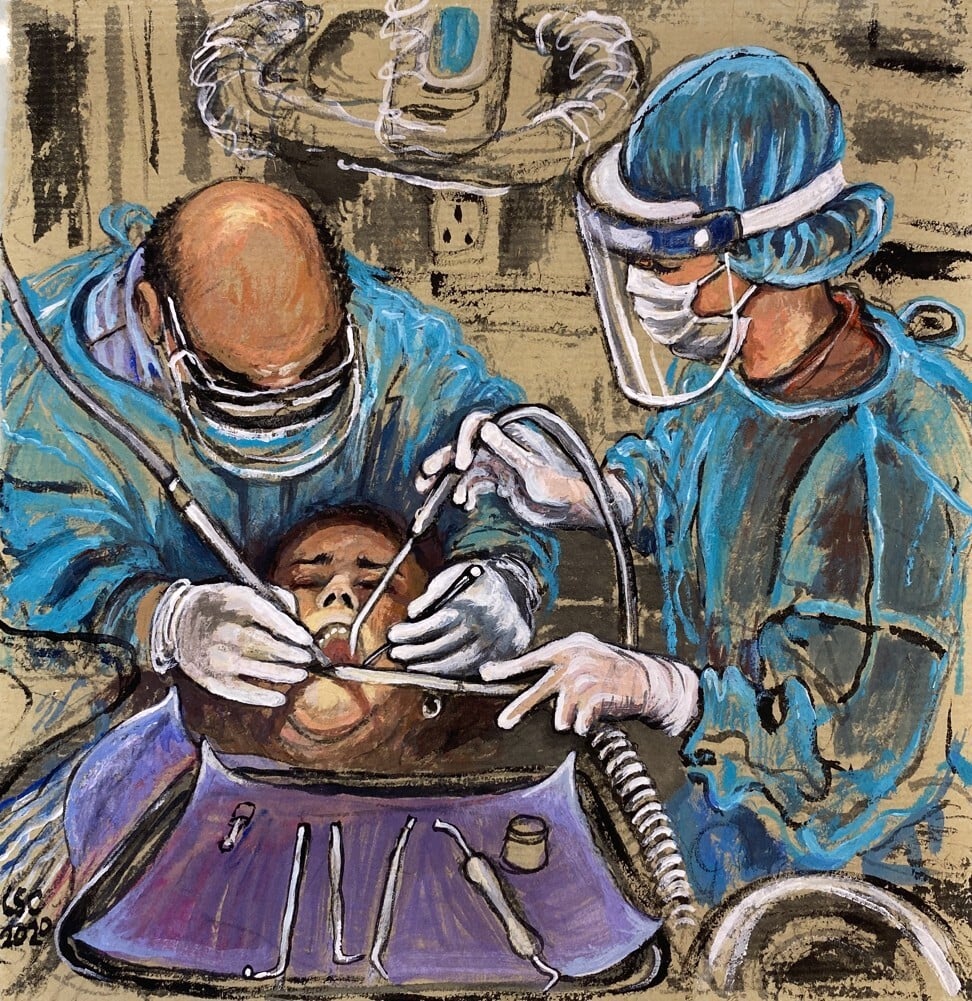 As for future works, Soloway Chan predicts a change of scenery.
"I've painted a lot of masked faces recently. I think I'll do landscapes for my next show."
Contactless, presented by the Boundless Artists Collective (BAC), 22 Pottinger St, Central, Hong Kong. Until Dec 15 at boundlessart.com/liveshowroom. Five paintings will be auctioned online at the end of the exhibition. All proceeds will be donated to BAC's charity partner, InspiringHK Sports Foundation, which provides sporting opportunities for underprivileged families.