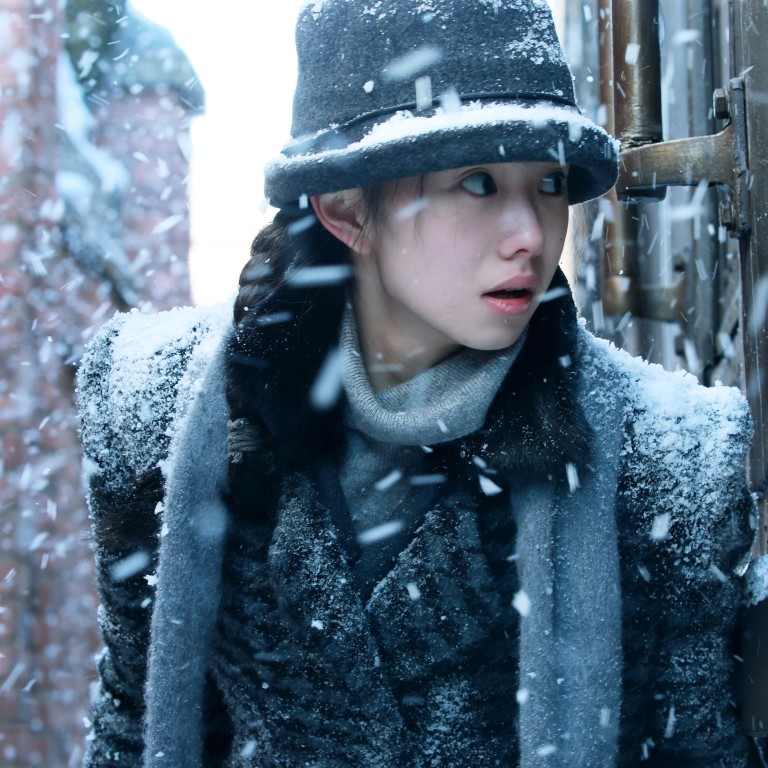 From Chinese romcom My Love to Zhang Yimou's Cliff Walkers, the top 5 movies showing in China during Labour Day 'golden week' holiday
Romantic comedy My Love tops the advance ticket box office, Hong Kong's Aaron Kwok stars in Home Sweet Home and comedy Tiger Robbers is about a bank heist
Cliff Walkers, directed by Zhang Yimou, is a spy thriller set in 1930s Manchukuo, while two prosecutors take on triads in Once Upon a Time in Hong Kong
As China's "golden week" holiday approaches, the latest battle for box-office supremacy has started, with 12 films having secured a fiercely sought-after slot for release during the lucrative five-day holiday which starts on Labour Day, May 1.
With the exception of Canadian animation Racetime, all other 11 films are local productions, showing the ascendancy of Chinese films and the waning influence of Hollywood releases in China.
According to Maoyan, China's biggest movie ticketing app, the box office for the Labour Day holiday rose from 634 million yuan (US$97.7 million) to 1.5 billion yuan from 2015 to 2019. A pent-up demand for entertainment accumulated throughout the Covid-19 pandemic has led to revenge spending, with a research report by China International Capital predicting that the box office for this year's Labour Day holiday will reach 1.7 billion yuan.
Below are the top five movies that are racking up the most advance ticket sales for the upcoming holiday, according to box office tracker platform Lighthouse.
1. My Love
Topping the advance ticket box office is My Love, a romantic comedy adapted from the Korean movie On Your Wedding Day, which topped the domestic box office when it was released in 2018. The movie follows the ups and downs in the 15-year relationship between a couple (played by Taiwanese actor Greg Hsu Kuang-han and Zhang Ruonan) who first met on campus.
2. Cliff Walkers
Directed by Zhang Yimou, this spy thriller is set in the 1930s in Manchukuo, the puppet state of Japan in Northeast China around World War II. Four Chinese agents who were trained in the Soviet Union have to carry out a secret operation, which goes horribly wrong. The film stars Zhang Yi and Liu Haocun; the latter also appeared in director Zhang's Cultural Revolution drama One Second last year.
3. Home Sweet Home
Starring Hong Kong's Aaron Kwok Fu-shing, this thriller portrays how a fatal car crash turns the lives of a family upside down. The driver (played by Duan Yihong) and a student from a rich family (Rong Zishan) are the only survivors of a school bus crash. The family patriarch played by Kwok decides to hide the driver in his house after knowing that his son might be culpable for the crash. Following the driver's arrival, a series of strange encounters happen in the family, deepening the mystery. 
4. Tiger Robbers
This movie is adapted from the novel Sunshine Robber by the Japanese author Kotaro Isaka. Starring Song Jia and Ma Li, the comedy sees four white-collar workers band together to rob a bank by using their respective skills, like public speaking, to pull off the heist.
5. Once Upon a Time in Hong Kong
Co-directed, produced and written by Hong Kong director Wong Jing, this movie – not to be confused with an upcoming production with the same English title, starring Tony Leung Chiu-wai and Andy Lau Tak-wah – is set in 1960s and '70s Hong Kong, with local police inextricably linked with triads. In the movie, drug lord Tony Leung Ka-fai takes on two prosecutors played by Louis Koo Tin-lok and Gordon Lam Ka-tung. Francis Ng Chun-yu co-stars.
Want more articles like this? Follow SCMP Film on Facebook