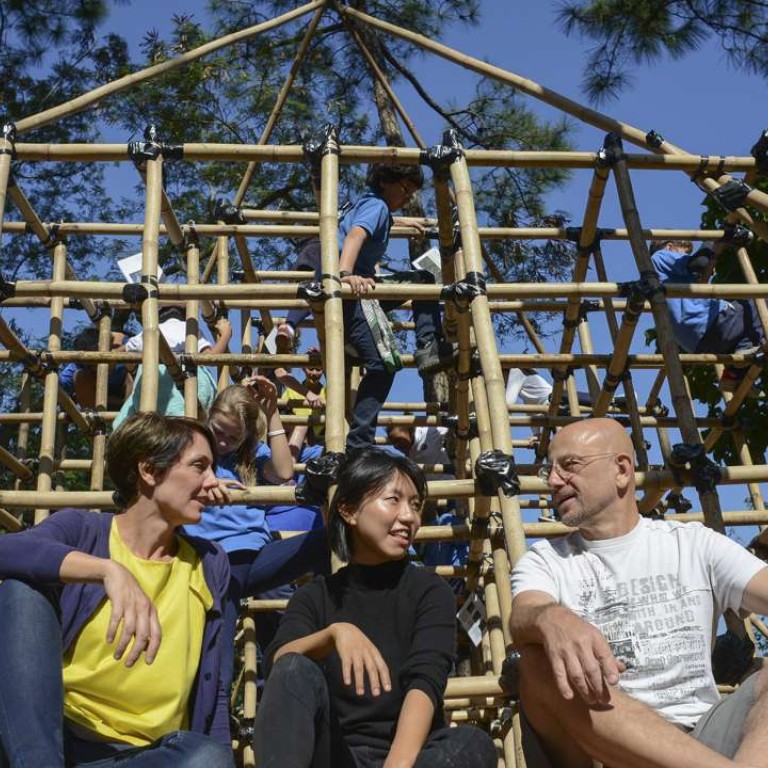 Hong Kong bamboo climbing frame project aims to change how children play
A climbing frame made from bamboo is part of an initiative to draw Hong Kong children closer to nature and away from the usual plastic playground equipment
Children hang like monkeys off bamboo scaffolding and shout as they clamber over the newly assembled climbing frame adjoining Tai Tam Country Park.

"This is my hotel," says one child, pointing to the three-metre structure shaped like a child's drawing of a house. Bamboo sticks are strewn on the ground.
Bamboo scaffolding is a common sight in Hong Kong, but the structure in Tai Tam serves another purpose. It's a pilot jungle gym funded by the Agriculture, Fisheries and Conservation Department as part of a biodiversity festival that runs until the end of this month. More than 40 groups will host 130 eco-activities designed to connect Hongkongers with nature. Bamboo is regarded as a sustainable material of the future.
Jenna Ho Marris, co-founder of eco-education centre Tai Tam Tuk Foundation and a leader of the bamboo gym project, says: "What if we could bring kids closer to nature, to get them playing with natural materials instead of the brightly coloured plastic junk that they are not that interested in anyway?"
To that end, Ho Marris is also behind the White House Tai Tam project, a pilot school for two- to six-year-olds in Tai Tam Harbour, close to where the climbing frame has been erected. The project involves parents and Montessori teachers setting up a sustainable preschool in Hong Kong modelled on Indonesia's Green School Bali in Ubud.
The White House and bamboo gym are part of a push for a greener approach to play in the city. The government manages about 700 playgrounds, and most feature plastic and metal equipment. A video survey of five playgrounds conducted during the summer holidays in 2015 revealed they were deserted a quarter of the time. When children did show up, they made their own fun, climbing up the slides or playing with scooters and in flower beds.
"There is too much emphasis on safety so it's not challenging," says Chris Yuen, director of Playright, the consultancy that carried out the survey.
Hong Kong is known for its focus on exams and extracurricular tutoring. A 2013 UN report on children's rights found the competitive nature of its education system triggers anxiety and depression, and infringes on a child's "right to play and rest".
"Chinese people underestimate the value of play," says Yuen. "For them, play is a luxury, while homework is important."
Pioneers in childhood education, such as Italian physician Maria Montessori and Swiss clinical psychologist Jean Piaget, believed that play is children's work; it allows them to learn to explore, and communicate. Unicef Hong Kong says at least one hour a day should be spent playing. According to the US-based Urban Parks Institute, the best playgrounds contain an element of adventure, where children of all ages create together, using "loose" materials such as bamboo, water, sand, twigs and stones.
Bamboo, a grass, is an ideal material for playgrounds. And with 60 different species, Hong Kong has no shortage of it. The world's fastest-growing plant – some species grow almost a metre a day – it is lighter and stronger than wood, brick or concrete, and rivals steel.
"We want kids to create worlds around bamboo," says Rachel Wilson, an educational consultant who devised a hands-on children's workshop for the bamboo climbing frame project.
"I loved climbing on the frame – it was pretty cool and unique," said Lok Pui-fong, a 10-year-old Grade 5 student from The Harbour School during a recent visit to Tai Tam. "I feel like I'm in a forest and I've built a hut."
Bamboo has played an important role in Chinese society since ancient times being used in food, art, culture and industry. It was so integral to everyday life that Song dynasty (960-1279) poet Su Shi said: "Life without meat would make one thin, whereas a life without bamboo would become unsophisticated."
It's used to make chopsticks and toothpicks, furniture and houses, according to Twiggy Au, who curated an exhibition on bamboo at the Central Library in Causeway Bay this year.
A wide variety of products are made from bamboo, from bikes and watches to furniture and flooring. Beijing-based architectural firm Penda has even unveiled a concept for bamboo-only cities. The International Network for Bamboo and Rattan, an independent intergovernmental organisation that promotes innovative solutions to poverty and environmental sustainability using bamboo and rattan, estimates the market was worth US$60 billion in 2015.
Master scaffolders in Hong Kong lash the sticks together with black nylon strips, creating structures within which high-rises are built.
Creating something from nothing is the biggest accomplishment, says 33-year-old Chu Wing-fai, who spent two days with trainees erecting the bamboo climbing frame in Tai Tam.
"I like doing neon signs most," says Chu, who has 20 years experience and whose family has worked with bamboo for three generations. "There's nothing below so you have to stick the bamboo out from the side of the buildings."
"What if schools have a pop-up bamboo playground that can be customised for their space?" Ho Marris suggests. "Kids can connect, design and build, then interact and play, and learn about nature, plants and heritage."
Asia does not have any permanent outdoor bamboo playgrounds. Heavy rain and intense sunlight can wreak havoc on bamboo, which also needs to be treated against insect attacks.
The Green School (Bali) is a good example of such a structure; the award-winning ZCB Bamboo Pavilion, which stood in Kowloon Bay for nine months, is another. (Craftsmen used 473 bent bamboo poles to make the pavilion in the summer of 2015.)
"They used traditional material with contemporary working methods, form and geometry," says Professor Kristof Crolla, who led the team. "It was a marriage of old and new."
There are no building codes to dictate how bamboo should be used in its raw form, says Crolla. "Our greatest aim was to open up the discussion about how natural bamboo can be used as a structural material."
Yuen believes the climbing frame is a good place to start, as it could set the benchmark for a concept that can be scaled up or down to suit different spaces. His job is to check it for safety, find out how high it can be built and the best surface to protect falling children. He also needs to work out building and maintenance costs.
One challenge is that playground owners and designers have no guidelines on what makes a good play space. "They think a collection of equipment is enough," Yuen says. Often it is the equipment makers who decide what a playground looks like.
Yuen says parents are key to shaping play spaces, and need to encourage their children to take risks, to assess how high they can go.
"If parents support it then they can tell the government, they can add some pressure."