LIFE
Get more with myNEWS
A personalised news feed of stories that matter to you
Learn more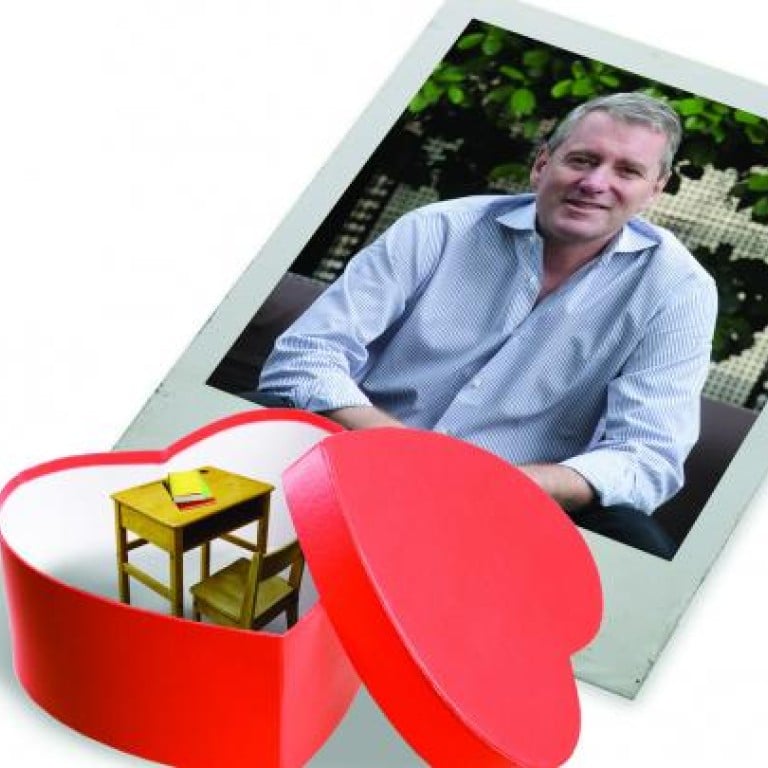 John Wood talks about charity Room to Read
A trip to Nepal inspired John Wood to leave a lucrative job and launch a charity that provides children with books, says Kate Whitehead
John Wood is a Microsoft executive who gave up his lucrative corporate career to change the world. That was in 1999, and it's fair to say he's made a difference. Six million children in Africa and Asia now have access to books, thanks to the non-governmental organisation he founded, called Room to Read.
That's the figure given on the jacket of the American's latest book. But even though it's barely a month since was published, the figure of six million has already become out of date.
"Our statistics outgrow themselves because we're growing so quickly. That's what I like about Room to Read," says Wood, who is in Hong Kong as part of his Asian book tour.
The latest figure puts the number of children the NGO has reached out to at 7.5 million. The rest of the statistics are no less impressive. In just over 12 years, Room to Read has set up 15,000 libraries and 1,600 schools.
The numbers keep projecting upwards - this is a man who thinks big and follows through. "That's a good start, but for me, it's just a down payment on a dream. I want to impact 50 million kids, I want to impact 100 million kids," he says.
It's hard not to get swept up in his enthusiasm. Last week he spoke to packed events at the Foreign Correspondents' Club and the Asia Society. It's not often that a talk about literacy and education pulls in the bankers and corporate bigwigs, but Wood managed it.
Much of that can be put down to his no-nonsense business approach. He speaks of the need to "GSD" - "get s*** done". He gives plenty of figures, but keeps them simple, and talks about outpacing Starbucks by building more libraries year on year for a decade than the US coffee giant did cafes.
The Room to Read story began in 1998, with a trek to Nepal and a chance encounter that led him to a local school.
While looking at the school's dismal library - a dog-eared , a couple of Danielle Steel bodice rippers - the 35-year-old Wood was told: "We're too poor to afford an education. But until we have an education, we'll always be poor." That terrible catch-22 poverty trap hit Wood hard, and when the headmaster asked if he might return one day with some books, Wood knew that he would. Six months later, he was back with his dad and 3,000 books, carried on the backs of donkeys. He hasn't looked back.
"We live in a world where over 200 million kids woke up this morning and didn't go to school, where 780 million people are illiterate. Two thirds of who are girls and women. If we don't change that, then nothing changes.
"I looked at this and took a 'go big or go home' mentality - if I'm going to give up millions of dollars to devote my life to this, I'm not going to do it on a small scale. It has to be on a massive scale, otherwise, personally, it's not worth doing," says Wood.
The idea of scaling was one of the most important lessons he brought with him from the business world and his nine years at Microsoft. It's what makes Room to Read stand out. "In the US there are 1.2 million charities and 90 per cent of them operate on a budget of less than US$300,000. They stay small," explains Wood.
Room to Read's growth comes down to two key factors: costs are kept low and the local community is always committed to every project.
The first strategy he initiated was a "no Land Rover" policy. All the money raised would go towards education - towards buying books, and building schools and libraries. By keeping the financials transparent (reports are posted on their website), and costs low, people are motivated to give.
"When a 13-year-old says, I want to give my bar mitzvah money to Room to Read, and asks what we will do with the US$1,000 that is raised, we say that four little girls in the developing world will go to school for a year. It's making it real for people."
Many of the NGO's basic costs are met by partnering with companies, which cover software and office space. Wood's Asian book tour cost Room to Read very little: he stayed at the Upper House in Hong Kong courtesy of Swire, and a Barclays banker donated his air miles. A company stepped in to support him every step of the way. It's part of the reason that the US ratings agency Charity Navigator has given Room to Read its top four-star rating for seven consecutive years.
"I take financial efficiency very seriously," says Wood. "We are saying give us money so we can buy more books and fund more scholarships for girls, not buy Land Rovers." Donors want to know where their money goes, and this, he says, holds especially true in developed Asian cities such as Hong Kong.
Here, a family may sponsor a school in Cambodia or Vietnam, and then go and visit it. It's a chance for well-off children to learn that not everyone is as fortunate as themselves.
"I've had so many parents say to me that they've never had a better day than when their six-year-old cuddles up next to them, and says, 'I had no idea that girls in the developing world didn't get to go to school'," says Wood.
This article appeared in the South China Morning Post print edition as: Pump out the volumes