LIFE
Get more with myNEWS
A personalised news feed of stories that matter to you
Learn more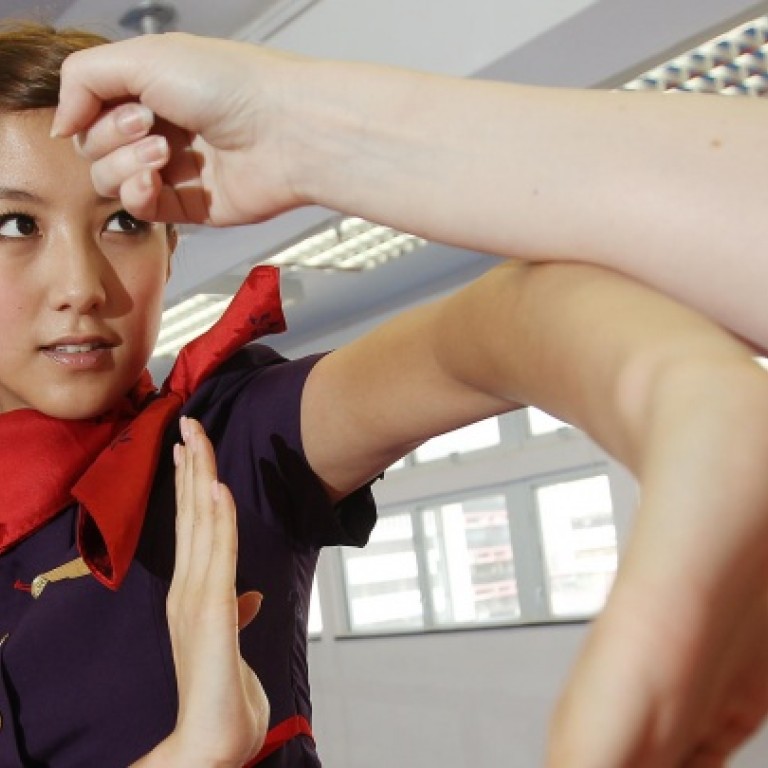 High-kicking cabin crew using wing chun to defend against aggressive passengers
Aggressive behaviour by passengers in China is on the increase and one airline has responded by teaching its cabin crew martial arts, writes Kate Whitehead
It's just over a year since 20 angry passengers, their patience snapped by a 16-hour delay, stormed on to the runway at Pudong airport in Shanghai and prevented an international flight from taking off. Risky behaviour on mainland routes shows no sign of slowing.
In February, CCTV footage of a Chinese official having a temper tantrum at Changshui Airport in Kunming went viral. Annoyed that he'd missed his flight, Yan Linkun went into a rage, smashing airline computer monitors and screaming abuse.
The video of his very public meltdown, which has been posted more than 20 times on YouTube, might have been funny if it was an isolated incident. But it's not.
There have been numerous cases involving irate passengers in China in the past year - both in the air and on the ground, and on domestic airlines as well as some international ones.
The reaction from airlines has been mixed. But Dr Vernon Nase, head of the department of law at Curtin University in Perth, Western Australia, warns of the danger of doing nothing. Nase has studied air rage across the globe.
"The airlines need to be pro-active. They need to seriously re-examine this area with a view to enforcing the laws that are already there and on the books and exercising the power they have. If they don't, it's sending the wrong message," he says.
A comprehensive study has yet to be conducted, but anecdotal reports suggest the airlines most susceptible to such incidents are the smaller carriers. The larger the airline and the better trained the staff, the faster incidents are quashed before they become a public nuisance.
Michael Wong, chairman of the 1,200-strong Dragon Airlines Flight Attendants Association, says it's essential that staff are briefed on what to do in such situations. "Cabin crew need to know their rights and what they can do. We have a procedure. We can call the security department if the passenger is abusive, and sometimes we ask the captain to call the police," he says.
Nase, who taught at City University until he moved to Australia in January, says that in the West, alcohol and drugs are usually triggers. But incidents on the mainland are usually sparked by passengers angry about flight delays, most of which are caused by the Chinese military.
"Only about 20 per cent of the airspace is available for civilian aircraft. The military have first dibs on airspace and that restricts commercial flights to a narrow band and means flight routes are more compressed," he says.
Some airlines' reluctance to reprimand bad behaviour makes matters worse. Take the Yan Linkun incident. Nase notes three security officials seen in the video footage who are standing close by and back away as the official goes berserk. "You wonder why they don't act. That example could have been quashed quickly if he had been carted away before he could do any damage."
The passengers who charged across the tarmac at Shanghai's main international airport last year were not reprimanded for violating airport security.
In fact, they were rewarded. The airline compensated each passenger 1,000 yuan (HK$1,248) for the delay.
"What happened in Shanghai was quite extraordinary and unparalleled in the history of aviation," says Nase, who includes a module on air rage in the course he teaches at Curtin University. "An incident like that gets a lot of publicity and by not penalising misbehaviour, by rewarding them, that gives the message that they can act in this arbitrary way."
Commenting on the Shanghai case, Wong says that the practice of offering compensation could have a negative impact. "It may be because they want the compensation money, so they behave in an unruly way - their bad behaviour might be for the compensation money."
The spate of air rage incidents has been getting plenty of media attention, and a new term, (air rage tribe) has been coined to describe the culprits. But airlines have been reluctant to discuss the issue, perhaps because it touches on two very sensitive subjects - the Chinese military, and managing their lucrative mainland clientele.
Hong Kong's flagship carrier Cathay Pacific was not able to provide information about the number of incidents of air rage on its popular routes to Beijing and Shanghai, and declined to give details of training given to cabin crew to deal with such incidents.
"We are unable to disclose details for safety reasons. Security isn't security if we talk about it. It is out of respect for our passengers and crew that we don't discuss it," says Elin Wong, Cathay Pacific's corporate communications manager.
Cathay Pacific's sister airline Dragonair, which has an extensive network on the mainland, declined to give details of the training and advice given to staff for dealing with unruly passengers for safety reasons.
It said in a statement: "The great majority of our passengers are respectful of their fellow travellers and our crew. Dragonair focuses on quality services which helps prevent many of the situations which could provoke customers."
Hong Kong Airlines last year reported an average three incidents of disruptive passengers every week, and has revealed that cabin crew receive compulsory training in wing chun, a form of kung fu that dates back to the Qing dynasty.
Katherine Cheung, a member of the Wing Chun Union in Wan Chai, is one of the instructors.
"I think that air crews today are facing more of these kinds of situations," she says, adding that all recruits get six hours training in the martial art.
"We teach them self-defence movements to deal with unruly passengers. It's about how to subdue somebody. The advantage of that is that you don't have to be very strong," she says.
But despite the wing chun training, a Hong Kong Airlines stewardess still needed a little help last month when a mainland passenger, frustrated at the four-hour delay, lashed out at her.
British business executive Graham Fewkes, who was in the business section of the delayed flight from Sanya, looked up in time to see the man punching and shouting at the flight attendant.
"I heard a punch, and looked up and he was attacking the stewardess. The man was screaming for a long time. Eventually, me and another man in business class took hold of him and pulled him off her," says Fewkes.
But what followed was an even bigger shock: "The other passengers were applauding as the man was hitting her. It was a crescendo of noise coming down the plane.
"The reaction was weird. I can't understand cheering on a man hitting a girl, and she was quite a small, frail girl. It was completely out of order - there was no ambiguity about the situation," Fewkes remembers.
To Fewkes' further surprise, the passenger wasn't even reprimanded. The stewardess, who was shocked but otherwise unharmed, focused on restoring order in the cabin.
The incident was not even reported to the airline. "I've no idea why the airline didn't do anything. We were still on the tarmac, so they could have kicked him off the plane, but they didn't," he says.
It is incidents such as this, where passengers aren't reprimanded for violent behaviour and there is a very real danger of mob rule, that cannot be allowed to continue, says Nase.
Nase warns that it's critical that something is done soon, especially since more people on the mainland are travelling.
One of the keys to solving the problem is making sure that passengers are aware of how they should behave and of the laws in place to ensure that they do.
"The idea on the mainland of getting in there first and grabbing, of every man for himself, rather than being orderly, doesn't go well for the situation on an airline, where you can't adopt the mob mentality.
"When people are put in the artificial environment of a cabin, it's important that there is order and authority."
The cause of passengers' frustration is a more complex issue. In most cases flight delays are beyond the airline's control and there's little it can do but try to placate passengers and offer them compensation.
But the tactic may be backfiring as recent incidents appear to show passengers acting up in an attempt to claim compensation.
"The PRC needs to recognise that it's got a problem and the appropriate authorities need to act," Nase says.
"There needs to be some visible enforcement and that doesn't seem to be happening.
"The problem has already escalated to a great degree. It sets a bad example to not deliver up violent passengers so that they face the full weight of the law."
This article appeared in the South China Morning Post print edition as: Flying off the handle