LIFE
Get more with myNEWS
A personalised news feed of stories that matter to you
Learn more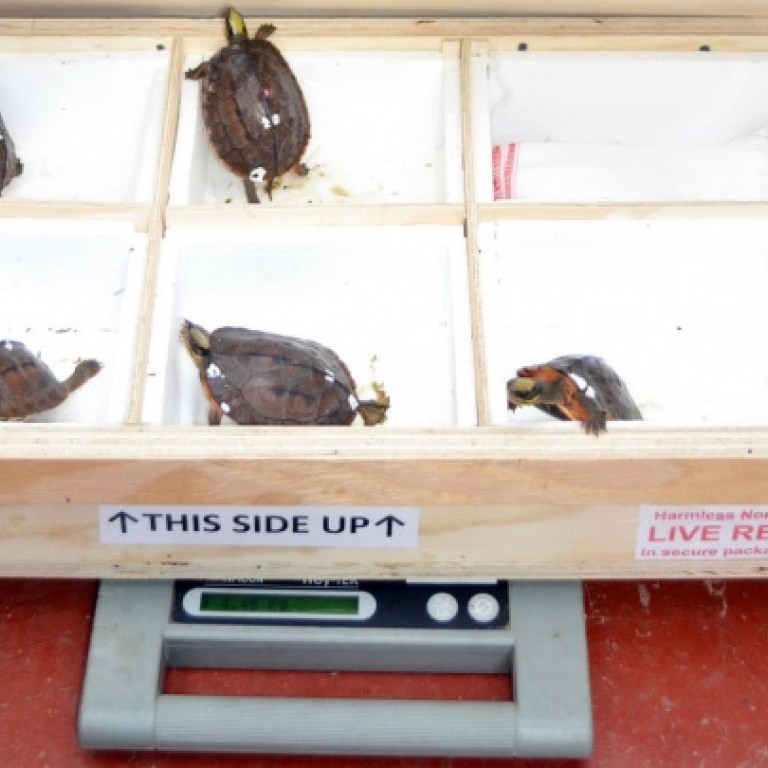 Rare turtles sent to Hong Kong
A consignment of captive-bred golden coin turtles has landed in the city as part of an ambitious plan to reintroduce the critically endangered reptiles to their natural habitat, writes Kylie Knott
Weighing just 150 grams each, the tiny "passengers" made little impression on the scales as they nestled into their specially built crate emblazoned with the words "This Side Up", and "Live Reptile". A sticker reading "Fragile – Handle With Care", should perhaps have been added. For inside were five 18-month-old endangered golden coin turtles. Packed and prepped, the turtles were set for the 30-hour flight from Los Angeles to their new home, Hong Kong.
But these little critters were also on another course that would land them in the history books. "It's very exciting. It's the first time captive-hatched turtles or tortoises have been repatriated from the US to their native home," says Eric Goode, president of the Turtle Conservancy.
The New York-based non-profit organisation collabourated with the Kadoorie Farm & Botanic Garden (KFBG) and the Agriculture, Fisheries and Conservation Department (AFCD) to bring the creatures home to Hong Kong.
"It's a crucial development, a major step, particularly in China where the species is, sadly, very close to becoming extinct in the wild," says Goode. Indeed, the turtles' small claim to fame is a big deal for conservationists, and evidence of a growing global effort to protect the critically endangered species.
For team members close to the project, it was a thrilling time as they tracked the transatlantic flight from LA, following it along the west coast of North America to the Bering Sea and then along the east coast of Russia, to briefly touch down in Seoul before landing at Chek Lap Kok.
"We were all excited about the journey. What we did, repatriate critically endangered turtles that were captive-bred, was a groundbreaking event. So, of course, we were all hoping the flight would go off without a hitch," says Paul Gibbons, managing director of the Turtle Conservancy's Behler Chelonian Centre in Ojai, California, where the turtles were bred.
Since landing in Hong Kong in mid-February, the turtles – also known as Three-striped Box Turtles – have been in quarantine at Kadoorie Farm in the New Territories. Once they've passed stringent health checks, the five will join the farm's breeding population.
Three are male and two are female, a lucky ratio for a species with a female bias which, says Gibbons, is likely caused by "temperature-dependent sex determination".
"Most Chinese turtle farms are located in hot, low-lying areas where the higher temperatures favour the production of females," he says. With this in mind, the team in the US gave Mother Nature a helping hand, incubating the eggs at 26 degrees Celsius.
The plan worked: "Our first group of hatchlings – the three males and two females – was as we had hoped."
It's good news for Kadoorie Farm, which has gone to great lengths to create conditions that best suit the turtles – and even greater lengths to protect them. The creatures are housed in pens fitted with motion detectors, fences with hefty padlocks and cameras that provide 24-hour surveillance. Alarm systems are in place and guards patrol the area. But the Guantanamo-like security measures are there to protect – and for good reason.
The golden coin turtle (Cuora trifasciata), one of five species of freshwater turtles native to Hong Kong, is on the brink of extinction. Although some mainland turtle farms raise the species, their numbers in the wild have been decimated by widespread trapping and the illegal pet trade. Perhaps the biggest threat to the species' survival is that their ground-up bottom shells are a key ingredient for a traditional herbal jelly, guilinggao, that is thought to improve circulation, kidney function and complexion. Some traditional Chinese healers also claim the jelly is a treatment for cancer.
On the black market the turtles can fetch upwards of US$25,000, and a mature female can cost US$45,000. A few years ago, in Europe, one male reportedly sold for US$50,000.
Hong Kong is the only place where the golden coin turtle exists in the wild; the species was wiped out in southern China and Vietnam.
"Tight security is sadly necessary. The turtles are kept in metal and brick enclosures with electronic security and lighting, and these are patrolled by guards," says Paul Crow, the senior conservation officer at Kadoorie Farm's Fauna Conservation Department. Because of the security risk, the number of animals in the breeding group cannot be disclosed. With the valuable new additions, Crow says the farm is even more determined to complete its mission of releasing its first captive-bred turtles into the wild. "No wild releases have been made here, but the first trials are expected in the next couple of years."
But before it happens, Crow says the priority is to ensure a safe habitat for the turtles. "There's no point in a successful breeding and release programme if poachers promptly trap them."
Staff at Kadoorie Farm have vigorously backed government efforts to crack down on the practice. The Wild Animals Protection Ordinance imposes fines of HK$100,000 and a year in jail for hunting or selling turtles, but many conservationists say it's not enough of a deterrent. Crow, however, is still optimistic, saying that significant progress on this front has been made as a result of the efforts of the AFCD and Kadoorie Farm. Poaching cases have decreased, as has the number of turtle traps found in Hong Kong. (In 2011 and last year, the number of traps found was 140 and 115 respectively compared with 306 in 2001.)
While the historic arrival of the turtles is a major coup for conservationists, there's still a lot to be done. More hatchlings born at the Behler Chelonian Centre are expected to take up residence at Kadoorie Farm next year. "We've got four baby turtles, but they need time to grow before they're old enough to handle the endoscopic sexing surgery [a method of sex determination," says Gibbons. "We'll perform this in August or September, and if it goes well, then they'll make their journey to Hong Kong early next year."
Similar breeding programmes have launched elsewhere. Earlier this month, Australia's Melbourne Zoo bred three baby golden coin turtles.
These are all steps in the right direction, says Crow: "The captive population and breeding programmes are the last life-lines for the species – a species that could be a priceless cultural asset for Hong Kong, but instead is being hunted to extinction."
This article appeared in the South China Morning Post print edition as: Crawl of the wild