LIFE
Get more with myNEWS
A personalised news feed of stories that matter to you
Learn more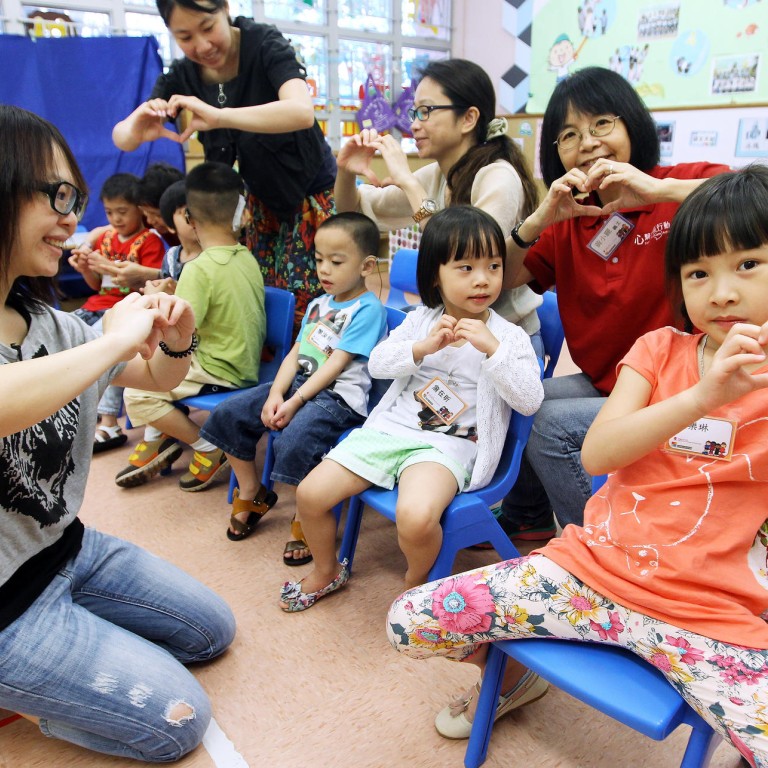 Children's sign language programme under threat as funding dries up
Sign-language classes are a lifeline for parents with deaf children, but one programme is under threat unless funding can be secured, writes Hazel Parry
Like any mother, Louise Siu Pui-yee was overcome with emotion when her son Remus first called her mummy. He was 18 months old and it was a word she never thought she would hear.
In fact, she didn't actually hear the word - she saw it. Remus was born profoundly deaf and he communicated that special first word by putting his finger on his chin - the sign for mummy.
That was when 34-year-old Siu understood the value of sign language and realised the time she had invested in learning it alongside her son had all been worthwhile.
She discovered her son had hearing problems when he was one month old, but it wasn't until he was about five months that doctors told her he was profoundly deaf.
"I was really sad and I didn't know what to do. I was quite scared for Remus and how he would communicate," she says.
Happily, a fellow mum told her about signing classes held for toddlers. Siu and her baby began to learn sign language at the Peace Evangelical Centre Kindergarten in Ngau Tau Kok, finally establishing a channel to communicate with each other.
Remus is one of 40 children, aged between three months and three years, learning sign language at the preschool.
The classes form the first stage in a programme launched in 2006 by the Centre for Sign Linguistics and Deaf Studies (CSLDS) at Chinese University, which aims to help hearing-impaired children thrive in mainstream schools.
Under the programme, the first of its kind in Asia, sign language and deaf teachers are placed in mainstream classrooms in select kindergartens, primary and secondary schools. Small groups of hearing-impaired children learn alongside hearing children - with both groups learning sign language.
The baby signing class is an important first step because studies have shown there is a crucial window for language development between birth and the age of three, says Chris Yiu Kun-man, a project manager with the Jockey Club Sign Bilingualism and Co-enrolment in Deaf Education Programme.
However, many parents of deaf children remain sceptical about the value of learning to sign, preferring to wait to see if their child can learn to talk first.
Professor Gladys Tang Wai-lan, director of the CSLDS, says negative attitudes towards signing stem from a belief that it is a system of gestures rather than a language and that it could hinder oral development.
Yiu says many parents wait to see if oral training is successful, but that can be a mistake.
"By the time they come to terms with the fact their child has very limited hearing ability, it is already too late and that crucial window has closed.
"Our approach is to begin sign language before we know if the child has good oral development or not. We know that sign language is not a barrier to learning oral language. Research and our own observations have shown sign language supports oral language development. It helps the child develop the concept of language."
About 100 children with varying degrees of hearing problems are benefiting from the sign bilingualism programme: six are in mainstream secondary schools, 36 are in primary schools, 12 are at the Peace Evangelical Centre Kindergarten and 40 are in the baby signing class.
The original funding provided by the Hong Kong Jockey Club Charities Trust to set up the programme will run out next month, but Tang hopes to persuade the government to take over. The programme needs HK$3 million a year to continue.
Without it, the children will either have to leave mainstream schools and attend a school for the deaf or face the prospect of becoming a "deaf isolate", a solitary deaf child in a hearing environment with no sign language.
Studies have shown that sign language is processed by the same parts of the brain as spoken language. Moreover, because it involves motion, rhythm and spatial awareness, it also activates parts of the brain necessary for those processes.
"Learning sign language helps all-round brain development," Tang says.
Some studies have shown that if a hearing baby picks up signing early, the child's cognitive development, brain processing, recognition of the world and language development are better.
"As result, more and more parents are … asking to join our baby signing class," Tang says, noting that the number of CSLDS classes has increased fourfold since in 2006.
It is this demand, along with recognition that sign language is a basic need, which has kept project manager Yiu committed to the programme.
"The government keeps asking for evidence to show it is a success, and as a researcher I will do my best to prove the programme is a success," he says.
"But we are not promoting a product and shouldn't have to prove it is better than another product. It is the right of these children to acquire two languages [oral and sign] so they can access information throughout their life and especially during their process of learning.
"Without it they are being deprived. We are fighting not just for the programme to continue but for a basic right of these children."
Louise Siu says she had doubts about the value of sign language at first. "I didn't know if it would be useful or not. But I decided it wouldn't be bad for Remus to learn another skill," she says. "But now I know it is useful."
So useful, in fact, that she employs a sign language teacher to teach her son at home. Her husband, a policeman, and her mother are also learning to sign so they can better communicate with Remus.
Back in the classroom, a deaf teacher is working alongside a hearing teacher, showing parents and children a selection of easy words connected with the dragon boat festival.
The deaf teacher signs one word, while the hearing teacher repeats it. The parents attempt the sign themselves and then help their children form it.
In another classroom, Remus is playing a game called "Let's pretend we are on a bus". The sign language teacher Lisa Lo Sui-wah is the passenger and Remus the driver.
There are no "vroom, vroom" noises as he steers the wheel, no "parp parp" as he imitates the gesture of sounding the horn, just silence, sign language and lots of facial expressions.
"I really hope they find a way to continue the programme," Siu says. "I don't know what I will do without it. Kindergartens for children with special needs don't offer sign language."
As the teacher pretends to alight, Remus gestures the sign for goodbye, and she replies with a wiggle of her thumb, the sign for "thank you".
Siu watches her son with a smile. His journey in life will be full of challenges, but now at least with sign language she feels he is better equipped.
This article appeared in the South China Morning Post print edition as: Vital signs