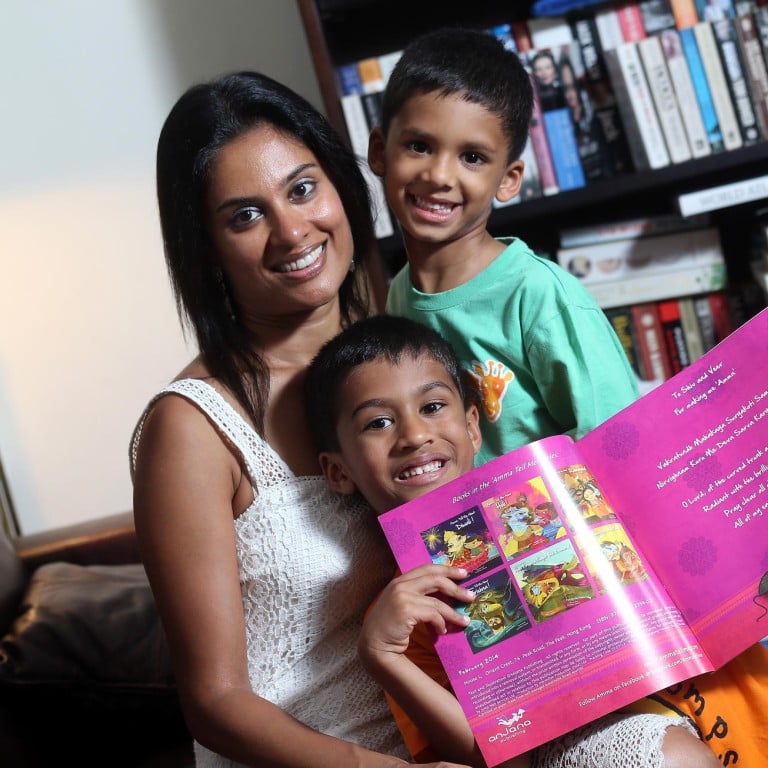 Hong Kong mothers find success writing children's books
When two women couldn't find the right reading material for their children, necessity became the mother of publication
Bhakti Mathur wanted to give her elder son a sense of his Indian heritage. Diana David wanted her daughter to learn the alphabet using Hong Kong objects she could recognise. Neither of them could find children's books to suit those needs, so they wrote their own.
Mathur wondered how to tell her son Shiv about the festival of Holi as the annual spring extravaganza, also known as the festival of colours. She eventually wrote a book that began a seven-part series, stories about Indian mythology and festivals.
"My sons were born in Hong Kong. In India, the whole community celebrates Holi. Hong Kong Indians also celebrate it, but in a smaller way. So I decided to write and tell him the story in the way I wanted to tell him."
She was later introduced to a graphic designer in Mumbai who illustrated the book with colourful and pudgy characters to bring the stories of the multifarious gods to life.
Mathur's mother was a librarian, so she was exposed to books and stories in her childhood.
"One of the first books I remember is by Dr Seuss being read to me by my mother while I sat on her lap," she says. "I grew up in India surrounded by mythology. Although I didn't have any books on it, my grandma, my mum and my nanny would tell me fascinating mythical tales.
"There are stories from the and the [the two major Sanskrit epics of ancient India] about myriad Hindu gods, of great kings and heroes and their triumphs over the most evil of adversaries."
Telling the stories, however, was a bit like walking a tightrope.
"Kids don't like being preached to, being told what's good and bad," says Mathur, a banker. "They will see it as a lecture. By giving them the messages through stories, it's easier for kids to accept them. After hearing the stories, they will assimilate the messages."
The stories helped her build up her own values.
"The story of Rama [the hero of the ] is one of resilience," Mathur says. "He's the oldest son of the king, who wants to crown him as [the future] king. But his stepmother wants her own son to be king."
The stepmother gets the king to command Rama to give up his right to the throne and go into exile. "He accepts it and spends 14 years in exile," Mathur says. She adds that the message is to "accept the situation you are in, and try to make the best of it instead of being bitter. With resilience, you will bounce back just like Rama," who was crowned king upon his return.
"While many situations in life are not so black and white ... doing the right thing, like not being hurtful and deceitful, always helps," Mathur says.
Mathur husband's came to Hong Kong in 2001 for work, and she came along. Shiv was born in 2008, and another son, Veer, in 2009.
Besides getting her children to read her books, she says she reads aloud to them every day after work from other books that interest them.
The series is Mathur's first attempt at writing. Buoyed by the warm response, she plans to write seven more books in the series, some divided into chapters.
"When my older son turns eight, I will write books on mythology for nine- to 11-year-olds. There are still many stories to write about. The stories for the chapter books can be more complex with plots involving deception, killing, and political and social issues.
"I also want them to know more about history like India's struggle for independence and Gandhi."
Teaching was also David's motivation for writing. Her debut book, , was published in 2011.
David, the corporate development director, decided to use Hong Kong icons such as pandas, junk boats and Aberdeen, with each one representing a different letter of the alphabet.
"There were not many books aimed at very small kids," she says. "There are more narrative books for seven- to eight-year-olds. I wanted a book showing things about Hong Kong that my children could recognise.
"When Emily, my oldest daughter, did her schoolwork, she told me she was a citizen of Toronto. She's never even been to Toronto! She just knows lots of Canadians in Hong Kong. She needed to have a better sense of place. I want my children to be proud to live in Hong Kong, so I did the book for my kids." A school graduate working as an intern at the illustrated the book, which has sold 6,000 copies - far beyond her expectations.
Although David, a mother of three, is American, she has lived in Hong Kong since 1999 and wants the focus of her next book to stay on Asia. She's working on , and a contest being held this month will choose a Singaporean illustrator.
"The Singapore book will be published in 2015, and I will go on to other cities from there," she says.
David also wants to take story ideas from Emily and Alex, her second child, and turn them into books.
"Emily has some interesting story ideas about constellations and girls with special powers living in different worlds and planets," David says. "She sits down with me sometimes to do character development. No matter whether the books from their ideas are published or not, the process of working with them and helping them turn their stories into books is fun."
This article appeared in the South China Morning Post print edition as: Play on words