LIFE
Get more with myNEWS
A personalised news feed of stories that matter to you
Learn more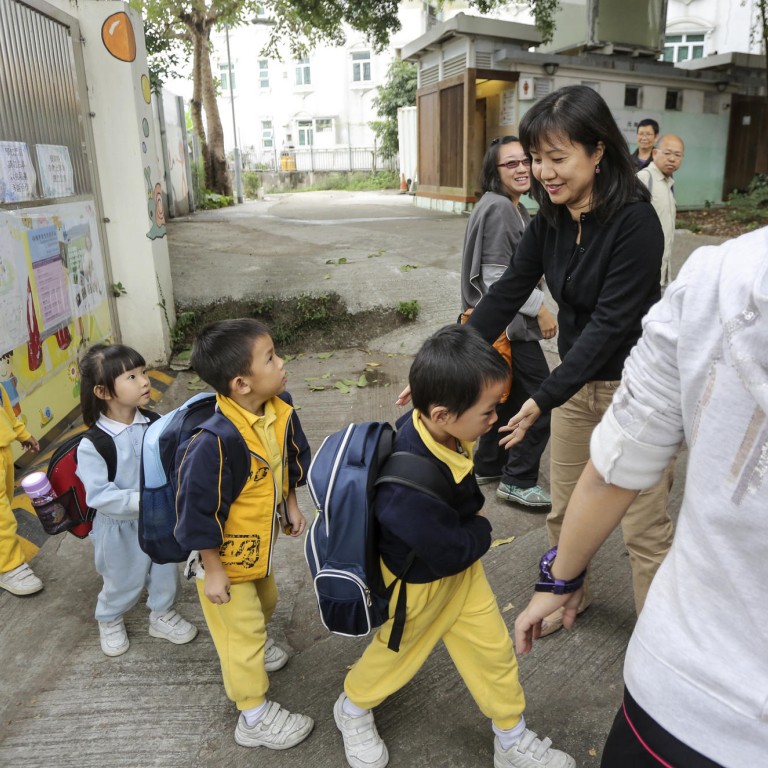 Retired teacher returns to work to save dying kindergarten
The inspiring story of a teacher and five pupils at a fading Yuen Long kindergarten, and its subsequent reversal of fortune, hits cinemas in March
At the start of 2009, the odds were against Yuen Kong Kindergarten seeing in the new decade. It had become run-down, the walls were grimy, and basic equipment - including the printer and phone - didn't work. Worse, its last teacher had left. Just five pupils remained at the kindergarten, which served distant Yuen Kong Tsuen in Yuen Long. Closure seemed inevitable.
Today it's a thriving nursery school where 64 children have lessons in classrooms filled with colourful drawings, and play in a courtyard shaded by star fruit trees.
The kindergarten's story is the subject of , a new film starring singer-actress Miriam Yeung Chin-wah. Scheduled for release next year, it tells of the woman who saved the school from closure, turning it into the vibrant place it is today - Lilian Lui Lai-hung.
The former manager of a kindergarten in Discovery Bay, Lui had taken early retirement so she could have more time to travel round the world with her husband. But when a news report about the plight of Yuen Kong pupils caught her eye, she contacted the preschool's supervisor to offer her help while they looked for a replacement teacher.
Lui started giving lessons at the kindergarten in April 2009. It paid HK$4,500 per month, as that was all the school could afford from the government subsidy for nursery places.
"Originally, I planned to teach until the summer," says Lui, 49. "Once the new term started, the five children could transfer to another preschool or advance to primary school. I didn't want them to be deprived of a place to study for several months before the summer break."
It wasn't long before the kindergarten supervisor, one of the three chiefs of Yuen Kong Village, encouraged her to continue running the school and admit more students.
Lui put her travel plans on hold and took the plunge.
"When I told my husband about my plan over dinner, he was so shocked that he spat out his rice. He was worried I would get bored as there were no other teachers there," she says.
They knew it would have to be a one-woman operation for some time. "I had to be the principal, teacher, cleaner, clerk and so on. But he eventually supported my decision."
During her first year in the job, Lui received little income and she often wound up helping to pay for renovation work.
"Each child receives a HK$1,000 monthly education subsidy from the government. Of the total [HK$5,000], HK$500 was used for administrative and miscellaneous fees, so my salary was HK$4,500. But we had to do a lot of maintenance to revive the school: things like repainting the walls, installing new air conditioners and replacing old wiring. Although we received some donations, I had to dip into my salary when there wasn't enough money."
Her husband, Alvin Tse Hung-chi, became a volunteer after he retired four years ago from his job as an exhibition designer at the Museum of History, and helped to repair equipment and computers at the kindergarten.
During the initial months when the operation was severely in the red, Lui and her husband relied primarily on his HK$10,000 monthly pension and led a frugal existence.
Over the past five years, many benefactors have helped the preschool through the difficult times. A clothes supplier sold them uniforms at a huge discount. A school bus operator offered to take pupils to the preschool at cost. One parent who had an electrician's licence replaced all the wiring in the building with help from his wife.
"I know there are many kind people in Hong Kong," Lui says. "A school bus operator learned about our story on TV and offered to help. On some days when their bus was unavailable, I drove the students home in my car, taking them in small groups and making several trips."
As the kindergarten attracted more students, finances started to improve and it has since broken even.
The film, directed by Adrian Kwan Shun-fai, revolves around Lui's relationship with the five students.
"It mostly focuses on the first year after she came to the school," Kwan says. "Through portraying her selfless act, I want to get across the message that no child should be left behind.
"Another strand involves the relationship between the couple [Lui and her husband, played by Louis Koo Tin-lok] - from his initial shock upon learning of his wife's decision, he gradually turns to support his wife and then gets involved himself."
With just five children at the preschool for the first six months, Lui has naturally formed much closer ties with her young charges.
"They are in primary school now. We still keep in contact. They all come from working-class backgrounds. While we now have a few pupils from middle-class families who admire our education philosophy, the majority of our students are from grass-roots families. They do not enjoy as many opportunities as kids from well-off backgrounds.
"When I worked in an international kindergarten, the children had many travel experiences, and they talked about trips to Japan or Bolivia. But most of the children attending Yuen Kong have never ventured beyond Yuen Long," she says.
"When I teach them about different national flags, they do not have any concept of these countries. They only comment on the designs. But there is a kindly fruit supplier in Yau Ma Tei who is always giving us boxes of fruit; plums from Spain and apples from Chile. So I use a globe to show them the country of origin and let them know more about the world."
What pained Lui most, though, was seeing the break-up of some of her pupils' families.
"There was a girl with an alcoholic father. I saw her getting more and more scared at school," Lui says.
"She told me her father hit her mum, and she eventually left without finishing K3 and was sent to a shelter."
One child's father was a labourer who died from exhaustion while working at a construction site; another pupil's dad was a drug addict.
It was the children's back stories as much as Lui's success in turning the school around that caught Kwan's attention.
The director has a record of making uplifting films with heartwarming messages. His previous works include (2004), about Joanna Tse Yuen-man, the physician who died fighting the Sars outbreak, and (2009), about a soccer team made up of homeless people.
Kwan eventually met his key subject at the kindergarten's graduation ceremony last year. He visited Lui several times to see her conduct lessons and accompanied her on visits to see students' families.
He completed shooting at the end of August. The release is scheduled for March 2015.
Lui, who got married in her 40s, says she and her husband opted not to start a family even though they love children.
"Older parents can't really witness the whole process of their children's growth [into adulthood]," she says. "So we decided it was better to remain childless. But the students are all my kids, anyway."
She is grateful for her husband's whole-hearted support of her mission.
"After choosing early retirement, I took care of my husband and in-laws, taking them on visits to doctors. But over the past two years, I never had time to cook at home, and we mainly ate out.
"But my husband has been understanding. Once, he reminded me that I hadn't had a day off from school for about 28 weeks. So, I finally took a day off and we went shopping. But we wound up buying material for the school."
Although she says it feels a little odd to see her life portrayed on screen, Lui supports the project for exploring how future generations are educated.
Lui, who has a degree in childhood education, feels strongly about the subject; it was partly frustration with the way children are taught that drove her to quit her job at the Discovery Bay kindergarten in 2007. Education seemed to be more about serving the needs of parents whose tuition fees helped cover the exorbitant rental, she says.
"We couldn't write forthright student reports out of worry that parents would be antagonised and withdraw their child from the school. When students fell behind in studies, teachers still pressed forward with the teaching schedule instead of slowing down to help them catch up. Otherwise, there was no time to cover the whole syllabus. I couldn't change anything, so I decided to take early retirement."
Progressive educators' calls to let children relax and explore the world tend to fall on deaf ears in Hong Kong, she says.
"Local parents spend money on flashy teaching kits. Do they really spend time with children on those kits?," Lui asks. "Preschool years help lay the foundation for children's character development. We should take them out more and let them play and observe their surroundings."
Things in nature, like cotton trees and butterflies, can be material for different lessons, she adds, along with visits to Legco or post offices.
"They learn much more from hands-on work than rote-learning at that age."
This article appeared in the South China Morning Post print edition as: In a class of her own