Fashion
Get more with myNEWS
A personalised news feed of stories that matter to you
Learn more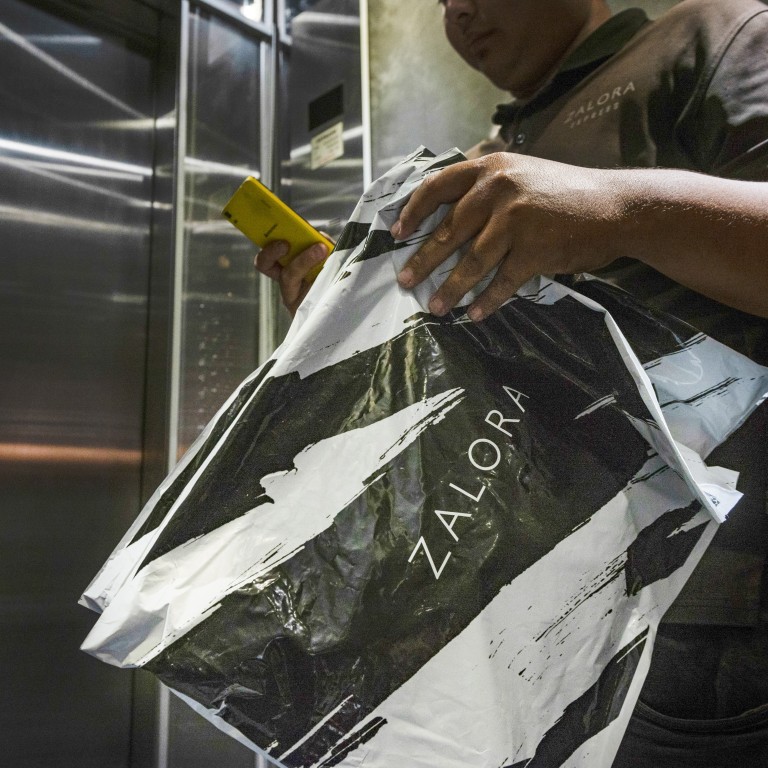 Fast fashion victims: the couriers working long hours against the clock for low pay to deliver online orders
In Malaysia, delivery men on 'no work, no pay' contracts and whose base salary may be barely above the minimum wage can't afford medical care for work injuries
To have a living wage they need bonuses, earned by delivering 100 or more parcels a day, riding their motorbikes on roads that are among Asia's most dangerous
It's normal for Hassan Muhammad* to put his life in danger. For the 25-year-old courier with Asian fashion e-commerce giant Zalora, it's part of his job. From Monday to Friday, he makes the 35km journey from Zalora's warehouse to his delivery area in the Malaysian capital, Kuala Lumpur.
He does this on his motorbike, dodging cars and 20-tonne buses on what the United Nations ranks as the sixth deadliest road system in Asia. And he has to do it fast.
There are at least 40 packages to deliver daily, more if there was a big sale the day before. Being slow is not an option – he could lose incentives or worse, face penalties if the customer complains. The more parcels he delivers, the more he earns.
"My personal record is 160 parcels in a day. That took several trips to the warehouse and back," he says.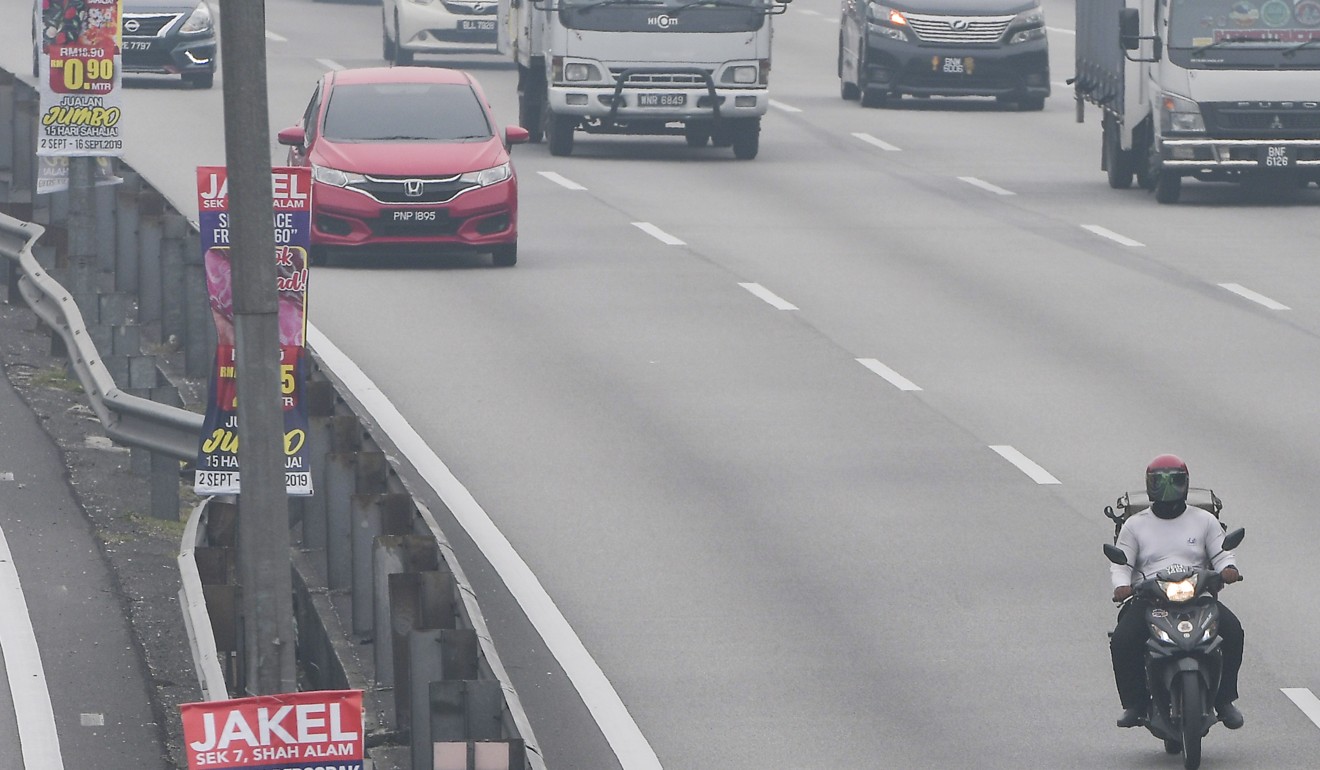 For this intense and precarious work,
Zalora
pays him more than the minimum wage – around US$35 more.
"Our monthly basic pay is just 1,200 ringgit (US$287)," he tells the Post. With incentives, he takes home around US$300-400 more than that each month. But this means working fast, working hard, and working long hours. The incentives aren't fixed – they vary according to monthly sales.
"No bank will grant us a mortgage with this pay," he says.
Buying clothes has never been cheaper, faster or easier for Malaysians. On websites such as Shopee and Lazada, a pair of trousers can sell for as little as US$0.69. E-commerce platforms compete by seeing which can provide the fastest deliveries for the lowest price.
Expanding their in-house workforces won't do when the goal is to keep costs low. E-commerce platforms contract out large orders to external courier companies or on-demand delivery apps to avoid having to provide consistent pay and benefits.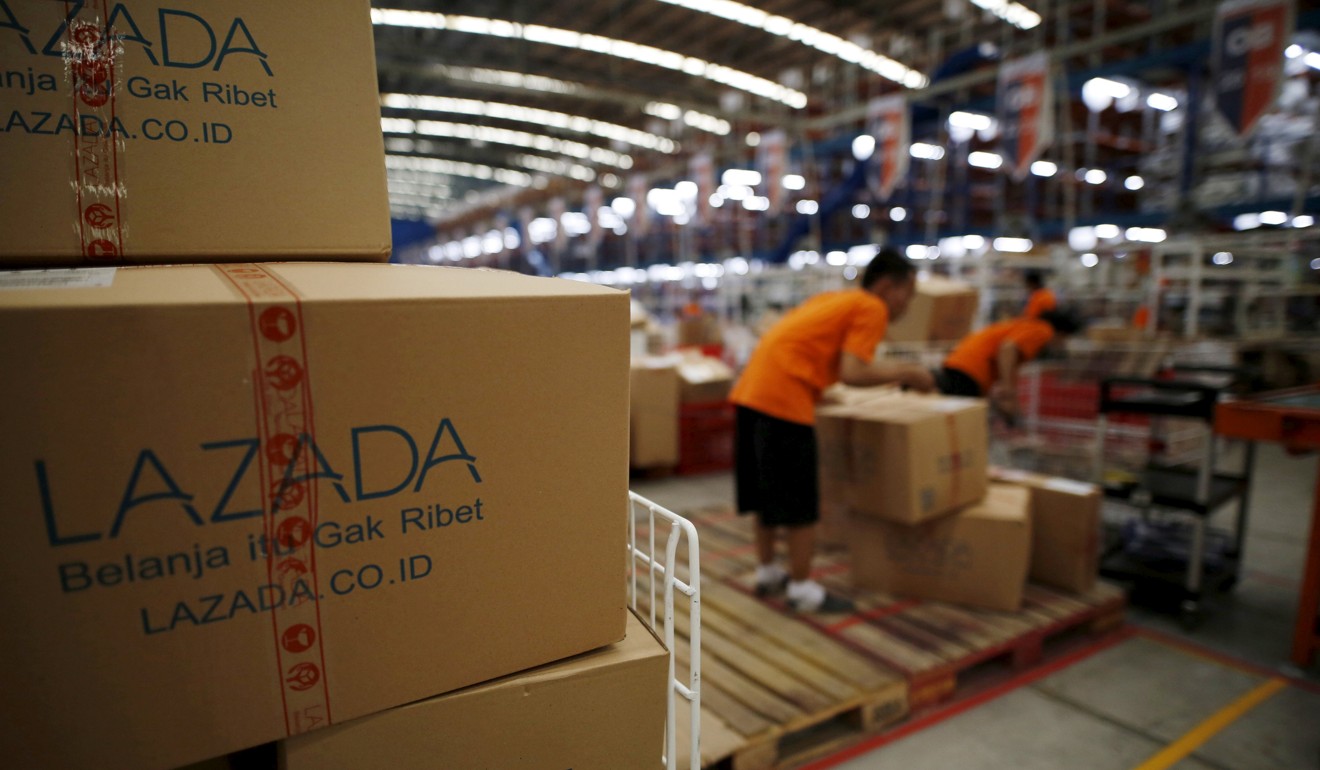 In this race to the bottom, the victims are the workers in fast fashion's supply chain today – warehouse workers and deliverymen like Hassan.
The Post spoke to couriers from several major delivery companies working with the main e-commerce platforms selling fashion in Malaysia. Many want higher monthly base pay. Currently, most receive base pay of between 1,000 ringgit and 1,800 ringgit per month.
Couriers' monthly base pay is significantly less than 1,960 ringgit, the minimum living wage recommended for Malaysia by the Asia Floor Wage Alliance (AFWA), or the 2,600 ringgit living wage recommended by Malaysia's central bank.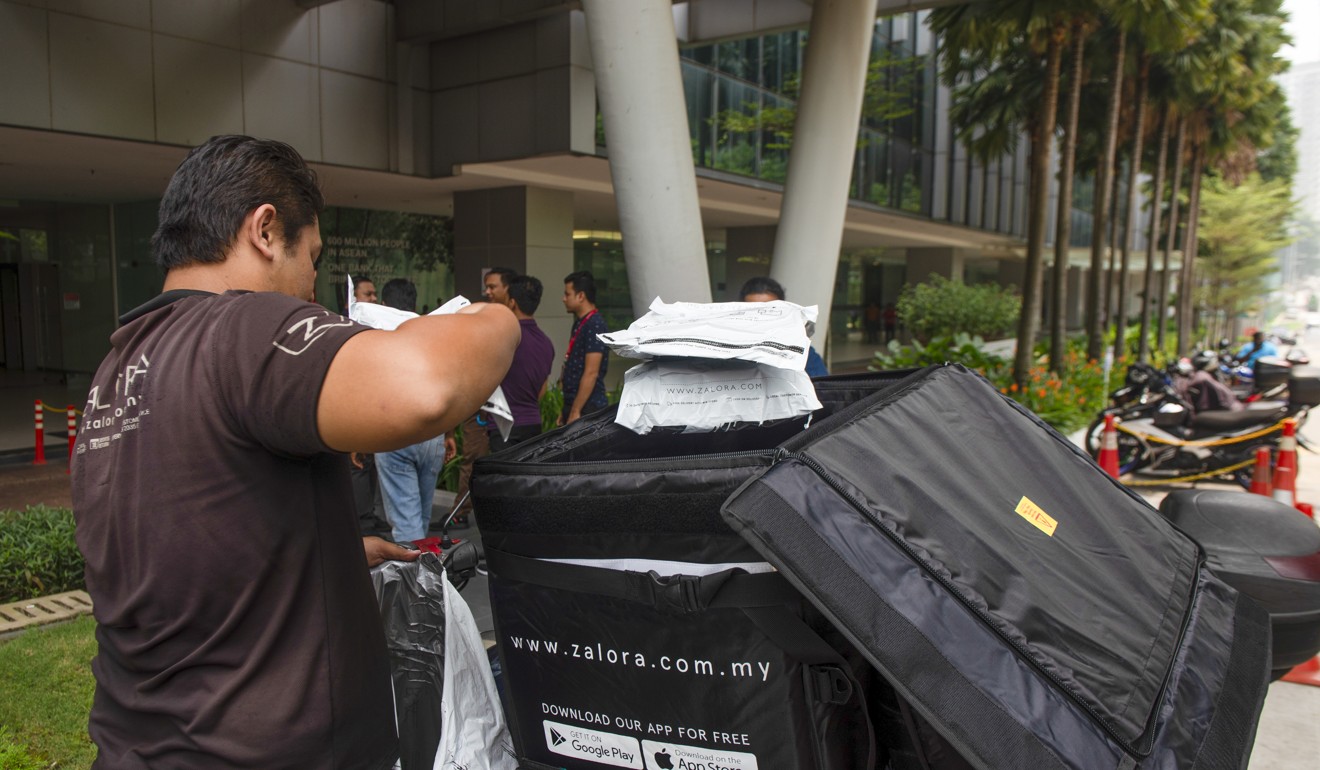 An independent contractor for DHL Malaysia says he can earn around 5,000 ringgit per month – "a good sum", he says, and commensurate with his hard work – but doing so comes at a price. He has to deliver at least 100 parcels on every weekday. He doesn't get any sick leave, benefits or allowances. "No work, no pay," he says.
In the second quarter of 2019, Zalora and sister company The Iconic, an Australian online fashion retailer, had revenue equivalent to US$143 million, according to its most recent earnings report, and online fashion sales in Malaysia are expected to total more than US$1.8 billion in 2019. Couriers the Post spoke to would be happy with base pay increases of between 100 and 200 ringgit (US$25-50) per month.
For those with inadequate employer-provided health insurance, or none at all, such a sum could mean the difference between seeking medical treatment for work-related injuries or forgoing it.
Fahmi*, a courier with a delivery company used by Shopee and Lazada, was thrown off his motorbike this year in an accident while returning home from his shift one weekend. He suffered severe abrasions to his right arm, which required a hospital visit, followed by three wound-cleaning sessions, all of which he paid for, and three weeks recuperating at home before he could use his arm again.
When he returned to work, he was told the company only provides 20 ringgit in annual medical coverage.
Fahmi and all the couriers the Post spoke to requested anonymity, fearing retribution from their employers. It's easy to fire workers in Malaysia, according to the Organisation for Economic Co-operation and Development, the club for developed economies. The employment protections for permanent staff are weak, and as for those governing temporary workers, Malaysia ties for second to last place with the United States.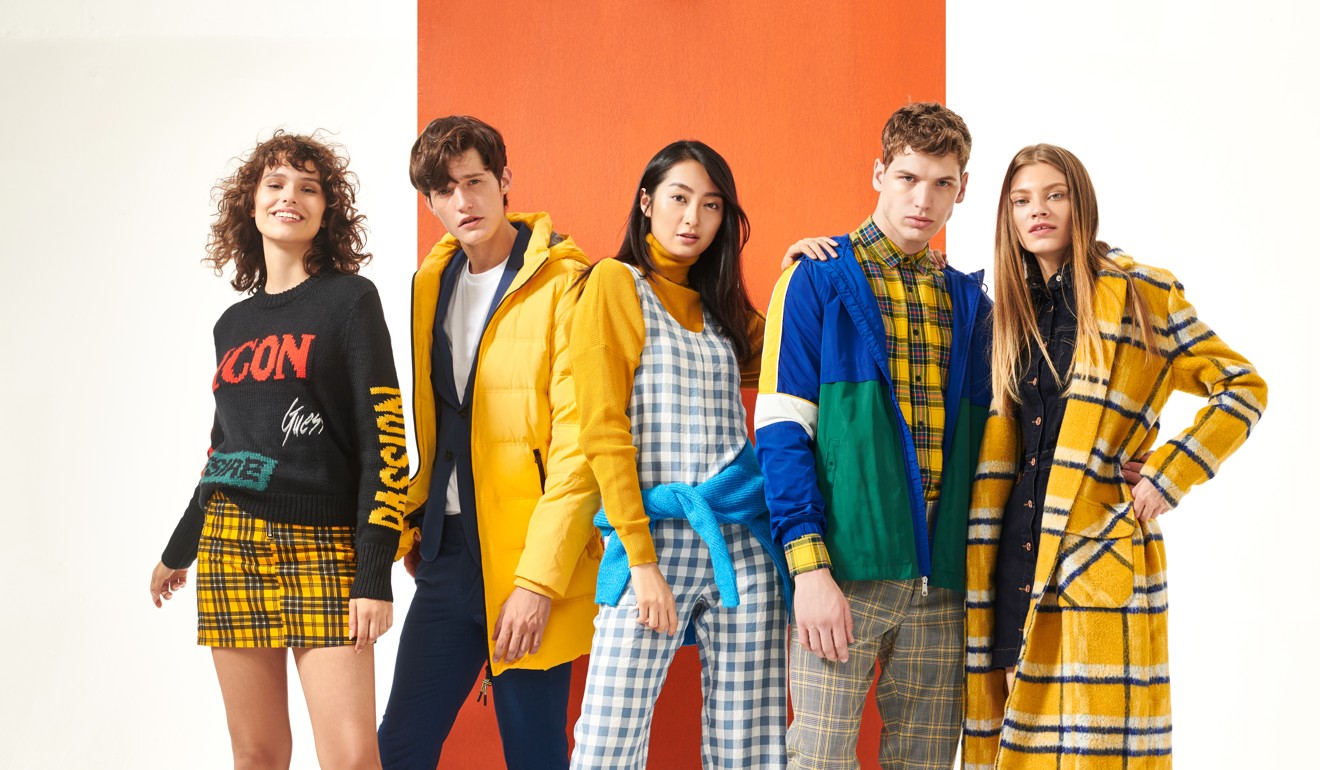 A spokesman for Lazada Malaysia said: "At the heart of our logistics operations are our couriers. Their working conditions are a top priority, which is why we offer competitive remuneration packages. Their safety – and the safety of those around them – is also paramount."
Zalora** and Shopee did not respond to requests for comment by the Post.
Such work conditions are not limited to couriers in Malaysia, or to those in the fashion supply chain. A study of 40,000 couriers conducted by Shanghai Beijing Jiaotong University and Chinese e-commerce giant Alibaba found nearly one-quarter work more than 12 hours a day. (Alibaba owns the South China Morning Post.)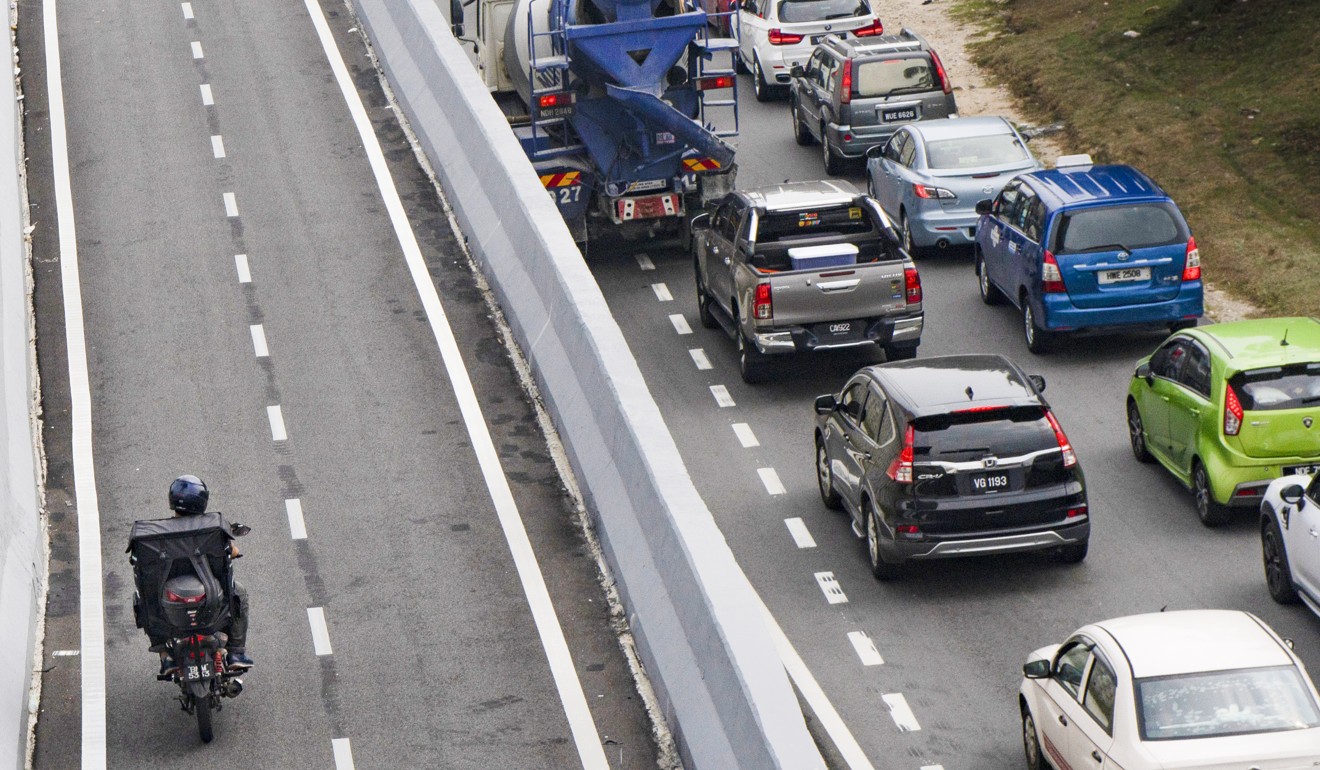 Couriers in Indonesia face the same issues of long hours for low pay, and pressure to work fast, as those in Malaysia, says Aulia Nastiti, a PhD candidate at Northwestern University in the United States who conducted a six-month study of couriers there in mid-2017.
"The work is dangerous, considering that over 70 per cent of the orders are completed by motorbike on narrow alley roads in Indonesian neighbourhoods. With the intensifying competition over speed and price, more and more customers expect fast, or overnight deliveries, but people take it for granted and are oblivious of the costs that these workers must bear," Aulia says.
Legislation, like that proposed in the UK, to compel companies to treat "gig economy" workers more like employees, could offer couriers some protection, says Patsy Perry, senior lecturer in fashion marketing at the University of Manchester in the UK. Reforms have been promised by courier companies there after a class-action lawsuit by drivers and the death of a courier.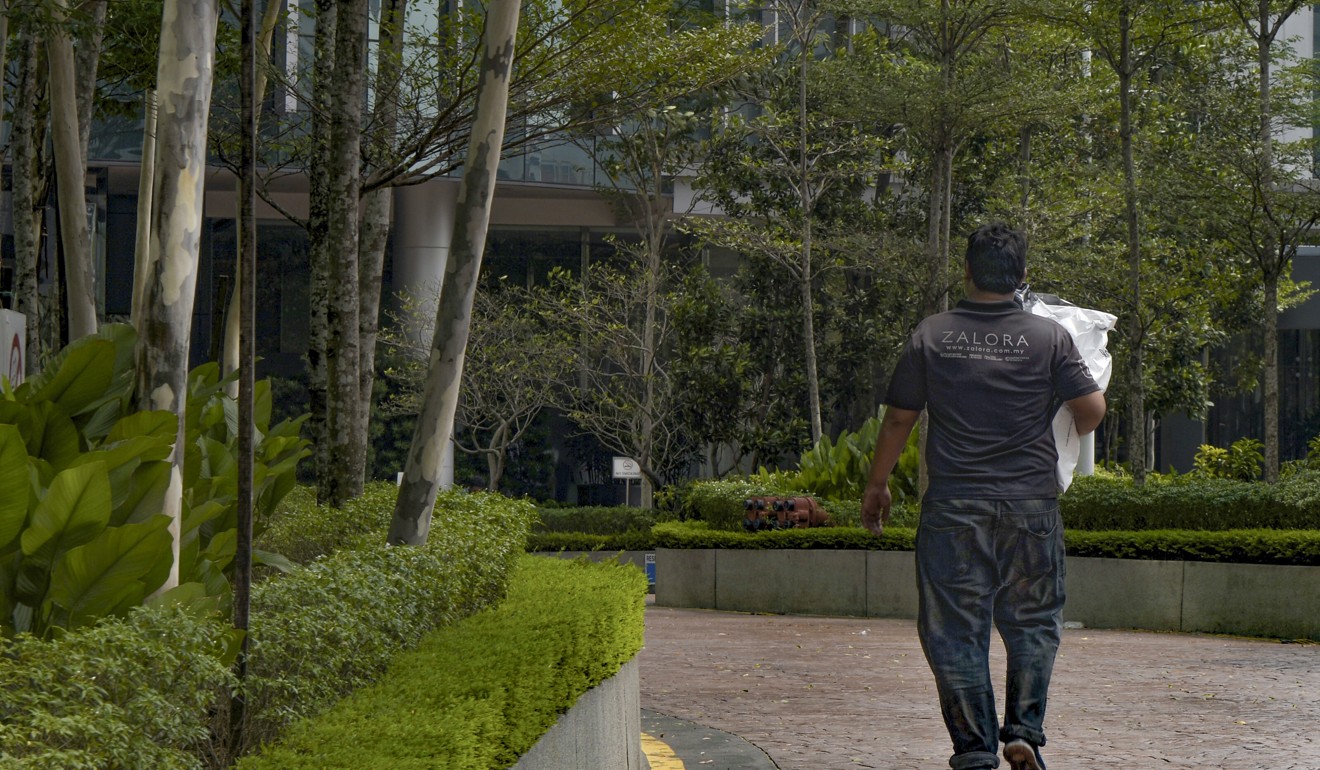 "So we really need legislation, or a disaster, to make a difference, as we saw with [the] Rana Plaza [textile factory collapse in Bangladesh in 2013, which left more than 1,100 people dead]," Perry says.
Consumers can be "super powerful" in an age where brands are very conscious of criticism on social media, she says. Brands could be forced to change how they have been doing things for years if consumers asked questions about the working conditions of people along the fashion supply chain.
"There isn't much information on [couriers] at the moment, but it's the next thing waiting to blow up in fast fashion," she adds.
*Names have been changed to preserve anonymity.
**Following publication of this story, Zalora issued the following statement: Our people are the heart of our business and their safety and well-being is of utmost priority. Zalora is committed to be a best-in-class employer and as part of this, we ensure that every employee receives fair treatment.
We have strict safety policies in place and regularly conduct risk assessment of our riders. This includes ongoing road safety training and limiting the number of parcels our riders deliver on each run. Our riders are paid above the market standard and above the Malaysia Bank Negara recommended living wage (2,700 ringgit [per month]). We also provide all Zalora employees, including our riders, with the same employee benefits including but not limited to, medical insurance, group life and personal insurance and annual leave.
As part of our ongoing commitment to our people, we are constantly evaluating solutions and technologies that will further help our riders feel safe and ensure a healthy work-life balance across the board.
This article appeared in the South China Morning Post print edition as: couriers fall victim to fast fashion