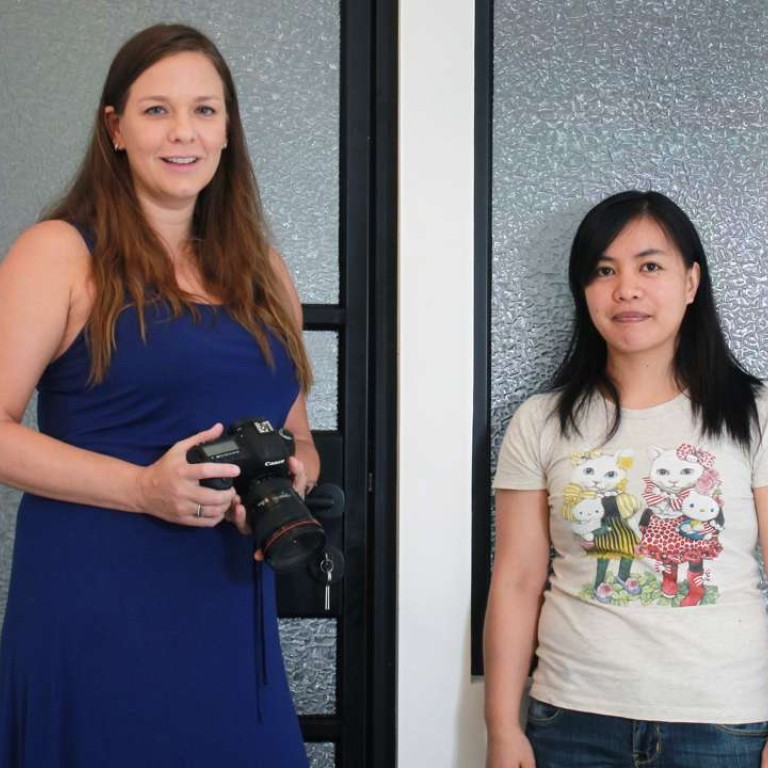 The Helper is on the way: Hong Kong film about migrant workers gets closer to completion
After a successful Kickstarter campaign raised US$89,000, the makers of a documentary about the city's domestic helpers have completed the first phase of their work – but much remains to be done to ready it for submission to the Toronto film festival in June
In August last year filmmaker Joanna Bowers hosted a dinner party to celebrate months of hard work putting together a Kickstarter campaign to raise funds for a documentary about domestic helpers in Hong Kong. At midnight she went online, hit the button to kick off the campaign and went to bed.
"The next morning I was at my computer. The first person to pledge was my best friend and the next group of pledges – and they were big pledges – were people I didn't know. I burst into tears," says Bowers.
The emotional response was perhaps in part due to pregnancy hormones – her daughter, Jemima, was born in December – but mainly it was the joy at seeing that so many people wanted to support the project.
In just 30 days she and her team raised US$89,000 and even more donations came in after the campaign ended.
Tony Verb, one of two producers working with Bowers on the film, says during the campaign he got calls from friends in Hollywood saying it wasn't possible to raise the kind of money they were hoping to get for a documentary, that it might have been possible in the early days of Kickstarter but the market was now oversaturated.
"The fact that we raised a significant amount of money and in a short time goes to show what an important issue it is in Hong Kong," says Verb.
The issue is the plight of domestic helpers in the city. The documentary will not be an exposé, nor will it be a political film – there are already other filmmakers engaged in those kinds of productions. Bowers' documentary will be about the lives of domestic workers in Hong Kong.
"I'm hoping to make a film that humanises domestic workers and tells compelling stories enough that it makes people stop and think and maybe look at the woman in their home with slightly different eyes, maybe take a little more time to listen to her story, understand what she is facing, what the challenges are in her life," she says.
Bowers, who runs the production company Cheeky Monkey, hit on the idea for the documentary when she stumbled across a short video on social media. The video was about a choir founded by Jane Engelmann and made up of foreign domestic helpers.
Engelmann, who is head of performing arts at Peak School, also wrote a song for the choir –
I Wish I Could Kiss You Goodnight
, which pays tribute to the many domestic workers from the Philippines, Indonesia, Thailand and elsewhere who put other people's children to bed instead of their own.
Bowers set up a meeting with Engelmann and was bowled over by her charisma and passion.
"Jane is a big part of why I thought making the film would be successful. She used to present children's TV in Hong Kong, is incredibly camera friendly and warm and hilarious. The chemistry she has with the ladies in the choir is brilliant," says Bowers.
As luck would have it, Bowers had recently been introduced to entrepreneur and promoter Tony Verb. A member of the World Economic Forum's Global Shapers Community, a network of socially engaged young people, Verb was looking to make a film about domestic helpers in the region. His initial idea for a reality TV show about making domestic helpers' dreams come true got some traction but was finally turned down by a big American broadcaster. Verb and Bowers became good friends and as the domestic helper issue became a focus for Global Shapers, they teamed up to do something together.
"Tony and I very quickly got introduced to all the key players in the domestic helper issue in Hong Kong – we met the people from Pathfinders, Enrich and Mission for Migrant Workers and saw the employers' unions. We quite quickly got an overview of the issues," says Bowers.
And while they were doing all this the high-profile case of abused Indonesian domestic worker
Erwiana Sulistyaningsih
was going through the courts. The issue was hot.
Invited to speak at CreativeMornings – a free breakfast talk on the first Friday of each month – Bowers and Verb met Nicole Chamberlin, an LA native who came on board as a producer. New to Hong Kong, she was stunned to see the large gatherings of domestic workers in Central.
"I come from a Latino background, I had cousins who were maids so I feel a kinship with these women. Also, these Filipino women are so similar to Latino women – they are feisty, strong women, no one puts them down," says Chamberlin.
The Kickstarter campaign was more challenging, possibly even harder than having a baby, says Bowers. Drawing on favours and help from friends and colleagues, they put together a
trailer
and once the campaign was launched they had to work hard to maintain momentum, releasing a news story every few days.
"We knew it would be a stressful period, but we had no idea just how much. We had so much support – people doing PR pro bono, social media experts helping out, Bess Hepworth took over our Twitter feed. All these people think these women deserve to have their stories shared on a bigger platform and that's why everyone supported," says Bowers.
They began by filming the choir group performing at Clockenflap. After that they were flooded by suggestions from people for other domestic helper stories to follow. The result is that the project has expanded. In addition to the choir, they are also following the story of an Indonesian woman they were introduced to through Pathfinders, the local NGO dedicated to helping distressed migrant mothers in Hong Kong. Her employers falsely accused her of theft as an excuse to fire her because she was pregnant. As a result her child was born illegally in Hong Kong. Her case is currently going through the courts.
The documentary will also follow the story of
Liza Avelino
, a Filipino domestic helper who has been leading hikes in Hong Kong on a voluntary basis and last year saved enough money to climb Island Peak in the Himalayas. Unfortunately, because she didn't have the proper equipment she fell sick and wasn't able to reach the summit. Since then she has done more fundraising and North Face as well as private donors have helped kit her out with professional gear and she plans to return this month.
"It was so cold last year, my gear wasn't right and my nasal passages got blocked, I couldn't breathe properly," says Avelino.
Her April trek – and hopeful summit – will be recorded on cameras, which Bowers' team is supplying her with.
"On April 23 I will return to Nepal and be there for three weeks. All I want to do is climb mountains and if I can inspire people to go outdoors and go hiking, trekking and climbing, it makes my journey worthwhile," says Avelino.
The documentary will be a multi-prong feature film, following each of the stories through to their climax – the choir at Clockenflap, Avelino at the top of a mountain and hopefully a positive outcome for the Pathfinders beneficiary.
And what if they don't all have positive outcomes? "That's the whole thing about a documentary, that's life – you don't know what will happen," says Bowers.
Verb is pleased that the project has evolved since the early stages. He says the beauty of a documentary is beginning with an idea and not knowing where it will take you.
"A documentary needs to discover things you don't know and you document that process. I would love to present as many stories as possible – they are all different. We want to show that these ladies are like all of us, they are different, these are not helper stories but life stories," says Verb.
The Kickstarter funding has covered the first phase of filming and the team are in production, editing that footage. Now they hope to raise a little more money for phase two of production, which will involve going to the Philippines to film the children of the choir members and also to Indonesia to follow the Pathfinders beneficiary as she returns home.
The team – who all have full-time day jobs – are working hard to complete The Helper: A Documentary in time for the June deadline for submissions for the Toronto International Film Festival.
"There's a big Filipino population in Canada and a really big Hong Kong expat population, so it seemed that was quite an organic fit," says Bowers.
After that they hope to show the documentary at other festivals, release it in cinemas in Hong Kong, Singapore, the Philippines, Indonesia and other places where the domestic helper issue is relevant.
"Hopefully we are going to make a film that will make people laugh at points and make them cry, a film which when people leave the cinema they will have a conversation," says Bowers.
If you are interested in finding out more or helping fund the second phase, visit www.thehelperdocumentary.com or contact Joanna Bowers directly at [email protected]