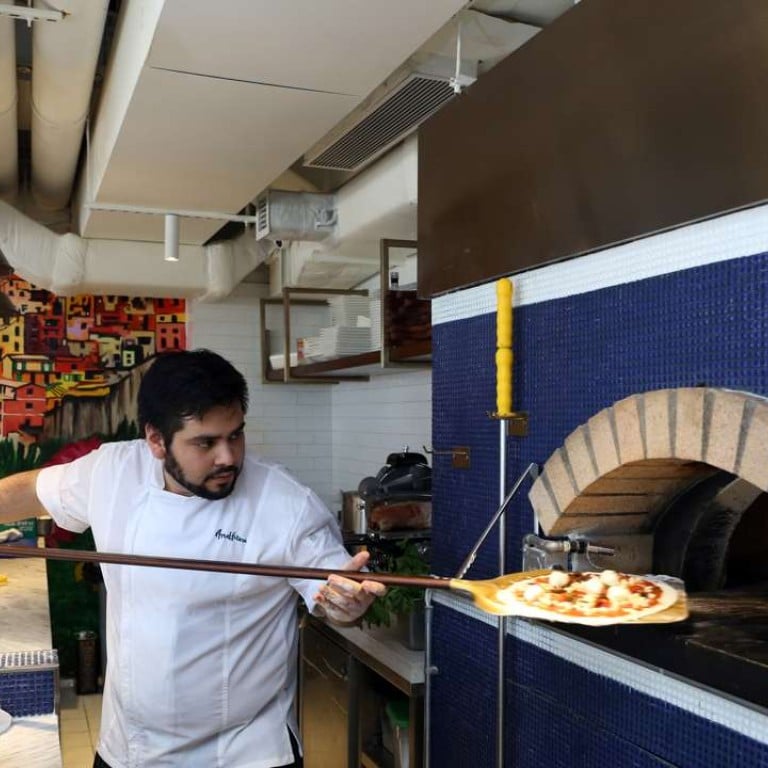 Meet Hong Kong's pizza pioneers serving a modern slice of tradition
Thousand Island dressing, poached egg, marshmallow, foie gras, bananas: the list of toppings is endless at these parlours where they dare to differ
"Sex is like pizza. Even when it's bad, it's still pretty good."
The quote is from the 1994 comedy Threesome, and it is true. When we crave a sloppy slice of cheese and pepperoni, even cheap morning-after leftovers will taste good.
The fact is, almost everybody likes pizza. The desire is so primal that prolonged abstention just feels unnatural. But as this Italian invention has gone global, it has evolved in its new surroundings, taking on different manifestations. Purists may frown, but food fundamentalism is a lost cause.
What was once heresy is now accepted by adventurous diners who get a kick from Italian pies being tweaked and twisted in all directions. Call it novelty or sacrilege, but Americans took it Hawaiian-style with pineapple and ham, insatiable Chicagoans created the deep dish, and Austrian-American Wolfgang Puck went truly kinky, cross-dressing his pizzas with smoked salmon andPeking duck.
Hong Kong's taste swings from artisanal poshness to bizarre perversions such as dousing the dough with Thousand-Island dressing (in lieu of tomato) and stuffing cheese into the crust.
On the side of authenticity and tradition is NOM's executive chef Fabrizio Napolitano. You can't have a better name if you're making Naples' most famous dish. NOM's free-flow pizza Tuesdays offers handmade selections with premium toppings such as Italian tomatoes and buffalo mozzarella from Campania.
"The beauty of pizza is that it's one of the most versatile dishes ever," says Napolitano. "I think [the food business] is constantly growing, changing and chefs wants to experiment. But would I serve such experiments in my restaurant? Probably not."
Michel Degli Agosti is another Italian reluctantly accepting the globalisation of his culture. The Bergamo native is the chef of Amalfitana, a stylish new artisanal pizza bar at The Pulse in Repulse Bay. Trained in the Neapolitan style, Agosti has worked around the world and seen how pizza preferences differ internationally.
One of his pizza items is the Fiorentina, which includes spinach and a soft poached egg. Ironically, it's not from Florence but a style invented in London.
"In London, they focus more on fresh ingredients but in Australia, they like any kind of meat on a pizza," Agosti recalls. "We do traditional style at Amalfitana but try to give some different tastes too. I understand [serving] new markets but I want to make something Italians would like first. Then it's real."
Traditionalists such as Napolitano and Agosti agree the classics are the foundation, but new ideas are inevitable. The real measure is how much integrity is put into their experimentation.
"I'm not against more adventurous combinations," Napolitano says. "I used to be traditional but I had to adapt. But I keep the soul of my dishes the same as my grandma would prepare. I absolutely admire chefs who play around with different ingredients and recipes. Unfortunately in Hong Kong it allows some restaurants to be lazy, pretend to be smart but use cheaper Asian ingredients and charge expensive prices."
Agosti agrees. "I've seen some crazy and extreme things. They add honey or sugar to the dough. Others add milk and it becomes like a cake. I've seen barbecue sauce, ketchup, mayo, everything." However, he adds, "But pizza was born only after the tomato arrived in Italy and Italy hasn't always been Italy. The country is only 150 years old, that's why we still argue about what is real and original."
Other food and beverage entrepreneurs believe change and progress doesn't mean diminishing the quality of a dish. Casual Italian-style eatery The Point recently expanded to Tsim Sha Tsui's The One and introduced some eye-popping offerings for Instagrammers that will seem blasphemous to the pizza purists.
Their foie gras pizza has chunks of goose liver, mushrooms, caramelised onions and baby cress, and is then glazed with balsamic vinegar. The lobster pizza has the visual pop of the crustacean's head placed on top. And there are s'mores for dessert: a pizza with roasted bananas, chocolate, vanilla ice cream and toasted marshmallows.
"I think some people might frown but it is fun for us to experiment," says The Point's founder Angela Chang. "We don't want to be confined and Hong Kong people are always looking for something new. In this industry, you have to be a step ahead. We might do something with wagyu next because my kids love beef.
"I started this in 2014 because I saw a real revival of artisanal pizza in California and they did it in a fast casual way. I thought this was perfect for Hong Kong and there are infinite possibilities with the toppings. But the common focus for us is still fresh ingredients. We put a lot of emphasis on quality."
In many instances, reinterpreted pizzas reference dishes from other cultures. Think of the Mexican tortilla as a pizza base, the Turkish lahmacun as a cheeseless lamb pie, or Peking duck on a crusty base.
Bindaas, in SoHo, opened last year serving a signature creation called naanza, which is a naan bread pizza topped with ingredients marinated in Indian spices and flavours.
"I found similarities with Italian pizza and what I do," Bindaas' chef Mrigank Singh says. "The naan is like the pizza base. We cook in a charcoal clay oven, like traditional pizza's wood oven. Then we just add an Indian tomato sauce with butter, and other toppings that can go on the naan. Everything we do is Indian based."
Singh had worked in Western restaurants in India so he is aware of the proprietary expectations Italians have of a pizza. It's not unlike the affront Indians feel when other cultures take liberties with curries.
"I would say pizza is a world food now. Even in India, there is so much demand for pizza," he acknowledges. "Tradition is important, you can't do something totally out of the way. You can't roll up your pizza dough and still call it pizza. It should be round. You respect certain ways, but as young chefs you use creativity to do new things. Guests can always eat at different places and will go to traditional Italian restaurants if they want that. Then they have something different when they come here."
Striking that balance between old and new are Fabio Donati and Dario Mulino, the founders of Pizza Pala. Both are graduates from the University of Gastronomic Sciences – yes, there is such a place – near Piedmont, Italy. Their enterprise produces high quality pizza squares for food counters at the Great Food Hall, Fusion in CityPlaza and Kowloon Tong's Taste.
Their creation uses a Roman-style dough, made with a higher proportion of water and a longer maturation process so it's lighter and easier to digest. To broaden their market, the two added a Hawaiian pizza among their selections in addition to classic fare like Margherita, four-cheese, and mushroom and pancetta.
"I believe that traditions do stand for something more than just old stories. If grandma's dishes are the best it is for a reason," Mulino states. "But there are many toppings that can be placed on pizza bases. It's up to customers to choose if they want a real product or a touristy, local or trendy one. We operate in supermarket retail. It's all take-away so our customers come specifically for our slices and taste is the only factor.
"We try to be creative and being too conservative limits you," he adds. "We know what the basics are – to make the tastiest dough – and from that we can play with ingredients. But we are Italian so that's our style, so I guess we are creative in a conservative way."
To go back to the sex analogy, it's not about how wild you get, it's how you keep your pizza relationship fresh and satisfying.
This article appeared in the South China Morning Post print edition as: over the topping