Three Aussies search for Hong Kong's best meat pie
The Aussie meat pie has seven long decades of history since its 'invention' in 1947. A trio of aficionados from Down Under scour the city to find the best golden parcels in terms of selection, taste and ingredients
Think Australian cuisine and images of a meat pie, the gravy-filled vegetarians' nightmare that's as Aussie as a kangaroo at a barbecue, hop to mind.
And nobody is more familiar with the Aussie meat pie than author and journalist Robert Macklin. His love affair with the savoury treat stretches back to the 1950s and family drives along "the highways and pieways" from Brisbane to Surfers Paradise. He's even written a book on them.
So what makes a good Aussie meat pie, I ask Macklin.
"You should find enough filling for a delicious and nutritious story here," he says, referring to his e-book, The Great Australian Pie, attached in the email. And I did.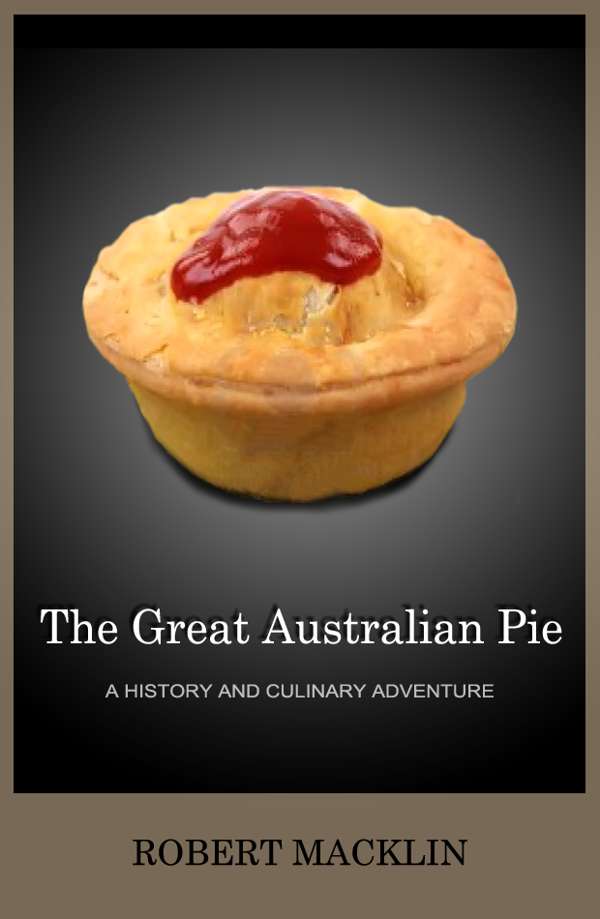 Macklin explores Australia and its obsession with the meat pie, looking at its role in the country's psyche from pop culture references to its famous makers.
"There must be something in the Australian character that led to the invention and the universal enjoyment of the good meat pie. No other country in the world – except New Zealand – shares our love for them. We feel compelled to consume no fewer than 240 million pies every year!," he writes.
Macklin also tucks into the history of the pie, with some interesting conclusions. He says the Greeks claim to have created the prototype about the same time they dreamed up democracy in ancient Athens, before the meat parcel spread throughout Europe, "taking different forms according to the availability of local ingredients".
Macklin says both the British and the French were making pies in the Middle Ages.
"The French chef Guillaume Tirel published his own cookery book in the 14th century which included a recipe for eel pie. And in the same era the English produced the fish pie especially for Good Friday. "Oddly, they believed it would so reduce the carnal passions of its consumers that they would keep themselves pure all through the Easter holiday. But that's the English for you."
Ask a true Aussie about its origins and they will say the pie was invented in Australia (in 1947 by L. T. McClure in a small Bendigo bakery). It's so loved Down Under that a Great Aussie Pie Competition has been held annually since 1990. And while no one knows for sure how many pies Australians consume each year, it's a lot if you believe the competition's co-founder, John Ross: "We did a survey and the figure was more than half a billion."
So what constitutes a good meat pie?
"The crust is as important as what's inside," says Post food editor and trained pastry chef Susan Jung.
"Many people concentrate on the filling, but if the crust isn't good, it ruins the pie. It has to be substantial enough to hold the filling, but can't be heavy or tough – cardboard crust is awful."
What about the meat pie scene in Hong Kong, home to almost 100,000 Aussies, where, declared one Post colleague from Down Under: "You can't find a good one."
Armed with an appetite and a couple of compatriots, we went on a mission to find the city's best meat pie, although the options were limited – some places tout pies but they turned out to be fish or cottage versions. To keep it consistent we stuck with minced beef pies, with an occasional more exotic version.
Lending her palate is Jill Grinda, who has called Hong Kong home for six years. Grinda knows a thing or two about pies – in her home city Perth her brother-in-law Mark owned award-winning New Norcia Bakeries, and her sister is well-known Australian food writer Gail Williams, who was happy to share some pie tips.
"In a meat pie, the beef should be chunky with a nice gravy and some veg: peas, finely chopped carrots or turnip."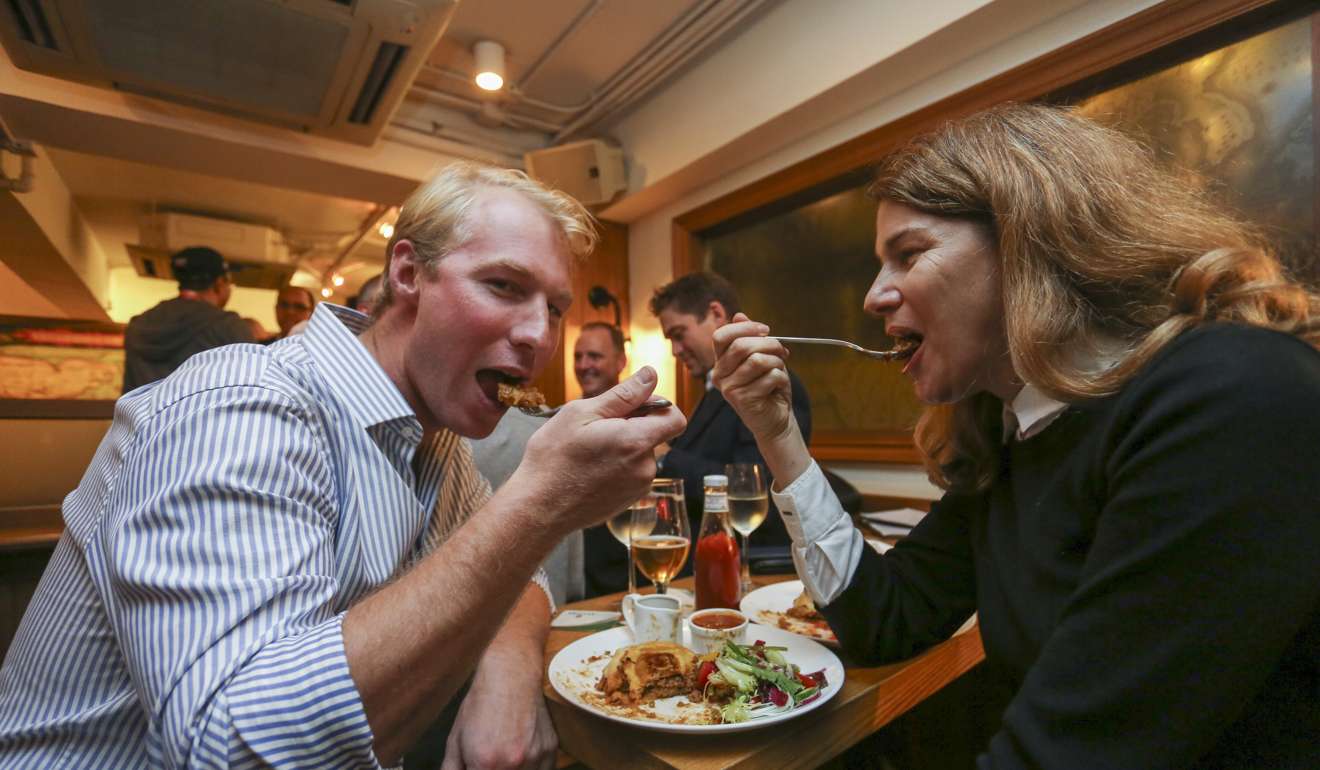 The other judge is Adelaide-born Jock Auld. "I'm a big fan of the pie, especially the pie floater," he says, referring to a dish popular in his home state. Comprising a traditional meat pie submerged – sometimes upside down – in a bowl of thick pea soup, the pie floater is so entrenched in the South Australian identity that it's been recognised as a Heritage Icon by the National Trust of Australia.
Auld is also a big fan of a pie's two best mates. The first is beer (Auld works for Amber Rebellion that imports craft beers from Australia to Hong Kong). The other is AFL (that's Australian Rules Football to non-Aussies), where the humble meat pie is the food of choice for fans on a cold winter's day (Auld plays football for the Hong Kong Dragons).
With all the stereotype boxes ticked, let the gorging begin.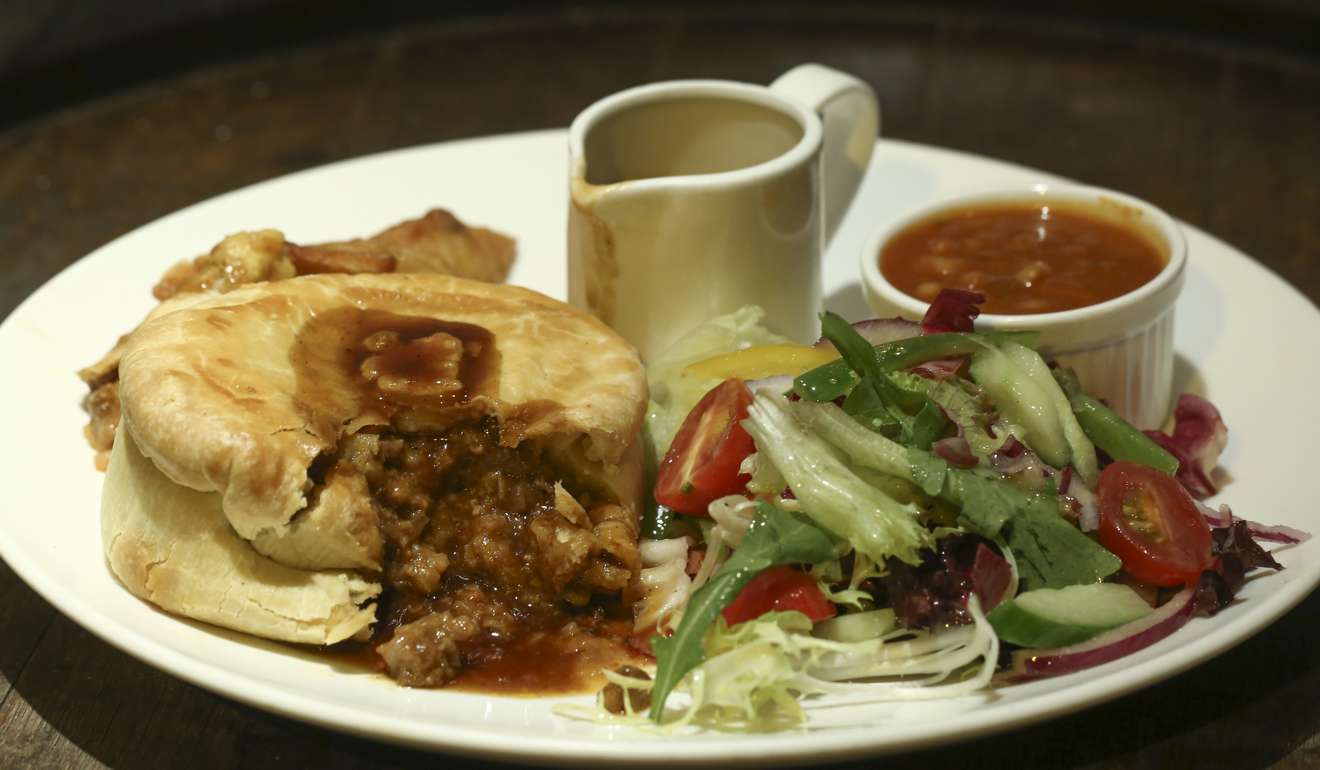 The Globe
The atmosphere at this popular gastropub in Central was buzzing on the Tuesday night we visited, our voices barely audible above the after-work crowd as we perched on insanely high chairs. The Globe had the best selection of pies in town – pork, apple and sage; chicken, leek and ale. All are HK$160 and come with either chips, mash or salad, and mushy peas or baked beans.
We opted for the minced beef and onion pie and it got the biggest thumbs up from our pie judges. Chunky pieces of tender meat and crisp pastry, the pie's biggest compliment was that it had a comforting home-made feel. 4.5/5
45-53A Graham St, Central, tel: 2543 1941
Wagyu
Wagyu has long held its head high on Wyndham Street, its steaks reputedly some of the best in town. But its meat pies served on this busy week night were not on the same level, begging the question from guests: "Who would order a pie at a place called Wagyu?"
While the Outback Wagyu Beef Pie (HK$175) – a steak pie served with thick-cut chips and gravy – looked very pleasing, its contents were, on this occasion, a tad on the mushy side. "A little too like a mushy goulash," one judge concluded. Another found the steak and pastry a little dry for their liking. 3.5/5
The Centrium, 60 Wyndham St, Central, tel: 2525 8805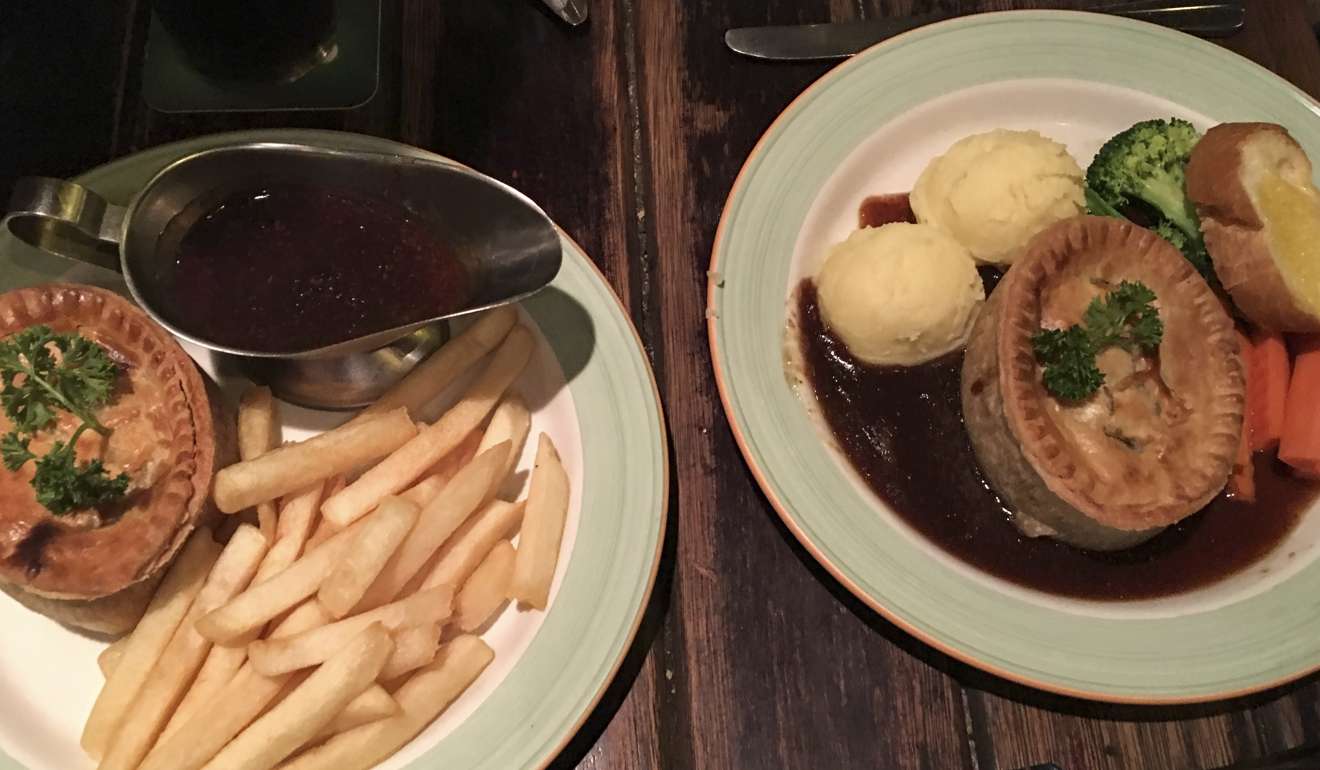 Ned Kelly's Last Stand
Named after an Australian outlaw hero, this Kowloon institution best known for dishing up jazz is believed to be Hong Kong's oldest non-hotel bar (it's almost 50 years old). While placing second in the pie taste test, its beef pie (HK$98) – available with either mash and two veg (and a redundant slice of stale baguette to soak up the generous gravy) or chips and gravy – had crisp pastry but needed more meat. One diner was also left so thirsty after the meal that she thought maybe MSG had been added. Still, the overall conclusion was a big thumbs up. 4/5
11A Ashley Rd, Tsim Sha Tsui, tel: 2376 0562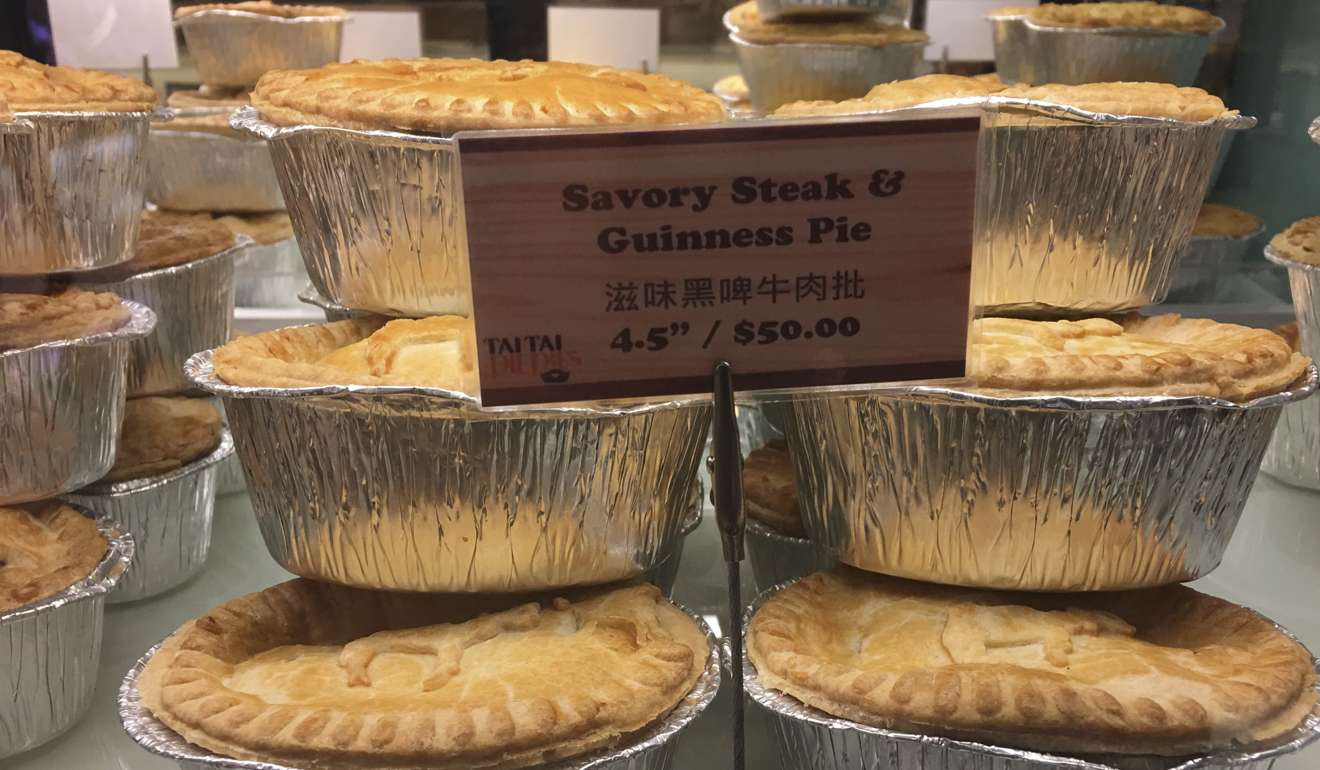 Tai Tai Pie Pies
This Hong Kong company has been leading the pie field since it was formed in 2010, producing additive-free pies at its Fo Tan factory. In 2013 it expanded into the retail sector, including Admiralty's Great Food Hall, where glass display cabinets are filled with its golden parcels.
It was difficult to choose between the Aussie minced beef pie with cheddar cheese and the savoury steak and Guinness pie, so I got one of each. Both were HK$55. While they heated up well and maintained a crunchy pastry enhanced by a crinkled edge, it was the Guinness steak variety that won the flavour stakes – chunky pieces of tender meat swimming in a thick meaty gravy. 4/5
Great Food Hall, Basement, Two Pacific Place, 88 Queensway, Admiralty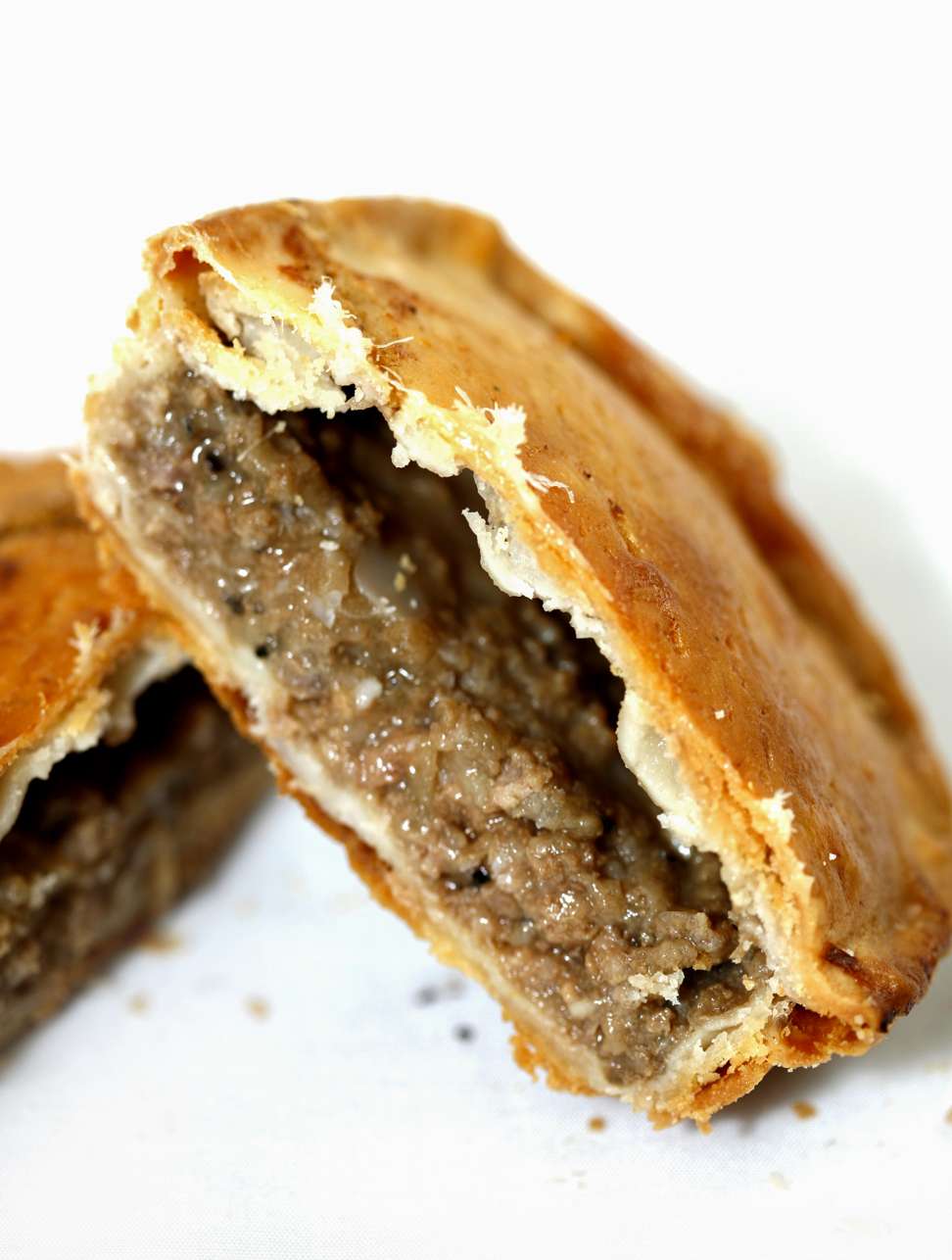 Ali-Oli Bakery Cafe
This Sai Kung institution has been dishing up home-made fare for more than 20 years. Its mince pies, while the one being tested was slightly odd in shape, was tasty, fine minced beef and no soggy bottoms. The price – just HK$37 – also went down well. 3.5/5
G/F, 11 Sha Tsui Path, Sai Kung, New Territories, tel: 2792 2655
This article appeared in the South China Morning Post print edition as: The great Australian bite