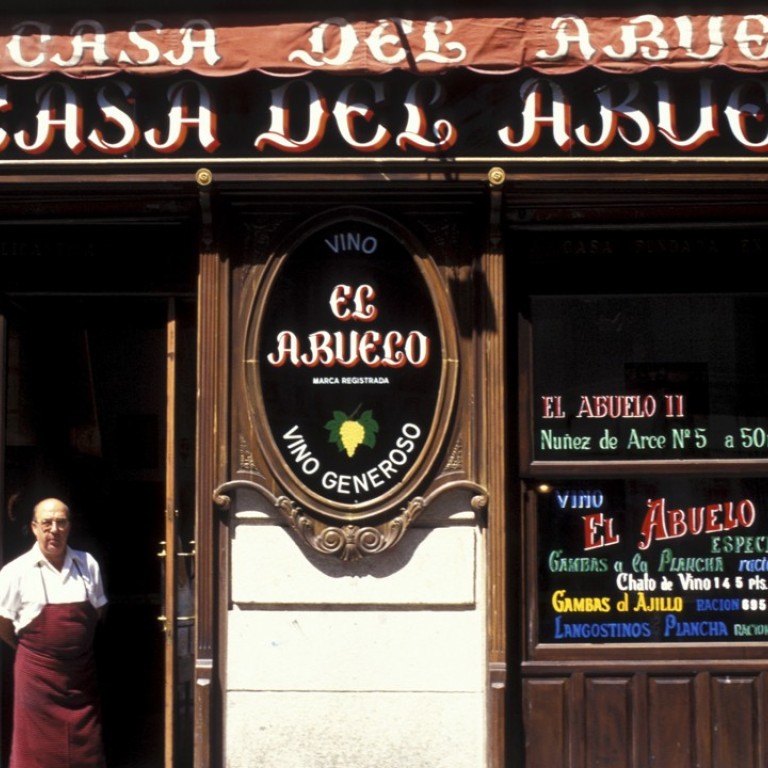 Six of the best tapas bars in Madrid and what to eat at each – a visitor's guide, including dos and don'ts
After an awkward start, Chris Dwyer lifts the lid on Spain's hugely popular snack culture, sampling classic and modern dishes in the nation's capital
It's clearly the worst sort of tapas behaviour on my part and the bespectacled, miserable maestro in Madrid makes his disdain very clear. In hindsight, it's actually a double faux pas.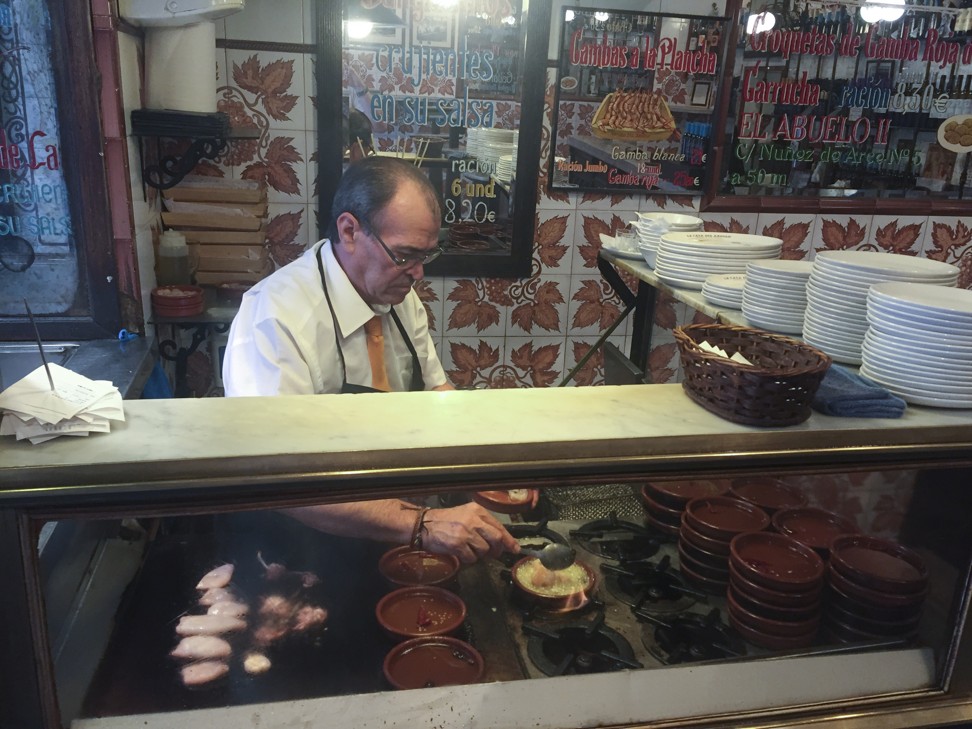 First, the clock has yet to strike six. In some parts of the Spanish capital lunch is barely over, but here I am, walking jet-lagged and hungry into a completely empty tapas joint. This means he has to turn on the plancha [grill] just to cook my handful of gambas [prawns] in a beguiling but simple mix of garlic, salt, parsley and oil.
Second, I'm alone and the gambas al ajillo are all I order, with a glass of Rueda white wine. I also only have a €50 (HK$424) note. Although my bill comes to almost €20, his reaction suggests I tried to pay him in magic beans.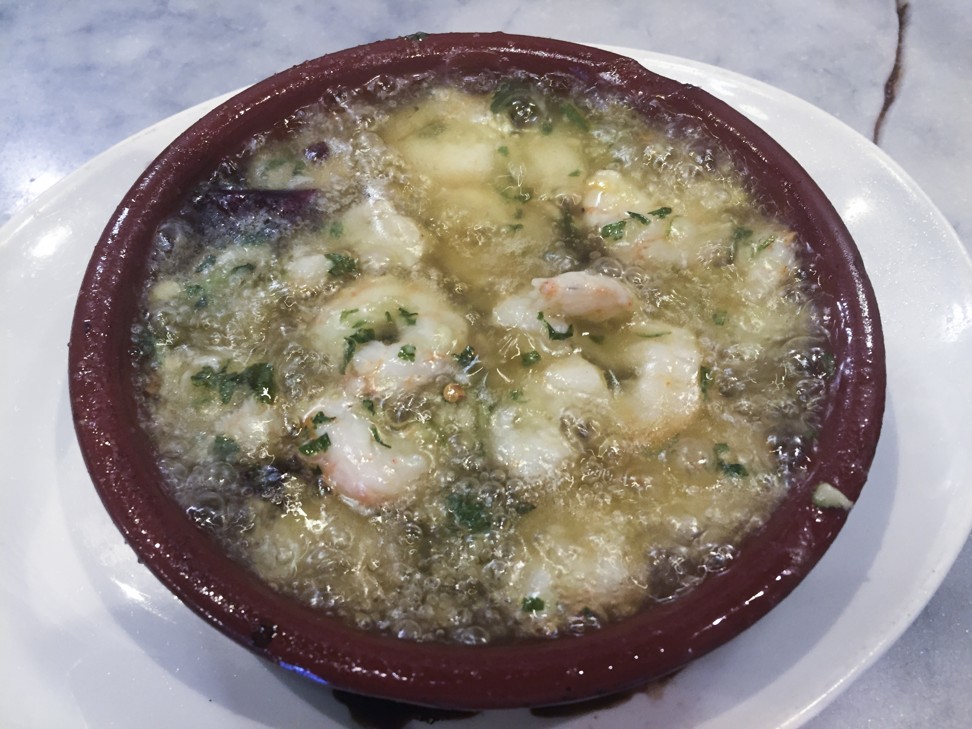 Of course there's a happy ending to the tale, as these were unquestionably the greatest prawns of my life, the sensational, oily slick underneath greedily mopped up with hunks of crusty bread. The location was La Casa del Abuelo in the heart of the city, a well-known spot that's been serving locals and nervous visitors for more than a century. The walls are filled with sepia photos of staff ironically far more cheerful than the grinch who had just served me, not to mention snaps of visiting culinary luminaries such as Ferran Adria. At least someone there has a sense of humour as a brass sign announces "se prohibe cantar" – no singing.
The experience has confirmed one thing, namely that eating tapas in their spiritual home can initially feel slightly fraught. In many spots you are expected to drop your paper napkins and other trash on the floor by the bar. In some places you can serve yourself, in others it's a definite no-no. Of course it doesn't take much to learn the ropes, but it's worth reading up beforehand.
It also pays to have a plan with a number of options, as some bars are too full to even get in the door. Then there are the occasional tourist traps serving overpriced boquerones [anchovies] which seem as old as the wine. But generally, it's a brilliant little journey of gastronomic discovery, with old favourites in Madrid sitting alongside a raft of new spots, which have helped redefine the art of tapas through innovative plates that would be more at home in Michelin-starred dining rooms.
Puerta 57 is in Gate 57 of Real Madrid's Santiago Bernabeu stadium, so it's probably best not to walk in wearing a Barcelona shirt. It's an elegant spot and they do the classics beautifully. Croquetas are a textural joy, the crisp and hot exterior giving way to real bechamel and nuggets of jamon iberico. ensaladilla Rusa [Russian salad] – a dish that always seems a geographic oddity – is creamy and rich with sharp hits from capers cutting through the potatoes, carrots, beets, peas and house-made mayonnaise.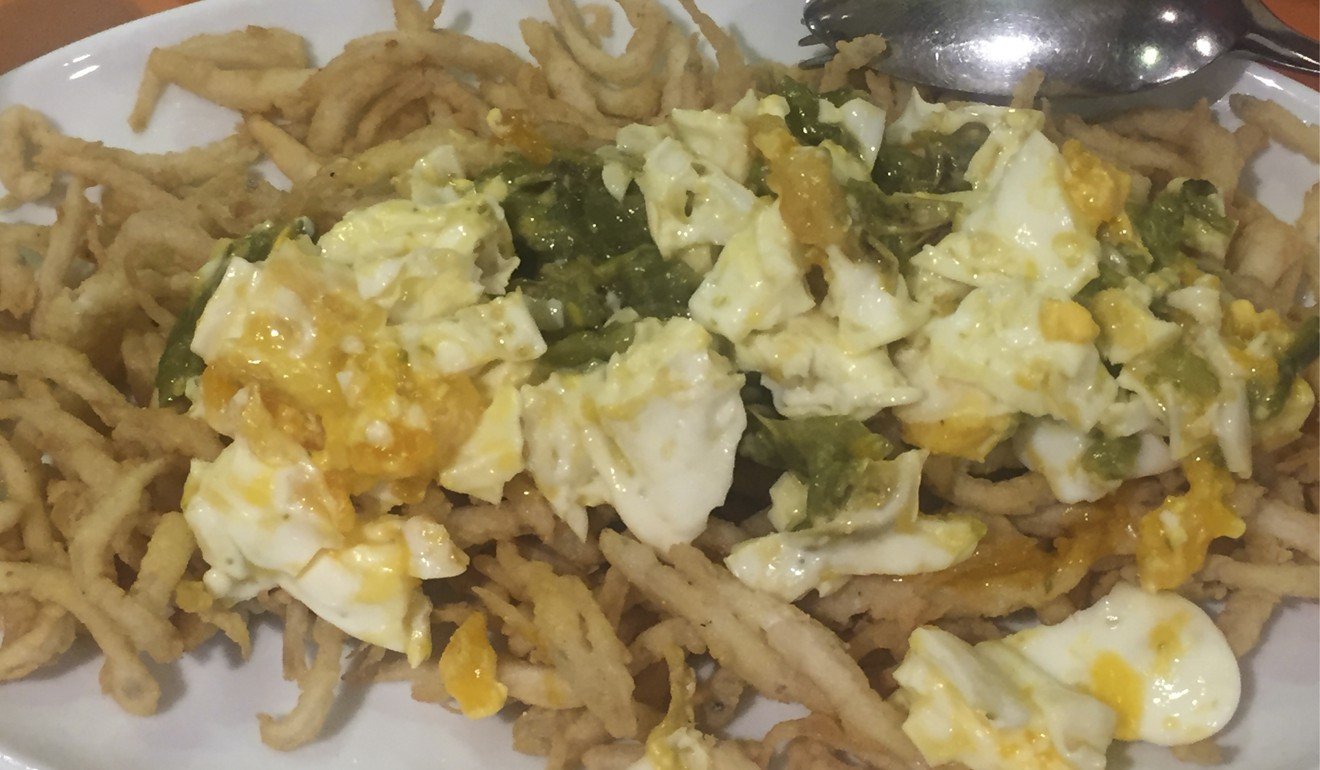 Fried egg and green peppers cover the standout dish, an outrageous heaped platter of tiny breaded and fried whitebait called chanquetes. This is a classic dish from Malaga in Andalusia, so those at Real Madrid are clearly not afraid to embrace other parts of Spain, as long as it's off the field.
Atrapallada focuses largely on dishes from Spain's rugged northwestern coast of Galicia. It's beautifully designed in cool woods with quirky design features and comes across as a contemporary restaurant that also serves tapas.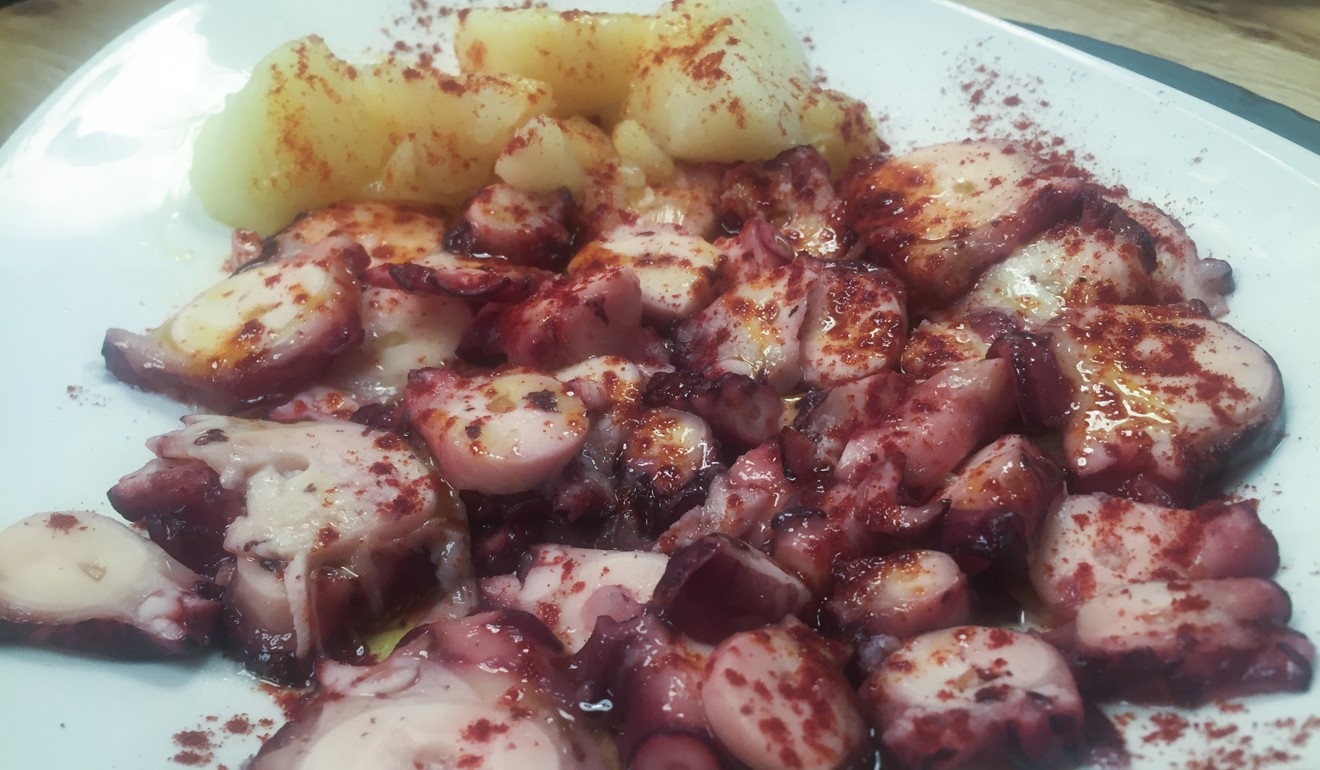 Pulpo a la Gallega [octopus dusted with paprika, Galicia style] is amazingly tender, served with potatoes for extra bite. Zamburinas are small scallops served in their shell under a gorgeous white wine sauce topped with diced jamon. Iberian surf and turf doesn't get any better.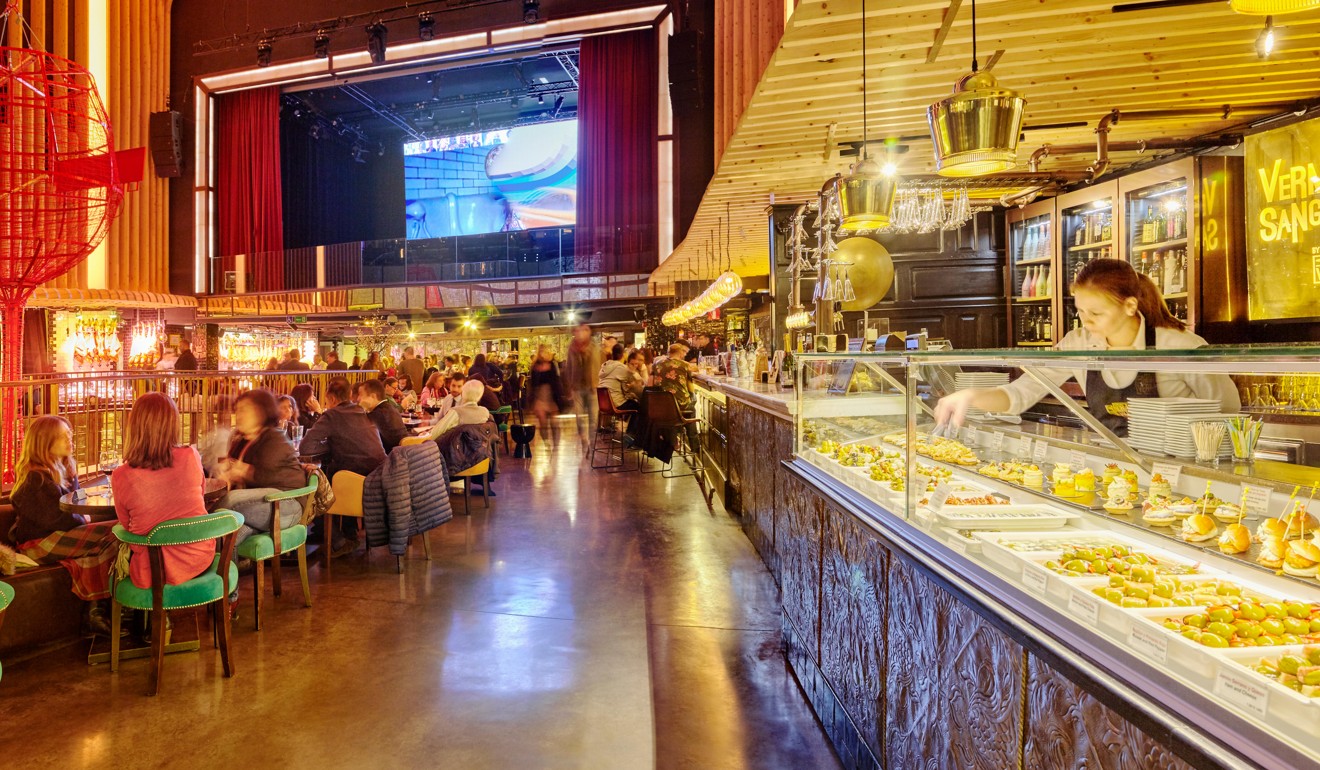 Platea Madrid wins hands down when it comes to ambience and design. The beautifully restored, vast former cinema would be a must-see in any city, but the floors of sensational food and drinks make it even more special. It's not just Spanish; Italian, Japanese and other cuisines are on offer, but the national dishes take pride of place.
Scores of picture-perfect classic tapas are laid out behind counter windows, while the dedicated jamon specialist is a joy to behold. The jamon comes to the fore in one of the tapas world's most simple and classic plates, namely bread rubbed with garlic and tomato, then draped in acorn-fed ham. It may not be the most technically accomplished dish, but the quality of the ingredients is everything.
Next is a delicious shot glass of salmorejo, the creamy tomato, garlic, olive oil and bread purée from Andalusia that is an explosion of umami, much more memorable than the better-known gazpacho. Cocktails – it's getting towards midnight – are exceptional and the wine list is extensive.
Finally, by the popular San Miguel market in the heart of the city, there's another great and crowded choice for tapas and other small plates –Taste Gallery. As the name suggests, this is as far removed from the surly gambas al ajillo merchant as you can imagine. Part of its website is called "philosophy". It reads, "Culinary art, based on a good product and with reasonable prices so that eating well isn't a luxury, just a great experience."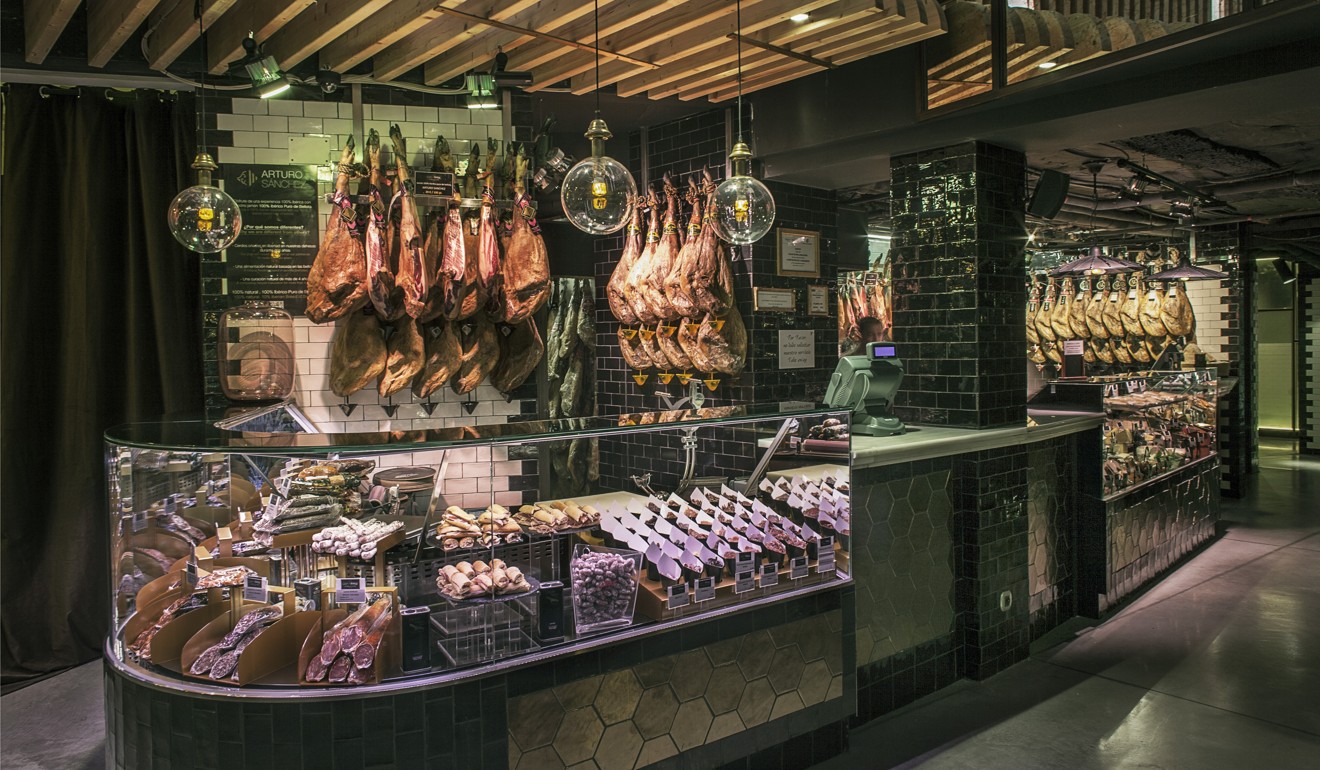 It's a strong claim, but it's backed up by the food. Monkfish with artichokes and Iberian ham is a sensational combination, while the "secret" tapas options include oxtail spring rolls and beautifully plated stuffed squid. There are culinary tricks at every turn, and they always add a dimension to the dish in question – and they don't mind if you pay with a
€
50 note.
La Casa del Abuelo
Calle de la Victoria 12, tel: +34 91 000 01 33; lacasadelabuelo.es/
Puerta 57
Estadio Santiago Bernabéu, Calle de Padre Damián, s/n Puerta 57, tel: +34 914 57 33 61; puerta57.es/
Atrapallada
Paseo de las Acacias 12, tel: +34 915 39 08 92; restauranteatrapallada.com/
Platea Madrid
Calle Goya 5-7, tel: +34 915 77 00 25; plateamadrid.com/en/
Mercado de San Miguel
Plaza de San Miguel, tel: +34 915 42 49 36; mercadodesanmiguel.es/en/
Taste Gallery
Plaza de San Miguel 8, tel: +34 917 58 93 39; tastegallery.es/#
How to get there
Cathay Pacific flies between Hong Kong and Madrid four times a week. Madrid can also be reached via most Persian Gulf and European hub airports.
This article appeared in the South China Morning Post print edition as: The real Madrid