Vietnam
Get more with myNEWS
A personalised news feed of stories that matter to you
Learn more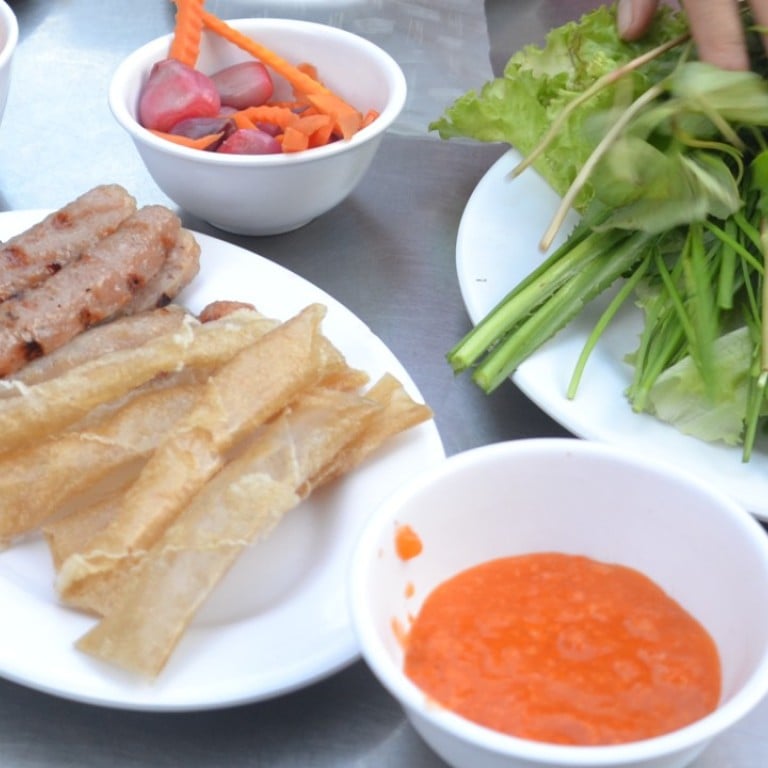 Vietnam's simple pleasures are summed up in Nha Trang, where humble dishes taste heavenly
Be it pancakes, fish noodle soup, grilled sausages or the outstanding local noodle dish mi quang, there's something for everyone at the city's countless street food stalls, modest restaurants and high-end resorts
As the short flight from Hong Kong descends towards Nha Trang in central Vietnam, it becomes apparent that this is a serious seafood destination. Almost as far as the eye can see, the azure waters of the South China Sea are covered in a patchwork of hundreds of floating fish farms.
Shacks – perched precariously on stilts – are surrounded by nets and underwater cages. I later learn that, in the sheltered waters, they farm a variety of produce including butterfish, cobia, shrimp and lobster. Some of the shacks serve as markets, where seafood can be bought, then cooked in nearby floating restaurants.
These fish farms also supply the street food stalls, humble restaurants and high-end resorts that are spreading through Nha Trang, an increasingly popular destination. A new terminal at Cam Ranh International Airport is about to open, while a number of five-star developments have opened along a 25km (16-mile) strip of beachside dunes. Among them is the elegant Anam Resort, which opened last year. A 30-minute drive south of Nha Trang, it boast 300 metres of beachfront as well as a spacious location for its villas and suites.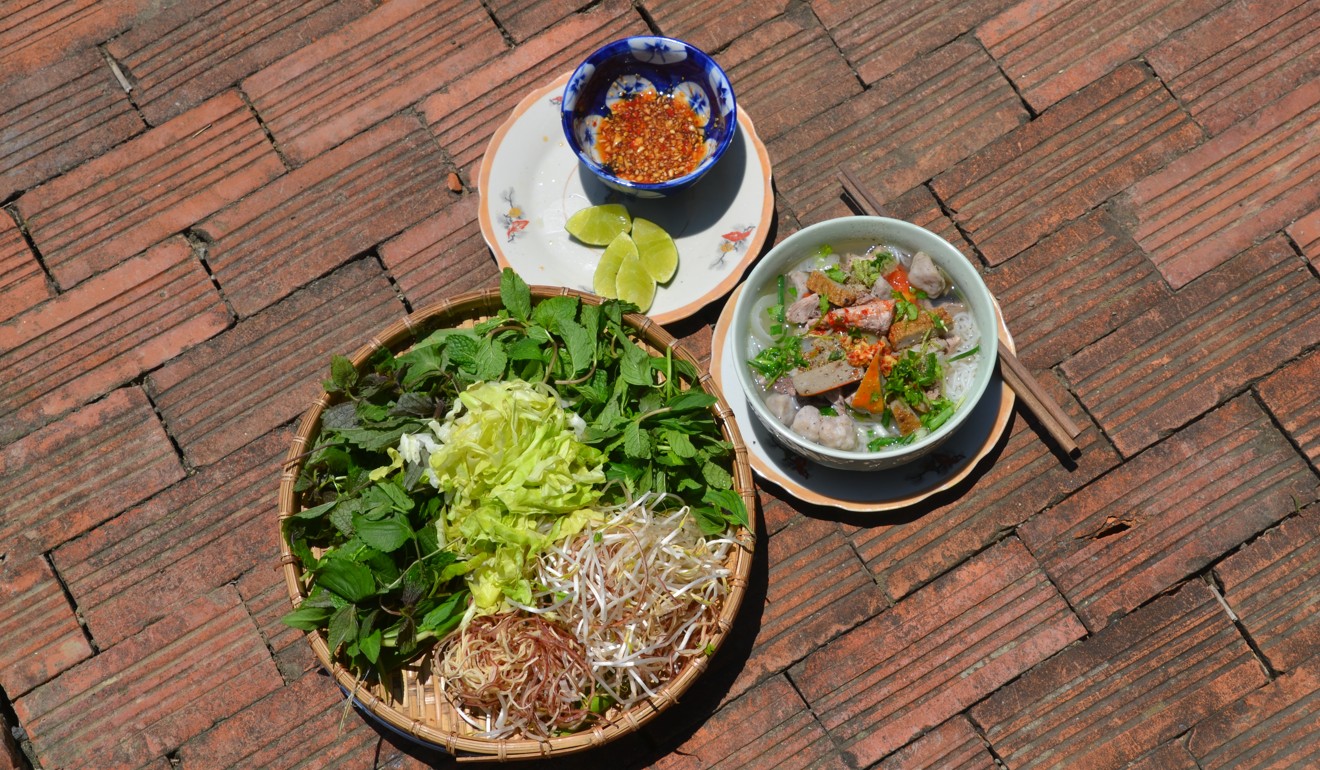 In common with many visitors, I'm drawn by Vietnam's vibrant cuisine, and the Anam offers a number of ways to experience it.
On the first evening I head off on my own to get a feel for Nha Trang and some of its signature dishes. The city sits on a long stretch of beach that is popular, particularly in late afternoon with the sun going down, when crowds of locals and visitors take to the water.
There are rudimentary outdoor gyms where lithe old ladies stretch, pedal and squat under the purple and white blossoms lining the seafront. There's even a Nha Trang surf rescue station, a sort of Vietnamese Baywatch, keeping a watchful eye on people still swimming even as the bright lights of squid boats start illuminating the water offshore.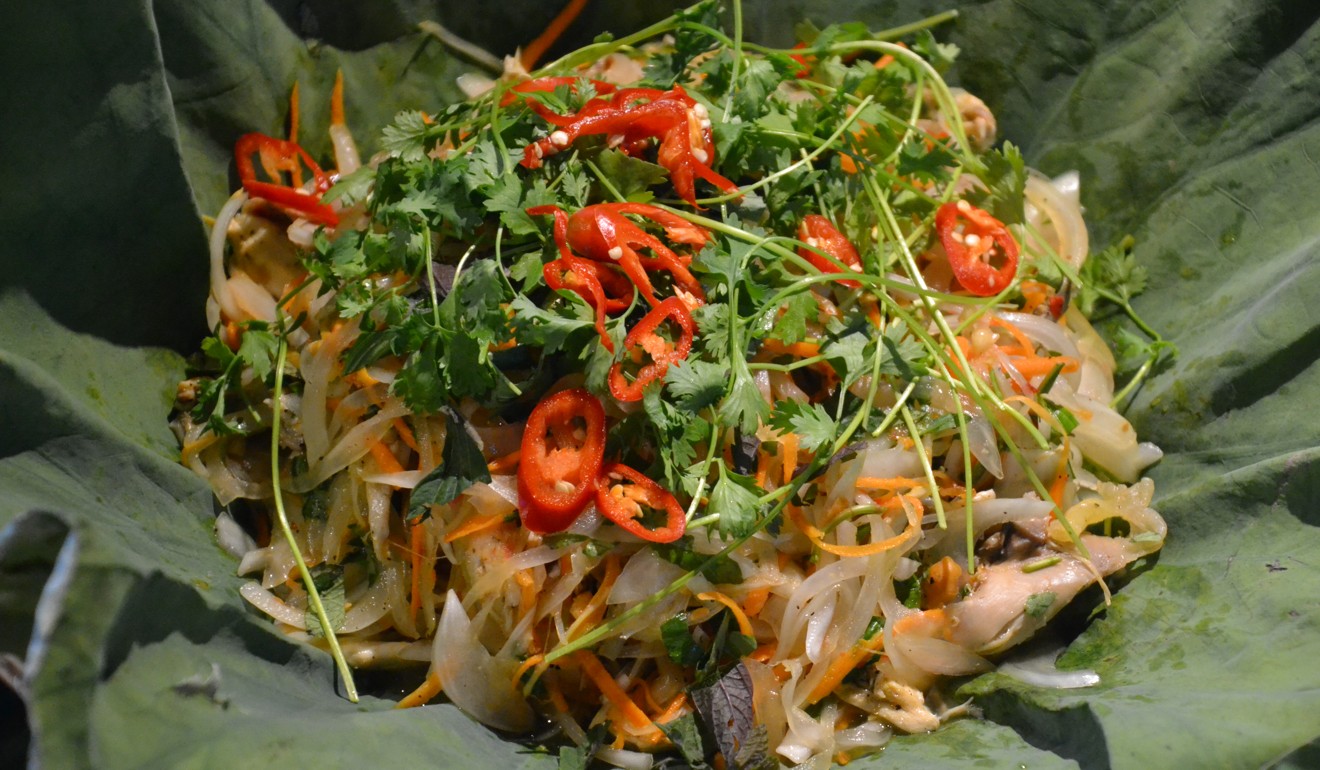 There are enticing aromas too, from basic street-side grills where those locally farmed squid and shrimp are sizzling before being dipped in flavour-packed sauces. One street back from the water sits a particularly smoky venue in the form of Dang Van Quyen, a renowned, humble purveyor of grilled pork sausages called nem nuong.
It's a simple set-up with rows of aluminium tables outside surrounded by blue plastic garden chairs. Customers seem oblivious to sitting at a busy junction under a loudspeaker blaring radio announcements. To add to the cacophony, two blind karaoke singers then wander up, their own speaker on wheels behind them as they belt out numbers before asking for donations.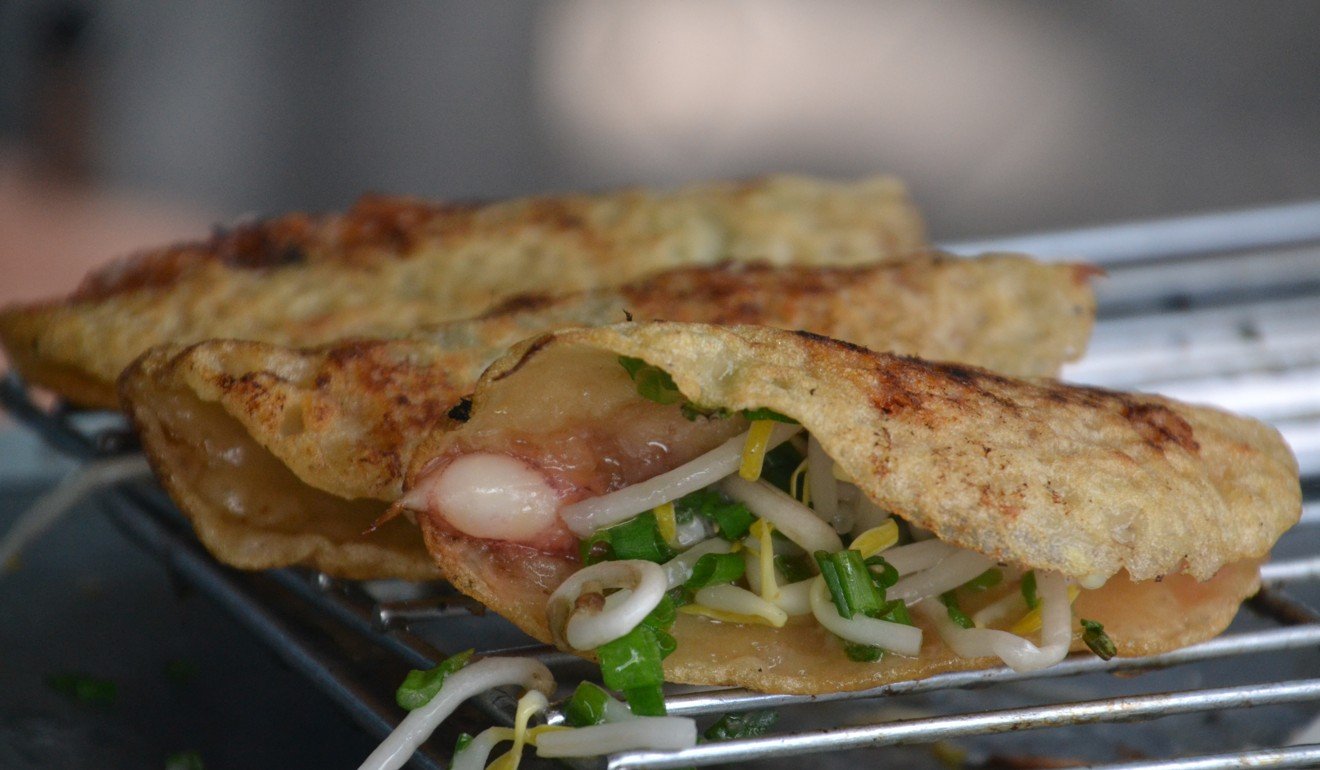 Everyone in this slightly chaotic locale is here for the food, though – and it doesn't disappoint. The dish I order, by gesturing to my neighbour's plate with a smile, is a masterclass in flavour and texture.
A vast verdant mound of pungent Vietnamese coriander called rau ram arrives along with lettuce, mint and spring onions, alongside a metal platter decked with slices of cucumber, green mango, thin strips of ginger and zucchini, and a plate of rice paper sheets.
The focus is the gently spiced minced pork sausages, hot and smoking from the vast charcoal-fired grill which first attracted me with its heady clouds of white smoke. Then there are crisp, flat cigar shapes of crunchy tofu skin, along with tiny pickled red onions and shards of carrot.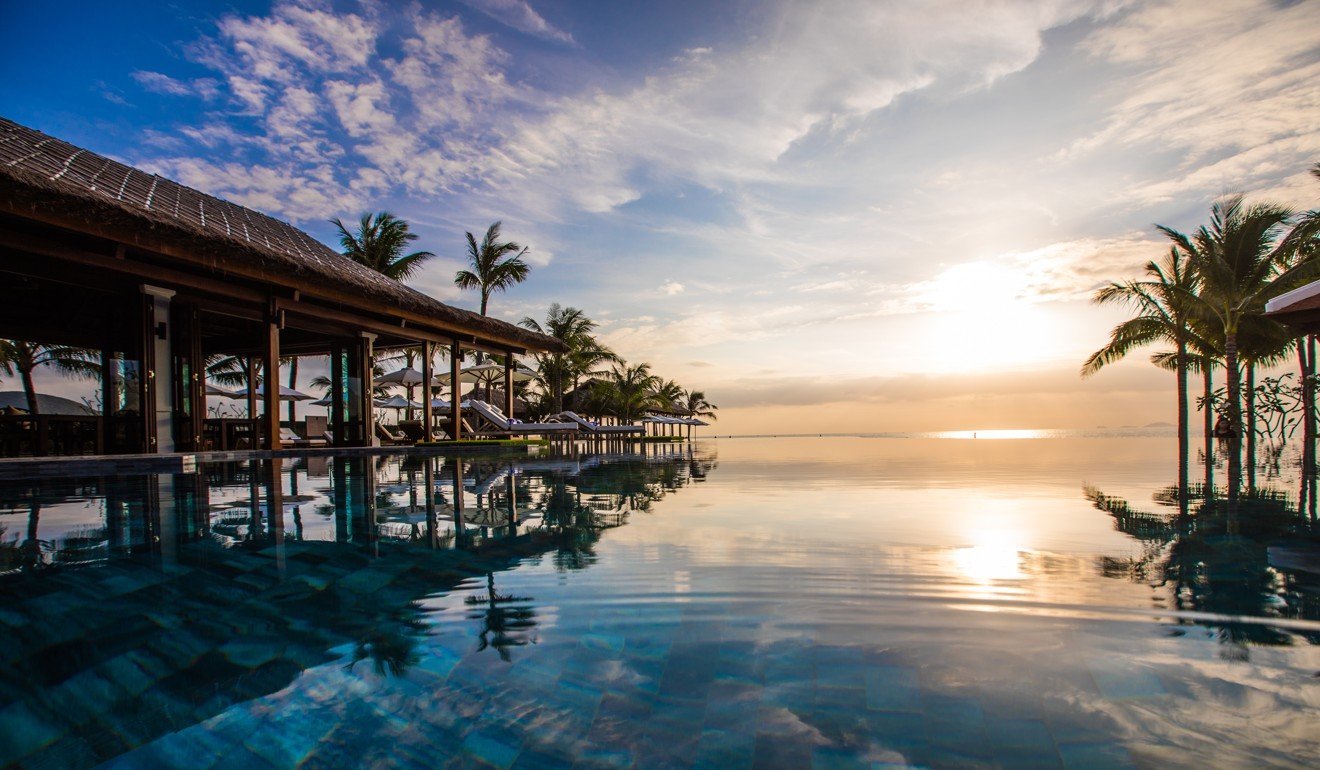 Eating here is all about the assembly, and one of the young staff sweetly shows how to do it, neatly lining up all the ingredients before deftly rolling them up and telling me to dunk the result in the Day-Glo orange bowl of sauce.
It is sensational. You have all the fresh herbs and crisp vegetables, the hum of ginger, the sharp hit from pickles, the timely crunch of the crispy tofu and the smoky pork kissed by the grill, the whole glorious ensemble the perfect accompaniment to the sauce. It's made from fish sauce, tiny shrimp, crab paste, sugar, garlic – and much more besides.
As I leave, extended families, young couples and groups of friends are turning up and taking over the tables. I barely made inroads into my mini-feast, which cost all of 45,000 dong (US$2).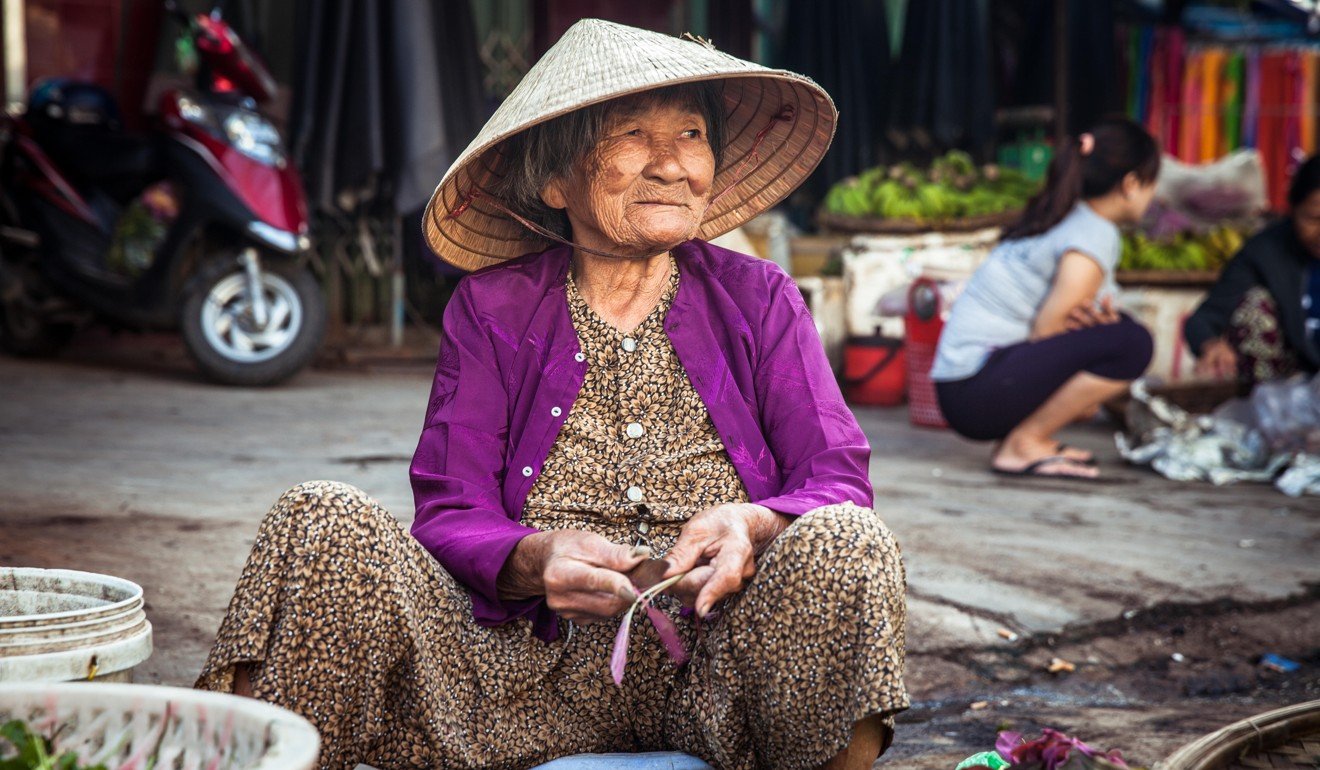 The following morning I'm booked on one of the Anam Resort's cultural experiences. I'm picked up at 8am in a 4x4 by Phan Quoc Dat, a Nha Trang-based tour guide and chef. In impeccable English with a slight Australian accent – he explains he has never left Vietnam, but has worked with many Australian visitors over the years – he runs through the day's programme and proudly explains how we'll experience some of Nha Trang's stellar street food and produce.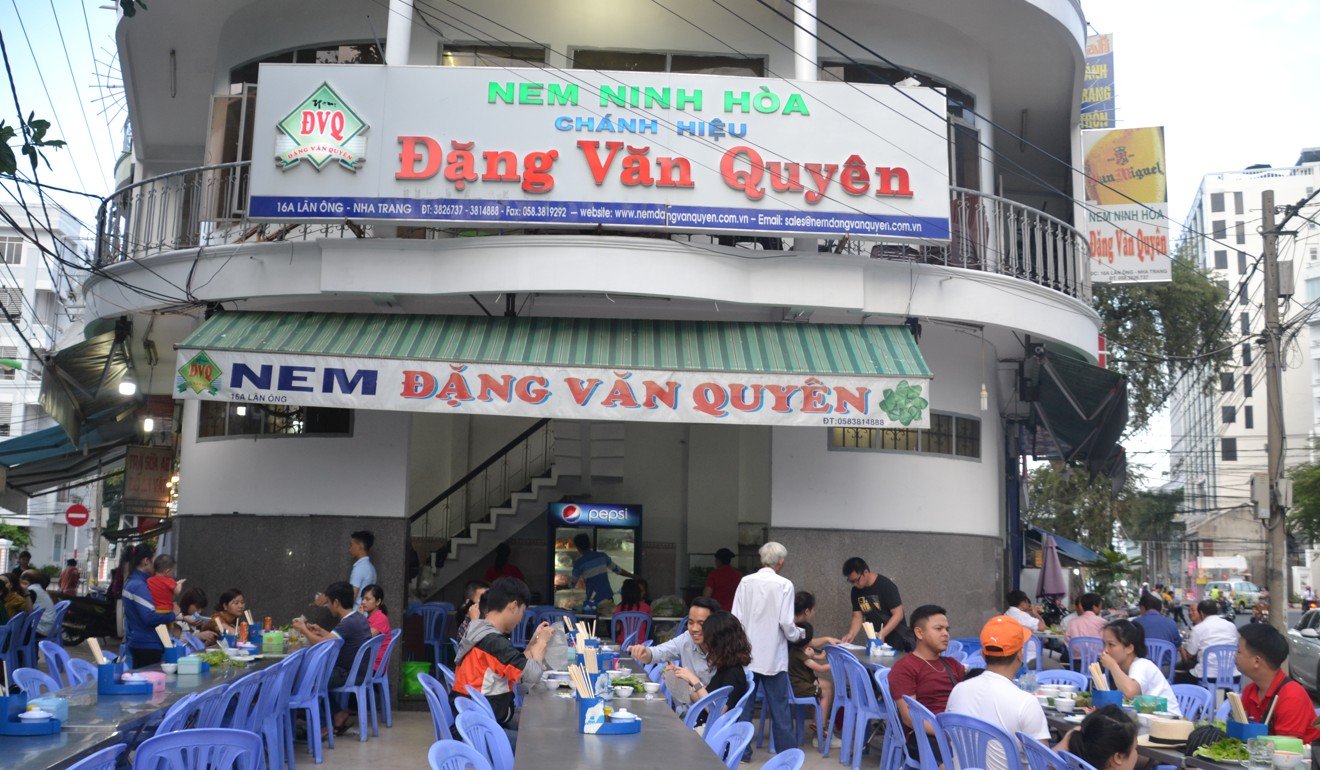 Once in the city we move on to our second mode of transport, an elegant cream-coloured Vespa. I hold on behind him as he weaves through a sea of fellow riders. Scooters – ubiquitous in Vietnam – are by far the best way to get around, especially on our model, made famous by actress Audrey Hepburn in the 1953 filmRoman Holiday.
We head away from the busy streets into quieter local neighbourhoods, well off the beaten track, where a low roadside table under an awning is staffed by two smiling ladies. First come banh can – soft and fluffy rice flour mini pancakes made with coconut milk, carefully cooked in small terracotta pans before being topped with a quail egg or served with toppings of minced pork or shrimp.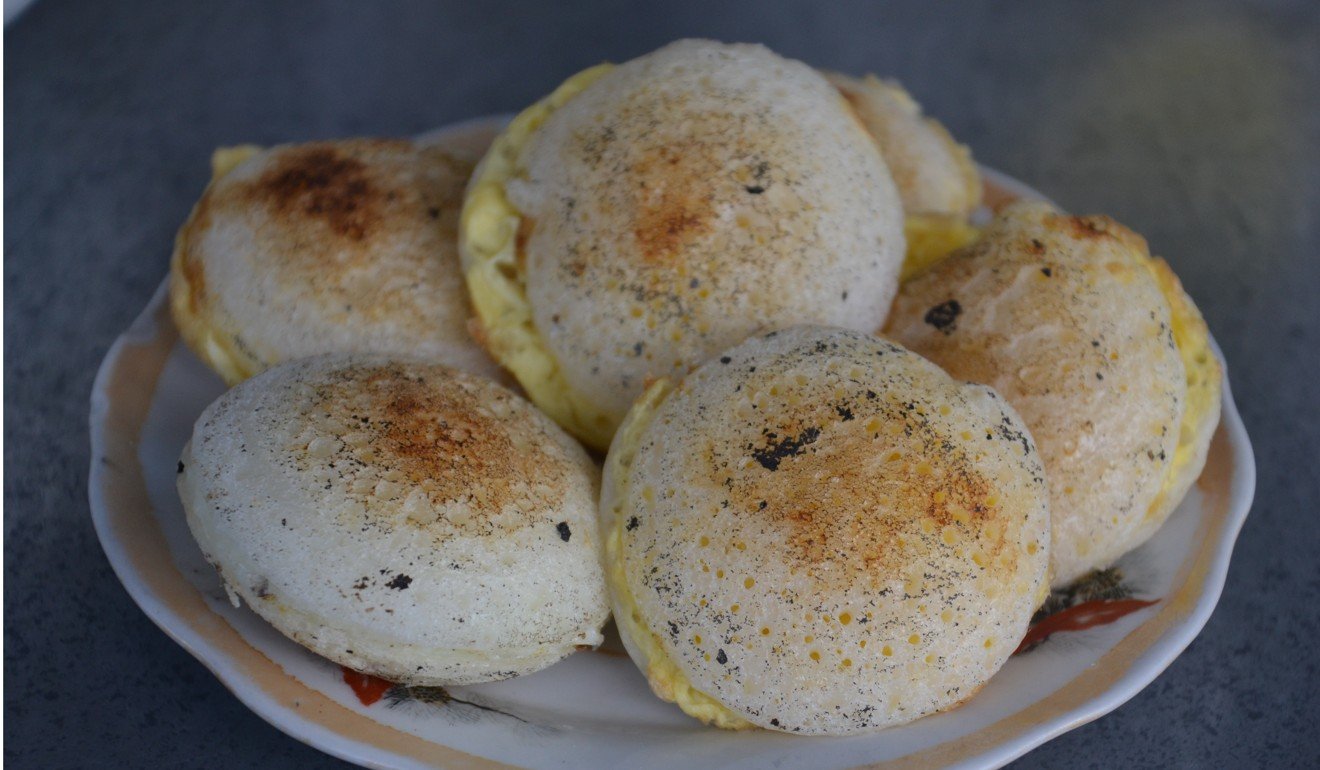 The little domes are ridiculously moreish, a delicious sponge for the kaleidoscope of flavours and textures after being dunked in a bowl containing nuoc mam pha, the heady, pungent fish sauce made from fermented anchovies, mixed with your choice of fried spring onion, cashews, ginger and more.
Then there's banh xeo, a crisp pancake – again made from rice flour, but golden with turmeric powder – and filled with bean sprouts, scallions and local squid. You wrap them in your choice of greens and dunk them in the same sauce you made earlier. This sensational, substantial breakfast for two was less than US$2.
Next we visit a stall selling a mind-boggling array of fresh herbs, vegetables and fruit. Dat goes through every one, pointing to and naming them; some are familiar, others less so. Then we reach a bakery making golden mini baguettes for the legendary banh mi sandwiches. Somewhat disconcertingly, Dat points out yellow plastic containers of food colouring on the floor that are sprayed on the loaves to give them their unique hue. Not everywhere does this, but it somewhat spoils the image.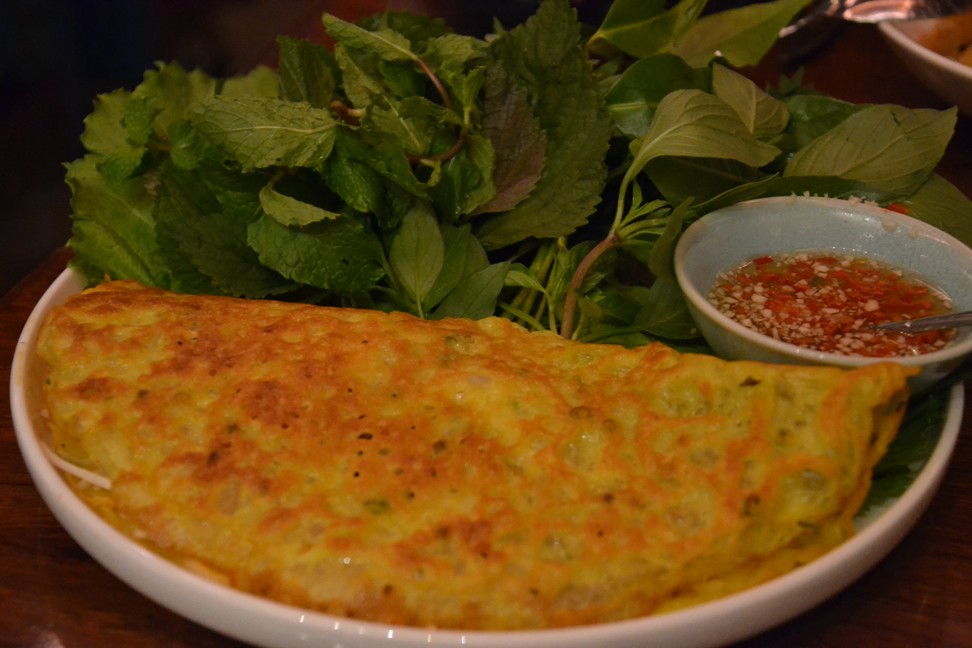 After another Vietnamese classic, a cooling iced coffee with condensed milk, we head to the local market. All the stalls are run by women, who squat on the floor or sit on tiny stools. The produce is breathtaking in its range and quality, especially the fish. There are ruby-red tuna caught that morning that Dat buys for our lunch, while the wafts from the home-made shrimp paste are pungent, to say the least.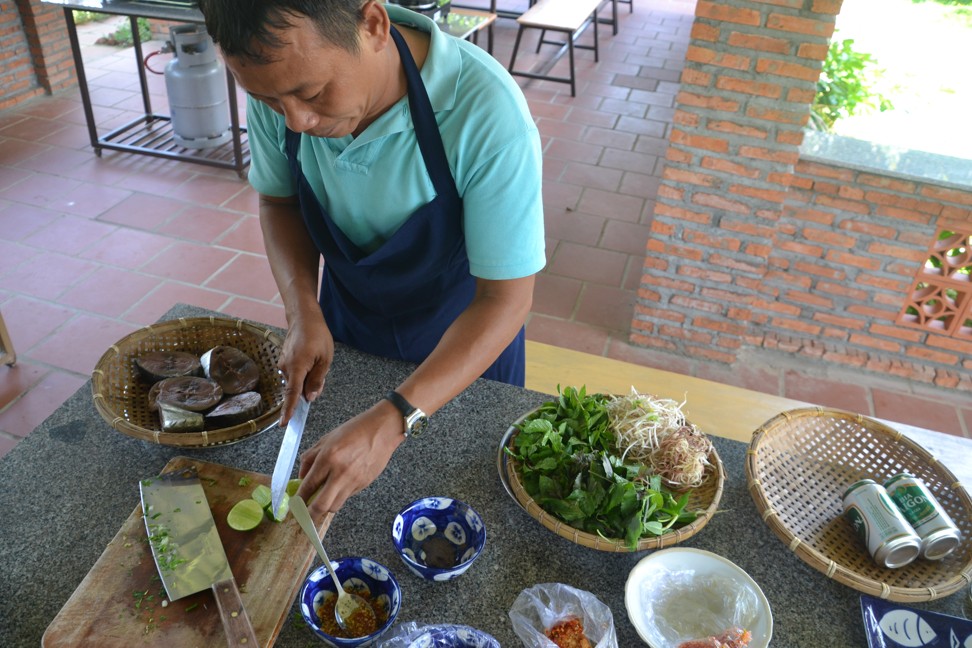 In his lovely garden, part of which he has turned into a cooking school, Dat transforms the market purchases. The shrimp paste is added sparingly to simmering water, forming the base of a fish stock for our noodle soup. Then the tuna is added along with shrimp, fishcake and fishballs, lemongrass, a tomato, bean sprouts, onions and shallots.
Once served, we add our own lime juice, fried shallots and mounds of fresh herbs. It's triumphantly tasty, easy to make, and testament to the excellent produce from the women in the market.
My last evening is spent back at The Anam experiencing one of a number of initiatives that complement the resort's exceptional in-house culinary programme – the French menu I had one evening, from a 28-year-old Vietnamese chef who had never been to France, was nothing short of sensational. This was local Vietnamese food, cooked in the hotel's kitchens by the mothers of some of the staff under an initiative called "Mamma's Cooking".
While the level of chilli in some dishes was possibly reduced to cater to global palates, they otherwise replicate the food they make at home. All the dishes were utterly delicious.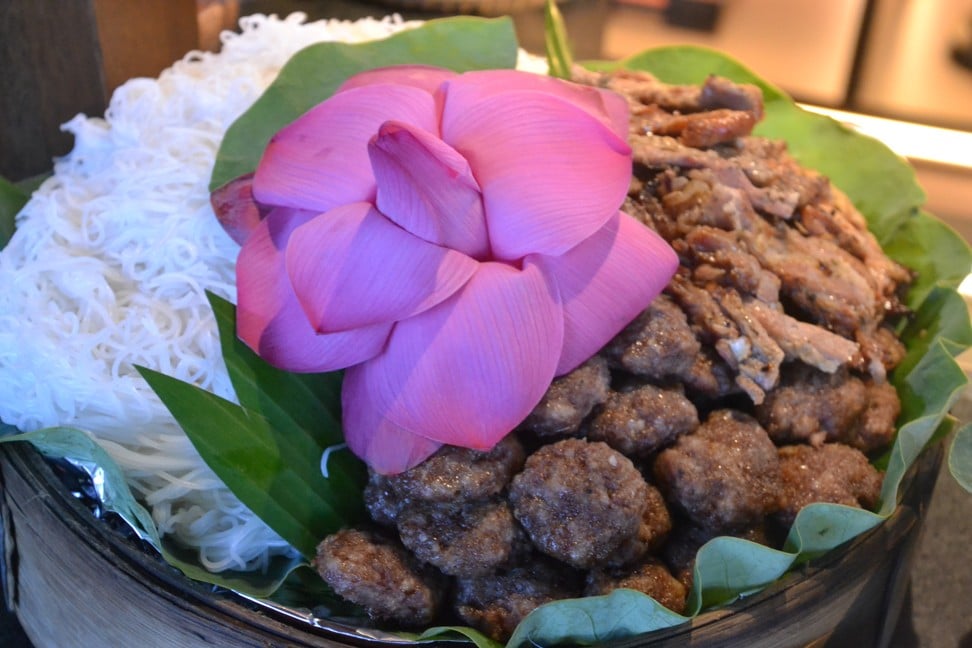 The chicken salad with onion and laksa leaves was one of the most flavour-packed salads I can recall, and a marinated chicken was beautifully grilled, but the absolute stand-out was mi quang.
It's a multi-layered local noodle dish from central Vietnam based on chicken or pork broth, yellowish due to the addition of turmeric, fish sauce and also cu nen, a sort of extra-pungent garlic that is traditionally fried in peanut oil.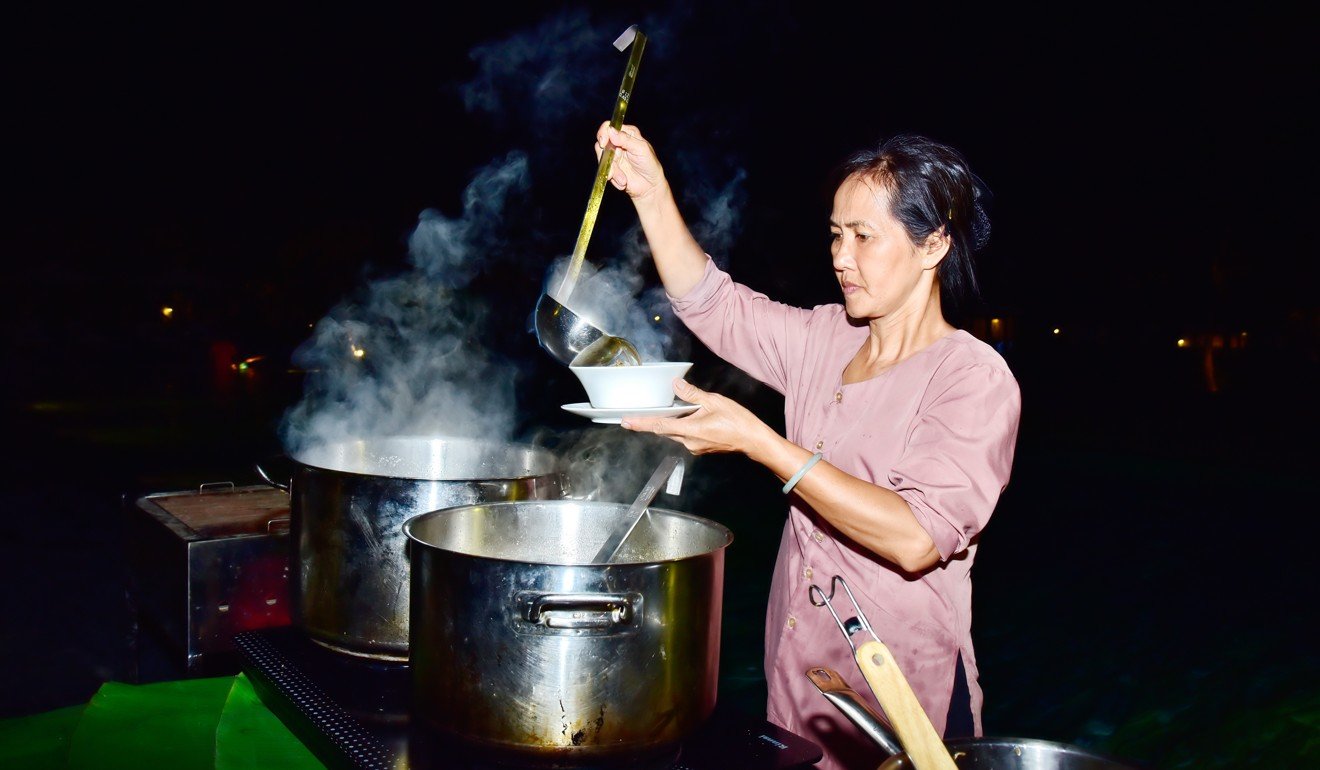 This is spooned over broad, chewy noodles and a huge variety of green herbs, before toppings are added, including pork rib, prawn and quail eggs. To finish, optional chilli, rice crackers – and an unexpected squeeze of lemon.
A humble dish, it was cooked with a mother's love and made for the perfect finale to a culinary exploration of Nha Trang.
Dang Van Quyen, 16A, Lan Ong, Xuong Huan, Nha Trang 650000, Vietnam – grilled pork nem muong specialist.
The banh khot came from the Nga Banh Xeo roadside stall on Luong Dinh Cua, Nha Trang
This article appeared in the South China Morning Post print edition as: A triumph for the simple pleasures