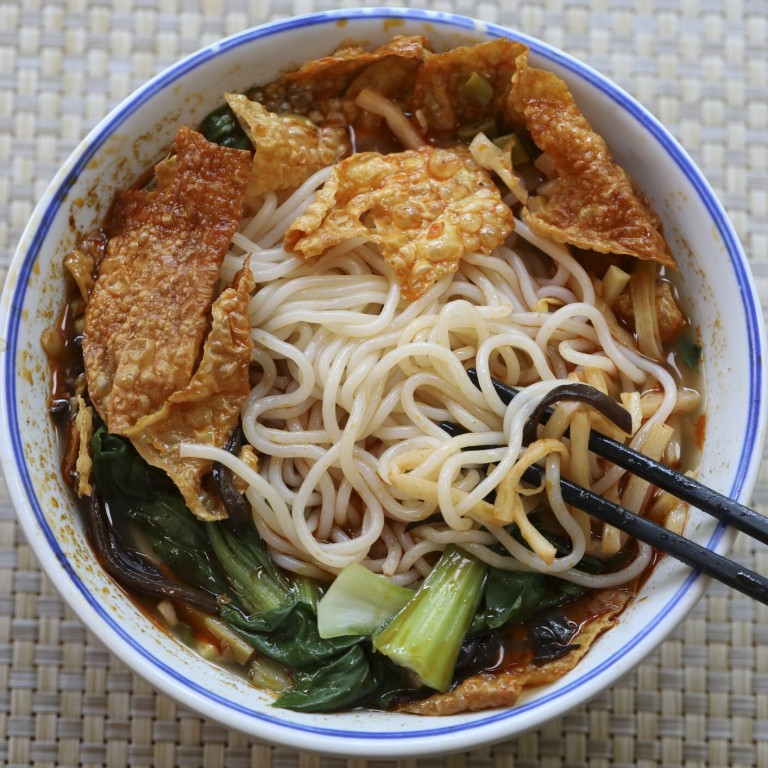 The noodles that became a Chinese national dish during coronavirus lockdown – with a smell that takes getting used to
Luosifen, or river snail rice noodles, was already the bestselling food item on Taobao last year, but lockdowns have seen its popularity soar further
Famous for its pungent smell and taste, the dish originated as a cheap street snack in the city of Liuzhou in the 1970s
A humble dish of noodles from Guangxi in southwest China has become the country's national dish during the Covid-19 pandemic.
Luosifen, or river snail rice noodles, is a speciality of the city of Liuzhou in Guangxi, but people across China have been voicing their love of instant pre-packaged versions of the noodles online. Topics about the noodles have become top-trending items on Weibo, China's answer to Twitter, such as how they became many people's favourite food during lockdown at home, and how the suspension of factories making the noodles led to huge shortages of them on e-commerce platforms.
Originally served as a cheap street snack in neighbourhood hole-in-the-wall shops in Liuzhou, luosifen's popularity first shot up after it was featured in a 2012 hit food documentary, A Bite of China , on the country's state TV network. There are now more than 8,000 restaurants in China specialising in the noodles across various chains.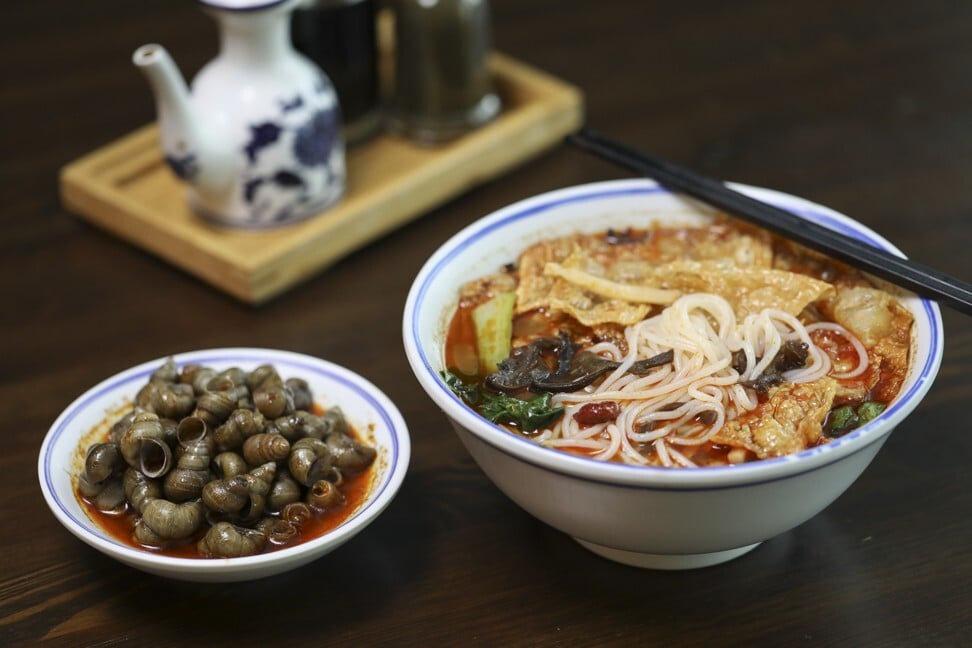 The country's first luosifen industry vocational school opened in May in Liuzhou, with the aim of training 500 students a year for seven programmes including manufacturing, quality control, restaurant chain operation and e-commerce.
"The yearly sales of instant pre-packaged luosifen noodles will soon surpass 10 billion yuan [US$1.4 billion], compared with 6 billion yuan in 2019, and daily production is now more than 2.5 million packets," said Liuzhou Luosifen Association chief Ni Diaoyang in the opening ceremony for the school, adding that currently the luosifen industry severely lacks talent.
"The recommendation of A Bite of China made the popularity of the noodles spread across China. There are specialist restaurants in Beijing, Shanghai, Guangzhou and even Hong Kong, Macau and Los Angeles in the US," he said.
But it was an enterprising manager at an instant luosifen factory in Liuzhou that caused the current fervour. With so much of the country in distress over shortages, when factories did start to open again, the manager did a live stream with popular short video platform Douyin showing how they made the noodles, and took live orders online from viewers. Over 10,000 packets were sold in two hours, according to local media. Other luosifen makers quickly followed suit, creating an online craze that has not since abated.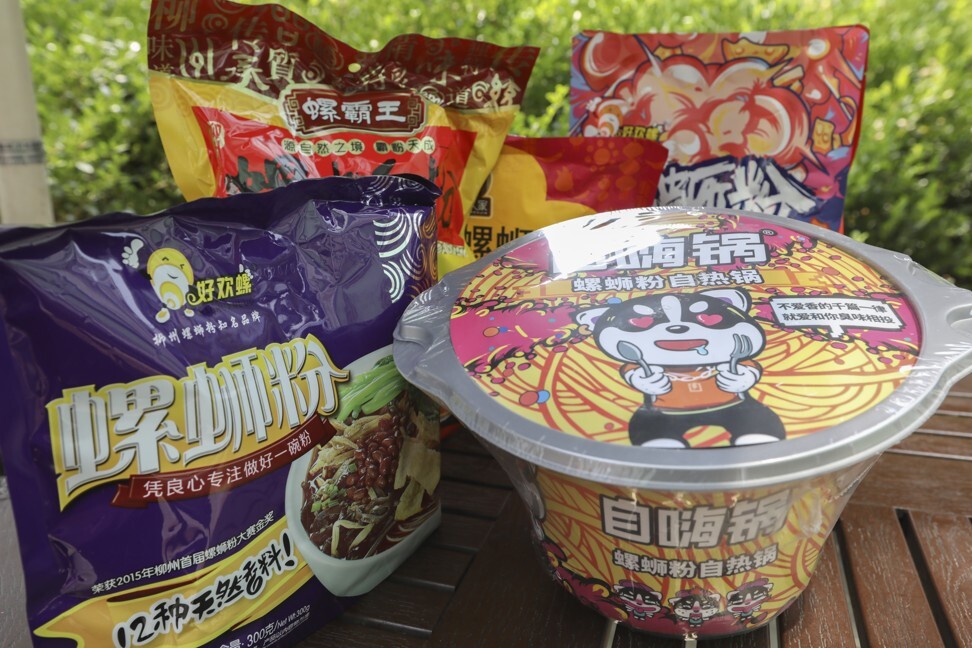 The first company to sell packaged luosifen was set up in Liuzhou in 2014, turning the street snack into a household food. Sales of pre-packaged luosifen reached 3 billion yuan in 2017, with export sales over 2 million yuan, according to a report by Chinese online media company coffeeO2O, which analyses dining businesses. There are more than 10,000 mainland e-commerce firms selling the noodles.
The report stated that in 2014, a huge number of shops selling the instant noodles were set up on e-commerce platform Taobao. (Taobao is owned by Alibaba, which also owns the Post.)
"The number of Taobao vendors for the noodles grew 810 per cent from 2014 to 2016. Sales exploded in 2016, registering a year-on-year increase of 3,200 per cent," the report said.
Taobao sold over 28 million luosifen packets last year, making it the most popular food item on the platform, according to the 2019 Taobao Foodstuffs Big Data Report.
Chinese video sharing platform Bilibili
has a specialist luosifen channel that has more than 9,000 videos and 130 million views, with many food vloggers posting about how they cooked and enjoyed the delicacy at home during the Covid-19 lockdown.
Famous for its pungent smell and taste, the luosifen stock is made by boiling river snails and pork or beef bones, stewing them for hours with cassia bark, licorice root, black cardamom, star anise, fennel seeds, dried tangerine peel, cloves, sand ginger, white pepper and bay leaf.
The snail meat disintegrates completely, merging with the stock after the long boiling process. The noodles are served with peanuts, pickled bamboo shoots and green beans, shredded black fungus, bean curd sheets, and green vegetables.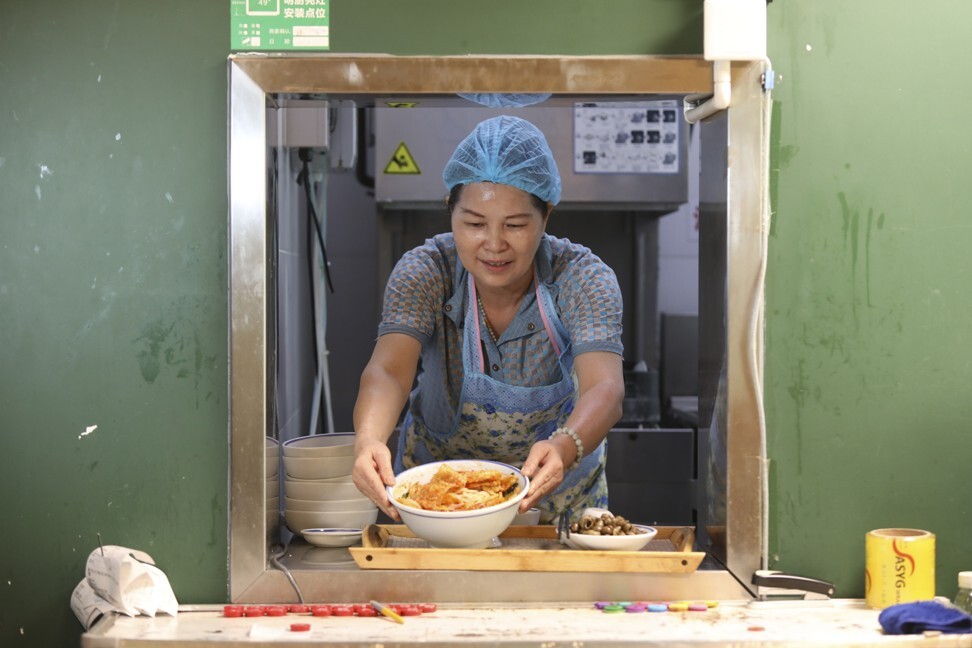 Chef Zhou Wen from Liuzhou runs a luosifen shop in Beijing's Haidian district. He says the unique pungency comes from the pickled bamboo shoots, a traditional condiment kept by many Guangxi households.
"The taste comes from fermenting the sweet bamboo shoots for half a month. Without the bamboo shoots, the noodles will lose their soul. Liuzhou people love their pickled sweet bamboo shoots. They keep an urn of it at home as seasoning for other dishes," he says.
"Luosifen's stock is made from small-fire boiling the fried Liuzhou river snails with meat bones and 13 condiments for eight hours, which gives the soup a fishy smell. Non-Chinese eaters might not enjoy the pungent taste on their first savouring as their clothes will reek of the smell afterwards. But for diners who like it, once they smell it, they want to eat the noodles."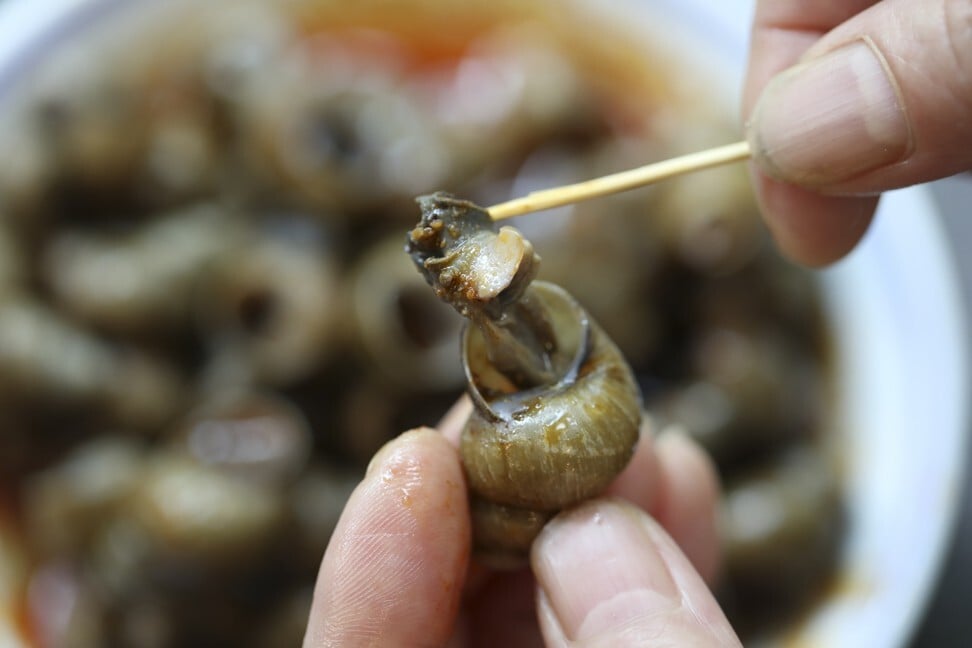 Gubu Street in Liuzhou boasts the largest wholesale market of river snails in the city. Locals there traditionally ate river snails in soup or in fried dishes as a
street snack
. Vendors from night markets in Gubu Street, which began popping up in the late 1970s, started cooking rice noodles and the river snails together, making luosifen a popular dish for locals. The skills for making the delicacy were listed on China's intangible cultural heritage list in 2008.
At Eighty-Eight Noodles, which has two outlets in Beijing, a bowl sells for up to 50 yuan, leading food bloggers to call it the most expensive luosifen sold in Beijing.
"Our rice noodles are handmade and the stock is made from boiling pig bones for eight hours," says the shop's manager, Yang Hongli, adding the first outlet opened in 2016. "Due to the long preparation time, only 200 bowls of noodles are on sale [at each outlet] every day."
Riding on the noodles' huge popularity, Wuling Motors, which is headquartered in Liuzhou, recently launched a limited-edition gift package of luosifen. The package comes in regal green gilt-rimmed boxes with gold-coloured utensils and gift cards.
The company says that although food and automobile manufacturing are not connected industries, it jumped on the luosifen bandwagon due to its huge popularity after the Covid-19 outbreak.
"Luosifen is easy to cook and is more healthy than [ordinary] instant noodles," it says in a press release. "It sold so well [during the coronavirus outbreak] that it is out of stock on various e-commerce platforms. Coupled with the disruption caused to logistics chains caused by the Covid-19 outbreak, luosifen has become a hard-to-get treasure overnight.
"Since our establishment in 1985, our motto has been to manufacture whatever is needed by the people. So we launched the noodles to help satisfy public demand."
This article appeared in the South China Morning Post print edition as: Snail and hearty, the latest noodle hit