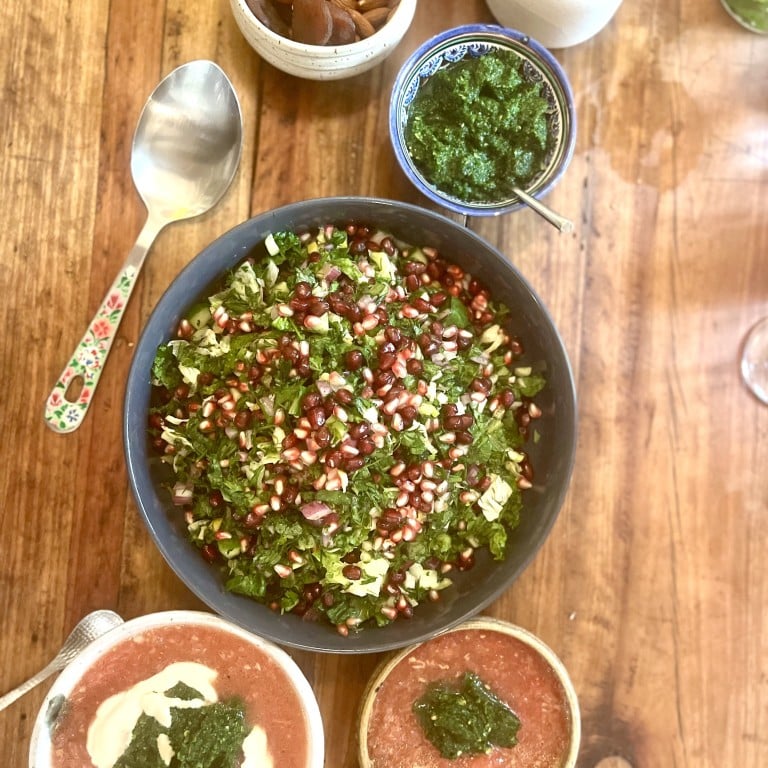 Vegan Mediterranean cooking class in an idyllic Hong Kong village feels like therapy – think roast aubergine, date cookies, a Jewish brioche
Ayelet Idan runs Olive Leaf culinary school from her home on Lamma Island, where she teaches how to cook vegan Mediterranean food in a picturesque setting
Whether she's making a Jewish brioche, date-filled cookies or roast aubergine with zhug, a herby dip, Idan is a believer in the therapeutic benefits of cooking
On a huge steel kitchen table, Ayelet Idan skilfully chops fresh parsley, lettuce and mint, and scoops it into a silver bowl. She adds cucumber, garlic, green chillies and generous amounts of lemon juice and olive oil, finishing it off with a blanket of crimson pomegranate seeds.
"Pomegranate is a miracle food, a super food," she says of one of the world's most ancient fruits which, in China, is known as the Chinese apple and is considered a symbol of fertility. "I don't know why more people don't eat it."
It's a warm Wednesday in mid-September and eight people have gathered at Idan's home on Lamma Island, a picturesque island a few kilometres southwest of Hong Kong Island, for a
vegan
Mediterranean cooking class she hosts under the banner Olive Leaf.
Her secluded two-storey village house is nestled in lush gardens bursting with hibiscus trees and gently swaying banana leaves. "It doesn't feel like you're in Hong Kong," coos one of the crowd.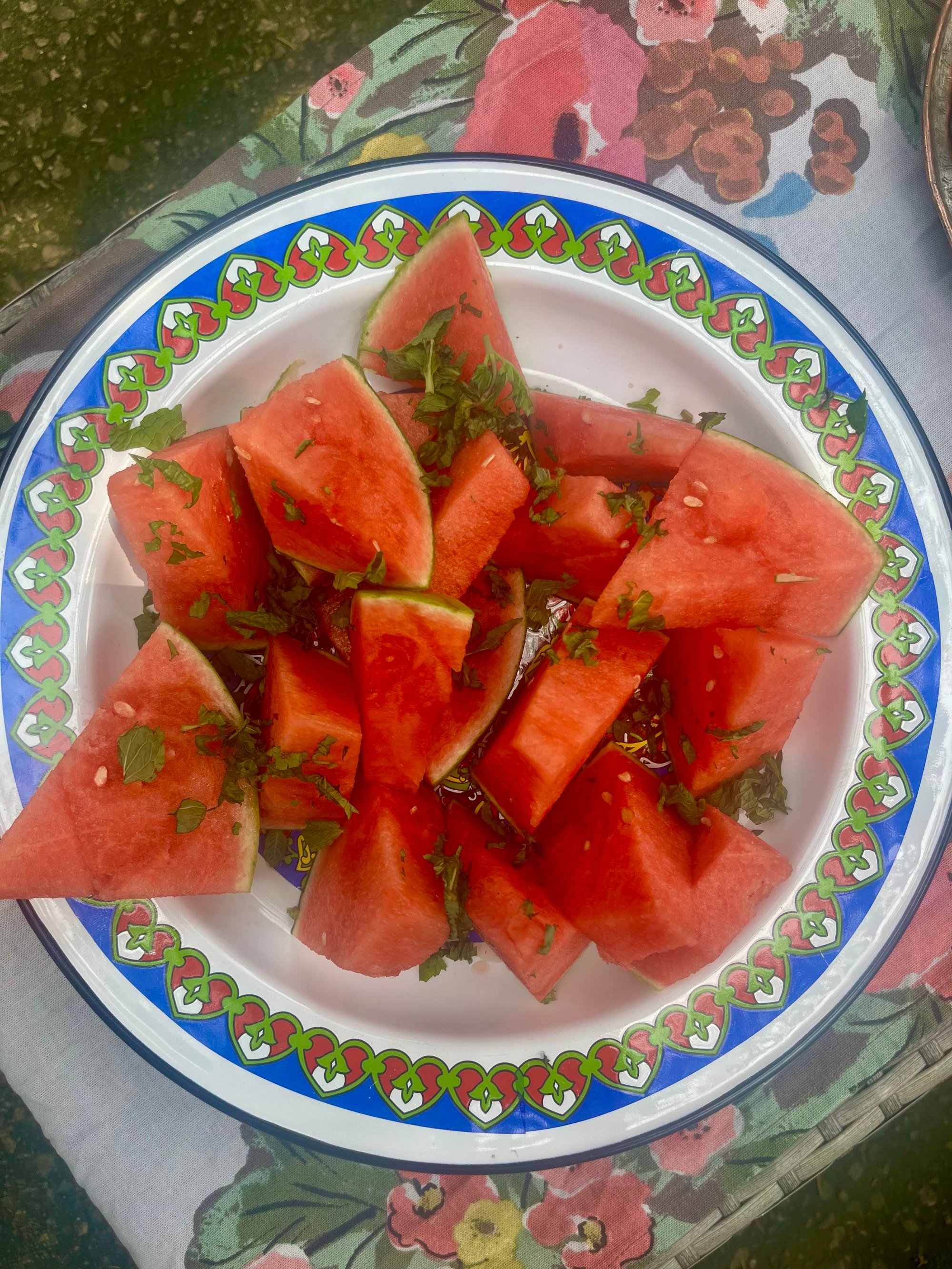 Centre stage is a towering Norfolk Island pine tree, its expanding roots at war with the concrete path.
"You can see this tree from the ferry pier and there's only four of them in our village," says Idan, as she greets the group with a plate of watermelon sprinkled with mint, and a refreshing cold tea (hibiscus, cinnamon, orange) served in bright floral tumblers – the first glimpse of her bold Bohemian style that's reflected in every piece of furniture, artwork and cutlery.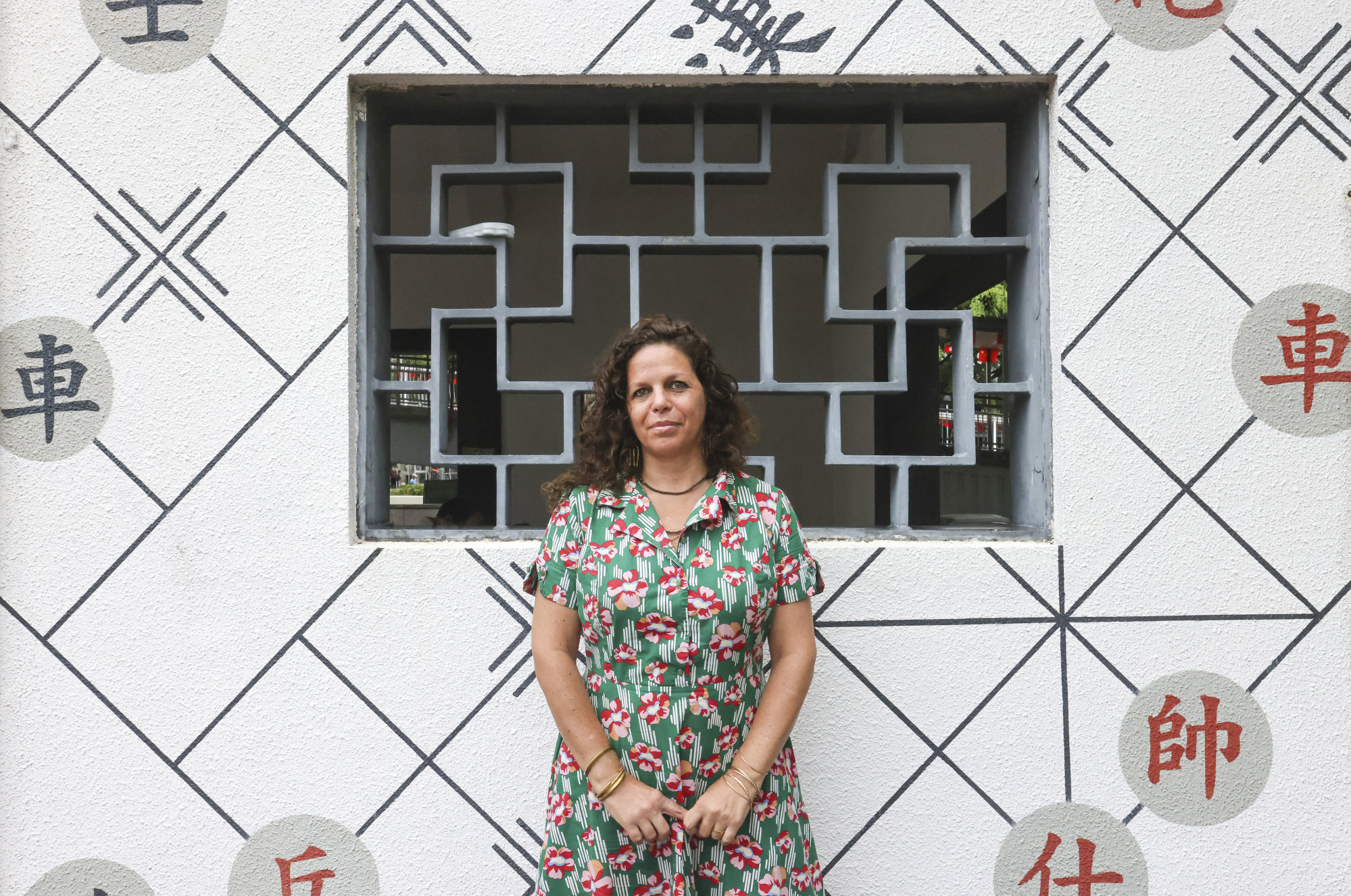 "Most of the things in my house I brought over from my home in Israel. Others I've collected during my travels," she says.
Once inside, the group is seated at a large wooden dining table laden with cashew dips and Middle Eastern sweets. Our first lesson is making kubaneh, a Yemenite Jewish pull-apart bread that is popular in Israel. When baked, it resembles brioche.
"Don't forget to use lots of olive oil," she says, her hands dripping with it as she stretches the dough onto a tray before it's rolled and coiled.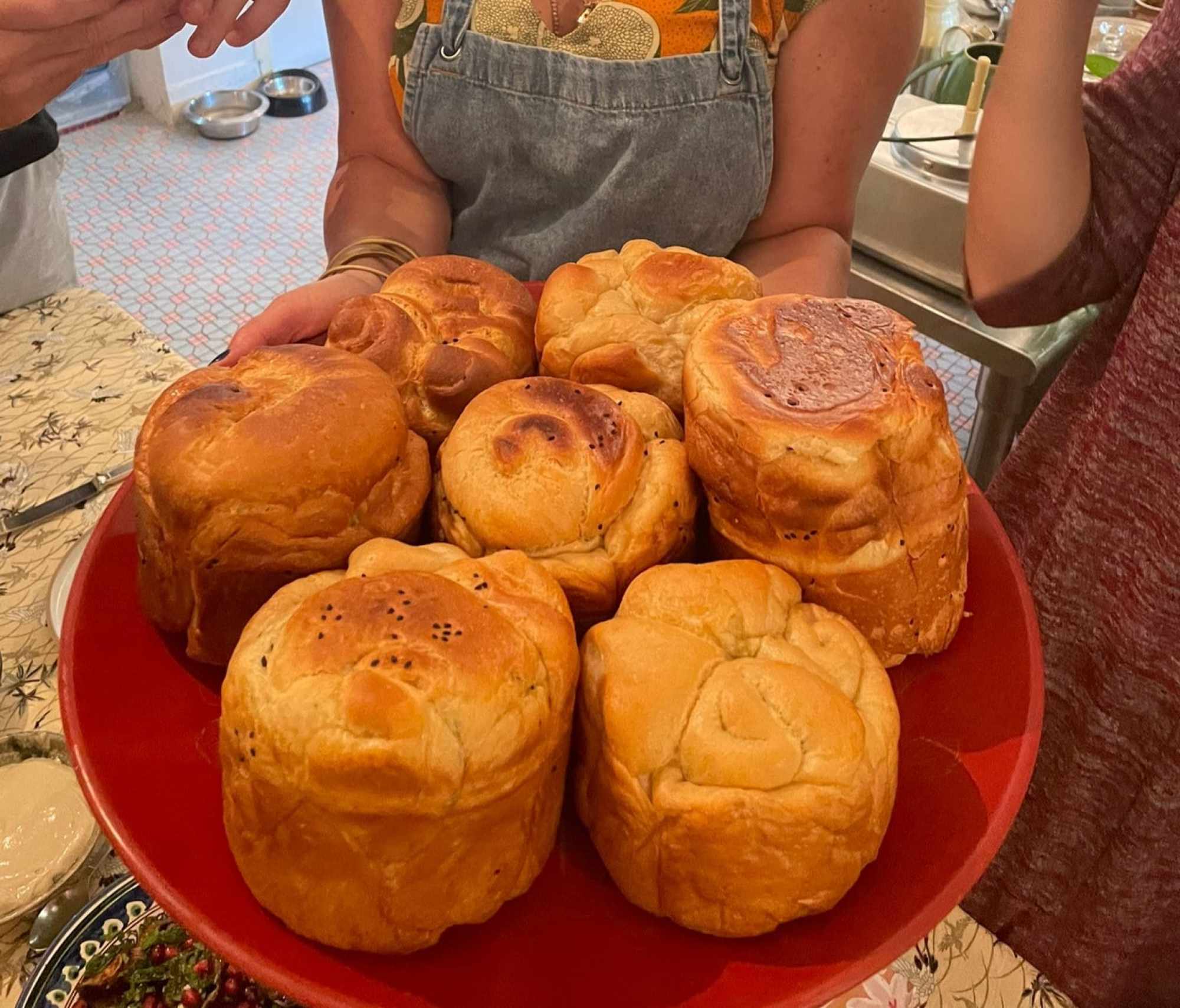 British-born Carol Biddell has made the journey from Sai Kung, lured by the food – she's vegetarian – and Idan's pet iguana, Droog. "When I found out there was an iguana, well that was the icing on the cake," Biddell says, laughing.
Today the huge reptile is in its cage. "He's been in a bad mood ever since I got back from a trip, so I have to keep him away from guests," says Idan.
Also in the group is an Australian couple, a woman from Ukraine and her 12-year-old daughter, and a couple: she's from South Africa and he's from France.
Next we make ma'amoul, date-filled cookies using semolina flour where the decorating is half the fun. The treats are melt-in-the-mouth delicious and pair perfectly with the end-of-class Turkish coffee.
Roasted aubergine with tahini and zhug, a deeply herby and spicy condiment, are also on the "to make" list.
While Idan sources most of her ingredients locally, some are imported from Israel, including the olive oil and tahini. She opens a large jar of the Middle Eastern ground-sesame condiment. It's smooth and creamy, a far cry from the cement-like tahini often found on supermarket shelves.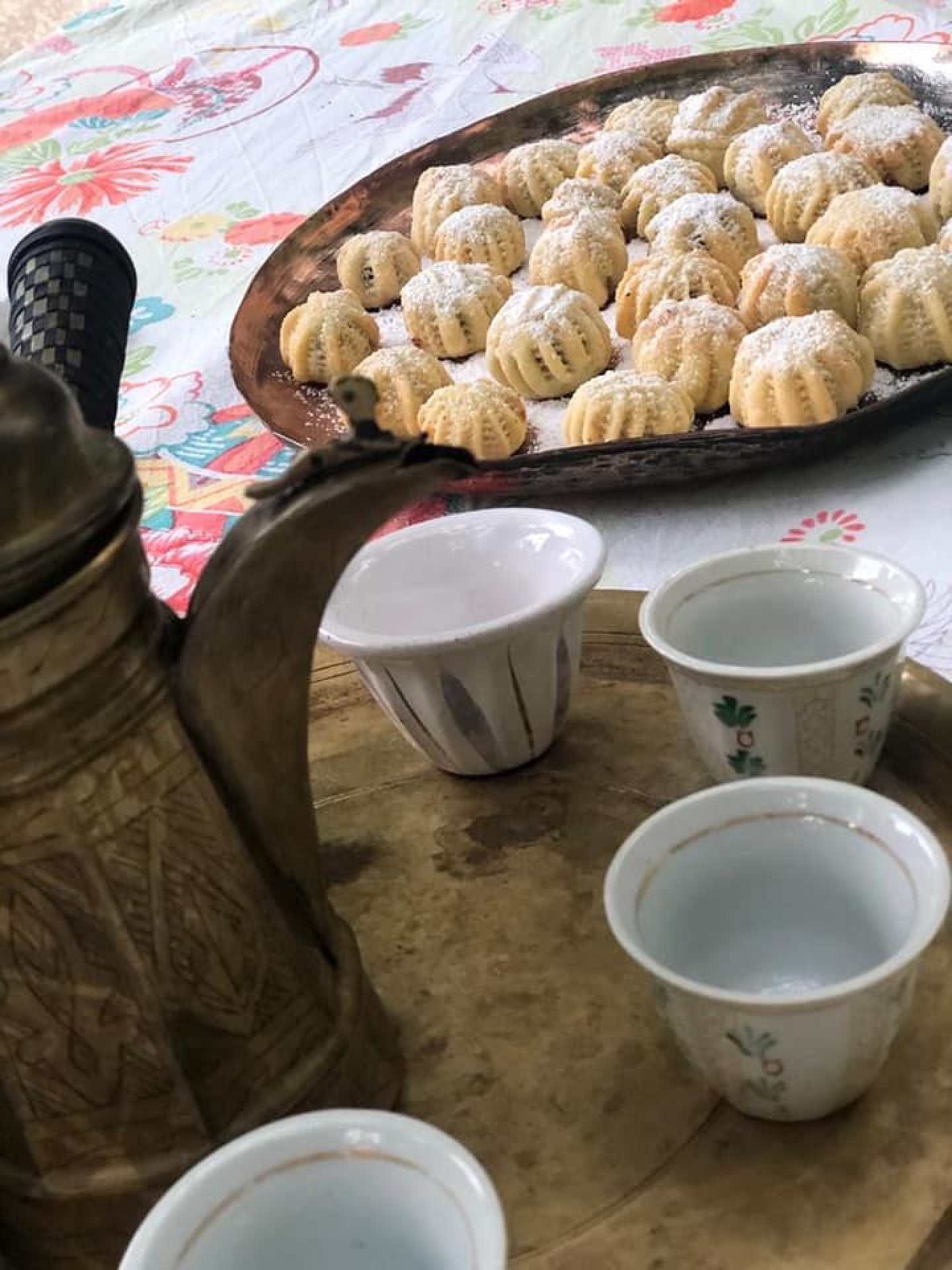 Idan says sharing her cooking knowledge is cathartic. "I have a Zoom class later today for a course I'm taking on cooking therapy. I used to work with children with special needs and truly believe in the therapeutic benefits of cooking," she says.
As well as cooking classes, Idan hosts social brunches and women's day retreats.