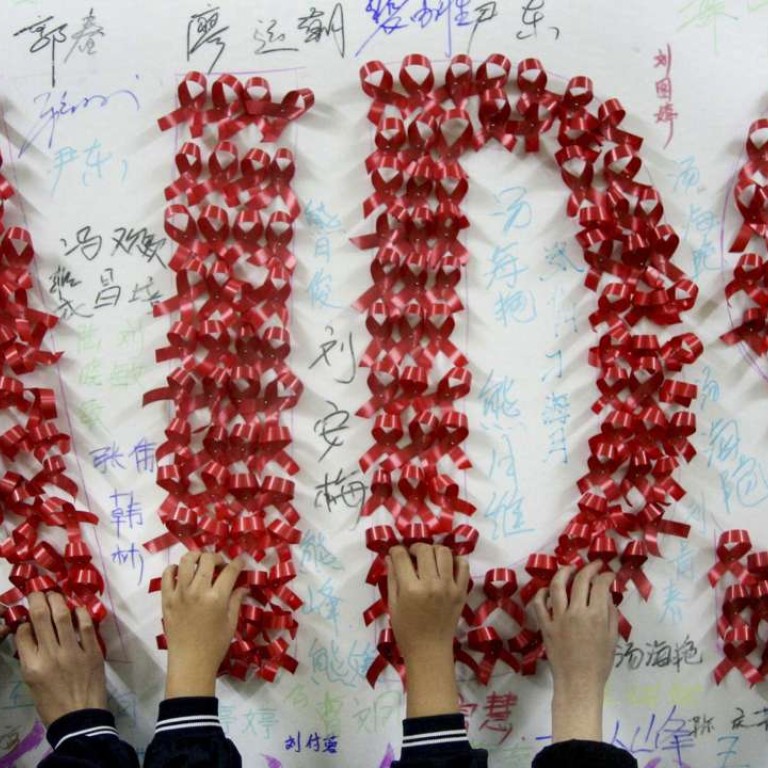 China making HIV self-test kits more accessible to plug gap in testing of at-risk groups
Amid rising incidence of the disease among China's young and talk of a generation haunted by HIV, use of kits bought from e-commerce sites is on the rise. But counselling is needed too
Hank Chen describes the experience of his first HIV test in two words: scared and intimidated.
As a 20-year-old, Chen says he had limited knowledge about the disease apart from the fact that gay men like him belonged to a high-risk category.
"I followed my intuition and went for a test," says Chen, 26. The result was negative and so was the attitude of the medical staff. Chen says he found it discouraging.
But within the past six years since that test, Chen, who works as the public welfare director at Danlan, an LGBT resource platform, says there have been shifts in public attitude and approaches to testing, particularly with the availability of the self-test kits. Chen says he first tried it in 2010 at a community-based organisation in Jiangxi province as a part of a programme by China's Centre for Disease Control and Prevention to use oral swab kits as a rapid test method, and now uses them regularly.
With the number of infections among young people on the rise, China is now aiming to make HIV self-test kits widely available to the internet-savvy generation. Its Centre for Aids/STD Control and Prevention (NCAids) said it would make the kits widely accessible through online outlets and pharmacies, which could "reach out to those under the radar, helping to link them to care".
In China, although the national HIV/Aids epidemic "maintains a low prevalence trend", there is high prevalence among some groups and areas, according to a 2015 UNAids report. By October 2015, 2,200 HIV cases had been reported among students aged 15 and older compared to 1,772 in 2014, according to NCAids. Though the number comprises less than 3 per cent of the 104,000 reported cases that year, gay men are believed to be at high risk. As of 2014, an estimated 501,000 people are living with HIV/Aids in China.
Many working in public health attribute the uptick in cases to increasing HIV testing. But despite 130 million tests conducted in 2014, 70 million more than the previous year, experts are calling for more action.
"Current screening practices appear to have lost momentum in detecting patients," Wu Zun-you, head of NCAids, told China Daily in April. However, he didn't pinpoint the exact date for the plan's implementation.
The US started the sale of an FDA-approved over-the-counter HIV self-test kit in 2012, and it was legalised in Britain, in 2014. In Hong Kong, while discussions about selling over-the-counter HIV self-test kits started as early as 1995, it wasn't implemented until 2005.
However, in China, there still remains a grey area regarding the over-the-counter or online sale of self-test kits – currently only medical professionals can use these kits. The new guideline, according to Wu, is still under discussion.
But the kits are publicly available on websites such as Alibaba and Taobao, which Chen uses to buy his kits. On Taobao, self-test kits are sold for as little as 20 yuan (HK$23.50) to 300 yuan, and Chen says he buys the expensive ones, which he believes are "accurate, easy and convenient".
Last year, the number of buyers aged between 18 and 24 who bought these kits in China grew by 98 per cent year-on-year, according to Alibaba Group's retail marketplace report. An estimated 83 per cent of the consumers who made repeat purchases of the kits were men, with 59 per cent of them between the ages of 20 and 29.
The growing trend Chen believes, is because "it doesn't require contact with medical staff, and people can avoid discrimination".
Stories of prejudice against people living with HIV/Aids still make headlines in local news. Despite awareness, ones categorised as high-risk groups – gay men, intravenous drug users, female sex workers – are routinely discriminated against and have more problems accessing health services, says Catherine Sozi, country director of UNAids China.
Self-test kits, she says, are a way of taking health services to people who are often reluctant to know their HIV status because of the stigma.
Sozi, referring to scientific studies, says self-tests are "very accurate, specific and sensitive" and believes the pilot programmes have yielded encouraging results. And that's probably why the government is thinking of exploring self-testing further.
Some point out that self-test kits don't come with social or psychological counselling, an integral aspect of HIV testing.
Liu Shi, programme manager of the China Aids Walk initiative at Beijing Gender Health Education Institute, stresses there should be more information regarding the next steps, if the test turns out positive.
"Some people are not ready psychologically for self-detection," he says, explaining that pre-test consultation is equally important. "If you're using [a] self-test, you are more likely to find out about the result and little about the knowledge and understanding of HIV/Aids, and how to prevent it."
And young students such as Wang Xiang thinks this very information is inadequate.
She recently participated in a discussion on the sexual health of college students and Aids, organised by non-profits including the China Red Ribbon Foundation and UNAids at Communication University of China. These platforms are necessary to openly talk about the issue, she says.
While it's easier to access information in bigger cities such as Beijing, growing up in Qingdao in the eastern province of Shandong, 25-year-old Wang says there was minimal knowledge on the prevention and detection of the disease, though everyone knew about HIV/Aids.
And unless schools invest more in educating their students, and young people do not shy away from talking about the risks associated with sexual behaviour, she believes HIV will remain a topic that will haunt the younger generation.
"We are afraid because we don't know much about it," says Wang, a graduate student at Central University of Finance and Economics. "We need to have in-depth education of sex and sexuality from junior school to university level, including discussions on HIV."
As the number of 15- to 24-year-olds living with HIV has increased by 35 per cent since 2011, authorities are speeding to make information on prevention more accessible to students. Last year, the National Health and Family Planning Commission and Ministry of Education said middle school and high school students are required to take six and four hours of HIV/Aids prevention classes respectively. The NCAids also asked schools to provide specific information on prevention, control and testing.
On a more personal level, popular dating apps for men in China such as Blued, a part of Chen's company, have features allowing users to know about testing centres and push HIV prevention information periodically to users.
These methods, Sozi says, highlight an inclusive approach to combating the number of infections, which underscores China's will to achieve zero HIV infections, zero deaths from Aids-related diseases, and zero discrimination – part of UNAids' global goal.