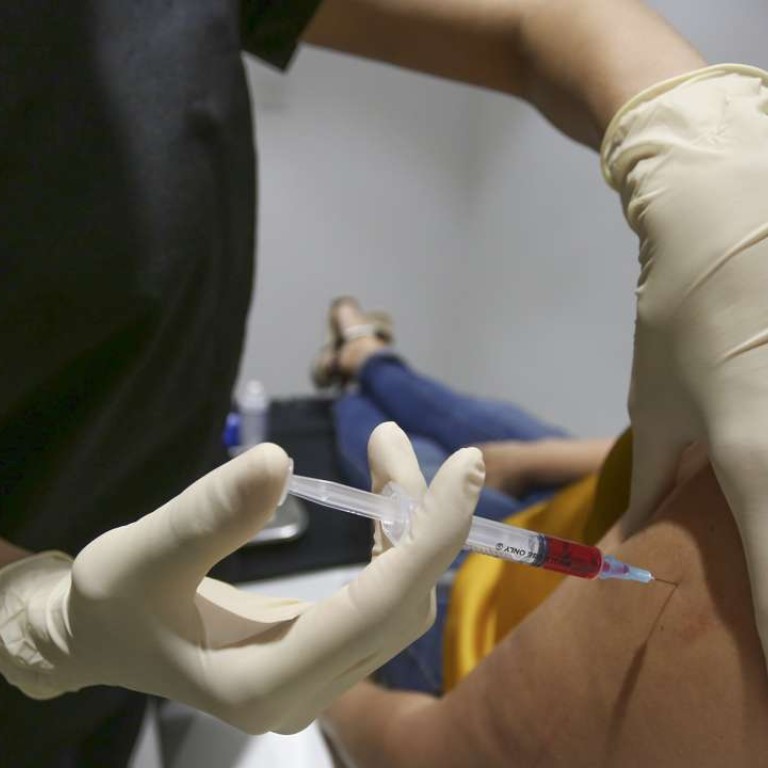 Eight express treatments to boost busy Hongkongers, in lunch hour or after work
Get cryotherapy, a B12 booster, a haircut, a laser facial, be measured to improve your gait or choice of bra – there's a lot you can do in three to 30 minutes in world's capital of overwork
For many Hongkongers, "I don't have time" is a well-worn phrase. Work, family and social lives sap our every waking hour. Earlier this year, a survey of working hours in 71 cities conducted by Swiss banking group UBS found Hong Kong had the longest working week, with an average of 50.11 hours. (Workers in Paris spent the least time in the office – just 30.84 hours a week.)
With this in mind, we've taken time to find ways you can save yours – by trying eight express treatments and services for the body and mind, many of which can be scheduled into a lunch break.
Give it a shot
"You'll just feel a little tingle," says nurse Sarah Chiguer as she sprays ice on my arm before administering a vitamin B12 injection. I'm at Reviv getting one of the clinic's four booster shots (ranging in price from the B12 at HK$298 to the Vitaboost at HK$498). Reviv is also the city's first IV infusion clinic, and in one corner of the oh so Zen space is a woman stretched on a white couch, casually flicking through a magazine while hooked up to a drip (vitamin infusions starting at HK$798 for the Hydromax, while the Royal Flush costs HK$3,998, taking about 30 minutes).
Reviv was founded in the US by four doctors with experience in treating dehydration and restoring energy levels. It is one of the fastest-growing global well-being trends and has gained a cult following since arriving in Hong Kong in August, says managing director Jenny Leung.
"Hydration is the core benefit of our treatments," she says. "And Hong Kong is a work hard, play hard city, so our services help those people, whether they are busy executives or busy mums and dads."
B12 is a water-soluble vitamin that plays a vital role in normal functioning of the brain and nervous system, and formation of red blood cells. It's also difficult for some people to absorb, says Leung, making it one of the more popular treatments. The effects are not immediate but there is a definite buzz about 30 minutes later, and I had to fight the urge to run a few laps around the office block. Leung says the effects can last a few days. An outcall service is also available.
Reviv Hong Kong, suite 2202, 1 Duddell Street, Central, tel: 2530 9882
Hair today …
QB House keeps it simple. It offers haircuts and that's it – no shampooing, no conditioning, no blow dry. QB House (it stands for "quick beauty") started in Tokyo in 1995 to cater to the city's time-poor and is now doing the same for Hongkongers, with more than 20 branches around the city. Its services are cheap (about HK$60) and quick, and it has a simple, colour-coded waiting time notification system based on traffic lights – green for immediate haircut, yellow for a five- to 10-minute wait, and red for a wait of 15 minutes or more.
Freelance writer Isabella Cheuk says she visits QB House in Wan Chai between major haircuts. "My hair's short and needs cutting once a month. I go to QB for quick trims in between visits to my proper hairdresser. And I love the mini vacuum cleaner [air washers] they use to collect rogue hairs on your head, instead of giving you a rinse. I want one to take home so I can use it on my cat."
Gait expectations
How we get from one point to another – whether by walking, running, skipping or hopping (you get the picture) – is something most of us do without thinking. But having an efficiently moving gait is one way to avoid injuries. A gait analysis is one way to assess the way we walk or run to highlight biomechanical abnormalities. If you want a quick assessment of how you walk and, more importantly, if you're moving correctly, then swing by Escapade Sports in Causeway Bay for a free gait analysis.
Jump on a treadmill and have one of the team assess your movement in about 10 minutes.
Escapade Sports, 1/F, 19 Leighton Road, Causeway Bay, tel: 2891 1855
Take a brow
In the 8th century, many Japanese noblewomen would indulge in hikimayu, the practise of shaving or plucking the eyebrows and painting smudge-like ones higher on the forehead. Today's modern woman continues to be fascinated with the brows, and any beauty expert will tell you the benefits extend beyond preventing sweat or rain from trickling into the eyes.
"Different eyebrow shapes make or break your entire look," says Hong Kong-based make-up artist Gabbie Lee
gabbiemakeup.com
. Lee says picking the right shape is a game changer that will frame your face nicely and make your eyes pop. If you want to get your brows in shape in a short time, Benefit Cosmetics Brow Bar specialises in brow services for girls on the go. The waxing takes just 10 minutes and costs HK$170.
Benefit Cosmetics Brow Bar, shop G34B, Lee Tung Avenue, Wan Chai, tel: 3621 0598
If the bra fits ...
Do you know that four out of five women wear the wrong sized bra? LoveIt does, and that's why the boutique offers a 15-minute bra consultation service (HK$250 ) by a stylist, who will show and tell clients whether their bras are the correct shape for their body.
"More than 80 per cent of women we work with for the first time are wearing the wrong bras and most are shocked [in a good way] to see the difference a correct bra can make," says LoveIt founder Catherine Martsch. "Many see years of body sensitivities start to dissolve before their own eyes. If you look in the mirror and don't love what you see, the first place to start is by checking out your bras," Martsch says.
LoveIt, 1/F Shama Place, 30 Hollywood Road, Central, tel: 2545 2162
Skin deep
Cult beauty brand Skin Laundry made its way from California to Hong Kong last year and has since had ladies about town raving about its 15-minute laser facial. And for good reason: the results are amazing and it's an easy treatment to schedule for a lunchtime pick-me-up. The therapist warns that it might feel a little odd as tiny laser beams zip across your face, but don't fret – it's all over before you can say "glowing skin, tight pores". The only odd thing was having to wear protective goggles that gave me flashbacks to the 1986 sci-fi film The Fly.
Skin Laundry, 1201, 12/F Century Square, 1-13 D'Aguilar Street, Central, tel: 2704 0166
Cold hard facts
Developed in 1978 by Toshima Yamauchi in Japan, cryotherapy has cropped up in spas worldwide, with claims it can boost metabolism and the immune system and assist in weight loss. Earlier this year the therapy landed in Hong Kong via Polaris Wellness, and its 2,000 sq ft space in Causeway Bay. The treatment involves controlled beams of vaporised liquid nitrogen that freezes the skin on the face, scalp, and neck area – and all in a lunchtime-friendly 15 minutes. Prices start at HK$900 for a three-minute session.
Polaris Wellness, shop B, 10/F Lee Theatre Plaza, 99 Percival Street, Causeway Bay, tel: 2446 6163
Keep calm and meditate
Jasmine Yau says she turned to meditation after a relationship breakup combined with a busy work schedule took its toll. "I almost had a nervous breakdown," says the 26-year-old, who discovered meditation at a retreat in Thailand. Research on the processes and effects of meditation is gaining more traction, so those looking to take up the ancient practice could start at Diamond Way Buddhist Centre. It runs a Monday evening session that's ideal for beginners, and takes between 20 and 30 minutes.
Diamond Way Buddhist Centre, 2/F Wing Fat Building, 3-5 Jervois Street, Sheung Wan, tel: 6718 9163
This article appeared in the South China Morning Post print edition as: express gains