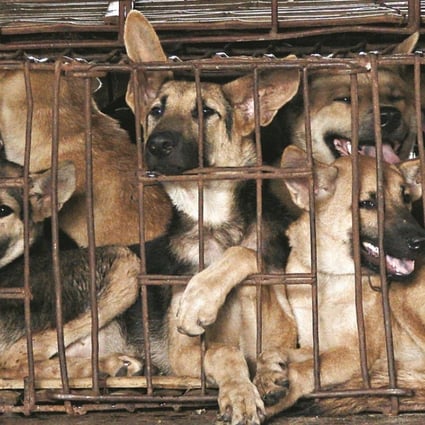 Millions of dogs are slaughtered every year in countries including China, Vietnam, Thailand, Cambodia and Japan. Photo: World Dog Alliance
Asia's booming dog meat business and the activists seeking to end a cruel trade
They are flayed and cooked alive, bludgeoned to death, or poisoned – 30 million dogs a year. Demand in Vietnam is growing so fast, smugglers are snatching pets for slaughter. One group is determined to put a stop to the trade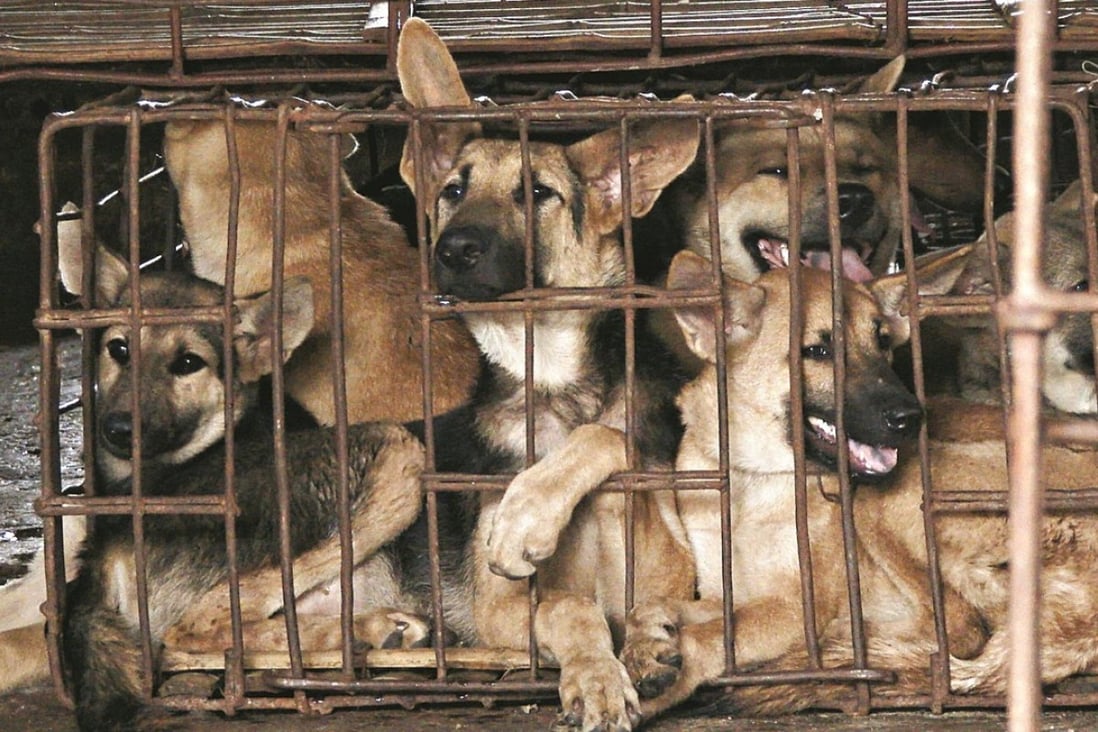 Millions of dogs are slaughtered every year in countries including China, Vietnam, Thailand, Cambodia and Japan. Photo: World Dog Alliance
Every second somewhere in Asia a dog is slaughtered – flayed or cooked alive, bludgeoned to death, or poisoned – to feed a growing appetite for dog meat in China and other countries in the region. That's 30 million dogs a year.
Last week in Beijing, Humane Society International (HSI) handed over a letter signed by more than 235,000 people calling for an end to the annual Yulin Dog Meat Festival in Guangxi province. The letter was circulated by HSI and Care2 and supported by 87 Chinese animal protection groups, including Capital Animal Welfare Association, Zhejiang Animal Protection Association, and Hainan Small Animal Protection Association.
In China, 20 per cent of the population still eat dog meat – some because of a superstitious belief that it is a health tonic – and the country accounts for half the annual slaughter. The dog flesh trade is conspicuous at this time of year when the Yulin Dog Meat Festival is held – it runs from June 21 to 30. During the 10-day festival, which takes place 400 kilometres (250 miles) – a four-hour drive – from Hong Kong, some 100,000 dogs will be eaten.
In South Korea, 60 per cent of the people eat dog meat regularly, and five million dogs are slaughtered each year to feed their appetite, according to the World Dog Alliance (WDA), a non-profit organisation dedicated to fighting for a worldwide ban on eating dog meat. (Agence France-Presse reports one million dogs a year are slaughtered in the country, and that a survey last year found only 30 per cent of South Koreans eat dog.)
Koreans don't just eat the meat – dog flesh extracts are used in skin lotions. (A city court this year ruled it was illegal to kill dogs for food, which could lead to a national ban on the trade if upheld.)
The dog meat trade is big business in Vietnam too, and is getting bigger every year. More than 80 per cent of Vietnamese eat dog meat, a bigger proportion than anywhere else, making them responsible for the slaughter of some 10 million dogs a year. Demand for dog meat is still growing in the country, to the point where it can no longer be met by local dog-breeding farms, says Kike Yuen, project executive of the WDA.
"While we have been spotlighting the savage treatment of dogs in China especially during this time of the year at the Yulin Dog Meat Festival, this little country nearby has managed to go under the radar and is feeding its growing appetite with limited international condemnation," Yuen says.
If dog meat was made illegal and banned tomorrow, nobody would starve, and nor would their health suffer
The Vietnamese population's insatiable appetite for dog meat has fuelled an explosion in the smuggling of dogs from neighbouring countries such as China, Thailand and Cambodia to meet demand, Yuen says. According to the WDA, half a million dogs are being smuggled into Vietnam from Thailand per year, which has prompted the Thai navy to set up special patrols to stem the illegal trade.
In Hong Kong, eating dog meat is illegal and punishable by up to 30 days' imprisonment; however, it's believed people in rural villages in the New Territories still consume dog meat, especially in winter, when its consumption is believed to improve blood circulation.
"Many of us have seen heartbreaking photos that show the Yulin dog market in China, but the dog meat market in Vietnam is just as bad if not worse," Yuen says. "Like China, dog markets there get their supplies from the theft of pets, which are often crammed into small cages and delivered to restaurants.
"There are even restaurant chains operating like McDonald's; it's just unbelievable."
Yuen adds: "In Vietnam, people believe eating tough meat like dog meat makes a man tough and manly, and is able to change their 'fate', which is often advertised on restaurants' promotional posters.
Locals believe the more miserable the dogs are before being slaughtered, the better the quality of the meat."
Vietnamese are so obsessed with the power of dog meat that very often, the host of a dinner party will go as far as killing their own guard dogs to serve an important guest as a sign of respect.
The founder of the WDA, Peng Hong-ling, is determined to put a stop to the practice everywhere. Shanghai-born Peng, better known as Genlin, set up the WDA in 2014 soon after realising how widespread dog meat consumption was when he returned to his home province, Guizhou in southwest China. Eating dog meat is a tradition there, and stalls serving it line the streets of towns and cities.
Slaughtering dogs for food is highly profitable in Vietnam. A 10kg dog bought illegally in Thailand for between US$5 and US$7 can fetch as much as US$100 once it has been smuggled across the border.
Many of us have seen heartbreaking photos that show the Yulin dog market in China, but the dog meat market in Vietnam is just as bad if not worse
"It takes time and money to 'produce' a dog in a dog farm, but smuggling can instantly fulfil the demand with huge profits. That is why a lot of meat traders and butchers in Vietnam have switched to the illegal dog meat trade. Most of the wealthy people in Vietnam are dog traders," says Yuen.
With the business being so lucrative, traders go to great lengths to maintain their supply.
"They have taken desperate measures such as snatching pet dogs in broad daylight. Some of these dog snatchers hit their targets over the head, inject them with a sedative or even poison them so they can steal them," Jason Pang, programme director for the WDA, says.
"Profit is king, and because supply is tight, they go out and grab any dog they can find on the streets. One time, WDA rescued a police dog that still had a police identity chip implanted under its skin. That is how out of control the trade has become."
The WDA believes a worldwide ban is the only effective way to eradicate the trade.
"Wherever these dog meat consumers go – such as to places where they have emigrated – they will bring their unethical and inhumane practices with them," Pang says.
Pang says that, between 2003 and 2017, 436 tonnes of dog meat was exported from China to Chinese restaurants in Japan, a country full of dog lovers. Japan's Ministry of Agriculture, Forestry and Fisheries says around 25 tonnes of dog meat was imported from Vietnam in the past three years. Yuen says it is likely the meat was served mainly to immigrants and migrant workers living in the country.
In Taiwan, "dog and cat meat factories" have been set up to satisfy the appetites of the 200,000 Vietnamese migrant workers – a new business model that even offers a telephone delivery service.
"There were overseas reports saying some even went out to hunt down dogs for their consumption or sell to local restaurants for profit. That is why we need a sweeping worldwide ban to close all doors and stamp out this brutality," Pang says.
He says dog meat can also be bought online if you know the right websites.
Pang believes new laws are needed to punish both traders and consumers. "One effective weapon is public pressure. We need the international community to put pressure on," he says.
Animal rights advocates promote a plant-based diet as an alternative to eating meat, including dog meat, and encourage the humane treatment of animals. But the reality is that ending a practice that is a tradition dearly held in some places is easier said than done. Even so, Pang is determined to fight on.
"Inhumane animal treatments always find a facade behind which to hide and thrive. If dog meat was made illegal and banned tomorrow, nobody would starve, and nor would their health suffer. Think about that," he says.
This article appeared in the South China Morning Post print edition as: An appetite for cruelty