Wellness
Get more with myNEWS
A personalised news feed of stories that matter to you
Learn more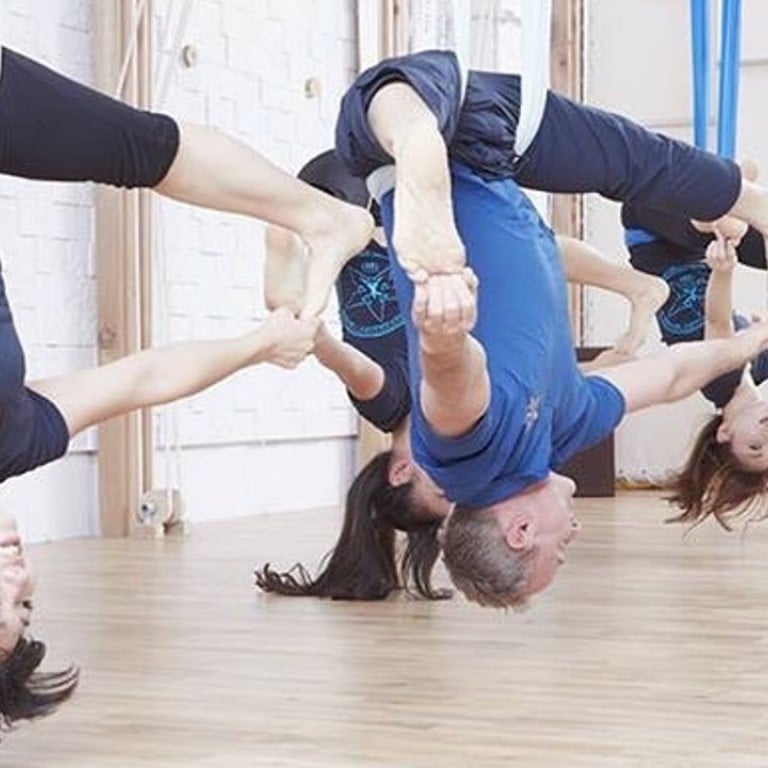 Why aerial yoga has taken off in Asia – it improves flexibility, strengthens muscles, and helps relieve stress
It's not clear who first practised yoga while in a silk hammock, but the idea is to perform traditional yoga moves or aerial adaptations of them in the air using the hammock for support – and yogis swear by it
It's Friday evening and I'm practising yoga to wind down the week, except I'm suspended a metre above the ground by a six-metre piece of silk and attempting to balance out a tree pose.
Soon, I will be attempting aerial handstands and then relaxing in a floating savasana – a yoga pose where you lie on the flat of your back. How exactly did I end up here?
It's not clear who first practised yoga while in a silk hammock. Michelle Dortignac, of Unnata Aerial Yoga in New York, is a dancer who practised and taught Hatha yoga for years before taking an aerial acrobatics class.
She claims inspiration from BKS Iyengar's school of yoga – particularly his extensive use of props to support a student's practice – in the development of aerial yoga in her programme.
AntiGravity Fitness' Christopher Harrison, who has a performance and gymnastics background, devised AntiGravity aerial yoga as a way of warming up and stretching out his performing troupe of acrobats and aerialists.
Both schools emerged in New York in the mid-2000s before reaching Asia – the Philippines and Australia in the case of AntiGravity, and Japan in the case of Unnata Aerial Yoga.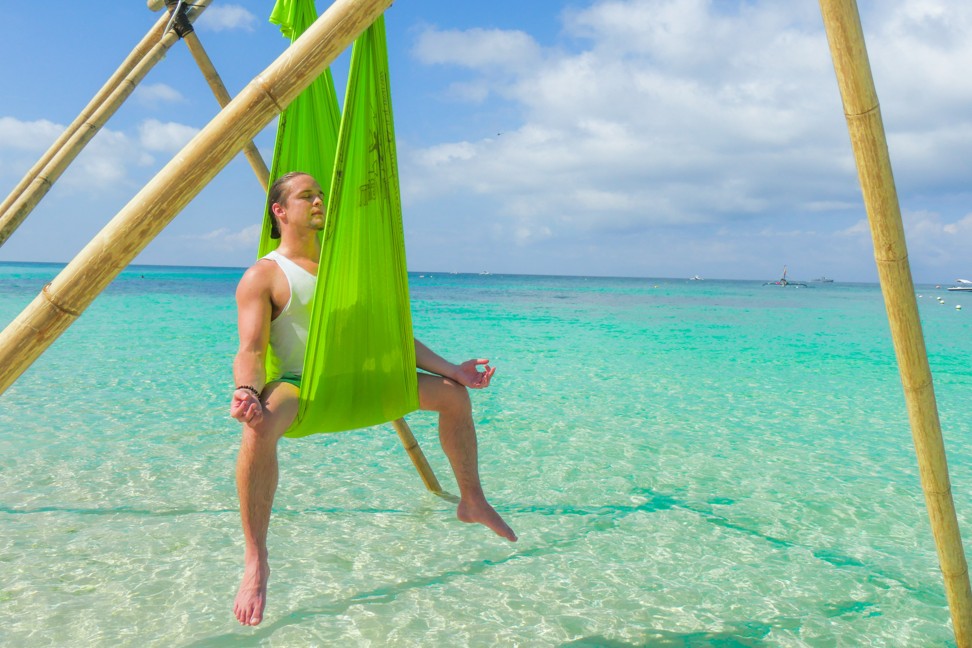 The key difference between AntiGravity and Unnata Aerial Yoga is emphasis – Unnata's training sessions are only open to registered yoga teachers with 200-plus hours under their belt, and the hammock is seen as a prop to extend and enhance a Hatha mat yoga practice.
AntiGravity's goal is to make the aerial hammock accessible to as many people as possible through the use of a double-point rig set-up, where almost anyone can use the hammock to train in a number of ways – for strength (AntiGravity suspension fitness, a TRX-style boot camp), to calm the mind (AntiGravity aerial yoga and decompression sessions) and to heal the body (AntiGravity restorative yoga, where the hammock is only six inches from the ground).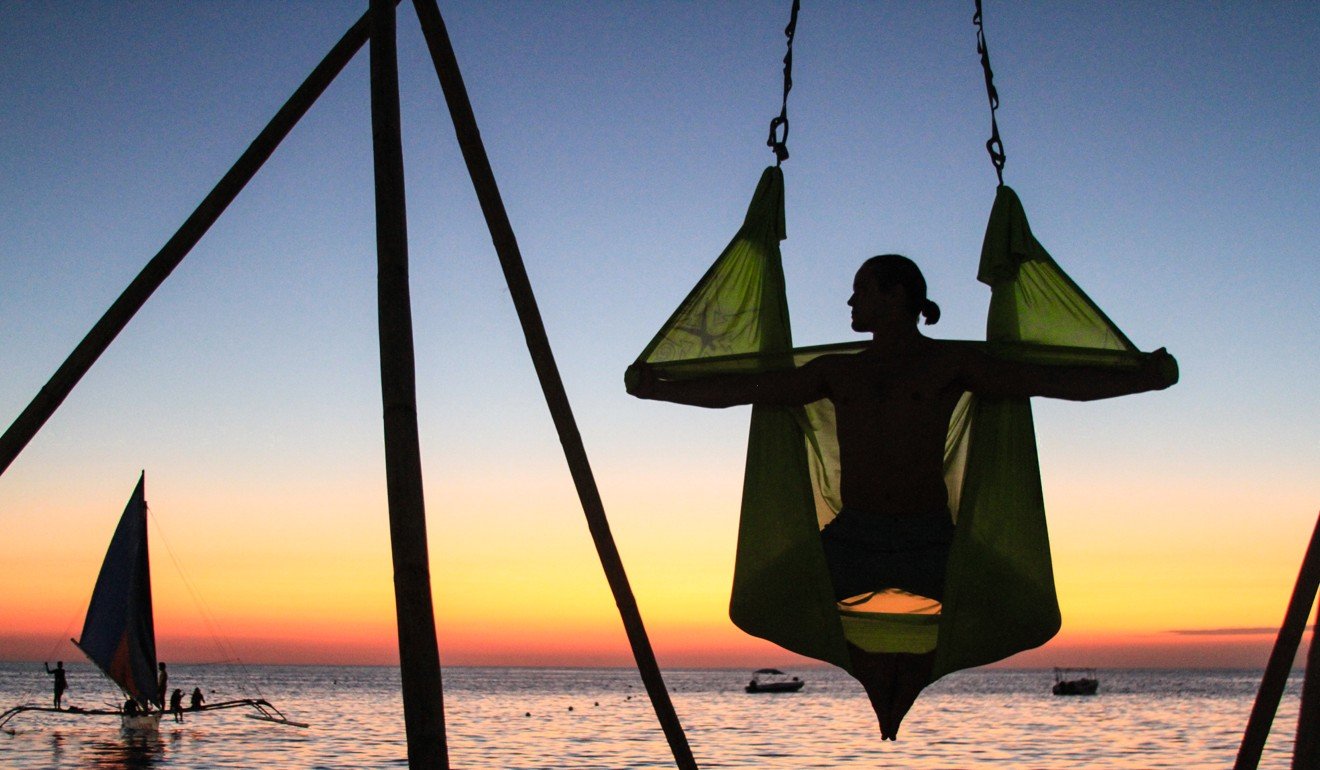 AntiGravity also runs a training programme for children, and is branching out this year to teach bodyworkers – physical therapists, chiropractors, osteopaths, massage therapists and others – how to deliver levitating Shiatsu treatments.
The accessibility of the double-point set-up makes it is the one most used by aerial yoga schools around the world today. Hong Kong AntiGravity instructor Melissa Hassett credits it as "the gateway to the wider world of aerial [arts]", and feels that it helps introduce beginners to aerial yoga.
A single-point rig, she says, "requires much more core strength and is more difficult for an average person to get into".
AntiGravity's Asia master instructor Tamer Begum agrees. "The single-point rig was invented for performance – it is geared for artistry. It can swivel, and also attaches to the motors that take aerialists into the air for shows," he says.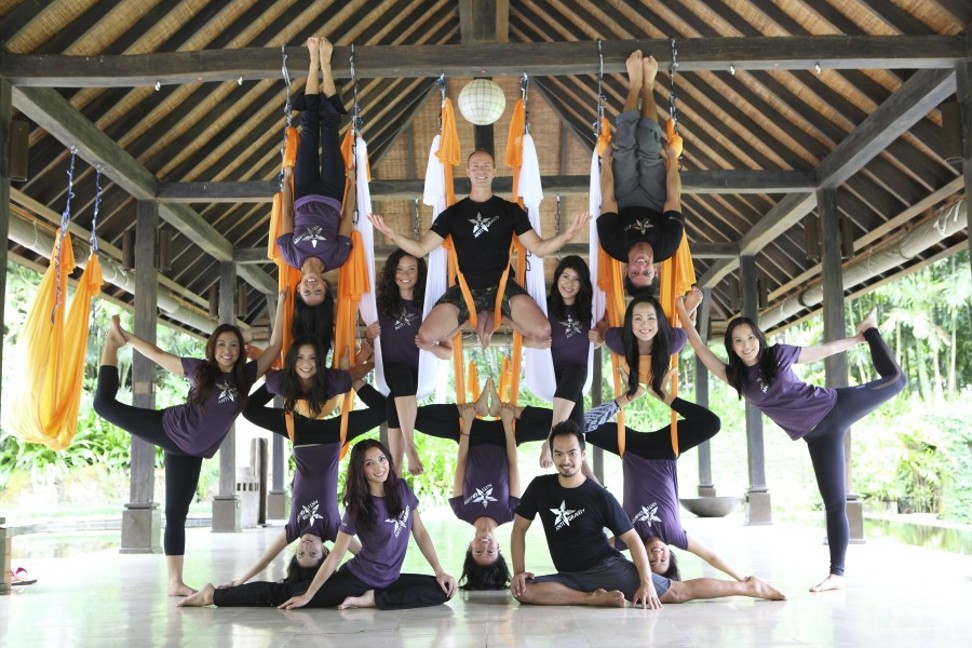 Performance-focused programmes such as Flyoga came into being soon after aerial yoga arrived in Asia, integrating yoga poses into longer choreographed sequences for students interested in aerial dance.
Following a Malaysian ban on yoga in late 2008 (for fear that it could deviate from the teachings of Islam), yoga teacher Reiko Soo trained in pole and aerial fitness to continue working, creating Flyoga, and rolling out silk hammock flow classes and showcases in Kuala Lumpur and Hong Kong soon after.
Practised on a single-point rig, "it is great for taking aerial yoga and sequencing up to the next level", says Hassett, who is also certified as a Flyoga instructor.
The photogenic nature of aerial yoga has undoubtedly contributed to its popularity in Asia – images of people flying through yoga sequences in bright coloured fabrics are hard to miss, and it is what gets newcomers signed up for their first class.
When Holly Coles first arrived in Shanghai to create aerial yoga programmes for studios in 2014, she says "photos [of aerial yoga] were all over WeChat. It was all anyone wanted to try because it was new and eye-catching".
What keeps students coming back, however, is that it makes the process of building strength and flexibility fun.
"When you are doing a set of core exercises on [a hammock or swing], you're just having a good time and not realising how hard you're working," says Edward Pawlak of Ulu Yoga, who runs teacher training for aerial yoga from his base in Koh Phangan, Thailand.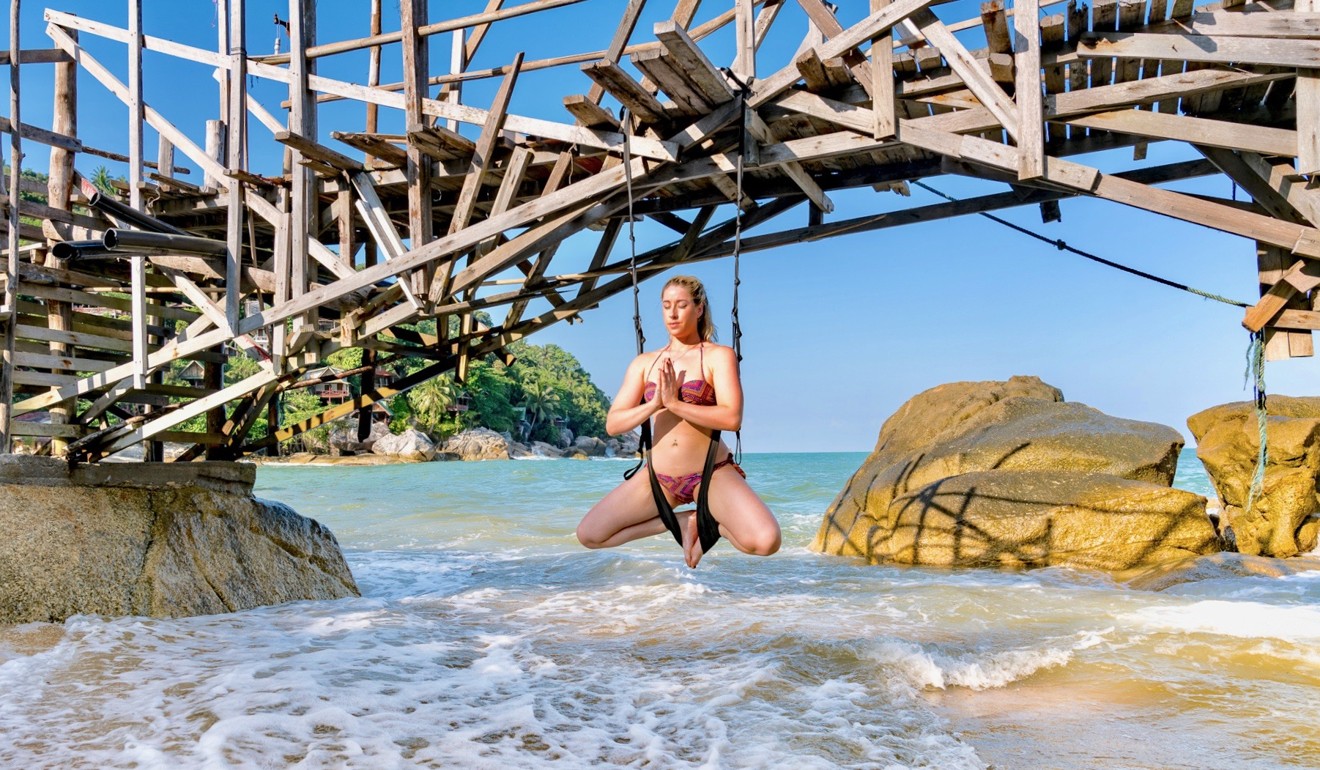 Coles, who oversees the aerial yoga offered at Pure Yoga Shanghai, says her students "come into class thinking they're strong, then do aerial moves and become acutely aware that they're not – which motivates them to come back and train more. There's no better inspiration for [the students] than getting stronger and healthier via circus tricks adapted for the layperson."
While inversions such as headstands or handstands are only attainable if you have a more advanced mat yoga practice, most aerial yoga classes teach students of all fitness levels. This is possible because of the support the silk hammock provides, and allows all who practice to experience spinal decompression.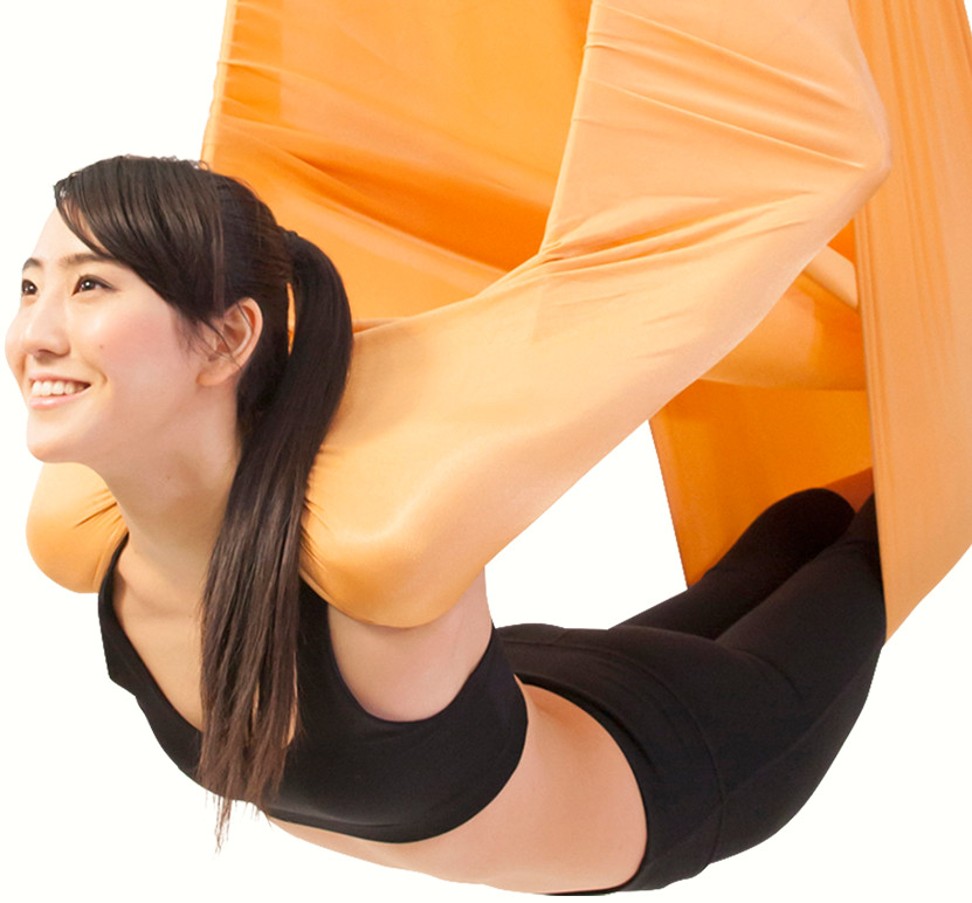 Chiropractic specialist Dr Elaine Leung, who previously incorporated AntiGravity into her personal training routine, explains the benefits of a hammock-assisted inversion.
"The decompression I got from the inversion during the [aerial] sessions allowed my spine to stretch out, elongating it and releasing the compressive tension held within, while allowing my muscles to rest and stretch passively," she says.
The combination of gravity and our body weight creates spinal traction when hanging upside down in aerial yoga, giving one the sensation of having grown an inch or two taller after every inversion. The health benefits don't stop with the inversions, either.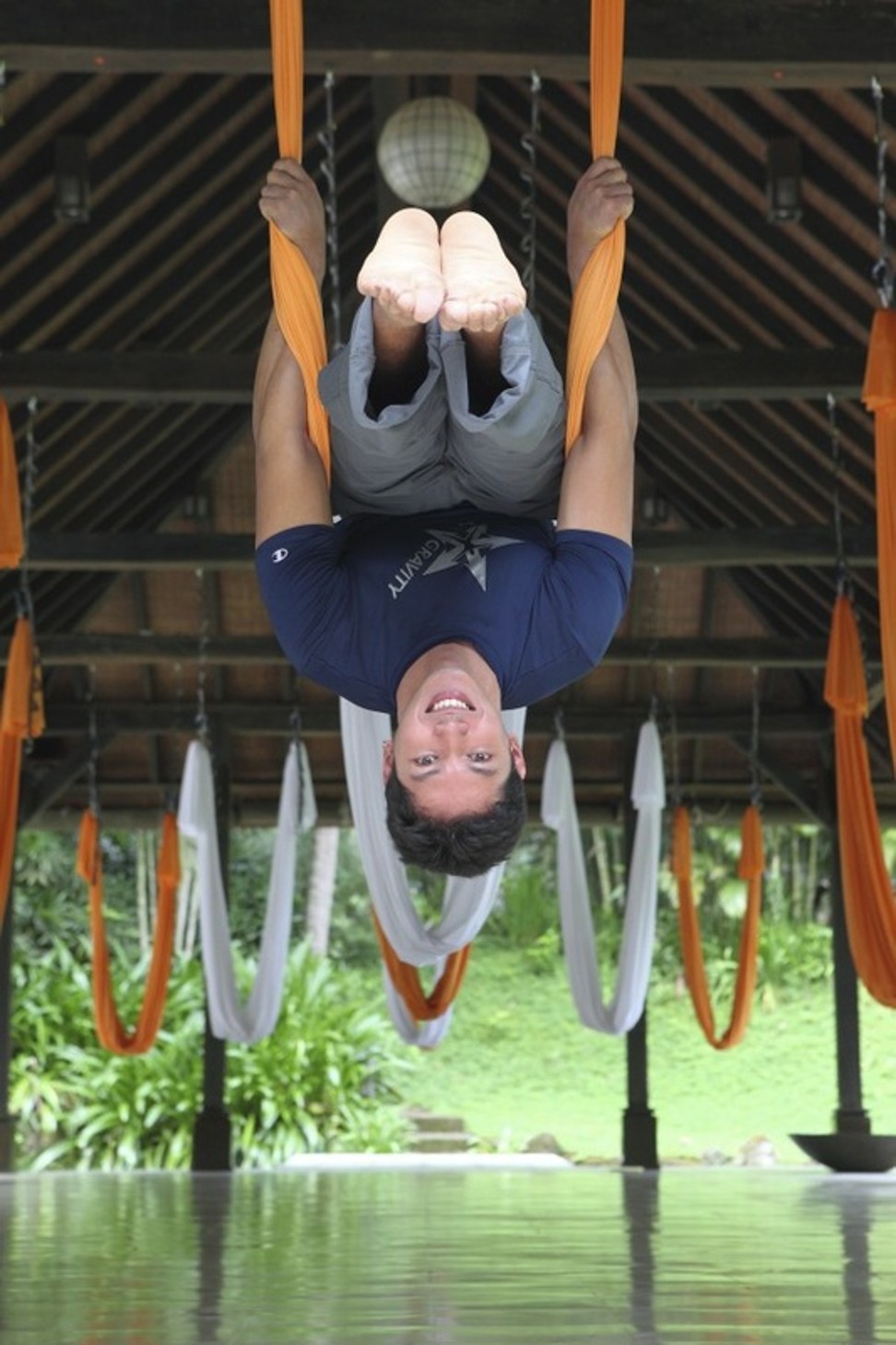 In a pilot study commissioned by the American Council on Exercise in 2016, researchers evaluating the health benefits of a regular aerial yoga practice over a six-week period found improvements in several health-risk factors, including an increase in maximal oxygen uptake, decrease in blood pressure, and changes in blood lipid indicators consistent with a lowered risk of coronary heart disease.
This was in addition to improvements in balance, proprioception and core strength when holding poses with an unstable hammock, which forces the body to work the fast-twitch muscle fibres to stabilise itself, as well as enabling the body to stretch deeper with less strain thanks to extra support from the fabric.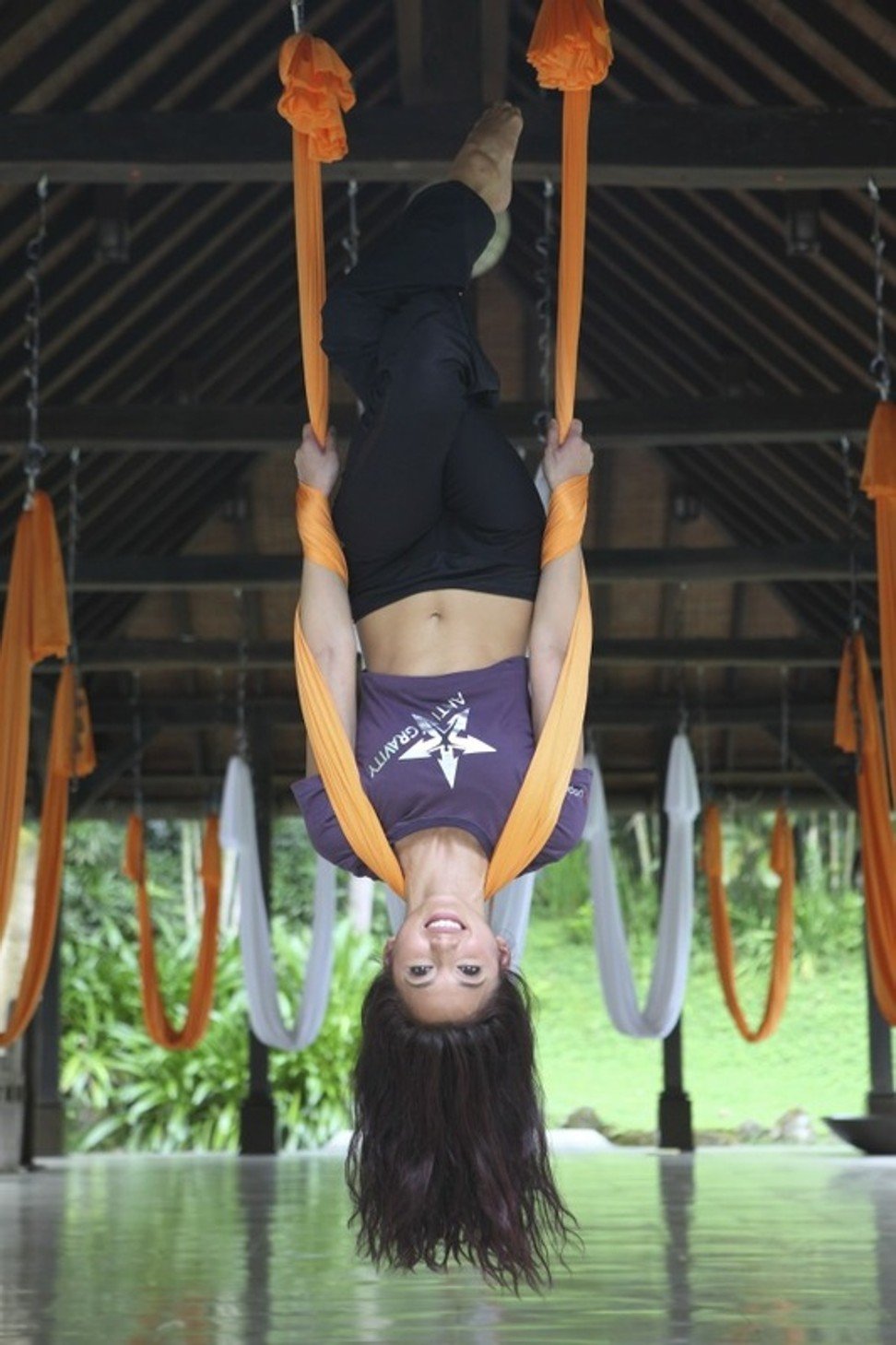 All this helps explain why aerial yoga has become so popular, but the reason I became hooked is far simpler. Climbing up, flipping down and hanging out with my feet in the air are things I have not done since I was a child.
Going to a class where I get to suspend not only my body but my grown-up stressors and responsibilities as well, for one blissful hour – that is the real reason I keep going back.
This article appeared in the South China Morning Post print edition as: Hooked on a feeling:aerial yoga takes off across the region