Wellness
Get more with myNEWS
A personalised news feed of stories that matter to you
Learn more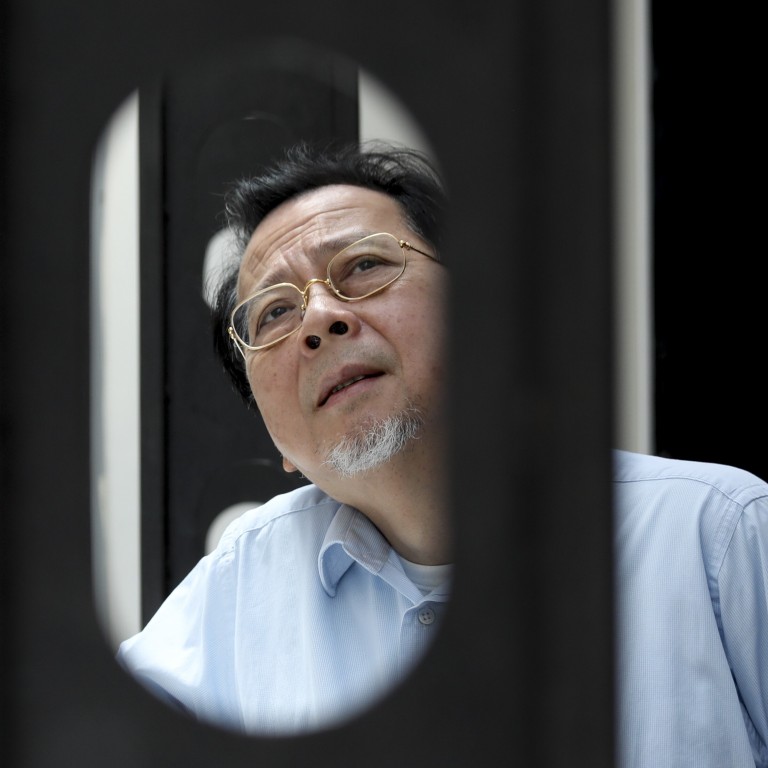 Hong Kong inventor designs robots to fight Covid-19 with UV light
Dr Ng Tze-chuen has his two children in mind – both health care workers in Covid-19 wards – as he comes up with designs to destroy the virus
So far he has created concepts for robots that use UV light to disinfect hospitals, a surgical gown that addresses a serious health issue, and others
When Hong Kong inventor Dr Ng Tze-chuen doesn't have a project on the boil, he feels restless.
Although he is a dentist by profession, his real passion is coming up with innovative solutions to real life problems – whether that's creating a toothbrush to revolutionise teeth cleaning or finding a way to pick up rocks on Mars. It's just the way he's wired.
"It's what I do, I'm born like this," says Ng, who sports the longish locks of a classic eccentric professor.
He designed a pair of planetary rock grippers, Holinser Forceps, and the Mars Rock Corer, which the Russian Space Agency and the European Space Agency have adopted. He also worked closely with a team on
exploring the mystery of the Great Pyramid in Egypt
. Now, he's designed equipment to help destroy the coronavirus.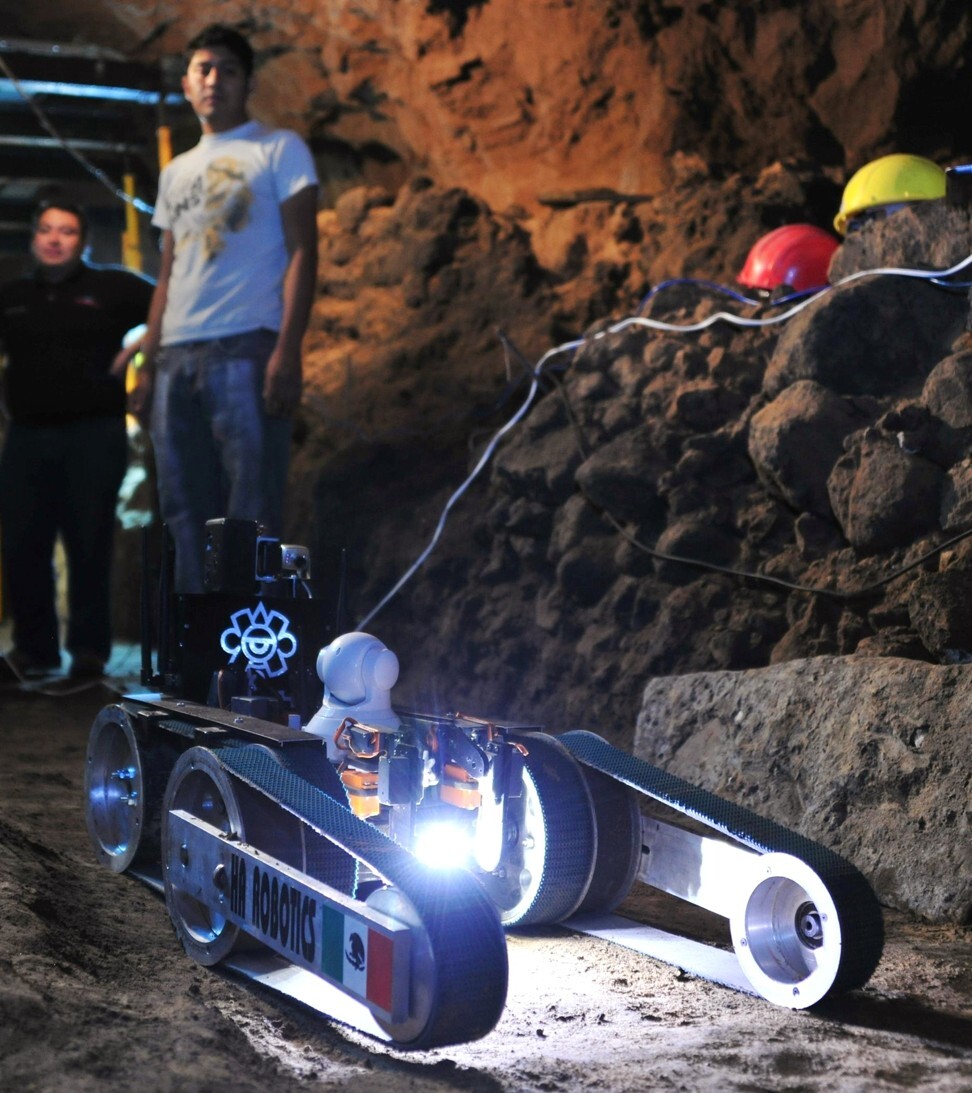 As Ng watched the
pandemic
rapidly spread around the world, he was struck by how
ineffective the medical protective equipment
was. This concern struck very close to home – his son, a medical professional in Britain, and his daughter, at Ruttonjee Hospital in Hong Kong, are both working in Covid-19 wards.
"The first thing you have to do for a new epidemic is not find a vaccine or medication. You must find out the path of transmission and then whether it responds to ultraviolet light or not," says Ng, an honorary associate professor of the University of Hong Kong's faculty of dentistry.
"UV light is very effective and it's clean," Ng says. His protective equipment concepts make good use of
UV light
and also address what he sees as a key issue – that the risk of infection is greatest when a health care worker removes their protective gear. "In Italy, so many doctors died because they were taking the gown on and off – for morning coffee, lunch, tea."
In less than two days, he sketched out nine imaginative concepts to combat Covid-19 and better prepare for future epidemics. The concepts are all still at the drawing board stage, but he hopes that his two UV disinfection robots – the "scarecrow robot" and the "ceiling robot" – will reach practical application.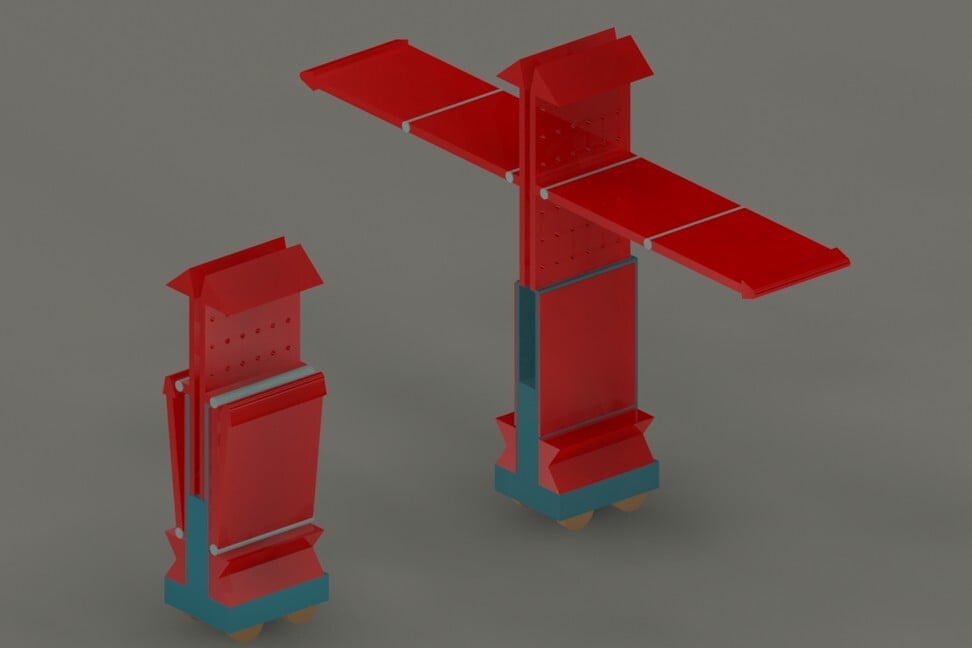 He says the scarecrow robot – so named because it has extendable panels – might be used in infectious disease wards to disinfect surface areas including the ceiling and under the bed. His concept proposes that the robot be guided into a ward on a magnetic track.
"The UV light kills the virus [on surfaces] and a filter draws air into the robot and exterminates [airborne] virus [particles]. Depending on the [UV] bulb, the ward can be 90 per cent disinfected in eight to 25 minutes," Ng says.
UV light can damage the skin and the eyes, so his designs incorporate adaptations that allow patients to remain in bed while the ward is disinfected, including a transparent filter that is pulled down over the patient's face.
He says the ceiling robot, a projector-sized robot with an air pump to draw in air, a filter and a UV ring, has possible practical applications in hospital wards as well as aeroplanes. He sees a future where airlines will employ such UV robots to disinfect planes between flights.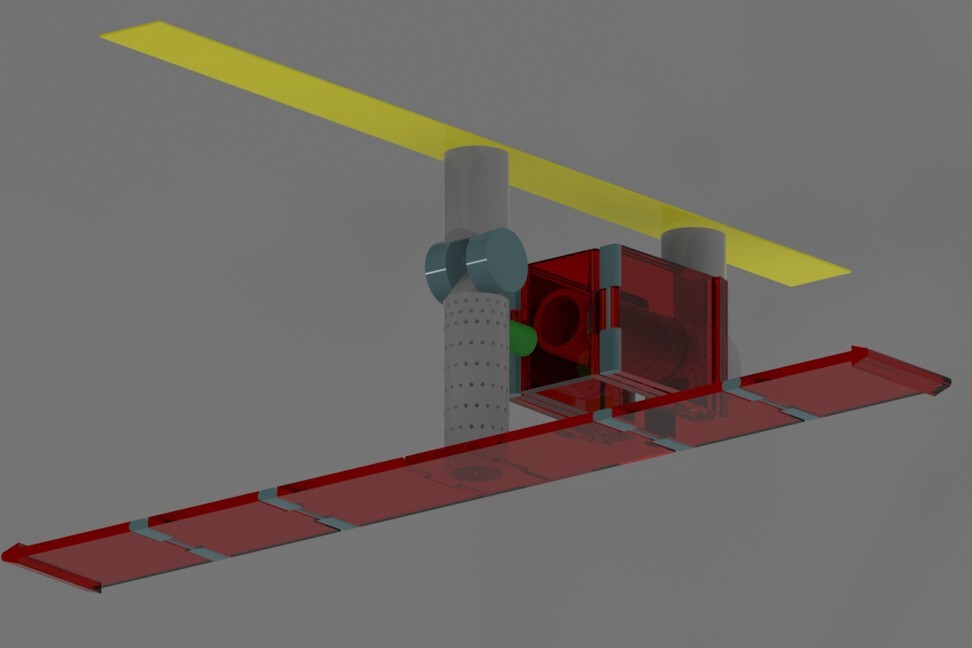 Another innovative solution is what he calls the "disinfection phone box" to disinfect a person. This cabinet would have 360-degree UV vertical tubing together with top and bottom UV plates, providing all-round exposure. Users would wear UV filters to protect the eyes and Ng expects it would take 30 seconds for head-to-toe disinfection.
He employs a similar design for disinfection between wards, including a doorknob that is disinfected using UV light.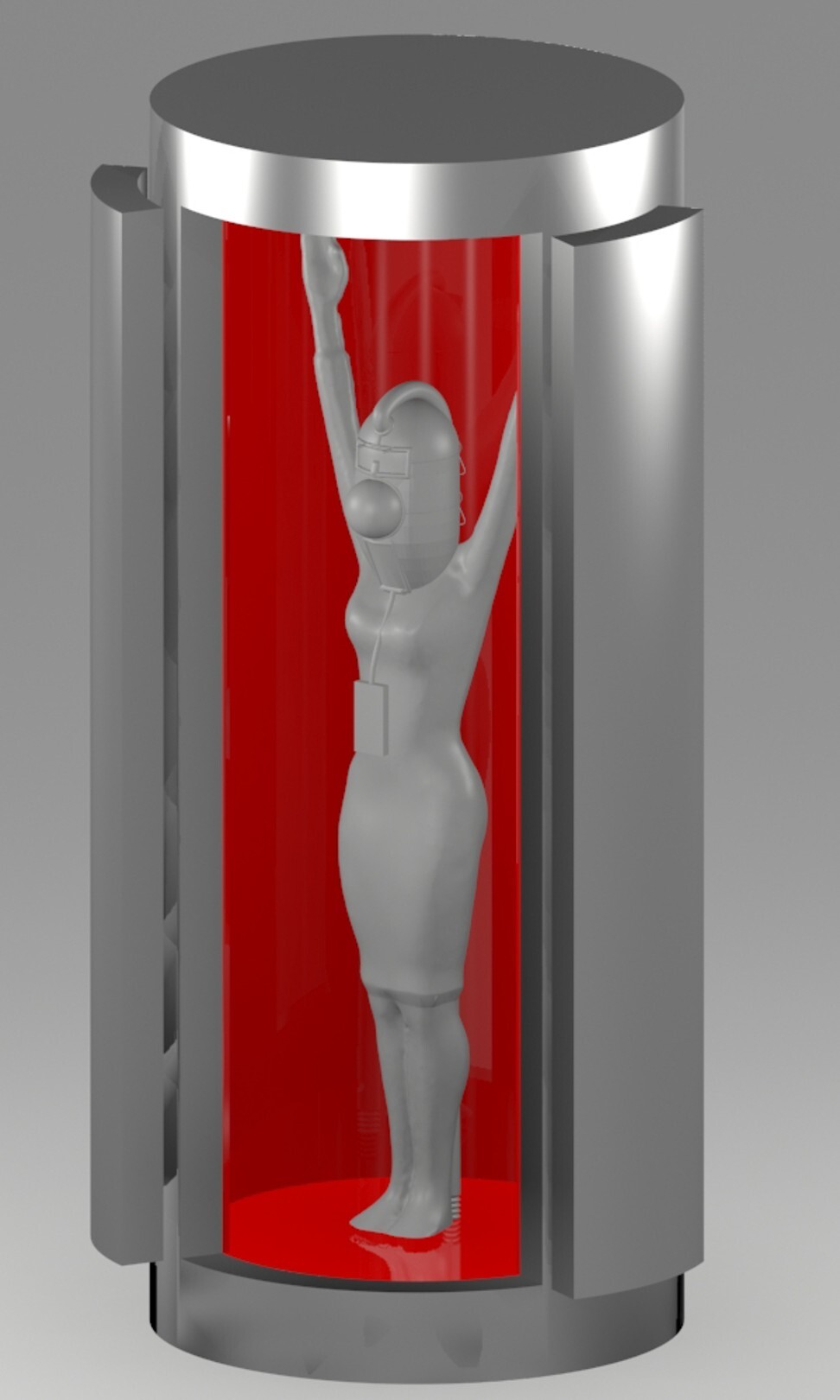 Central to his Covid-19 concepts is the "epidemic gown suit". Designed to protect medical professionals working in Covid-19 wards, it would be made of ultra-thin, translucent and transparent plastic film and have a plug-in N95 mask that can be adjusted for comfort using strings. His gown concept includes a "feeding window", an iPhone pocket and built-in visor – rather than goggles – with wipers to clear away condensation.
"Medical workers are pulling [protective gowns] on and off maybe 10 times during a 12-hour shift, that's why they are catching it [Covid-19]. This one-piece suit would ensure zero leakage and be more comfortable," Ng says.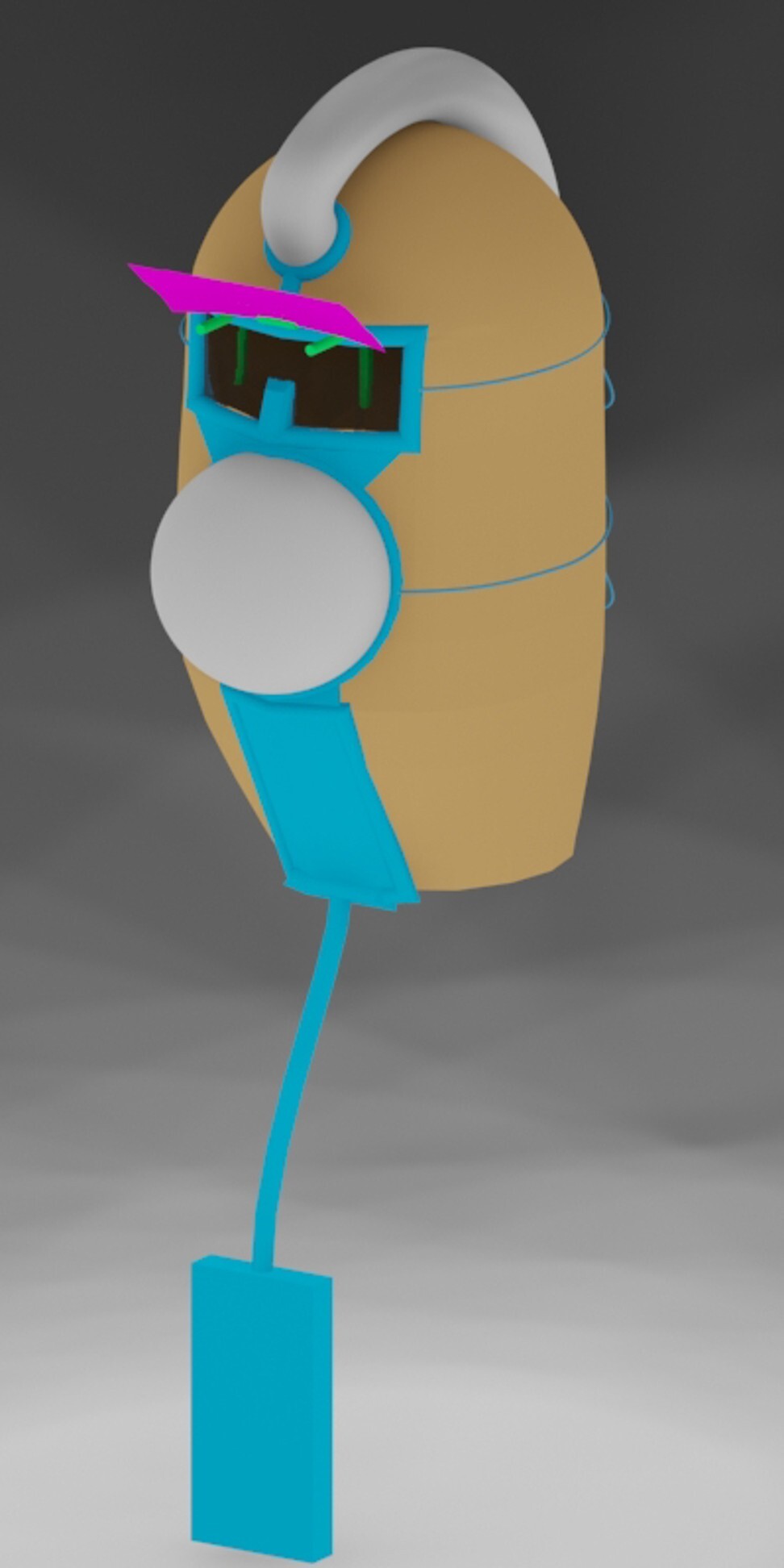 Professor Peter Thomson, a clinical professor in the University of Hong Kong's faculty of dentistry, says Ng is a friend, colleague – and an amazing inventor.
"He is constantly thinking and inventing and applies this inventive nature to whatever the next problem is," Thomson says. "Using UV radiation robots to clean wards and clinical areas – he has all sorts of brilliant ideas."
He describes Ng one of the most humanitarian people he has ever met – "constantly looking to improve people's lives and welfare".
"His concepts are scientifically valid and totally innovative. I hope that he gets to link with the right people so that these ideas can come to fruition," he says.
Ng is hopeful his concepts will reach practical application, if not in time to support medical workers during this pandemic, then to be better prepared for the next.
"It is unlikely this will be the last viral pandemic we will face in the 21st century," he says.
This article appeared in the South China Morning Post print edition as: Tireless inventor creates robots to destroy Covid-19