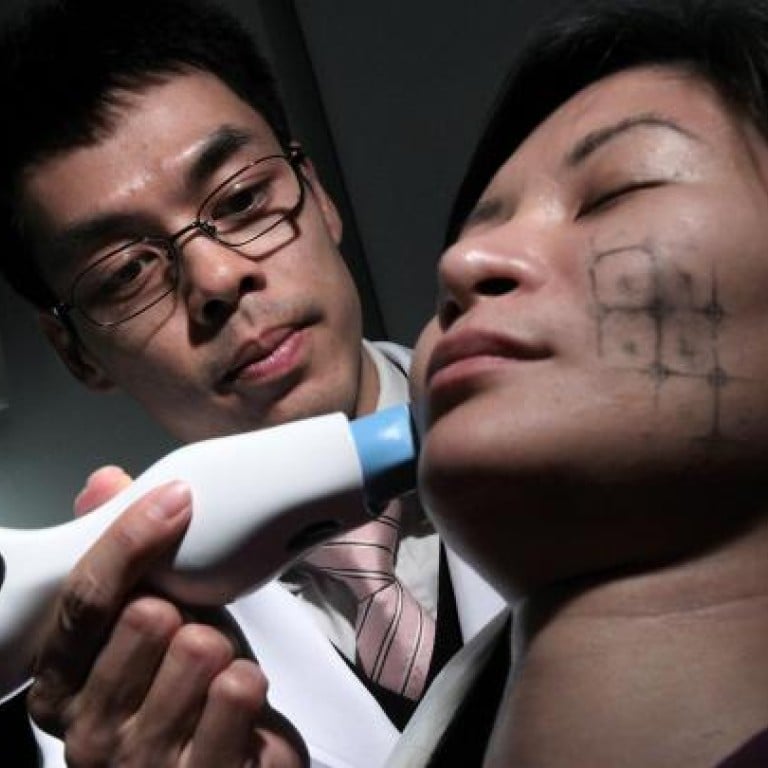 Korean plastic surgeon shares his views on industry regulations
As the debate over how to regulate the beauty industry rages on in Hong Kong, a top plastic surgeon from South Korea was recently invited by Chinese University's faculty of medicine to share his experiences on industry regulations with local doctors.
As the debate over how to regulate the beauty industry rages on in Hong Kong, a top plastic surgeon from South Korea was recently invited by Chinese University's faculty of medicine to share his experiences on industry regulations with local doctors.
Dr Hong Joon-pio, director of the plastic surgery department at the ASAN Medical Centre in Seoul, says the cosmetic surgery industry is largely regulated by market forces in South Korea. "The way we achieve excellence is through competition and cutting-edge surgeries," he says. "In Korea, plastic surgeons never want a monopoly. It's never an issue. The plastic surgery market is so busy that they don't have time for that [kind of] discussion."
It's a different matter in Hong Kong, where it seems the stakeholders involved in the beauty industry - beauticians, plastic surgeons, specialists in dermatology and general practitioners that carry cosmetic procedures - are each keen to protect their own turf. As a result, discussions over how to strengthen regulations in Hong Kong - which all stakeholders agree needs to be done - have been controversial.
The local beauty industry went into a tailspin after blood transfusion therapy left one woman dead and three others critically ill in October last year. Following the tragedy, the government set up a steering committee to review the regulation of private health care facilities in the city. A consensus has not been reached on how to distinguish between medical procedures and cosmetic services since the first meeting of the committee in December.
Under South Korean legislation, any procedure that penetrates the skin, including tattooing and ear piercing, is considered a medical procedure that should be done only by doctors, Hong says. "But the law is not enforced obsessively, so ear piercing is still done by beauticians."
One in five South Korean women has had plastic surgery. In the affluent Gangnam district alone - with a population of about half a million - there are 500 plastic surgery clinics. Only 100 of these are run by board-certified plastic surgeons. But all of them are legal: in South Korea, if you have a medical licence, Hong says, "you can do everything".
The catch: plastic surgeons that are not board certified are not allowed to use their name in the clinic's name. "For example, if I call it 'Dr Hong Plastic Surgery', this means I am board-certified," Hong explains. "If you see a clinic that doesn't use the doctor's name, it means the surgeons are not certified by the plastic surgery board."
So customers are free to choose, and they make their preference known: the 100 clinics run by board-certified surgeons garner 80 per cent of the income in Gangnam. "[These clinics] charge more and do more complex procedures. But [the government] is not stopping non-plastic surgeons from doing plastic surgery procedures," says Hong.
If something happens to a patient treated by a non-board-certified surgeon and the patient takes legal action, Hong says, the malpractice tribunal will be comprised of board-certified surgeons - hence a favourable ruling is unlikely. "So that's the way to decrease risk for patients," he says. "In Korea if you kill a patient, they take away your licence and you have to do something else for the rest of your life. So doctors know the risk of doing something they [are not qualified for]."
Dr John Yu Ho-tak, a specialist in dermatology and venereology in Hong Kong, knows his limitations. Using a skin cancer patient as an example, Yu says if the cancer is situated below the neck, he "will be happy to remove it". But if it's near the eyes, he will refer the patient to a plastic surgeon, who is trained to perform flaps and skin grafts. "Although we can do it, it's not our expertise," says Yu. "For some aggressive doctors, they will do everything."
He says the main problem in Hong Kong is that the government does nothing to stop doctors from misleading the public. To become a specialist in dermatology, Yu had to have specialist training in a hospital for at least seven years on top of his five-year medical school training. In comparison, a general practitioner can call himself a skin doctor after simply spending a few months completing a diploma in dermatology, after medical school training and a one-year internship at a government hospital.
Cosmetic surgery, in fact, can be performed by any medical practitioner in Hong Kong, says Yu, as medical training covers plastic and reconstructive surgeries. "As long as you don't call yourself a specialist in plastic surgery and both the doctor and patient are willing to be subjected to the risk, you can perform any cosmetic surgery provided you have the necessary operating equipments and anaesthetic support."
Professor Andrew Burd, chief of Chinese University's division of plastic, reconstructive and aesthetic surgery, says many of the plastic surgeons in the city have no training in cosmetic surgery. However, his major concern has more to do with the safety of facilities where these surgeries are carried out.
A young woman died after a beauty centre referred her to a gynaecologist to have breast enlargement surgery in 2010. There was an alleged overuse of anaesthesia by the gynaecologist and the case is under review in the Coroner's Court.
"If you treat patients in a clinic that doesn't have resuscitation equipment and you use intravenous anaesthetic techniques that can cause [cause a patient's heart to stop], it's an unsafe environment," says Burd.
"The government must take an active role in ensuring facilities and environments in which procedures are performed are safe and regulated."
Opening a beauty centre in Hong Kong only requires that it is registered like every other business. Since such centres are not classified as clinics, there's no law to regulate them. They rope in skin doctors and plastic surgeons to conduct high-risk procedures such as liposuction and double eyelid surgery. The centres are not required to be equipped with resuscitation equipment to deal with emergencies.
There's also no law to regulate the sale of machines used to perform laser treatment or operate intense pulsed light equipment. Beauty centres purchase them and then operate like small-scale clinics with consultation and surgery rooms.
"Our regulation lags behind Singapore and Macau. Such laser procedures should be conducted by registered doctors," says Dr Chan Wai-man, a specialist in ophthalmology and chairman of Hong Kong Surgical Laser Association. He says that damage by laser treatment is irrevocable; even indirect contact with lasers and intense pulsed light can cause permanent damage to skin and eyes.
Federation of Beauty Industry chairman Nelson Ip Sai-hung disagrees. He argues that if high-risk cosmetic procedures - such as those that use laser and intense pulsed light equipment - are considered medical, then many beauty salons would fold. There are 5,000 beauty salons in Hong Kong, of which 60 per cent to 70 per cent have such equipment he says.
"Those [doctors who want high-risk procedures to be defined as medical] just want us to do massage and facial," says Ip. "A dangerous procedure is not necessarily medical. I can't accept [the idea of defining] tattooing and ear piercing as medical. Medical [procedures] should involve diagnosis, treatment of diseases, the use of drugs or surgery and symptom improvement."
Ip says there should be a system for beauticians to get trained and pass an assessment to be granted a licence to practise.
"Without legislation and a licensing system, there's no punishment when something [goes wrong]. For doctors, they will get their licence revoked. A licensing system with rules will have a deterrent effect on the beauty industry," says Ip.
Dr Chow Pak-chin, Medical Association co-vice-president and a specialist in ophthalmology, says legislation should be taken a step further to cover four areas - equipment import, installation, repair and use by personnel. The Undesirable Medical Advertisements Ordinance enacted in 2007 should also be expanded to cover inaccurate and exaggerated beauty advertisements that lack scientific basis, he says.
Dr Ying Shun-yuen, a plastic surgery specialist and member of Hong Kong Association of Cosmetic Surgery, criticises the government for failing to enforce the ordinance stringently. "Even obscene publications have to be wrapped in plastic bags with warnings. But unproven and harmful medical cosmetic procedures can be promoted with impunity."
This article appeared in the South China Morning Post print edition as: Battlelines