LIFE
Get more with myNEWS
A personalised news feed of stories that matter to you
Learn more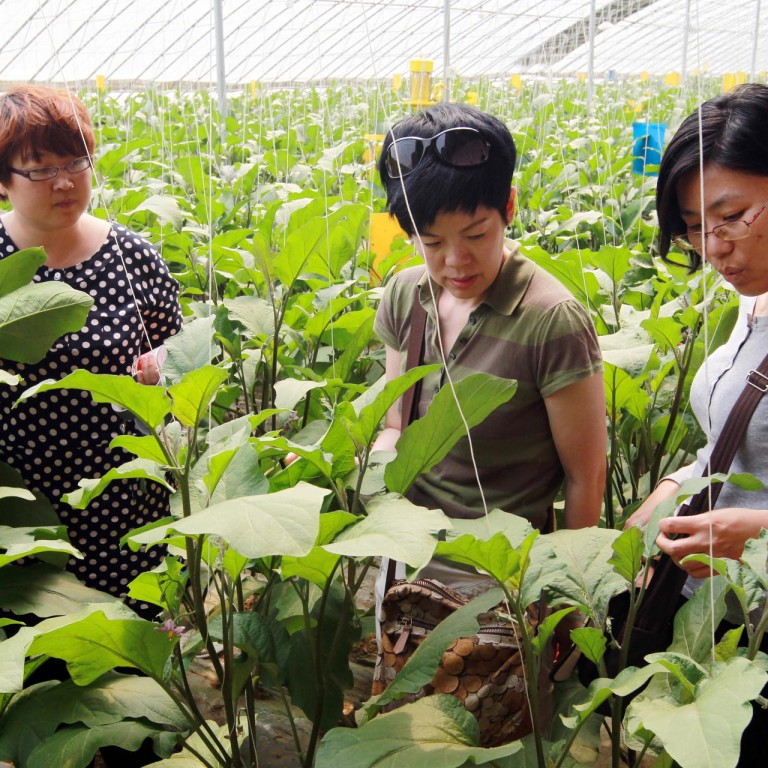 How food scandals are forcing Beijingers to search out organic alternatives
Mainland food scandals have sent urban dwellers in search of alternative sources of sustenance away from the cities, writes Xu Donghuan
Rat meat is passed off as mutton, ginger is laced with pesticide and, more recently, rice products are found to contain high levels of cadmium, a heavy metal that causes kidney failure, osteoporosis, cancer and other conditions when ingested. On the mainland, how can you be sure that anything you put on the dinner table is safe these days?
Constant rounds of food scandals in recent years have made consumers across China suspicious and fearful of the groceries and produce that they're getting. Better-off families are increasingly seeking alternative avenues to ensure a safe supply of food.
Catherine Ho Wai-man and her husband, a telecoms executive, have lived in Beijing for nearly a decade. But in the past year, they have stopped buying fresh produce from neighbourhood markets, Ho says, recalling with a shudder how she found a suspicious white substance leaching out from the greens she had bought at a stall.
The couple, who have two young children, have since resorted to growing their own greens. In the backyard of their spacious home in the northern suburbs of Beijing, they have carved out a patch where they grow tomatoes, cucumbers, and other vegetables. When that comes to a halt during the freezing winter months, Ho shops for organic produce at high-end supermarkets instead.
"I have slightly more confidence in the produce there," she says. "But I always soak vegetables in water before cooking, and peel the fruits before eating."
For a recent dinner, Ho's nine-year-old daughter Felice Cheng helped prepare a family favourite - bean sheet rolls stuffed with dried shrimp, turnip and mushroom from Hong Kong - and stir-fried choy sum from their garden.
Ho makes it a point to stock up on supplies whenever the family goes to Hong Kong.
"Every time we return to Beijing, our luggage is packed with all sorts of ingredients from Hong Kong," she says. Opening the two refrigerators in her kitchen, Ho reveals shelves filled with packs of dried seafood purchased in Tai O, dried herbs as well as jars of black bean and XO sauce from Hong Kong's most well-known brands.
Many of her Hong Kong friends in the capital are in a similar predicament, she explains. "Our living standard has slipped because of the quality and the limited variety of foods in Beijing."
The vast majority of urban residents in Beijing, who live in tiny apartments, do not have the options available to Ho and her family - the better supermarkets are beyond their means, and they don't have access to gardens. Although the government has promised to protect the people from hazardous foods, the reality is that fulfilling this pledge may take a while. For a society that produced the adage, "The masses regard food as their heaven", this is a bitter pill to swallow.
In the meantime, a growing number of well-to-do Chinese consumers and resourceful expatriates are turning to organic farmers markets and making private arrangements to obtain safe ingredients.
On a Saturday morning, a group of Beijing residents take a 2½-hour ride to Fuping Chuangyuan, a new eco-farm on the outskirts of neighbouring Tianjin. Among them are Henry Xu, a 46-year-old entrepreneur, and his wife, Maggie Zhu, who want to see if the vegetables are grown as conscientiously as claimed.
"Vegetables in the supermarkets are no longer reliable, even those with organic labels," Zhu says.
Following regular food scares, the couple now gets rice from Wuchang county in Heilongjiang through friends, and their sesame oil comes from a trusted processor in their housemaid's home village.
They maintain a small vegetable garden at home but it's insufficient to meet their needs. So after trying out some produce from the Tianjin eco-farm, they have purchased a one-year package. For 6,888 yuan (HK$8,640), they receive four kilograms of vegetables weekly for 48 weeks, which is delivered to their home at no extra charge.
It works out to an average of 36 yuan per kilogram of vegetables. That's more expensive than buying the same produce from supermarkets but Zhu says, "We are happy to spend more as long as the vegetables are safe."
The eco-farm is a joint venture between Beijing Fuping Institute, an NGO that aims to help the underprivileged by offering skills training, and Daichi wo Mamoru Kai, a Japanese green group which promotes organic farming.
It occupies a sprawling, rented site in a village in Jinghai county, comprising 30 enormous greenhouses, each about 90 metres long and 10 metres wide. During their visit, the Beijing residents are taken round to view the greenhouses and invited to pick some cucumbers and snow peas which are ready for harvesting.
A farm manager explains how the organic methods for weed and pest control work. "The idea is to restore consumers' confidence in farm produce," says Shen Dongshu, director of Beijing Fuping Institute.
"The goal may seem distant but if we do not give it a try, trust will never return."
The joint venture is among 100 organic or eco farms of varying sizes which have sprouted up on the outskirts of Beijing in recent years, spurred in part by the stream of food scandals in China.
"Many eco-farms start by offering vegetables because it's relatively easy to get a production licence for them," says Zhang Qian, editor of
yogeev.com
a Beijing-based website about organic food. "But as these farms grow, they may expand their catalogues to include other produce such as eggs and meat, or source them from trusted providers."
Beijing Organic Farmers Market, which was founded in 2010 by a group of health-conscious consumers, provides a platform for more than 30 small-scale farmers to sell their produce directly to well-to-do families and expatriates in high-end residential areas. With more than 70,000 followers on its Sina weibo microblog, it can attract thousands of shoppers at the weekend.
Many customers are thirty-something professionals with young children, or elderly women caring for grandchildren, says Sanfendi Organic Farm owner Liu Xueping, who has participated in the market since its inception. "The personal interaction between consumers and farmers at the point of sale is a constant reminder that we need to provide the safest products to our customers."
Most customers of the Tianjin joint venture also got to know about the farm through its weibo account, which now lists more than 2,000 followers. About 100 people have now bought one-year vegetable supply packages.
Despite having visited the farm, Beijing resident Liu Yufen isn't entirely convinced that its vegetables are safe.
"I'm worried about the underground water that they use to irrigate the farm and the organic fertiliser that is sourced from somewhere else," says the 42-year-old business executive. "I don't know how they can make sure that these are safe as well."
Even so, Liu has signed up for a year's supply of vegetables from the Tianjin joint venture.
She wanted to buy from another eco-farm which had a bigger range of foods, including meat and eggs, but gave up the idea because it charged extra for delivery to families living outside the capital's Fifth Ring Road.
"China faces a trust crisis. Once trust is betrayed, it's hard for me to trust again. I used to think that farmers were the kindest people in the world but now we see many have lost their basic ethics," she says.
"The safety of pork is most worrying. In normal conditions, it takes about one year for pigs to mature for sale. But some farmers bring their pigs to market in just three months. You don't know what has been added to their diet."
Coupled with deteriorating air and water quality, the food scares have many middle-class families rethinking their future.
"We thought China would become a great place to live 20 years ago. Now we cannot even find foods that are not poisonous," Xu says.
"Everybody is looking for ways to protect themselves. In the next five years, we will see a bigger wave of people migrating overseas."
This article appeared in the South China Morning Post print edition as: greenery