LIFE
Get more with myNEWS
A personalised news feed of stories that matter to you
Learn more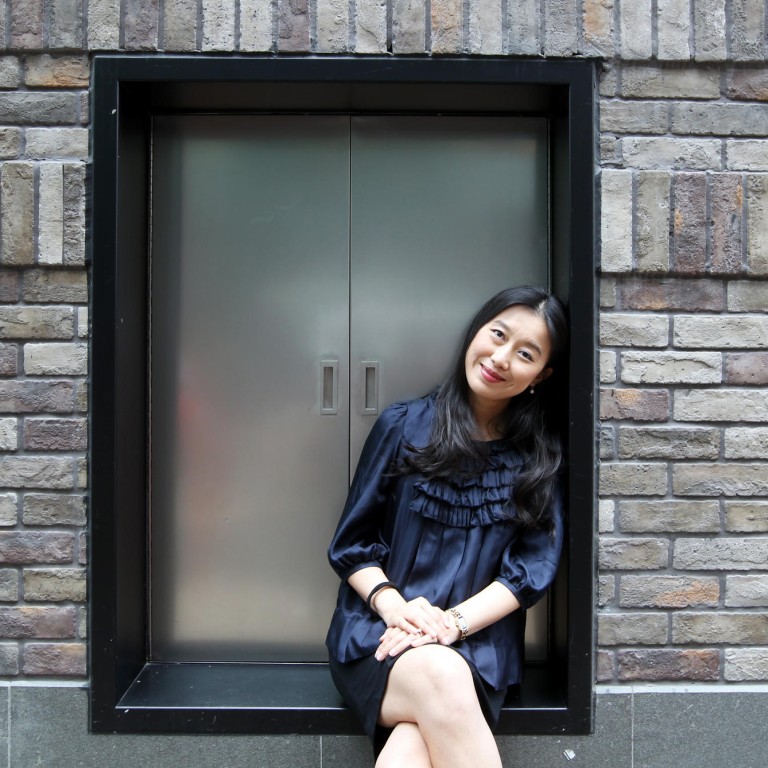 With Hong Kong's FringeBacker, achieving big dreams just a click away
A Hong Kong-based crowdfunding website is helping creatives worldwide turn their ideas into reality, writes Kylie Knott
Syrus Kwan Siu-fung flips through his sketchbook, pausing sporadically to name people and places. There is his friend Stephen walking the Tsing Ma Bridge as if it were a tightrope. In another sketch, his friend Churdy stretches out on the chaise longue-like Hong Kong Convention and Exhibition Centre.
"That's Kristy at the HSBC building," says Kwan, 27. "I love to draw that building, although this took about three hours!"
Welcome to Kwan's world, "Little Someone", a series of sketches featuring his favourite lads, ladies and landmarks.
But while Kwan's love for the city runs deep, he is bidding farewell to it next year to join his mother and sister in the United States. Before he goes, he wants to hold an exhibition of his work - and he's hoping Hong Kong-based crowdfunding website FringeBacker will make it possible.
"I'm on a mission to complete 'Little Someone', to do my part in promoting the city through its landmarks while inspiring others with my art. The big picture is to turn the series into tourist souvenirs," he says.
He heard about FringeBacker through his friend Agnes Nong, who raised more than HK$20,000 to fund her upcycling venture, Memories Factory.
"I'd never heard about raising money through the internet - it was a new concept for me but it's a totally awesome one," Kwan says.
The concept of FringeBacker is simple. An applicant submits a crowdfunding proposal and, if approved, the project is put on the site and has 60 days to reach its cash goal. People anywhere in the world can contribute funds. If the project succeeds, FringeBacker gets a 5 per cent share of the final amount raised. If it fails, all pledgers get their money back and the website collects nothing.
"FringeBacker empowers the youth. It helps them pursue their goals. For independent artists like myself there's limited support and it's difficult to get government funding, even if the work promotes Hong Kong. … It's fantastic that someone decided to provide this crowdfunding service in Hong Kong."
That someone is Hongkonger Maryann Hwee, the founder and director of FringeBacker. Hwee is passionate about crowdfunding and talks about applicants - past and present - in the same way a doting mother would speak of her children.
After more than 20 years investing in and developing cross-border operations in IT and finance, as well as cultural and internet-related industries in Hong Kong, the mainland and Southeast Asia, Hwee was ready for something more rewarding.
"I was often disheartened by the number of creative projects we rejected as investment opportunities because they weren't considered profitable - not the sort of business that would appeal to traditional investors. The problem was widespread within the investment community," she says. "When these 'rejected' people asked, 'Where can we go with our idea?' It was sad to answer, 'Nowhere'."
But in 2009 Hwee caught wind of a new trend - crowdfunding - and liked what she saw. "I watched Kickstarter and other crowdfunding sites sprout up and loved the concept of an online platform that gave creative types the chance to reach out to financial backers.
"I scrutinised their models and, after about two years, I knew I wanted to establish one in Hong Kong. I felt this city had an advantage because of its bilingual environment."
Hwee followed through on her plan and, in September 2012, FringeBacker was born. While slow to start, it's now gaining momentum, receiving about 15 applications a week. To date it has received more than HK$620,000 in pledges and has won approval from Unesco.
"When I set up FringeBacker, crowdfunding was still a relatively new concept for Hong Kong, so it took a while to catch on. But support is growing. It's also getting feedback from overseas with a lot of inquiries from the United States, Britain and Europe … [from people who are] seeking support for their projects and also people keen to reach out to a Chinese audience."
Hwee says the site differs from Kickstarter in two ways. First, it is the world's only bilingual crowdfunding platform and, secondly, it has a friendly application system that appeals to a wider audience.
"The Amazon payment system used for Kickstarter is not friendly or convenient for applicants who are not US citizens, so applicants from Hong Kong - or anywhere in Asia - who didn't have a US connection really struggled. That's where FringeBacker comes in."
For creative types seeking funding, Hwee has some tips: "Make a slick video as this … makes the biggest impression. And it's a bonus if the video goes viral!"
Hwee also says a polished marketing plan is essential for a successful campaign, as is a good network of supporters who will help spread the word.
One of the earlier success stories was British-based a cappella group, All The King's Men. They raised HK$94,585 (109 per cent over the minimum fund target they set) to help with their 2012 tour of Hong Kong and Singapore. "This group of boys from King's College London was so inspiring and passionate," Hwee says.
The most successful project to date has been showjumper Jacqueline Lai's. Last year she shattered her pelvis but is now back in the saddle and raising funds for international competitions. In March this year she hit - and passed - her target, raising HK$366,700.
"Jacqueline's story is very inspiring. People saw how she overcame adversity [and] showed spirit," Hwee says.
The website gives proposals just 60 days to reach their cash target, but due to the overwhelming popularity, Lai's campaign has been extended another two months, to June 7.
Meanwhile, Kwan is anxiously watching his countdown (he has 20 days left). "It's exciting to watch the funds grow but I'm not slowing down - I'm always looking for ways to improve and promote my project."
While Kwan plays the waiting game, others such as Hong Kong-based filmmaker David Wong are hard at work putting their funded projects into action. For Wong, that means lights, camera, iPhone.
In February Wong exceeded his target by 341 per cent for his film, , to be shot entirely on an iPhone. He says he was overwhelmed when his tally hit HK$85,400. "I was aiming to raise around HK$20,000," he says, calling the donors "golden-hearted".
Wong says shooting and production of the quirky movie about the love lives of secret agents starts this month, for release in October.
Hwee says Wong's campaign was such a hit because of one of his token "thank yous", a component of all the projects. In Wong's case, backers of HK$1,000 were promised a digital role in the film. The idea tickled the public's fancy and 52 backers signed up.
"The 'thank yous' to pledgers are a great way … to attract interest," Hwee says.
In Kwan's project, backers who pledge HK$8,000 receive an impressive package that includes a personal drawing of family and friends (up to eight people) with a background of their choice.
But FringeBacker still has a long way to go before matching the amounts generated by Kickstarter (since it launched in 2009, more than 3.8 million people have pledged US$568 million for more than 39,000 creative projects).
Hong Kong-based indie band Noughts and Exes were among the successful applicants at Kickstarter. In July 2011 they asked for help funding their third self-titled album. Their goal was reached and the album will be released in Hong Kong on June 15.
"It would have been very difficult to release our album without the help of Kickstarter, even though we ended up going way over our budget as a result of the taxes and other expenses like Kickstarter and Amazon's commissions. But our budget blues aside, crowdfunding is an amazing way to get support," says the band's vocalist, Joshua Wong.
With crowdfunding raising millions of US dollars worldwide, there's no doubt it's a concept that will continue to grow - and you're never too young to get involved, according to FringeBacker's marketing director, Vivien Chan Yee-wan. "My nine-year-old son has contributed HK$100 to some of the projects on FringeBacker. He loves drawing and one day wants to stage an exhibition and plans to get support through crowdfunding."
This article appeared in the South China Morning Post print edition as: Fringe benefits