LIFE
Get more with myNEWS
A personalised news feed of stories that matter to you
Learn more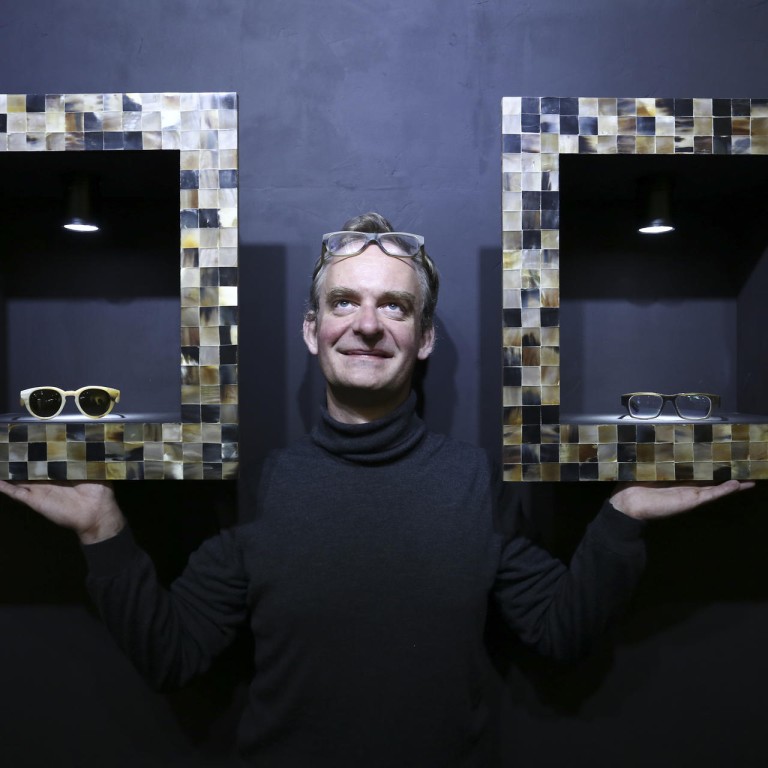 3D face scanner delivers form-fitting eyewear accurate to within 0.1mm
Benoit Ams points a scanning machine at my head and slowly walks in an arc in front of me. "Stay still and kindly move your hair from your face," says the Belgium entrepreneur and managing director of eyewear specialist Smith & Norbu.
Ams is taking measurements of my face using 3D technology that will allow bespoke glasses to be made with measurements accurate to within one-tenth of a millimetre. "Instead of relying on traditional time-consuming methods of multiple measurements by hand, we use this 3D scanner. It's more accurate and cuts down on unnecessary repeated fittings required by the traditional process. It only needs a single consultation." Smith & Norbu is the only place in the city to offer the service.
The scanning process is over in less than a minute but making the frames is a long labour of careful love with each pair needing as many as 30 operations and taking between two to three weeks to be completed.
But it's not only the accuracy of this bespoke service that appeals - it's the materials that are used to make the glasses.
Smith & Norbu handcrafts yak and buffalo horn frames and sunglasses as well as yak leather accessories. All products are made with the highest respect of the environment, using only natural eco-friendly materials. They are sold in more than 50 stores in 20 countries.
"I was visiting Tibet and fell in love with a piece of craft made out of yak horn. From there came the idea to create high-quality eyewear frames using this fantastic material and Smith & Norbu was born in 2007 … I wanted to create frames that are not only beautiful and comfortable to wear, but also manufactured in respect of the environment," he says.
Walking around Smith & Norbu's first retail venture at PMQ, the creative hub in Central, Ams opens a drawer to reveal samples of the raw material, each piece as smooth as marble. "Customers can pick their own pattern and style and choose the shape they want."
There is yak horn from Tibet and water buffalo horn from Africa, Vietnam and China. "The water buffalo is the same breed that we have on Lantau island.
"The eyewear is unique and adapted to the physical features of the wearer, thus guaranteeing a high level of comfort."
Ams says the firm also wants to send a strong green message.
"The yak and buffalos are bred for their meat and milk so the horns are a by-product, like leather … for many years the people of Tibet - and in other places in Southeast Asia - would use this material to make carvings and other pieces of traditional art."
The end result is a unique pair of beautifully crafted glasses that come in a soft leather pouch inside a trademark Smith & Norbu box. As for the name, Ams says Smith & Norbu is a coming together of East and West. "The name reflects that fusion between the traditional craftsmanship of Asia and a Western shape and style," he says.
Ams hopes to have a bigger space so he can show the work being carried out.
"That was the initial plan but the space here is too small and the sound and smell of the glasses being made is quite strong. Maybe we will show just the polishing part of the process so people get to see a part of how they are made."
Smith & Norbu's range of optical frames are crafted by artisans using traditional techniques carefully preserved and handed down from one generation to the next. "The craftsmen's know-how is the magic by which exceptional raw materials take shape."
Ams says he is also determined to give something back to a world from which so much has been taken.
"My plan is to revitalise traditional horn craftsmanship in a way that creates a sustainable source of income and improves the quality of life for the local population of Tibet.
"We are working with suppliers to ensure full compliance with the Smith & Norbu principles and, in turn, we offer higher prices for the raw materials … we are also committed to donate a part of our profit to charities in Tibet."
Smith & Norbu, 4F, PMQ, 35 Aberdeen St, Central. Inquiries: 2541 8118
This article appeared in the South China Morning Post print edition as: Yak to the future for specs