LIFE
Get more with myNEWS
A personalised news feed of stories that matter to you
Learn more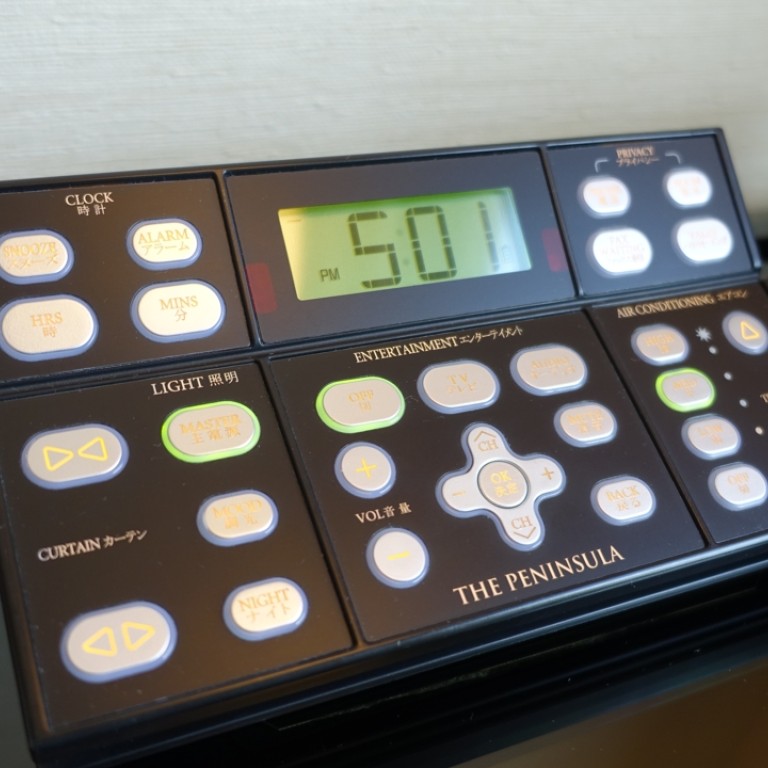 The hotels offering touch of luxury for the smartphone generation
Apps that let you check in with your phone, open the door with a smartwatch, and control your room's music, lighting and air conditioning are the new definition of luxury for the tech age
Luxury hotels have always had something extra, perhaps a great view, more space and a beautiful bathroom. Now a new class of hotel is emerging to cater for a generation that is hooked on technology, and on smartphones in particular.
In some hotels guests can check in with their phone, open the door with a smartwatch, and be streaming internet radio around the room in seconds. It's even possible to turn down the air conditioning using an app on the in-room iPad before browsing the travel guides sent to your phone by the hotel's concierge.
Among hoteliers who are adapting to the latest generation of in-room technology is Hongkong and Shanghai Hotels, which own the Peninsula hotels in 10 cities including Hong Kong, Beijing and Paris.
"There is a huge competitive advantage to spending money on technology," says Ingvar Herland, its group general manager for research and technology, who heads up a group of 20 engineers that work on bringing the latest gadgets and in-room technology to its hotels.
At the Peninsula Tokyo, guests entering the hotel, situated in the city's plush Marunouchi district, are greeted by The Void, a bizarre collection of 24 "light cones" made from 1,313 crystal LED bulbs that stretch upwards in darkness to the hotel's 24th floor.
That slice of pure sci-fi is preparation for what's to come inside the rooms, with touch panels on all the walls to dim the lights, controls to swing back the curtains, and even a panel that tells the weather and streams international radio stations over the internet.
"In Tokyo we also have VOiP in our telephones so you get free calls worldwide," Herland says. "It's a Skype call, and many of our guests choose our hotels on that alone."
This isn't technology for the sake of it; the in-room tech at the hotel is discreet, easy to use and aimed solely at convenience. You can switch on a steam-proof Sharp TV or dim the lights while sitting in the bath (doing so also kick-starts soft music) while a night light button lights up a softly lit path to the bathroom.
There's a nail dryer for quickly drying nail polish – ideal for the woman in a hurry – while the bathroom mirrors never steam up however long you run the hot water for. The typically mechanised Japanese toilet comes complete with a patch-through phone for the ultimate in time saving.
This kind of technological wizardry is now more the rule than the exception in both the travel and hospitality industries, which are looking to provide consumers and clients a new level of convenience and experience.
The Apple Watch, for instance, now comes with travel apps such Passbook (for presenting boarding passes and hotel check-in information), TripCase (for itineraries and flight departure updates) and Booking Now (for navigating to a hotel).
"There was a time when luxury travel really meant staying in a five-star hotel and having a very typical high-end experience," says Stuart Frisby, principal designer at Booking.com, which launched its Booking Now app for Apple Watch last summer.
He doesn't think the device should be considered as exclusively for the luxury end of the market, adding: "What we see more and more is that time and convenience have become greater luxuries, so apps that make travellers' lives easier when it comes to booking accommodation are highly valued."
Although apps for Apple Watch that allow cardless, paperless and cashless travel (and maybe, one day, passport-less) are exciting, using a smartwatch while travelling removes the incessant reaching for a phone – an appealing feature in itself.
Apple Watch apps for hotels in particular are on the rise. Booking Now isn't about hunting for a hotel – that's impractical on a watch – but navigating to a traveller's booked accommodation, and reminding them of their room number.
Marriott Hotels' app allows its guests to fill out an advance check-in form online, saving time at check-in, and sends guests a notification when their room is ready. That's handy if you arrive in a city during the morning.
That app could be about to improve dramatically because Marriott has just acquired Starwood Hotels, which does away with check-in altogether by allowing guests to head directly to their room and unlock the door using an Apple Watch or a phone.
Despite the focus on Apple Watch, it's not yet a mainstream device, so it's the smartphone that will define what happens next in hotels.
That's something not lost on Herland and his team, who have created a new phone-centric approach to Peninsula hotels in Hong Kong, Shanghai, Paris and Chicago.
"We have a new system in Hong Kong and now in Paris," says Herland about his company's new emphasis on smartphone integration, though he insists that there are no dedicated Peninsula apps that guests can download to their phones – as many hotels now have – for one very good reason.
"We don't offer apps to control the room because we're not sure guests want to download them, only to use them once in a while," says Herland. "So we supply a Samsung tablet with all apps pre-installed – what's important is the smartphone connectivity."
There is another much more exciting, yet little-known technology that is coming soon to luxe hotels.
Bluetooth beacons
, tiny devices that can be embedded into hotel walls and furniture, can communicate with smartphones nearby.
Once the hotel staff know where you are (or, rather, where your phone is), the connected services are endless. How about ordering a drink on your phone, and having it delivered to you wherever you are in the hotel? With Bluetooth beacons, that's possible.
Although there may be an unwanted element of control, this "assistive technology" is now being trialled at Hong Kong International Airport to help passengers to find their gates (and for airlines to find their passengers), but its first use will likely be for guiding visually impaired people around airports.
Ditto hotels, though once it's installed beacon technology will help create clever in-room audio. Invisibly using Bluetooth beacons, an app or in-room tablet will let you control music and lighting dynamically, in whatever room you happen to be standing in – and if you're in a suite, music will follow you as you walk from, say, the bedroom to the bathroom.
Movie streaming is also expected to hit hotels next. Forget keyless entry, iPads and apps; everyone wants Spotify and Netflix in their hotel room.
"We would like to have Netflix available as an app, or on a standard user interface in the hotel, but Netflix doesn't offer this because of licensing issues," says Herland.
"Cloud content has taken the private home by storm and the next step will be the hospitality industry … they need to work out how to have it as fixed service to hotels so we can then move away from traditional on-demand video services and get more content from the cloud, as well as from YouTube."
With digital-savvy travellers demanding more tech, more apps and more personalisation in hotels, next time you travel expect a little more than a room with a view.