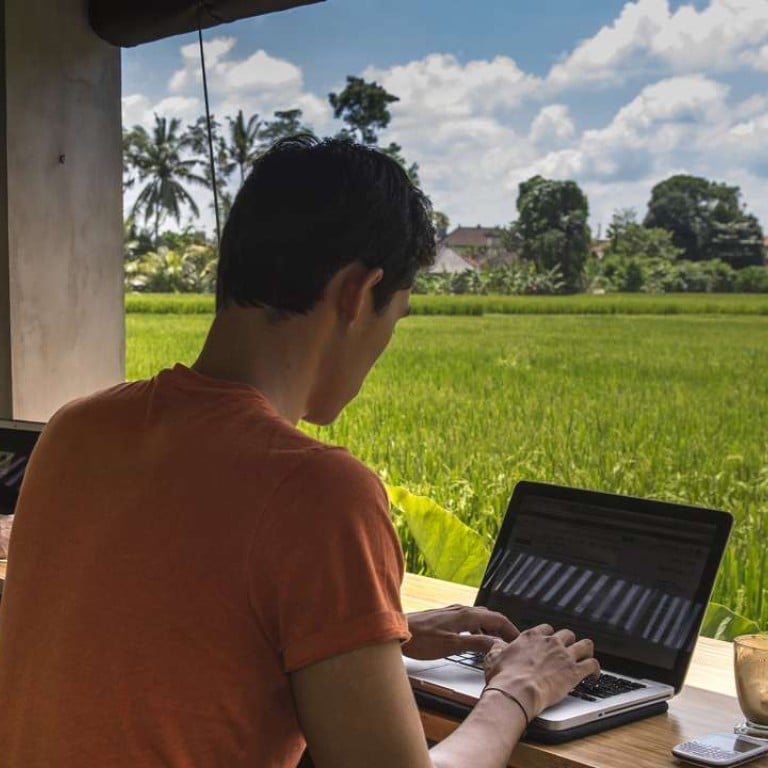 Why a growing army of 'digital nomads' are choosing Asia as their base
For many who wish to get away from the daily commute, working online offers them a chance to fulfil their dream, and safe, cheap and friendly Asia is the perfect place to do it
What if you could choose where and when you worked, and live anywhere in the world? With the rise of web-based working, physical location is often irrelevant. Cue the rise of so-called digital nomads, a group of 'location-independent workers' for whom the daily commute is whatever they want it to be.
Digital nomading is often sold as 'work while you travel', but for an estimated 500,000 people globally it's more about remote working than perpetual travel. For many, it's a simple reaction to economic realities. "I see digital nomads as a good example of how the world is changing, and how it can solve some of problems that our society is facing," says Youjin Do, who is making a documentary about digital nomads called One Way Ticket , which will soon be available online for free.
She talks about overcrowded and overpriced cities around the world, and how a new category of 'remote company' – typically start-ups – are collaborating online with team members across the globe instead of paying high rents in cities, or heading to Silicon Valley. "If more and more people are able to work remotely, there won't be this many people who are willing to live in a big city," says Do.
Beach or big city? For digital nomads looking to work fast and efficiently, the latter often triumphs because of the need for guaranteed high-speed internet. "Thailand consistently maintains the top of the list of cities for remote workers and digital nomads as it's relatively cheap, safe, and its internet infrastructure is very good, especially 4G," says Pieter Levels, 29, from Amsterdam, Netherlands, who runs NomadList, which rates the best cities for digital nomads on criteria from places to work from and internet speed to cost of living and racial tolerance. "Vietnam is close by, but its internet infrastructure is a lot less good, it's a little less safe, and it's not as hospitable," he adds.
Asia in general is considered relatively cheap, safe and modern, with Hong Kong getting a mention for having the some of the fastest internet in the world.
"Compare Asia to South America, and you'll see South America is relatively expensive, not modern, and has severe problems with crime and safety," says Levels, who is nevertheless trying to push destinations outside Asia on NomadList. "There are now places like Budapest, Belgrade, Prague, Gran Canaria and cities in Mexico popping up that also fit the bill," he says.
A key destination in Asia for digital nomads is Bali in Indonesia, which is also home to one of the first co-working hubs in the idyllic town of Ubud. "Hubud was the first co-working space and offers a place not just for digital nomads to work but to connect, learn, attend workshops and develop their ideas," says Chris Thompson, director at Hubud who's been 'digitally nomading' in Japan, Singapore and Indonesia for 18 years. As well offering Wi-fi, 'Skype booths', meeting rooms and online booking in crypto-currency Bitcoin, Hubud held 371 events last year, from skill sharing and feedback sessions to local language courses, start-up weekends and 'Pecha Kucha' presentations (where someone shows 20 slides and talks for just 20 seconds per slide).
"I see the co-working space as one of the most significant social movements ever," says Thompson, who adds that two anthropologists at Hubud are doing research and dissertation papers on co-working right now. It may be surrounded by picturesque paddy fields, but this is not about taking it easy. There's a feeling that Hubud – and the 8,000 other co-working spaces that have sprung up globally to serve the expanding digital nomad community – could prove a model for education in society at large.
Most of those co-working spaces are in urban areas. "Hubba Thailand is located in Bangkok, and I keep coming back even though I'm not a big fan of huge cities," says Do. "It's a unique community which has a 50/50 mix of locals and digital nomads … everyone in Hubba is so friendly and helpful, so it makes me feel like I'm back home." Co-working spaces are becoming popular because for those living 'on the road', a sense of belonging becomes a precious commodity; one of the biggest challenges about being a digital nomad is loneliness. "The fastest way to a mental disorder is becoming a digital nomad full-time," admits Levels. "It seems romantic not to have a home anywhere, but it'll literally drive you crazy, you'll lose touch with your old friends, your family, your culture … the freedom is great, but it's also debilitating as you're not part of anything." Levels advises going on three-month trips then returning back home.
Many digital nomads spend some time looking at a handful of their favourite places to live and work, and travel between them. Others travel randomly, permanently, or stop for years at a time when they find love. In fact, digital nomadism covers so many different kinds of people and preferences that it's only the need for freedom and modern technology that joins them. The latter is primarily the internet, of course, though communication and collaboration apps like Gmail, Skype, Slack, Appear and Hangouts are useful. So too are cloud services including Evernote, Dropbox and Google Drive. "The number one hardware tool is the Roost laptop stand," says Levels. "It's the best laptop stand out there, and it's essential if you work on a laptop a lot to avoid repetitive strain injury."
Backpackers with laptops? Many people think that digital nomading merely refers to being young and footloose, a period many people go through in their early 20s. Although many are young freelancers who travel perpetually in developing countries, the real skew is that almost all digital nomads are from rich countries whose passports have generous visa options. "An EU passport holder, for instance, can get a lot farther than a Vietnamese one, who faces the huge possibility of their visa application getting rejected," says Do, who explores such limitations in her documentary.
To some, digital nomading sounds like one long vacation, but that's not what it's about. "It is not a dream life or a vacation everyday, and it's not even about perpetual travelling," says Do. "It is just another way of life that is getting easier to do nowadays." She has issues with those that pedal the idea of digital nomads as those that sit on beaches with their laptops. "It affects the image of digital nomads and it makes people's clients or employers unsure that they work hard instead of spending all day at the beach," she says.
It's not for everyone, and it's not open to everyone, but digital nomading is growing fast. However, to pepper talk about digital nomading with phrases like 'travel the world and get paid for it' and 'perpetual travel' is misleading. "With remote work, you can spend more time with your family," says Do. "It's like a normal life."
Top 5 places in Asia for digital nomads, according to Nomad List
1. Jeju Island, South Korea
With unbeatably fast 100mbps internet within a natural setting, the volcanic Jeju Island in the Korea Strait scores highest of all, but lacks any nightlife. Try the J-Space in Jeju City for co-working.
2. Daegu, South Korea
It lacks tailor-made working spaces and air quality is poor, but everything else about South Korea's fourth largest city suits digital nomads, with free city-wide WiFi and 40mbps internet speeds.
3. Bangkok, Thailand
Asia's co-working capital, places to rent a desk include Hubba, The Hive, Kliquedesk and Basecamp in this nomad-friendly city with a low cost of living.
4. Busan, South Korea
Like Daegu, this lively port city boasts fast internet and plenty of Wi-fi hotspots. It's also linked by a ferry to Fukuoka in Japan, which also ranks very highly among digital nomads.
5. Tokyo, Japan
Although it lacks free Wi-fi and can be expensive, Japan's capital is foreigner-friendly and fun. Co-working spaces include Co-ba Shibuya and Samurai Startup Island.
This article appeared in the South China Morning Post print edition as: foreign office