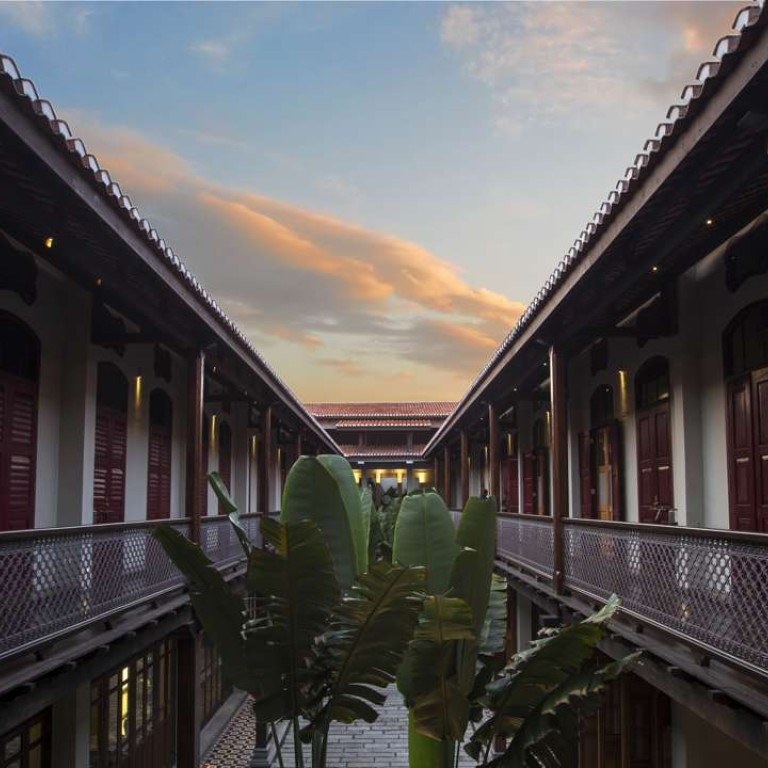 10 of the best boutique hotels in historic George Town, Malaysia
Beautifully renovated colonial mansions and shophouses abound in this World Heritage Site. Here are our top 10 picks for a stay in Penang
While the rest of Asia obsesses with swanky properties and five-star branded hotels, the places to stay in Penang's Unesco heritage city of George Town are boutique hotels lovingly crafted from colonial mansions and historic houses.
The Malaysian port has made its downtown core a thriving tourist and cultural hub by proudly reclaiming its historic relics. By and large, the conservation was led privately by individuals and local entrepreneurs dedicated to preserving its unique culture. After Unesco in 2008 declared George Town a World Heritage Site, the local government came on board too.
Now, visiting Penang means more than just assam laksa and nasi lemak in a hawker stall. A trip is not complete without checking into a charming and resplendently restored inn. Here are 10 of the best George Town boutique hotels in historic settings.
23 Love Lane Hotel
The charms of this house is that it was constructed over five different periods from the 1800s, so the eclectic look includes Anglo bungalows with Chinese Indian terraces and a private garden in the centre. Formerly a European's family home, it was lovingly restored over three years and opened in 2011 with 10 rooms. The owners have since added adjoining suites in a pre-war shophouse and another stand-alone heritage unit just down the road. The colourful art inside is nice too. The street might be called Love but the hotel conjures easy and relaxed living.
23 Lorong Love, George Town, tel: +60 4 262 1323
Jawi Peranakan Mansion
The newest property of Chris Ong's George Town Heritage Hotels group, the 10-room house harks back to its roots as a home for a rich Malay Muslim from the Middle East. The Islamic motifs and stately design offer another dimension of George Town's multifaceted history. Like most of the candidates on this list, it has undergone extensive structural and cosmetic restoration. Stay here if you fantasise about an Arabian night after a long Malay day.
153 Jalan Hutton, George Town, tel: +60 4 218 9858
Blue Mansion (Cheong Fatt Tze Mansion)
Undoubtedly, this is the project that launched Penang's conservation movement. The iconic site was the favoured home of a rich Chinese merchant who built the grand manor expecting it to house nine generations of descendants. After the second world war, it was essentially abandoned until local architect professor Lawrence Loh personally saved it from ruin. Meticulously sticking to its original look, he even hired artisans from China to employ decorative and building techniques lost to local craftsmen. Now, the treasured structure is popular for weddings and film shoots and has 18 rooms of regal Mandarin luxury.
14 Leith Street, George Town, tel: +60 4 262 0006
Campbell House
Campbell House is distinguished by its sun-blocking shutters that extended over the pavement on the corner of Campbell and Cintra. The beautifully restored three-storey, 100-year-old house has 11 suites with a mixture of Eastern and Western furnishings. The owners are an expatriate couple that fell for George Town's easy living and they've imbued the Campbell with a sense of authenticity and personal service. It also contains Il Bacaro, one of the best Italian restaurants in Penang.
106 Lebuh Campbell, George Town, tel: +60 4 261 8290
Seven Terraces
The flagship of the George Town Heritage Hotels group, led by ex-Hong Kong investment banker and Penang-native Chris Ong, Seven Terraces consists of seven Straits Chinese houses converted into a magnificent Peranakan property. The 18 suites have won design awards and acclaim from conservation groups. Guest rooms are all on the second floor while the gutted interior now boasts a granite courtyard perfect for a Crouching Tiger sequel. This is a hotel designed to impress and the rooms' dominant red colour scheme is perfect for honeymooners.
8 Stewart Lane, george town, tel: +60 4 264 2333
Lok Thye Kee Residences
Opened last year, the LTK are five impossibly luxurious suites in a row of heritage shophouses built in the 1890s. Designed by Singaporean firm Ministry of Design (MOD), it was shortlisted for an Asia Hotel Design Award this year in the Suites category. Every room has its own outdoor garden and a private balcony. But the signature feature is the beautiful brickwork. The site was derelict for more than two decades. Now it's one of the hottest addresses for guests looking for an exclusive experience in Penang.
326 Jalan Penang, George town, tel: +60 4 263 1928.
Eastern & Oriental Hotel
You can't talk about heritage hotels in Penang without mentioning the venerable E&O. A colonial landmark, its legion of famous guests includes Noel Coward and Somerset Maugham. It was started by the Sarkies brothers, who also built The Raffles in Singapore. With swimming pools, a gym, spa and buffet breakfasts, the E&D isn't technically a boutique hotel, and its new wing resembles any new five-star accommodation. But the old wing still holds plenty of nostalgic character. The waterfront location is pretty scenic too.
10 Lebuh Farquhar, George town, tel: +60 4 222 2000
Clove Hall
Heritage boutique hotels aren't only in George Town. Some of the prettiest can be found outside the centre. Clove Hall is an Edwardian bungalow on a former coconut and clove plantation. The mansion was restored in 2009 with six suites each named for a spice – Ginger, Clove, Cardamom, Saffron, Star Anise and Cinnamon. Recalling the glory days of the British empire, sip your high tea among the hushed grounds with frangipani, bougainvillea and firecracker plants. There are also three private suites that are separate from the main house.
Jalan Clove Hall, Goerge Town, tel: +60 4 229 0818
Macalister Mansion
While most of Penang's heritage hotels stick to a retro-historic look, the Macalister dares to be ultra modern and avant garde. The stylish eight-room inn was created by Ministry of Design and it is the only Penang hotel in the Design Hotels network. With quirky, interesting art scattered throughout the common areas, bars, restaurants, rooms and even on the lawn, the Macalister – named in honour of one of the first British Governors of Penang, Sir Norman Macalister – updates its historic past with an unlikely hip and chic vibe.
228 Jalan Macalister, Goerge Town, tel: +60 4 228 3888
Yeng Keng Hotel
Housed in a magnificent 18th century building, the ornate Peranakan décor is tasteful not tacky despite being on the budget end of this list. The 20 rooms and suites are functional with old-world touches such as the faux colonial furniture and the Chinese front gate. A green garden and bright open courtyard add to its appeal. Chulia is also one of the busier streets for bars and nightlife and you could do a lot worse in terms of finding a decent and quiet place to rest in the area.
362 & 366 Lebuh Chulia, George Town, tel: +60 4 262 2177.