India
Get more with myNEWS
A personalised news feed of stories that matter to you
Learn more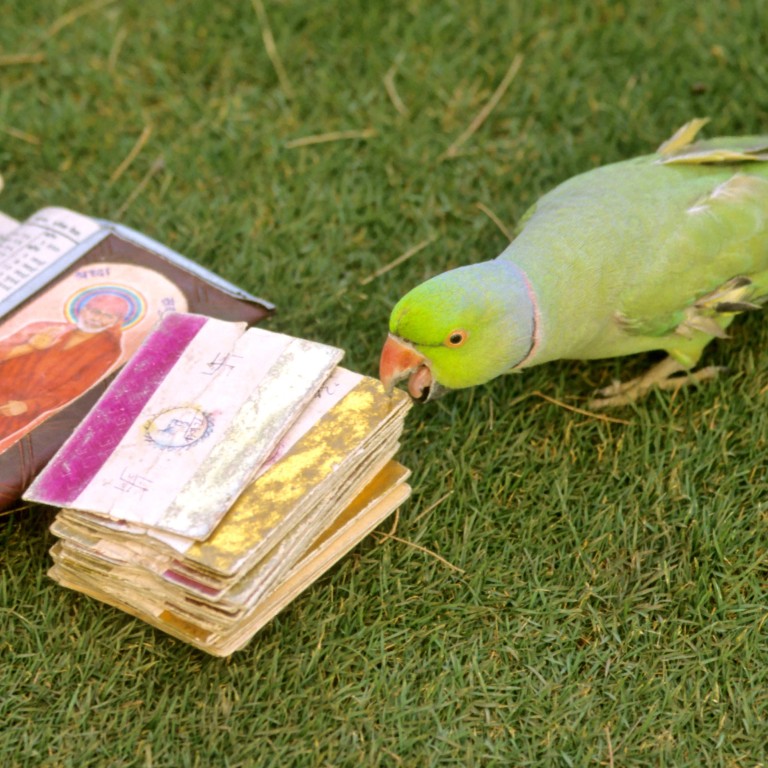 Clairvoyant parrots in India a dying breed, with astrologers' birds seized by conservation officials
Parrot astrology, using specially trained parakeets that draw tarot cards from a deck, is a centuries-old tradition in southern India
But astrologers are having their birds confiscated as animal welfare and conservation groups look to protect the creatures
Dressed in a white shirt and sarong-like dhoti, Gopalakrishnan Sholamalai sits cross-legged under the shade of an old fig tree, on a lane leading to one of southern India's most important Hindu shrines: the Meenakshi Amman temple.
The place of worship lies at the heart of the ancient city of Madurai, home to a population of three million and 160 kilometres (100 miles) from the Western Ghats, a mountain range that is one of the eight most biodiverse regions in the world.
Usually Sholamalai is encircled by groups of people who want their fortunes told, but today the 74-year-old, who is renowned in these parts as a parrot astrologer, doesn't have a single customer – or a parrot.
His bloodshot eyes stare vacantly as people throng the busy street around him. A sign tacked to the tree advertises his skills in astrology and other areas – he can also read palms and feet – but there are no takers.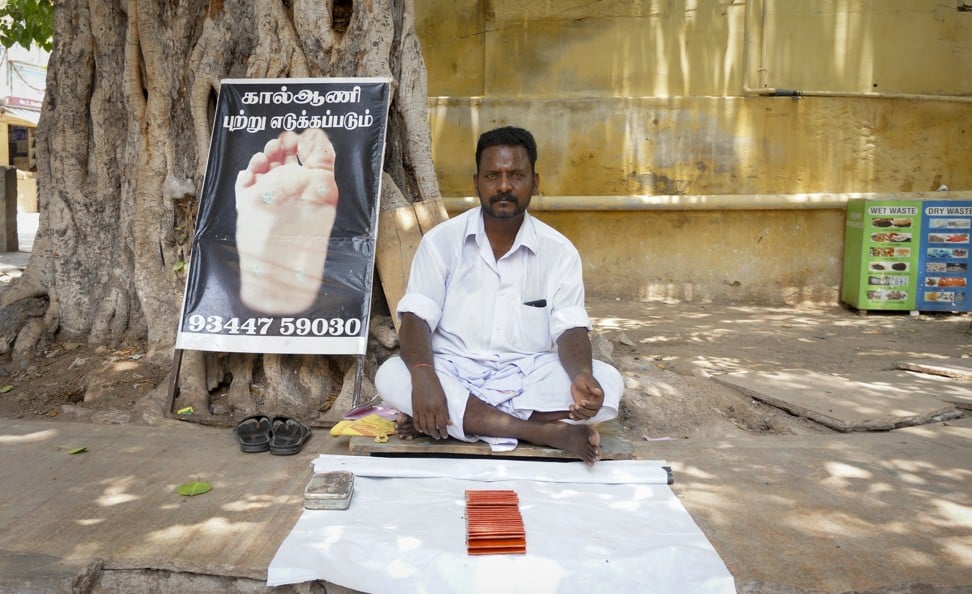 Parrot astrology – kizhi josiyam in the Tamil language – is a centuries-old custom prevalent in southern India. Parrots, considered to be clairvoyant and regarded as a divine symbol, have deep historical links to Madurai, being the favoured bird of the goddess Meenakshi, the reigning deity of the Meenakshi Amman temple.
Parrot astrologers use specially trained parrots to draw cards from a deck, with which they tell the customer's fortune. But with awareness of animal welfare issues rising in India, the tradition is in jeopardy.
Things were very different for Sholamalai in 2012, when he made his first YouTube appearance. That video, in which he tells the fortune of a young boy, has had more than 68,000 views. The real star of the show, however, was his rose-ringed parrot, nodding as he asks it to pick out cards. The parrot draws from a pack of 27 cards illustrated with images of Hindu gods and goddesses.
Today, that little green parrot is gone. Sholamalai says that six months ago, men from the local forestry department detained him, seizing his bird and fining him 15,000 rupees (US$216). "I took care of that bird like a child, and today, my family is starving," he says.
Two women arrive, wondering whether they should have their fortunes told. "Where is your parrot?" asks one, a white-haired lady, looking around for the cage. "Didn't you feed it?" When Sholamalai admits that he no longer has the bird, they both laugh. "Never mind telling us our fates," the other woman says. "Focus on your own."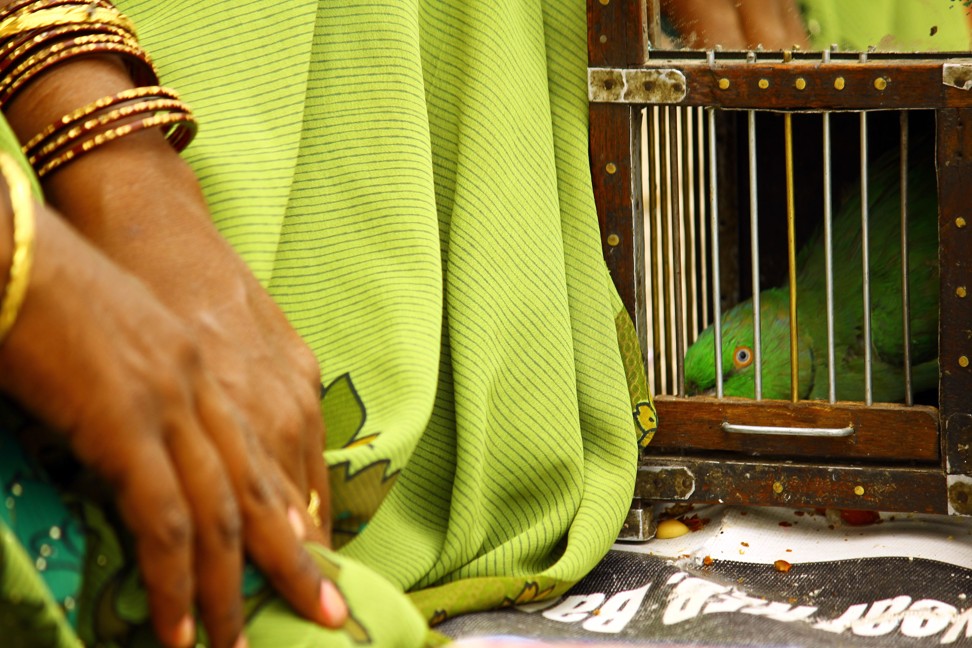 As they move away, a mixture of anger and humiliation crosses Sholamalai's face. Until six months ago, he was one of hundreds of parrot astrologers. Today, those who still practice the art do so in secret, he says.
The parakeets are protected under the 1972 Indian Wildlife (Protection) Act. They cannot be trapped, kept in captivity or sold. Offenders can be punished with up to three years in prison, a fine of 25,000 rupees, or both.
In recent years, especially over the last six months, enforcement of the law has been tightened, as activists, conservationists and forestry officials rally their forces.
With its hooked beak, long tail feathers and relatively slender size, the Indian rose-ringed parakeet has a distinctive appearance. In the wild, individuals have been known to live for up to 50 years. Caged rose-ringed parakeets typically live to between 15 and 25 years. Sholamalai, however, claims he had his bird for 30 years, and that it was trained by his grandfather and his father, both of whom were parrot astrologers. The practice of parrot astrology is often passed down from father to son.
India is home to 12 species of parrot, each with conservation and welfare concerns that often do not receive the attention they deserve, says Avin Deen, the India representative for the World Parrot Trust, a conservation organisation headquartered in Britain.
"Tradition aside, very few people realise how cruel it is to keep a parrot in captivity," he says.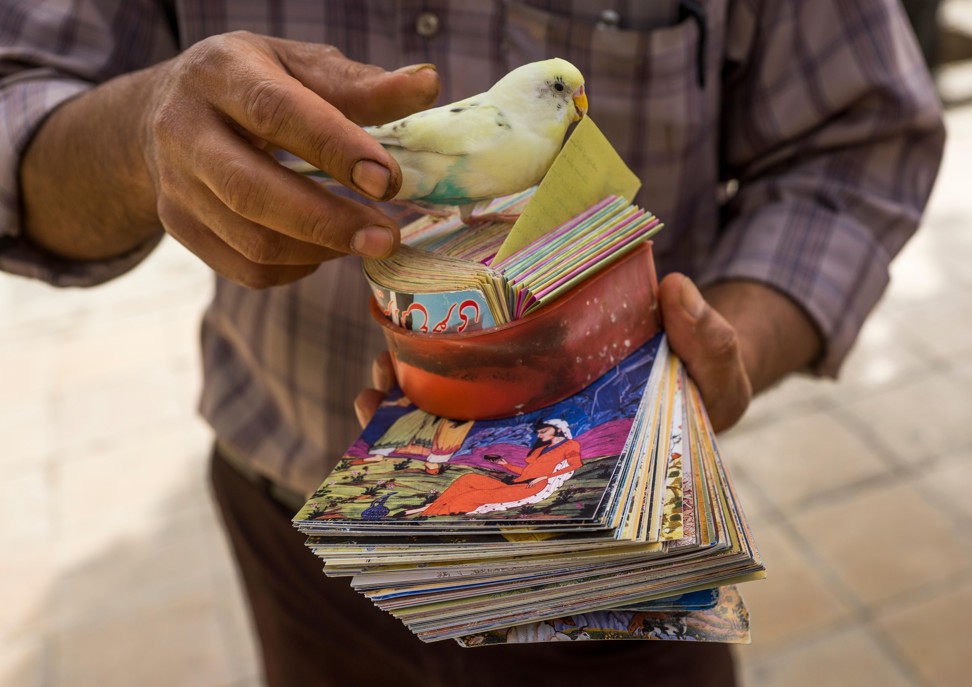 The rose-ringed parakeet is favoured by astrologers, Deen says, and even though the species is not threatened in the wild, the birds are highly intelligent, and can experience severe psychological and physical pain in captivity.
Parrot astrologers clip their birds' wings to fit them into their small cages, Deen says. Trimming the bottom half of the wing causes no pain, but higher up on the wing it can cut blood vessels, which is excruciatingly painful for the bird, he says.
Adult birds cannot be trained, so astrologers use only fledglings from the wild, which have to be trapped. This has led to a thriving black-market trade in the birds.
"Once captured, they are forced to live their whole lives in a tiny cage, without ever taking flight," Deen says. "Many species of parrots are said to have the intelligence of a four-year-old child. Even if the astrologer does no physical harm, he's crushed the bird's spirit."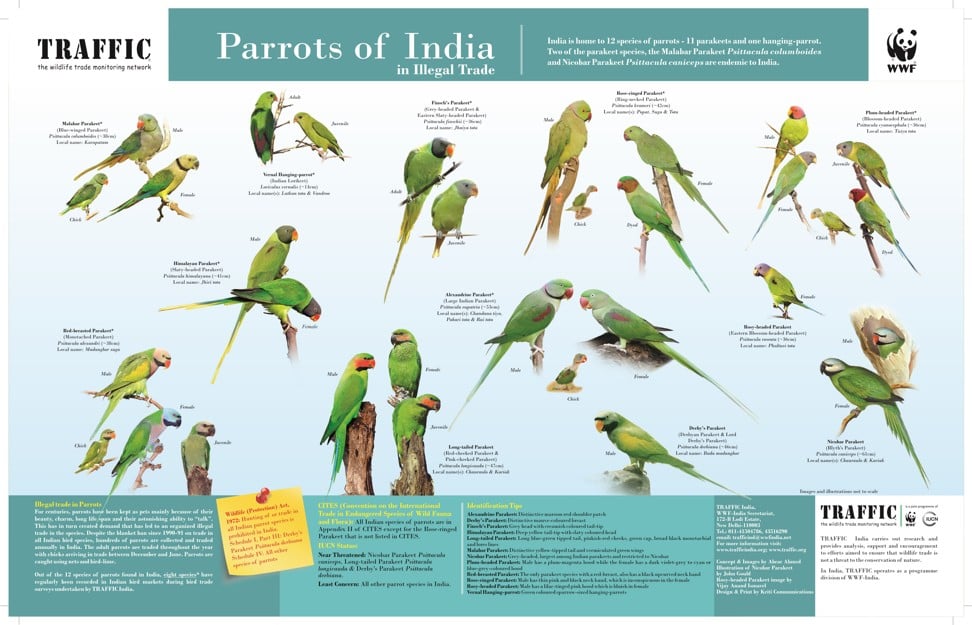 Back in 2012, wildlife trade monitoring network Traffic – a division of global conservation charity WWF that works to curb the illegal wildlife trade – produced a poster in India identifying eight species of parrots that were being traded illegally. Of these, six species are considered by the International Union for Conservation of Nature as near-threatened, with illegal trade posing a significant threat. Three in particular – the Nicobar, long-tailed and Lord Derby's parakeets – were found to be very vulnerable. The poster was distributed widely to law-enforcement agencies and educational institutions, and is still in circulation.
"The bulk of the trade is in three- to four-week-old chicks," says Sarat Babu, a consultant for Traffic's southern India operation. Babu estimates that he has saved nearly 5,000 birds from captivity, 30 per cent of which were fledglings.
"The illegal trade is substantial, well-organised and found all across the south Indian region," he adds.
Parrot astrologers, he explains, are only part of the problem. Anyone who cages parrots as pets is promoting the trade. Yet rescuing the birds has its own complications.
Deen says releasing them into the wild is a death sentence – it takes at least six months for a bird to grow accustomed to fending for itself – but many forest officials and rescue groups do just that. There are not enough aviaries and shelters across India to house and rehabilitate the captive birds, he explains.
Furthermore, the dwindling natural habitat of parakeets as a result of deforestation is a growing concern. "The Alexandrine parakeet [another species employed by parrot astrologers] has been particularly hard hit by the loss of big, mature trees," Deen says.
The cost to the astrologers is also a concern. Without another career path, they are forced to ply their trade illegally.
"Since people's livelihoods are involved, it is a grey area," Deen admits. "Some astrologers now use guinea pigs instead of parakeets, but as long as there is a demand for this, some animal is bound to be harmed."
Jayaraj Pandey, a former parrot astrologer who lives on the outskirts of Madurai, now works in a factory. He had a rose-ringed parakeet for four years, but the Blue Cross – an Indian animal welfare charity – seized it two months ago. Pandey says he is in the process of acquiring a new parrot.
"My parrot is currently being trained by a family living in the city and who have been involved in this for generations," he says. "I still have my cage, and I plan to go back to telling fortunes soon."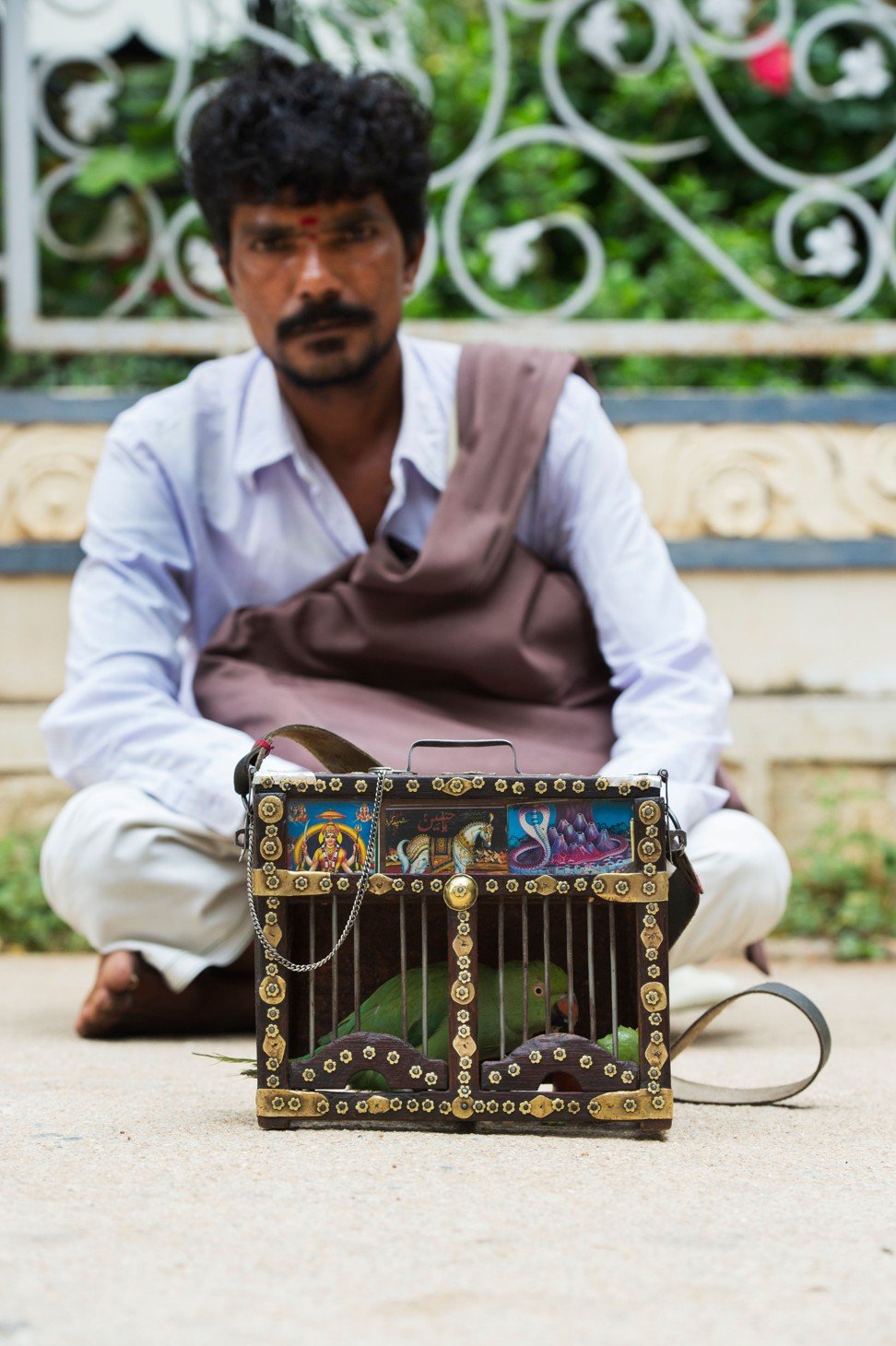 Another astrologer, who declines to give his name, allows me to take pictures of his parrot.
"I am trying to make a living in the only profession I know," he says. "I don't understand why I'm being hounded like this. I take good care of my parrot – she feeds my family, after all."
He says he knows four other astrologers who are too scared to leave their homes with their birds. They have all evaded arrest so far, despite repeated attempts by the authorities to apprehend them.
With more vigilance on the ground, the ancient practice of parrot astrology is rapidly dying out in India. But there are signs that the practice could be moving into the digital realm. The popularity of parrot astrology apps and online astrologers is rising, with virtual clairvoyant parrots that answer text-based questions. As it is in real life, the accuracy of their predictions is uncertain. But at least digital parrots feel no pain.