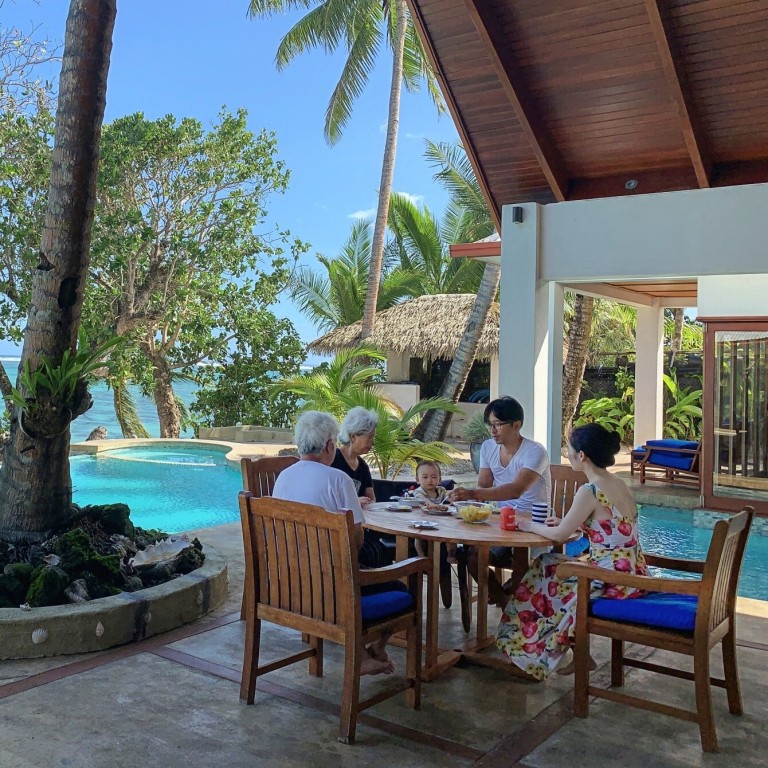 No way out of paradise for family stranded in Fiji on first leg of round-the-world dream holiday, as coronavirus grounds flights
A Hong Kong family soon learned they couldn't outrun the coronavirus pandemic. Stuck in Fiji in the South Pacific, their round-the-world trip is on hold
They while away the time in a beachside villa beside a palm-fringed lagoon, but couple worry about medicines for elderly parents and vaccines for their son
"We never imagined the coronavirus would spread so far and wide – or so quickly," says Hongkonger Lau Hsu-yung. "We soon learned it was impossible to outrun it."
Lau and his family – wife Chance Xie, son Hunter, and Xie's parents, Xie Xianji and Peng Qiongyan, are stranded in Fiji, the first stop on what was supposed to be their round-the-world trip of a lifetime.
After a decade in Hong Kong's "concrete jungle", the couple decided it was time to change course and head for some real jungle. The months-long anti-government protests that began last year, combined with "crazy runs on toilet paper" in the early days of the coronavirus pandemic, were the catalysts they needed to make their dream a reality.
They also wanted Hunter, who turned 18 months old on April 18, to see the "beauty of different cultures" before he started "the rigours of kindergarten".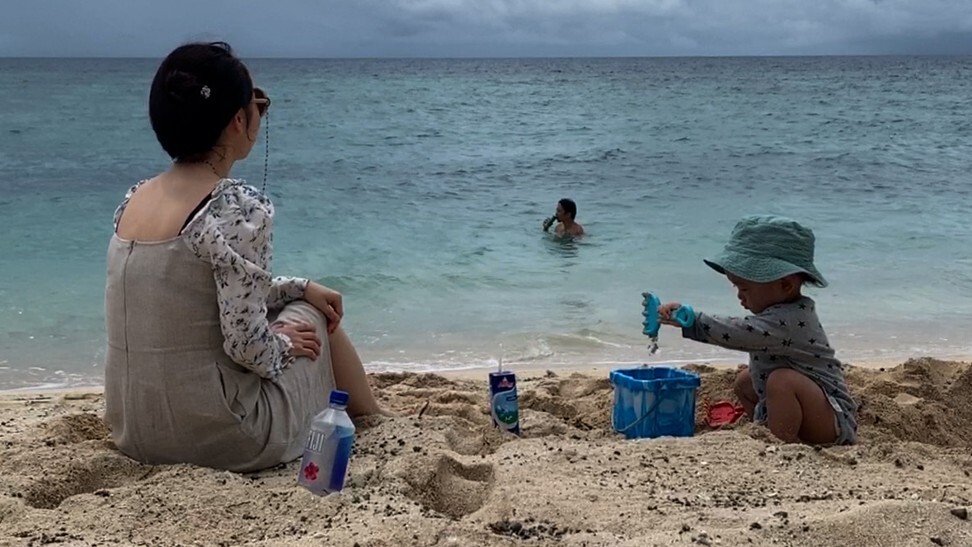 Making it a multi-generation journey was originally not part of the plan. "Initially, our one-year plan to live around the world was just for the three of us, but with the outbreak of coronavirus we didn't want to leave the grandparents behind, so decided at the last minute to bring them along," says Lau.
In the first week of February, the family waved goodbye to their 2,000 sq ft home in Hong Kong, leaving their possessions in a 100 sq ft storeroom. Downsizing and simplifying their life was also part of the plan.
"We were excited about new discoveries, new opportunities … a new life," says Lau. "We had big plans to travel the world, starting in the Pacific, then hopping over to South America and beyond."
They didn't get far, however. On February 8, the couple arrived in Fiji, an archipelago of more than 330 islands. They planned to spend two months exploring the South Pacific, but a few weeks after landing, Fiji reported its first coronavirus infection, imported by a flight attendant working for the national airline, Fiji Airways.
The government moved quickly to prevent its spread. On March 25, it closed the international airport in the city of Nadi on Viti Levu, one of the two main islands, introduced a nationwide 8pm to 5am curfew, and deployed police and troops to enforce containment laws. The measures have worked – so far Fiji has recorded 18 confirmed Covid-19 cases, with no deaths.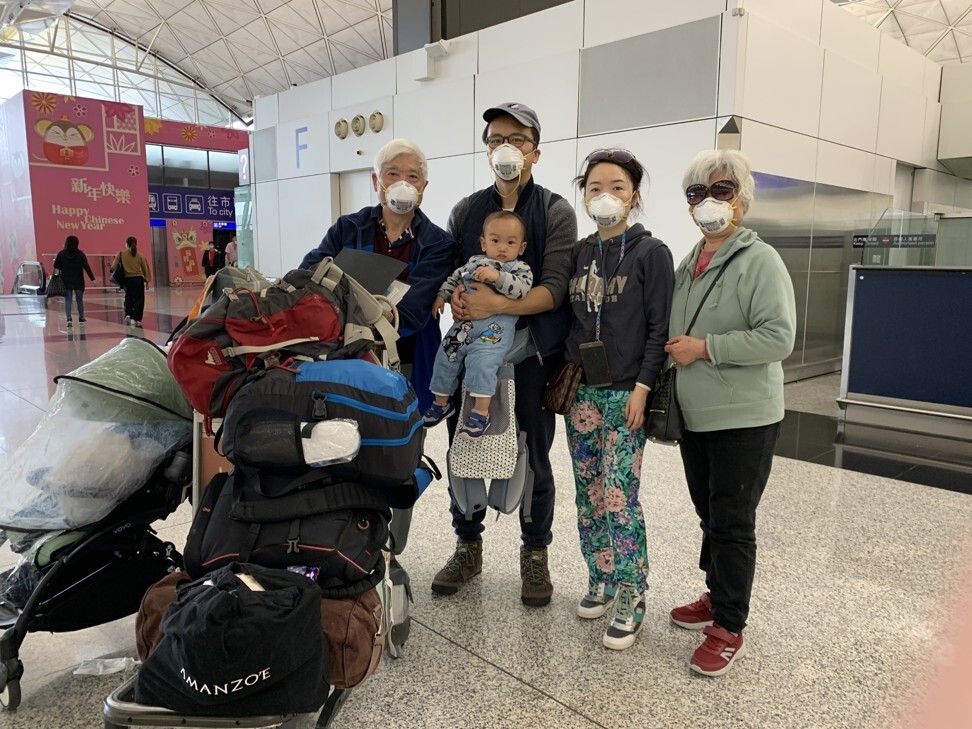 "Some cities went into immediate lockdown and a curfew was imposed," says Lau, and with international flights cancelled they were unable to leave as planned on April 4.
But this family's story is more likely to stir feelings of envy than sympathy. Daily life is what might be expected for anyone passing time in a beachfront villa surrounded by coconut palms beside a lagoon with the Pacific Ocean as a postcard-perfect backdrop.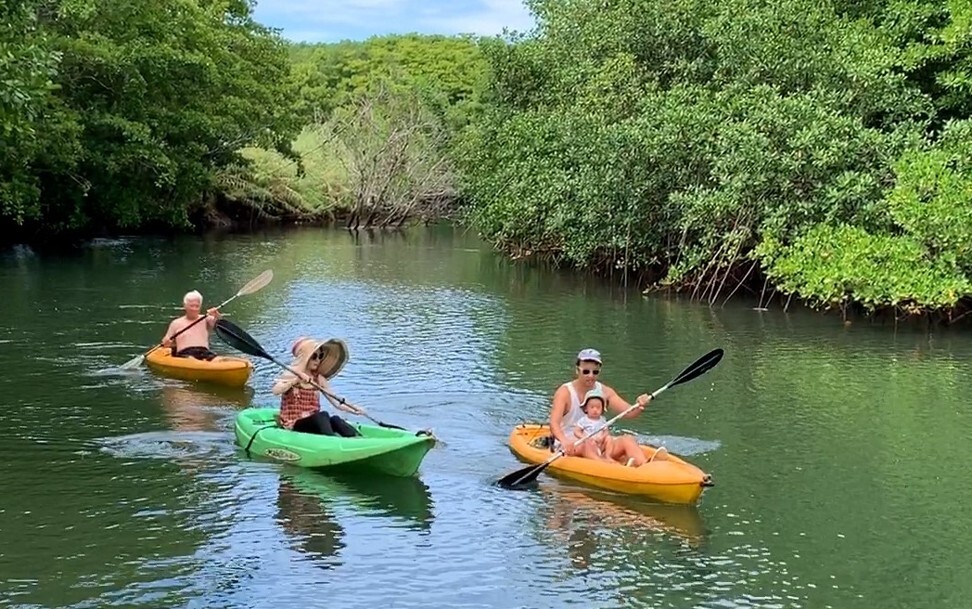 "We're on Fiji's main island, Viti Levu, the largest of the 300 islands and home to the capital, Suva, where most Fijians live," Chance Xie says via email. "We snorkel, kayak, fish, build sandcastles … As a destination Fiji, with its clear waters, is a combination of the Maldives; Hawaii, with its lush green mountains; and Tahiti, with steep volcanic islands rising out of the turquoise ocean.
"We leave a low carbon footprint – kayaking and cycling are our main methods of transport. We've learnt to make curry with local mud crab, and the other day we ventured out through the river into the wide ocean to witness a magnificent sunset. A family of nine clown fish live about 20 metres away from our doorstep."
If Xie's description of Fiji has a travel-brochure ring to it, that's because the couple operate boutique luxury-travel company Journeys By Chance. Their Instagram account is full of perfectly curated images of their travels to more than 80 countries.
In their vlog, Milk + Travel, footage of "stranded life" shows Hunter playing out the perfect childhood, from whacking tennis balls and kicking footballs to picking strawberries and collecting coconuts. There are clips of Chance Xie playing the piano and Hunter enjoying time with his grandparents.
It's like a tropical version of the Von Trapp family. But it has not all been a bed of roses. On April 1, Severe Tropical Cyclone Harold lashed several Pacific island nations, causing widespread flooding, killing dozens of people and leaving thousands homeless.
Thousands of Fijians are still without electricity, the storm having cut the power supply to almost 80 per cent of homes. The cyclone, along with the coronavirus, prompted the government to declare two states of natural disaster.
"We have just one device with satellite Wi-fi, while we wait for the power and normal internet to resume," says Xie. But this family's glass is always half full. "The digital detox caused by the storm has meant more time playing board games and enjoying nature," she adds.
Sourcing medicine for her parents, who are aged 72 and 73, and vaccinations for their son, are more serious concerns.
"[My parents] take blood pressure and blood sugar medication that are not in huge supply in the chemists. We had to drive several hours to get the quantity needed," says Xie. With the suspension of passenger flights and reduced freighter flight frequencies, they fear a shortage of medicines. Xie says her father takes traditional Chinese medicine, which is not available in Fiji.
"Hunter is to have his 18 months MMR [measles, mumps and rubella] vaccination shots at the end of April, but we will have to continue the immunisation programme locally. The Fijian child health system slightly deviates from Hong Kong's, so we've yet to find a [proper] solution."
Xie says the friendly locals have kept them in high spirits. "The locals are always enthusiastic about Hongkongers visiting and happily brag about their rugby victories," she says, referring to the annual Hong Kong Sevens rugby tournament that Fiji has won for the past five consecutive years.
"They even have a seven-dollar note here, although it's not widely circulated. We've been warmheartedly accepted, as there are very few tourists around."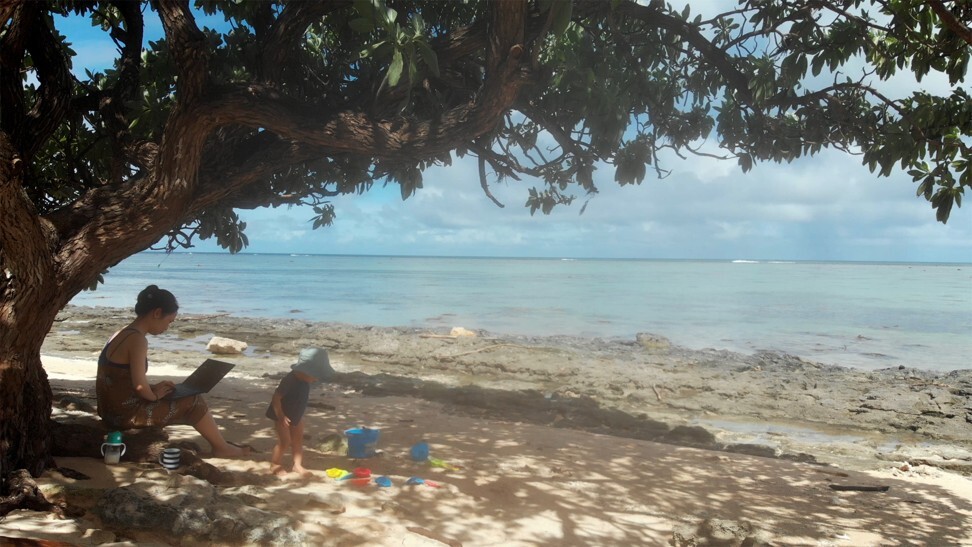 Tourism is vital to the economy in Fiji, where the industry employs more than 150,000 people and accounts for almost 40 per cent of the country's gross domestic product. The future, however, looks bleak.
According to the
World Travel and Tourism Council
, the Covid-19 pandemic could cost 50 million jobs globally in the industry, with Asia expected to be the worst affected. Xie says the outbreak has impacted their travel business, forcing them to adopt an "adapt to survive" philosophy.
"We've postponed trips for clients, including VIP packages to the Tokyo Olympics," she says. "When the 'new normal' arrives, it may still include social distancing and sterilisation, and more people requesting privacy, space and accessibility of another level.
"It will require services that we have been promoting for many years, such as private aviation and exclusive ground transport, private estates/island escapes, sightseeing, including behind closed doors, as well as shows, concerts and sports events in private boxes … What was once considered luxury will now almost be a necessity."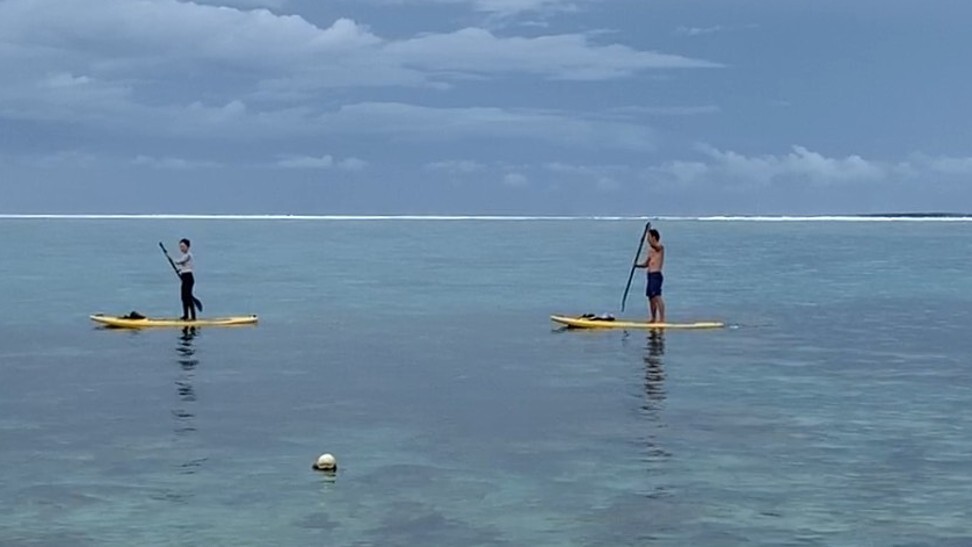 For now, health and safety are the priority for the family as they "stay put and stay safe".
"The population density of Fiji is 46 people per square kilometre versus 6,659 people per square kilometre in Hong Kong. I think the chance for us to contract the virus here is very low, but since we have elderly people with us, we are still extremely careful," says Xie.
The villa's privacy has helped them to self-isolate. "We don't have visitors and only go to shops for food once every two weeks. When we go, we wear protective gear," she says.
"We planned a year of experimental living around the world, but now we have to wait until flights reopen and countries lift entry/transit restrictions. There's no confirmed date when this will happen, so we must stay flexible about our next chance to return to Hong Kong. In the meantime, we're enjoying island life with white sandy beaches and giant turtles."