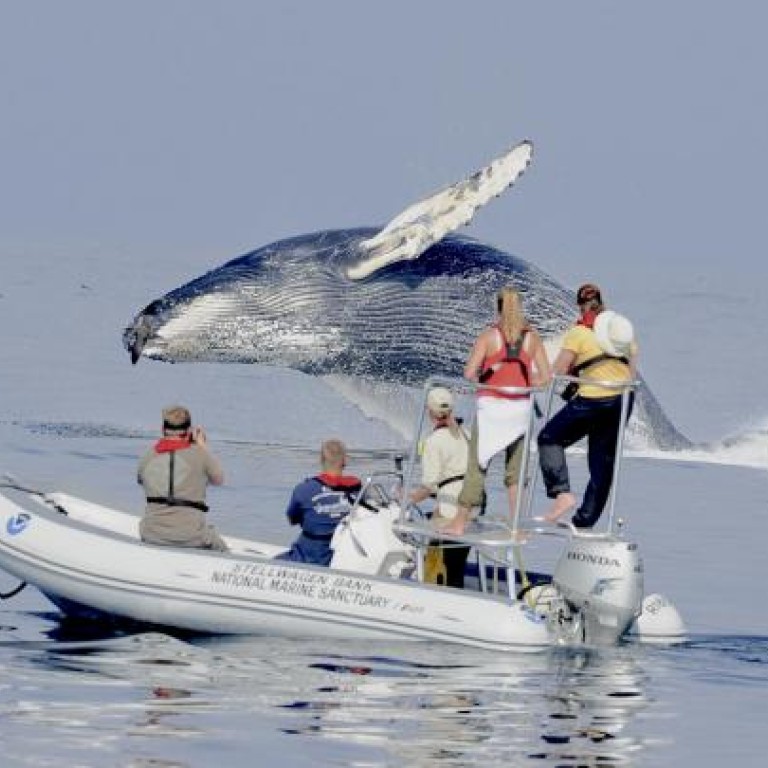 Now here's something to spout about
Have you ever been eyeball to eyeball with a humpback whale? I have. I even dreamed about it later that night. It was such a unique experience. All the more amazing for the fact that not so long ago, this magnificent mammal was slaughtered in these same seas.
We had spent an hour scurrying about the five-storey whale watching boat from side to side and up and down to get a better view of several humpback whales spouting, breaching and "tail slapping", coming closer and closer to us as they did so.
Luckily, we chose to go to the underwater viewing area at just the right time. One of the mammals was floating just by the window, seemingly as inquisitive as we were: we were looking into its right eye. It was truly mesmerising. My five-year-old, Tilly, was convinced it was waving its fin at us, too.
Having left Beijing, our home for seven years, in early July, we are enjoying a long trip taking in Bali, Australia and New Zealand. We are making the most of the outdoors and wildlife after feeling miserable and hampered in China by the pollution and our city lives. Watching the whales, off Hervey Bay on Australia's east coast, will be one of the highlights of our trip. And one of the highlights of a lifetime, too.
It's also been a good home-schooling opportunity. Tilly and eight-year-old Sam have learned a lot about humpback whales. For example, they have some hair but no teeth, their songs differ from population to population (local dialects, perhaps?) and they might live for longer than 50 years.
Probably one of the best things we've learned is how much people enjoy whales. Young and old, men, women and children were united in their appreciation of witnessing these majestic creatures do what they have done for millions of years. Europeans, Asians and Australians laughed, shouted, cheered and clapped during the "show". Some people apparently break into song, and some even start to cry with joy.
Compare that to just a few decades ago, when whales were only considered economically valuable after they'd been slaughtered. Watching the whales at Hervey Bay, and watching that particular whale watching us, it was impossible to imagine one being killed, let alone a business devoted to their death.
But whaling and the exporting of whale products was once one of Australia's big industries.
As technology developed, large-scale commercial whaling worked so well that many whale species came close to extinction. We've come a long way since those bloody days.
Now, thanks to a ban on commercial whaling, and despite Japan, Iceland and Norway still killing hundreds of whales between them, whale numbers are increasing steadily. In Hervey Bay there are now at least 10 firms running tours.
Jill Perry, 51, began the first whale watching business in the Bay in 1987 with her husband Brian, then a fisherman, after he saw what he initially thought were huge logs. They turned out to be whales.
Jill took the first passengers out a few days later. Brian flew in a plane above, using a toilet roll drop for every two miles to mark the whales he spotted, as they had no radio communication.
"Whale tourism has been the saviour of the whales," Perry says. "Back in 1987/88, we didn't see any babies. Now we see lots."
But whales are still not fully protected and are sometimes harassed during their migration, she says. This causes some of them to wash up on beaches.
But overall, she reckons whale watching has had a positive impact on the whales, adding: "The whales choose to come to the boats. They are people watching."
This article appeared in the South China Morning Post print edition as: Now here's something to spout about