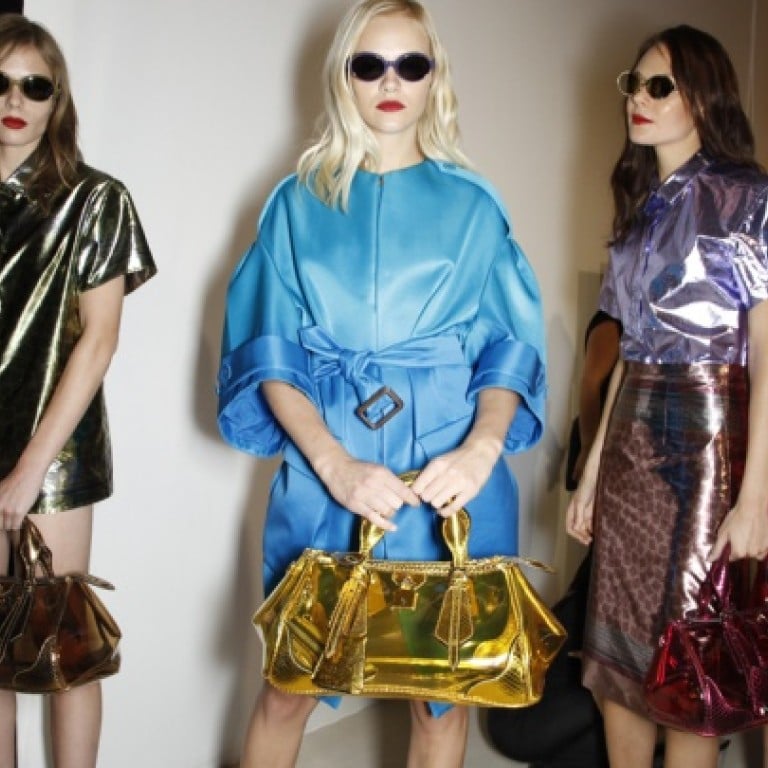 With temperatures rising and new stock on shelves, it's time to master this season's key trends. Five top stylists tell Gemma Soames how to work the stand-out looks for summer
Prada, Pucci, Dries Van Noten and Lanvin. Japanese-inspired jackets and prints at Prada and Dries, a Vietnamese inspired collection at Pucci and kimono-style dresses at Lanvin remade oriental style with a minimal twist for a stand-out look of the season.
"Prada's take on the trend was kabuki inspired, with oversized cherry blossom motifs. At Pucci, the look was a lot more print-heavy. Cavalli did lots of patterns inspired by porcelain and Ming vases. Today I'm wearing Prada, but usually when you're incorporating a trend like this, it's best to pick one piece out of the whole look and go with that. Start with shoes or accessories and build it up from there. The look's surprisingly versatile - you could wear the top as a shawl with a white T-shirt, some nice skinny blue jeans and a pair of heels for a Sunday tea, or transform it for nighttime with a beautiful, long, strapless ball gown. You could even wear it for work, paired with a black shift dress and clipped together with a nice brooch. In Hong Kong a lot of people might be afraid to do the Asian trend because they don't want to look like they're wearing a costume. But designers are such creative geniuses that they've filtered the look through other inspirations, making it much easier to do."
Pastel green satin stole (HK$21,800); dress (HK$37,150); gold nappa socks (HK$4,800); platform shoes (HK$26,200); chain bracelet (HK$15,000); bangle (HK$8,250); earrings (HK$6,250), all by Prada.

Mary Katranzou, Peter Pilotto and Kenzo. Chic colour and pattern clashes, oversized stripes and spots, and printed accessories make you stand out.
"Making things match is very easy, whereas clashing is quite difficult. You definitely need to wear them with confidence. Prints this season have a touch of tribal about them. Try and find prints with vertical lines that follow the contours of your body, as that tends to be more flattering. It's good if you can pick out a similar colour in all the clashing prints you're wearing. You need something to tie it all together. When it comes to silhouette, you want to keep it relaxed. I'm drawn to loose clothes anyway, but with print, they work especially well. Finally, always keep one piece that is clean and basic. You can mix in a simple white-vest top or do simple shoes like I have here."
silk coat with sash (HK$22,000) by Haider Ackermann; silk top (HK$12,490) by Kenzo; Felipe Oliveira Baptista trousers (HK$6,500); platform sandals (HK$500) by Monki; antique Chanel earrings (HK$3,800) by Roy Rover from On Pedder.

Stella McCartney, Christian Dior, Mulberry and Saint Laurent. Less boardroom basic and more tailoring with a twist.
"You can go classic and monochrome or opt for head-to-toe black or white - but whatever you do, find tailoring that really fits. The Row does a great fit for the Asian demographic. Céline does amazing suits, but you have to be six feet tall to wear them. For some lower priced ones, you can check out Cos. Have fun and play with shapes. You can have a cropped jacket, like Hedi Slimane has done at Saint Laurent. You can go for wide-legged trousers or skinny peg legs for a slightly different look. They're all great desk-to-disco pieces; just transform them for the evening by adding a Saint Laurent-style bow at the neck and a cummerbund. Keep the look fresh with a simple colour palette for summer and a pretty blouse underneath. And have fun with your accessories. I love the colour flash these gloves give and these Céline shoes are brilliant."
suit jacket (HK$15,400) and trousers (HK$7,700) by The Row; Alexander McQueen blouse (HK$9,600); fur heels by Céline, (HK$44,500); leather gloves from JB Guanti (stylist's own).

Gucci, Proenza Schouler, Burberry and Michael Kors. Colours that ran the spectrum from scarlet to cerise and canary to cobalt were much in evidence on the spring-summer 2013 catwalks. Here's one sure-fire way to inject a bit of sunshine into your wardrobe.
"When it comes to brights, there are two ways to go. Either you go full-on tonal - top to toe in one solid colour - or you need to mix it up a bit. You shouldn't be afraid to contrast your colours; this trend is all about extremes. Neon yellow as seen in this dress from ASOS is actually very easy and summery, and great to contrast with other hues. I've paired it with a metallic jacket from Burberry, adding a bit more texture to the look. If you're nervous of anything too bright, cobalt blue is very big this season and quite a good entry to the trend. Focus on details, too. Nails and make-up can make the look really pop. Keep your accessories a little more classic in gold or silver. If you're not into wearing brightly coloured clothes, then a clutch is a very, very good place to start."

Prada, Calvin Klein, Chanel and Alexander Wang. Whether it's sporty shapes or sleek shifts, take the purist's approach.
"White on white is a great look for Hong Kong - perfect for summer, and it will work until autumn. It's all about textured pieces. The easiest thing is to go for separates in different materials. I've experimented a bit with 1970s wear, opting for wide-legged, high-waisted trousers (great to wear with super high heels as they lengthen the leg), which look best with a slightly shorter jacket. Keep it feminine with some detailing: the fabric on Sandro's jacket is slightly embossed so it's not too harsh, and you can work in a bit of sheer with a Stella McCartney blouse. Use sleek and minimal accessories. Greyish tones and silver work very well with white. Statement jewels are always a good idea when you're wearing one colour."