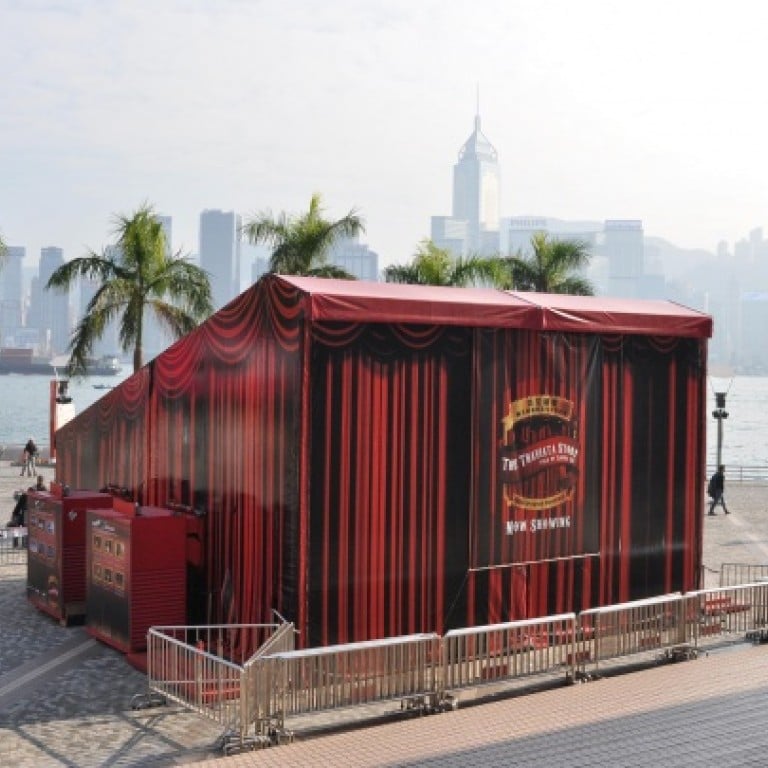 Arts preview: Pop Up Opera to present The Traviata Story
THE TRAVIATA STORY
Foundation for the Arts and Music in Asia
Last October, a six-metre-high bright red tent housing a big screen, digital sound system, comfortable chairs and plush furnishings was erected in Kwun Tong's Lok Fu Plaza.
For two weeks, more than 4,000 people passed through the velvet curtains to experience 90 minutes of Verdi's La Traviata. Set against the backdrop of Parisian life, the Italian opera follows Violetta, a beautiful but fragile courtesan who is coerced into sacrificing her one hope of happiness for the sake of her lover's reputation.
For the audience at the Kowloon shopping mall, the tragic story of love and loss was an emotional experience, reducing some to tears.
The Pop Up Opera Tent, organised by the Foundation for the Arts and Music in Asia, was a way to reach out and introduce Western opera to a new audience, focusing on areas that are economically disadvantaged or have limited access to cultural events.
It was a huge success, prompting another show in January in Tsim Sha Tsui. That attracted 1,000 people.
But for those who didn't get to see it last time around, the tent is making another appearance, this time in the New Territories at Sha Tin Town Hall Plaza.
"Our goal is to bring Western opera to grass-roots communities – to people who would not usually have a chance to see it. The first one in Lok Fu was an acid test and it worked very well. People were moved – it was heart-rending and we were invigorated," says FAMA chairman Laurence Scofield.
"Many of the audience members had never heard Verdi before – or seen Western classical music – so it was a fantastic response from the people in Wong Tai Sin. Many women said how much the show was like Chinese opera – the story about love and sacrifice. It showed how this unity of music and drama can relate to all people."
The Sha Tin tent will host five screenings of The Traviata Story daily. The story will be presented by actress Louisa So Yuk-wa.
"Louisa is a lover of opera so is the perfect person to be guiding the audience through the story. And she's very popular with the people of Hong Kong," says Scofield.
The screening is in three segments and includes excerpts from some of the world's most celebrated productions of La Traviata: the Royal Opera House with American soprano Renée Fleming in the lead role, Angela Gheorghiu as Violetta at the Teatro alla Scala di Milano, and the Salzburg Festival's production starring Anna Netrebko.
The video will be narrated in Cantonese with Chinese and English subtitles, and is free to the public on a first-come first-served basis.
"The sound is amazing and the cinema is in high-definition," says Scofield. "This event has changed people's impression of opera. They no longer see it as boring or just something for the rich."
Sha Tin Town Hall Plaza until June 16. Free admission. Inquiries: 2579 5533
This article appeared in the South China Morning Post print edition as: Lingering within tent