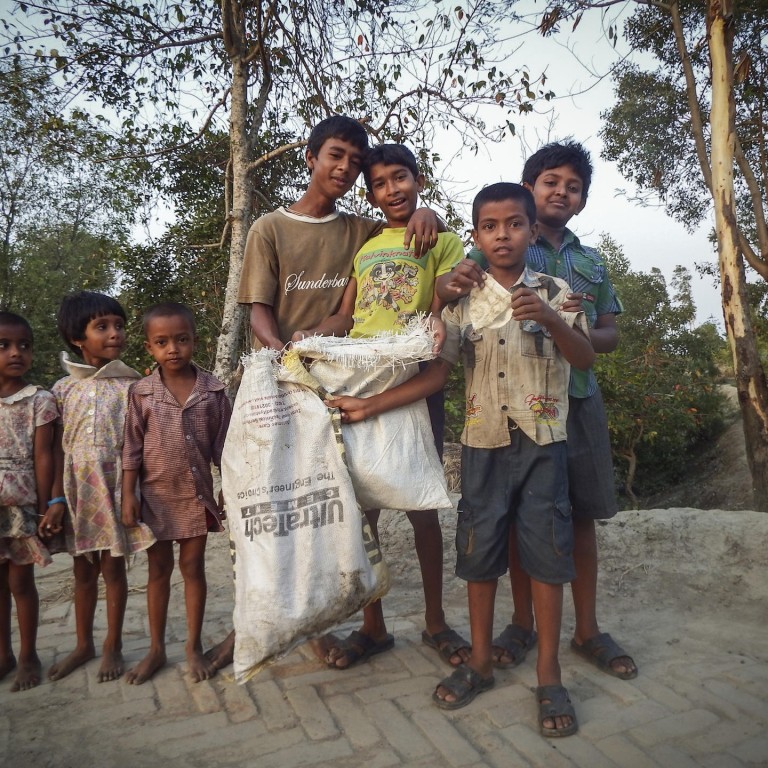 Chasing tigers in the Sundarbans
There's no guarantee you'll see one of the big cats in the watery world of the Sundarbans, but experiencing traditional Indian village life is a real delight, writes Jamie Carter
edged towards the cowshed where two tigers were crouching. The tigress bolted into a nearby house and the sole ranger shot it tranquiliser gun - so one tiger was saved from being bludgeoned by the villagers. The male tiger disappeared into a paddy field, and although eventually shot by the same ranger, the drugs took too long to work and the 200kg beast leaped out of the long grass straight into one of his pursuers, Anil Krishna Mistry, breaking the young man's leg. A shotgun blast rang out. Anil was lying on the ground, writhing in pain. Next to him was a dead tiger.
That was in 2003, when tigers were often seen in Village No 9 on Bali Island, and when it usually ended badly for them. Anil, once a poacher of deer and wild boar from a nearby tiger reserve, had just started his career as a principal field officer for the Wildlife Protection Society of India (WPSI).
A decade on, he's helping educate villagers to not fear tigers. He hosts visitors at the lush gardens, ponds and tourist-grade huts that make up Bali's Tiger Camp in the Sundarbans National Park. In this most remote part of West Bengal, he's hoping to show them a tiger in the wild and, just as importantly, how a traditional village has transformed from a hotbed of poaching to the frontline of tiger conservation.
The village is constantly at the mercy of its diverse and dangerous surroundings. Here, south of Kolkata on the delta of the Ganges, the Brahmaputra and Meghna Rivers, are both vast and narrow tidal channels whose ebb and flow dictate when, even if, the villagers on Bali Island can come and go. The adjacent Gumdi River, about one kilometre wide, is home to Gangetic dolphins, estuarine crocodiles and bull sharks. Cyclones and catastrophic flooding are a constant threat. The temperature regularly hits 42 degrees Celsius.
This is life on the fringes, with no roads or electricity, and only a spare network of community water pumps. A Bengal tiger was last seen treading the levee that borders the tiger camp not three months before my stay, having swum across the Gumdi from the tiger reserve. It takes them less than 20 minutes and they usually cross at night. The thought sends shivers through me; on top of the levee is a dirt track, occasionally a bricked path, that passes basic thatched huts whose dried mud walls do nothing to protect against wild animals.
It's Anil's job to convince fellow villagers to protect the tigers that are essential to Bali's future. The T-shirt worn by Anil and his colleagues at the camp reads, "Bagh Bachao, Jungle Bachao, Bharat Bachao", or save tiger, save jungle, save village. "We are protecting the tiger's food," says Anil.
"There is now no poaching here. People living here are earning, and they are maintaining their families very smoothly. They have money. They are educated."
The villagers - among India's poorest - receive compensation if a tiger takes a cow or goat. That is a spin-off from tiger tourism and the WPSI's efforts to divert the proceeds to villagers in the form of health care, income and jobs. But there's still a lingering fear of tigers.
On the night I arrive, Anil walks me around the levee to meet some of the villagers, one of whom asks when more solar-powered lights will be installed on the levee. So far, there's just one light, there to ward off the tigers that make land just metres from the mud houses.
A precarious-looking nylon fence on the opposite bank of the river is "a psychological barrier", says Amil, who explains that the 56- kilometre fence is designed to dissuade, rather than prevent, tigers from venturing into the Gumdi. The thick mangrove forest behind it is a magical place for a safari.
Its winding channels of slick grey estuarine mud - occasionally pocked by tiger paw-prints - are exposed by the ebb tide, then hidden by the high water, which drives all life inland, tigers included. That makes safari difficult but this morning we're the only boat on long, lonely coastlines streaked with millions of blue, yellow and red crabs.
Dozens of macaque monkeys race away from our boat, squabbling as they go. A saltwater crocodile, at least 5.5 metres long, hunkers down in a creek while water monitors, spotted deer and wild boar all make fleeting appearances.
Arguably it's the noisy birdlife that's the biggest delight. On almost every stretch of muddy mangrove is a little egret, a warbler, or even a huge greater adjutant stork. In the trees are the songs of kingfishers and, occasionally, the lingering swoops of brahminy kites. Alas, the tigers are elusive.
Back on dry land, the experience is something that ought to be prized by tourists; a chance to interact with a genuine Indian village that's embracing the new travel trend of "voluntourism". After a morning in the reserve, afternoons back on Bali Island are spent touring the village, meeting people in the market and medical clinic, and visiting the island's first hospital.
Visitors are encouraged to help with the extension of the WPSI's Serenity school, Bali's first nursery school and part of the development promised to villagers in return for a zero-tolerance policy on poaching.
I accompany local kids on a coastal litter collection, picking the mangroves clean of flip-flops and plastic bottles left by the high tide. As we walk around the island, more and more children are dragged out of their homes to help, unconvinced at first, but soon recruiting their friends. Peer pressure has already worked to deter poachers, so why not litterbugs, too?
Anil tells me about Cyclone Aila, which inundated this part of the Sundarbans in May 2009. The damage was immense, though casualties were relatively light because it struck during daylight. "If it happened in the night many thousands would have been killed," says Anil, who plans to make the building of a temporary cyclone shelter on top of the nursery school part of the voluntourism project next year.
That night lightning rips through the sky and thunder booms. A Bangladeshi cargo ship is swept near to the levee, its engines and warning siren wake me and, with Anil's words still ringing in my ear, sending me into a mild panic.
"That was nothing," a charity worker from the hospital project tells me the next morning as our boat rides the choppy waters back to the mainland, and the chaos of Kolkata. "We have storms 10 times worse than that."
I'm back in the city, three hours later, tucked away in the genteel Chowringhee Bar at the gorgeously secluded Oberoi Grand hotel, basking in its air-conditioned colonial atmosphere. This time I'm admiring Kingfisher beers, not birds.
"So did you see the man-eating tigers?" asks a fellow tourist after discovering I've been in the Sundarbans. "No, I didn't," I confess, "but I know they're safe."
Getting there
China Eastern Airlines flies regularly from Hong Kong to Calcutta, via Kunming, Yunnan, with prices starting under HK$4,000, including taxes and fees. Hands Up Holidays (
handsupholidays.com
) offer tailor-made trips to suit preferred times and activities.
Staying there
The Oberoi Grand Hotel, Calcutta (
oberoihotels.com
), has rooms from HK$2,600 a night.
This article appeared in the South China Morning Post print edition as: Crouching tigers, hidden gems