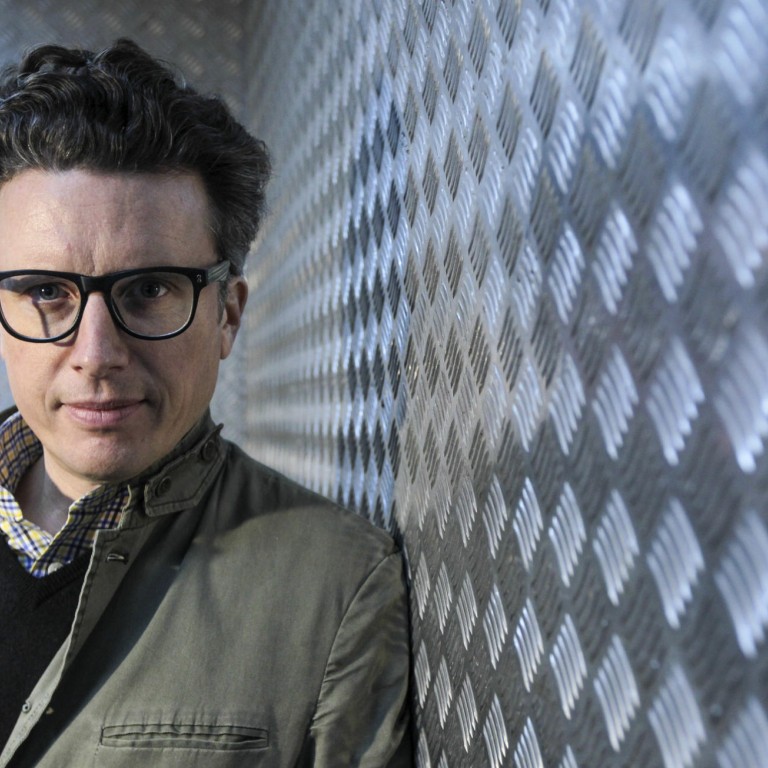 Photographer William Furniss likes taking pictures in the rain
Photographer William Furniss loves the city when it rains, so much so that he's made it the subject of his latest exhibition. Kylie Knott takes her umbrella
slides open a cupboard door to reveal an impressive collection of photographic equipment. There are lenses and cameras of all sizes, and from all eras. He pulls out an Agfa camera from the 1950s, admiring its "beautiful" chunky body. Next is a Rolfix folding camera. Both look prehistoric next to his sleek iPhone.
But what gets Furniss excited is not the vintage cameras but a plastic bag containing, well, plastic. It's a waterproof cover worn over the head and shoulders to create a protective bubble for the camera and the photographer. "This is my latest purchase," he says proudly. "Isn't it cool? I can't wait to try it out. It's the hippest thing around. People are going to go crazy for this."
It's not surprising that Furniss thinks the plastic is so fantastic because this London-born artist loves taking photos in the rain. To be more precise, he loves snapping Hong Kong in the rain from the top deck of a moving tram. At dusk.
"If the weather's bad, I'm out in it. I'm obsessed with the weather. I haven't run out of meetings to capture the rain, but I have run out of a dinner," the 43-year-old says enthusiastically.
"There is such ease of movement around this city because of the public transport. All you need is a cloud of ideas that at any time can match the circumstances. Just jump in and do it - that's how I operate."
Furniss' work is all about colour and the light that refracts and bends on taxis, neon signs, people, and architecture. His radiant, reflective images of sodden Hong Kong - mostly pictures taken from trams that rumble their way along the spinal cord of the city - have become the signature style for his latest exhibition, "Rain", that will be held at Picture This in Central until March 29.
"Trams are superb, they are a great mode of transport and are my favourite place to shoot from. I often have to jostle and fight my way to the top spot," he says, laughing out loud.
"The dark, forbidding light and heavy seasonal rains are the perfect setting for my latest series. The pane of glass on the tram that shelters and separates me from the harsh elements outside also distorts and obscures. It acts like an additional lens, allowing me to emphasise what I want my audience to see - a collective vision of Hong Kong during the heavy rain. It's a real celebration of what it's like to be in Hong Kong," he says.
Sitting in the Aberdeen studio of Widerhall, the printing and mounting company he runs with his New York-born wife Jacqueline, Furniss reflects on how he landed in Hong Kong. "Ironically, I left Britain to get away from the wet weather and now that's just what I crave here. I like the essential quality of any place, and the weather is a big part of this city. I got fascinated with the light reflections on the water in the harbour at night."
Furniss has carved an impressive career in commercial and fine art photography with clients including The Peninsula Hotel, Hongkong Land and Christie's. Maybe he has his past to thank for such a lucky ride. When in Britain he studied engineering but spent much of the time honing his photographic and darkroom skills before teaming up with luminaries of the London photography scene including Patrick Lichfield and Terry O'Neill.
In 1999, he moved to New York and spent two years there. That inspired him to explore the photography of motion, bright lights and colour saturation. He's held four solo exhibitions of his work in Hong Kong.
Hunched over a table covered in prints, Furniss takes a break from the task of selecting images for the show. But he can't seem to switch off. Rummaging through a drawer to find some coffee, it's obvious that his eye is constantly focused, even when he's not looking through the lens of a camera.
Calling to his wife, he asks: "Do we have any of the nice coloured coffee left? You know the zany coloured ones? I bought the coffee because I liked the packets - I'm very much into the aesthetic of things."
This article appeared in the South China Morning Post print edition as: Rain man