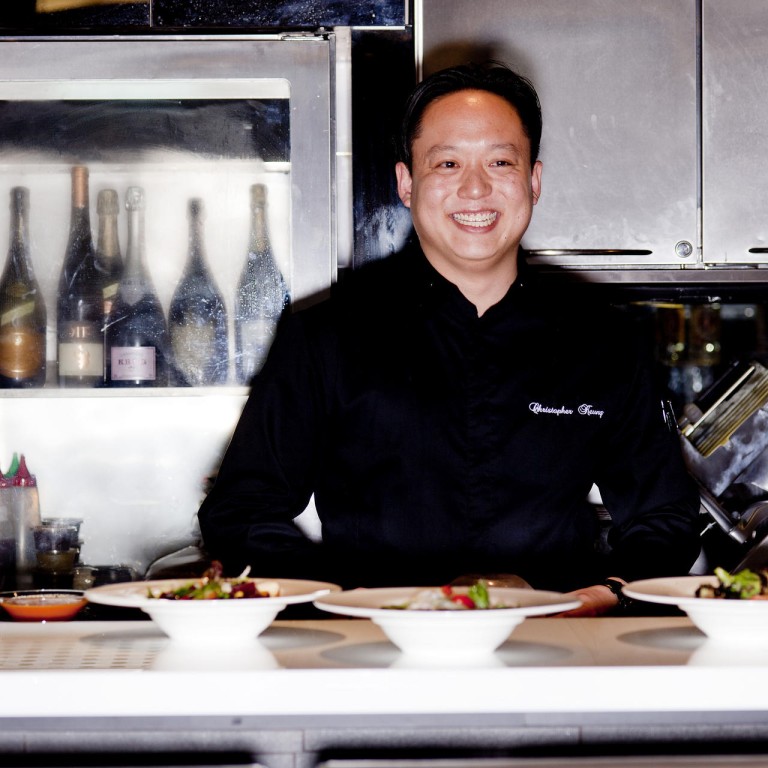 I Know a Place: Christopher Keung, head chef, MIC Kitchen
I grew up in Toronto thinking that the Canadian style of Chinese food was the real deal, until I started living here and realised just how different and diverse the cuisine is. I like food with different textures, such as hot and sour soup.
But a simple bowl of handmade wonton noodles, dumplings, shrimp roe with pomelo skins, and mixed beef giblets at (89 Hennessy Road, Wan Chai, tel: 2527 7476) can win my heart. That's why you can find me eating food at hole-in-the-wall types of eatery.
I do enjoy a good treat at fancy restaurants like (25/F Mandarin Oriental Hong Kong, 5 Connaught Road, Central, tel: 2825 4001).
My wife loves (shop 332, Pacific Place, 88 Queensway, Admiralty, tel: 2918 9833) so we sometimes venture there for stir-fried Shanghainese noodles, double stir-fried pork, and xiao long bao.
I have sat by the open kitchen at (shop 401, 4/F The Landmark, 16 Des Voeux Road, Central, tel: 2166 9000), eyeing the step-by-step process behind every single dish.It was great to devour lobster jelly and mashed potato purée.
My ex-colleague opened (66 Staunton Street, Central, tel: 2194 0202) and the place serves good comfort food in a small site with a casual vibe. I think it has great potential.
My most impressive culinary experience by far must be in Spain eating at restaurants like (Avenida del Alcalde Jose Elosegi, 273, 20015, San Sebastian, Spain, tel: +34 943 27 84 65).
I knew one of the chefs, so I got to try their tasting menu, with dishes like ham and tomato smoke, marinated tuna and melon, tapioca salad with citrus and dessert soup de chocolate.
At (Loidi Kalea, 4, 20160, Lasarte-Oria, Spain, tel: +34 943 36 64 71) I had the €350 (HK$3,374) tasting menu with wine pairing.
I also like (Aldura Aldea, 20, 20100 Errenteria, Spain, tel: +34 943 52 24 55).
Before I left London, I added (High Street, Bray, Berkshire, England, tel: +44 1628 580 333) to my list of famous restaurants to visit when a fellow chef friend set up a lunch for me.
There is only one menu, with signature courses like the Sound of the Sea, which you eat listening to the sound of waves on an iPod.
Despite having the chance to dine at some of the greatest restaurants on the planet, my favourite food memory is my grandmother's mouth-watering handmade Chinese chives and pork dumplings.
She made these dumplings and noodles to celebrate my birthday when I was a kid. If I ever discover a place that serves something that tastes like my grandma's dumplings, I'd eat there all the time.
This article appeared in the South China Morning Post print edition as: I Know A Place