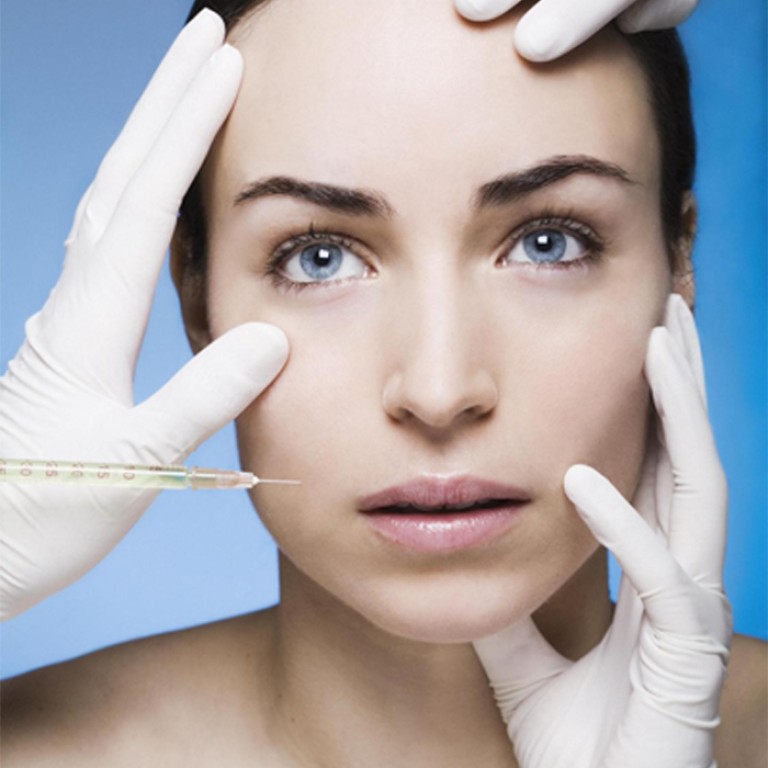 Botox, fillers, lasers and more join the mainstream in ourquest for younger-looking skin, writes Catharine Nicol
Previously hotly denied or kept confidential, cosmetic procedures can now be so professionally performed and natural-looking that they are far more mainstream then you'd ever imagine. They're also the quickest - and most effective - way to erase the signs of ageing, with innovations and technologies being introduced all the time.
Ten years after the United States Food and Drug Administration approved it for cosmetic use, Botox is overwhelmingly the most popular procedure at many Hong Kong clinics, such as Firma Medical Aesthetic Group. "If you've never had Botox before it's an instant five to seven years off," says Firma's medical director Dr Wally Chen. Used mostly on the upper face to correct forehead, frown and upper eye wrinkles, Botox (and Dysport) can also be used to slim the jawline.
Rather than administering a one-size-fits-all application, Chen customises the procedure for each client. "After all, everyone's face is different, and by altering the dose or area you inject you can alter or correct pre-existing asymmetries," he says.
Fillers have also gone mainstream, with Juvéderm and Restylane used to firm and replump. "There have been many advances since they were introduced," says Justine Grier, skin specialist and founder of The Skin Gym. Firma also offers Sculptra, which takes longer to work but lasts longer - up to two years.
At Life Clinic, medical director Dr Stephen Chan says Sculptra is the leading aesthetic procedure his staff carries out. "Sculptra is significantly more expensive but as it comes in a 10ml vial you can touch up everything - the temples, the eye bags, the sagginess in the face - at once, and it looks very natural because it's not just one area."
Chan believes that not only is it important to choose an experienced doctor "but also someone with a good aesthetic eye. Anyone can follow the book, but to do it justice it has to be artistic".
New trends in Botox and filler usage combine the technologies to get the best, most aesthetically pleasing results. "Previously, we offered these procedures in isolation," Chen says. "Now we combine them: Botox for wrinkles and facial slimming, and fillers for volume loss."
For fillers, the market's new gadget is a flexible needle called a cannula. "This means that one or two holes in the skin can treat a much larger area, with bruising and bleeding minimal, up to 90 per cent less, which also means it is 90 per cent less painful," Chen says.
In the past, Deborah Sims, founder of The Face Magic Haven, would have said that Botox and fillers were her top procedures. But as her business has matured, many clients are requesting laser resurfacing. "When the skin gets blotchy, lasers and peels help a lot," she says. "Laser work gives an overall strengthening at cellular level by improving the texture and brightening pigmentation."
Peels labour under a bad reputation, but are ideal for skin surface issues, working at a more superficial level than laser procedures. At Firma, Chen uses Cosmelan, better known in Singapore than Hong Kong.
"With chemical peels, you can layer them up," says Grier, who uses Environ products. "They can be incredibly delicate or you can really get the skin peeling off."
Grier's main speciality is intense pulsed light (IPL). "With IPL treatments, you can see a difference so quickly," she says. "The results on pigmentation and red veins you can see straight away." For collagen strengthening, however, because the rejuvenation happens below the skin's surface, clients must wait a few months to see results.
Perhaps better for sagging skin, especially on problem areas such as the neck, another procedure found at Life Clinic is fine thread contouring. Bio-absorbable threads are gently inserted under the skin, gradually dissolving while stimulating collagen to grow and lift over six to eight months.
Often seen in spas and clinics is micro-dermabrasion. "The wrong form of exfoliation can be detrimental, while the right one can be magic," says Grier, who uses both crystal and non-crystal machines to target various skin types and issues.
Hydradermabrasion is also making its way into the market. Saline is applied using jet technology, removing the top layer of skin and aiding the delivery of products. It is becoming known as a treatment for acne or as an adjunct to other procedures.
Another increasingly popular procedure, Thermage, uses radio frequency to apply heat to sagging skin. Chen has chosen Ultherapy, which gives similar results but uses ultrasound, heating the collagen and stimulating it to grow and tighten for the "liquid facelift" look. The desired rejuvenation appears one to three months later.
"With Ultherapy, you can see where you're putting the energy down, which makes it safer and more accurate," he says.
While stimulating existing collagen to regrow is advantageous, Grier turns to IPL to help create more collagen.
"The success of Thermage depends on the amount of existing collagen you have in your skin," she says, noting that sun exposure, smoking, a low body fat percentage, acne and the contraceptive pill all compromise the amount left. "IPL can actually activate the skin's fibroblasts, which are the cells responsible for making collagen and elastin."
Grier also uses IPL for banishing pigmentation, freckles and broken capillaries while lightening, tightening and resurfacing the skin.
Life Clinic offers procedures not commonly found elsewhere. Platelet Rich Plasma (PRP) harnesses growth factors in the blood's platelets to enhance healing.
Aesthetically, PRP is used on ageing skin, especially for texture, lines, pigmentation and scars, and for hair loss. The client's own blood is spun to release the growth factors, which are then injected or micro-needled into the area to be treated.
But when you're looking for the real future of beauty and anti-ageing, it's going to be stem cell therapy. Chan calls it "the holy grail of restoring lost or damaged tissue".
Stem cell research for anti-ageing and skin rejuvenation it is cutting-edge, but in Hong Kong still off-label.
"Stem cells have the unique ability to self-renew and stay young," Chan says. Extracted by a mini-liposuction procedure from the client's own fat issue, they are injected back into the skin to regenerate for a firmer, younger texture.
Adipose (fat) tissue-derived stem cell therapy, like stem cell banking, is a big-ticket item, costing up to HK$100,000. Chan refers patients requesting this procedure to one of his partner clinics in Shanghai.
Ultimately what can be done depends on the investment of the client and the expertise, artistic ability and trustworthiness of the doctor. Whether you go for the tried and tested, or the cutting edge, science is more than keeping up with our hunger to stay young.
This article appeared in the South China Morning Post print edition as: Cosmetic PROCEDURES Cosmetic PROCEDURES BEAUTYbefore age