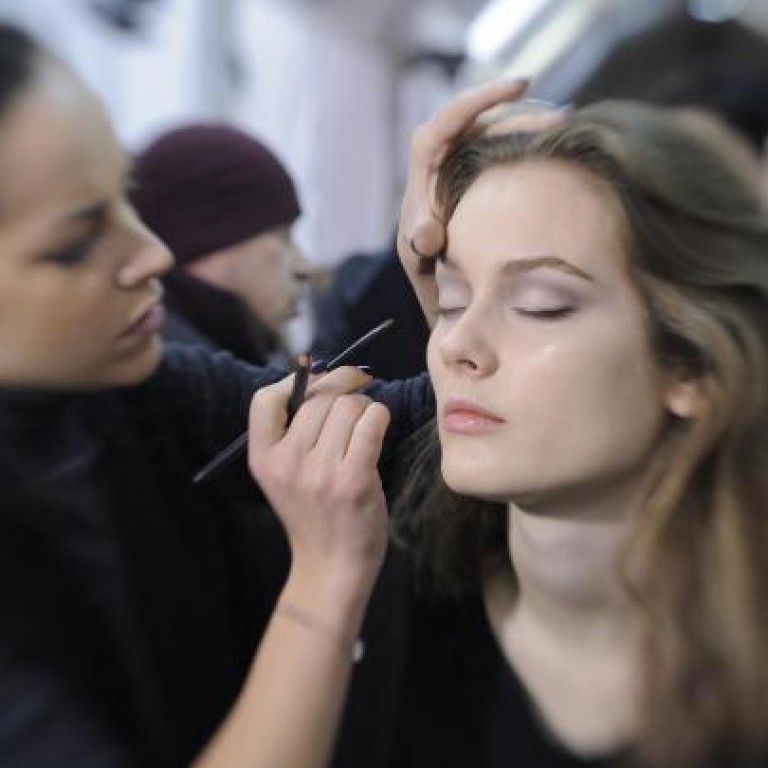 The autumn-winter runways inspire three dramatic facial looks, writes Tama Lung
Smoky eyes never go out of style, and this season is no exception. Whether barely there at Valentino, raccoon-like at Prada or somewhere in between, the classic look is one of autumn's hottest accessories.
"People adore the glamorous look that a smoky eye can create," says make-up artist Fei Ho at The Strand. "It never goes out of fashion."
The key to this look often comes down to preparation. "Before creating an eye look, it is important to make sure your eyes are not dry or greasy," says Tom Pecheux, creative make-up director for Estée Lauder and mastermind behind Derek Lam's autumn-winter 2012 runway look. "Before I create a dark eye look, I prep the skin and only use a little bit of foundation and powder around the eyes."
For Lam's smoky eye look, Pecheux created a black-burgundy base by mixing shades from Estée Lauder's Pure Color Five Color EyeShadow Palette in Violet Underground. He added a touch of pale pink for impact and a matte white shadow to the inside corner of the eye and under the eyebrow.
Ho also cites the trend in blending different colours rather than going for the full-on dark eye. "Giorgio Armani has a range of eye shadows that mix two colours into one pot," she says. "They are perfect to create smoky eyes without being too bold. With the texture between powder and cream, it's easy to apply and lasts longer."
Pecheux recommends a natural matte finish for the rest of the face with a soft blush on the lower part of the cheeks for definition and a pinky beige lipstick with a bit of white eye-shadow on top. "This give lips more of a matte finish without being dry," he says.
The eyes are perhaps the only part of the face where make-up artists can really go crazy with colour, texture and embellishment. And that's just what they did this season, from the pop art-inspired paillettes at Miu Miu to the peacock-shaded lids at Prabal Gurung.
"Autumn-winter 2012 is a season of contrasts. It's a season of artistry," says Pat McGrath, global creative design director for Max Factor and creator of the "illustrated eye" look at Miu Miu.
"Feel free to get creative with this," says Ho. "Go to the arts and crafts store and find a decoration that speaks to you. Or if you have a steady hand, use a liquid eyeliner to draw a few swirls around the outer corner of one eye and top it with a bit of glitter."
This season, brands such as NARS and RMK are offering colourful eye shadows with varying levels of shimmer to be layered or worn alone.
One of the easiest ways to add interest is to play up the lashes. M.A.C and Shu Uemura offer false lashes in a rainbow of colours and unusual textures.
"If you're wearing a smoky eye glamour look, choose some long and thick false lashes, even some that have patterns and feathers," Ho says. "They're fun for a party." She also recommends using a lash glue that comes out white, so that you can see where it's applied, and then dries clear.
"Wait until the glue is half dry before you stick them on, and get as close to your own lashes as possible. Blend the false lashes and your own lashes together by using a clean mascara brush."
From bold, arched stripes at Lanvin to graphic lines at Altazurra and feminine cat eyes at Ralph Lauren, designers rallied around the winged eyeliner trend for this autumn.
"Fashion Week wouldn't be Fashion Week without black eyeliner," says James Molloy, regional director of make-up artistry at M.A.C. "The difference this season is that it's a little more angular, inspired by architecture and graphic lines. It's still beautiful, but just a bit of a different shape this season."
Make-up artist Ho recommends a liquid eyeliner pen to recreate the look. "It's easy to draw on and control the thickness," she says.
The season's newest pens include Lunasol's Intellectual Liquid Eyeliner - a sharp-pointed option available in brown, brownish-black and greenish-grey - and Estée Lauder's Pure Colour Quick-Thick Eyeliner, a dramatic black shade with a marker-like tip that can be applied thinly or thickly.
Those with a steadier hand can try a gel formula such as M.A.C's Fluidline or a cake formula such as Laura Mercier's new Tightline with a fine-tipped brush.
"To keep your eyeliner wings even, follow the lower lash line up," Ho says. "This technique takes practice, and you will probably have to try a few times before you're satisfied with the way it looks. Simply use a Q-tip and some eye make-up remover and try again."
As with most dramatic eye looks, the experts recommend keeping the rest of the face simple. "The classic go-to is still bold eyes and downplayed lips," Ho says. "Instead of a bright lip colour that would stand out at work, go for a stained lip. Apply the pigment with your fingers or use a lip pencil and neutral gloss."
Estée Lauder Pure Color Five Color Eyeshadow Palette in Violet Underground
Giorgio Armani Face and Eye Palette
Nars High Society Eye Shadow Trio
Dior Five Colour Eye Shadow in Golden Savannah
This article appeared in the South China Morning Post print edition as: EYE to eye WHERE THERE'S SMOKE EYE-CATCHING WINGING IT