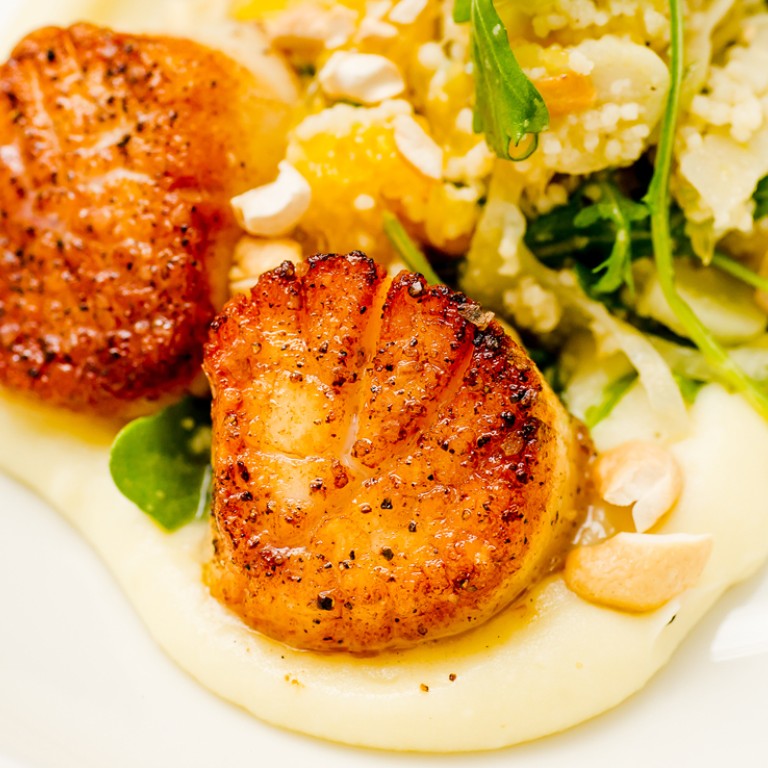 Dining scene on Hong Kong Island's south side expands with fresh and fun new concepts
With the opening of The Pulse at Repulse Bay, dining on Hong Kong Island's south side is even more of an adventure, writes Catharine Nicol
1. Hotshot
This burger joint created by the team behind Bibo has a fun California vibe, with vintage surfboards and skateboards for decoration alongside artwork by Tracey Emin, Keith Haring, Damien Hirst and Kaws, and there's also a resident DJ who plays from Thursday to Saturday.
But the star of the show is the eye-catching classic Airstream trailer-turned-bar, which serves up drinks in jars designed by bar manager Alexandre Chatté.
Signature dishes include the Hot Shot burger with barbecue sauce, coleslaw and spicy remoulade ( there's a Little Shot version for children), while fries are seasoned with salt and cracked black pepper or blackened rosemary. All-day breakfasts feature their housemade buttermilk, which is used in the chicken that's deep-fried until crispy, and the pancakes. Healthy options include a granola parfait and kale salad, or for a more beachy flavour there's the catch-of-the-day po'boy sandwich.
For dessert, choose from comforting classics such as Key lime pie, a brownie or New York cheesecake, or an alcoholic milkshake like the Montauk, with chocolate, orange and cognac.
Hotshot
The Pulse, 28 Beach Road, Repulse Bay tel:2151 1661
www.hotshot.hk
2. The Verandah
Above Repulse Bay Beach, all is calm and colonial at The Verandah. The long-established restaurant at The Repulse Bay Hong Kong has a timeless look, with ceiling fans and window shutters. Ask any long-term Hongkonger, and they've likely been there for a celebratory lunch, weekend brunch, afternoon tea or romantic dinner.
Classic dishes pepper the menu. You'll find starters like pan-fried duck foie gras, with an innovative apple Yorkshire pudding, while signatures include The Verandah seafood mixed grill, rack of lamb, duck and trout. There's a separate grill menu covering meats, sole and lobster, and then there's a section called The Classics, where you'll find Dover sole meuniere and steak tartare. For dessert, you've got to try the classic soufflé, which the restaurant nails. Make sure you ask for a window table with the beach view when you book.
3. Limewood
Limewood is airy and spacious, emanating tropical island tunes. A bar/lounge area on one side, with a high communal table and comfy sofa area, is balanced by the restaurant on the other, with its group-sized high tables, booth seating and seats at the open window.
Jamaican-inspired recipes created by executive chef Russell Doctrove include the light, piquant ceviches, pork skin chicharron with creamy guacamole, summery salads, char-grilled whole fish, crispy chicken and humongous, Flintstones-sized beef ribs. The Vietnamese fish tacos come on a crunchy tostada rather than a soft taco, which makes for a nice change, and the jerked fresh corn is sweet and juicy, but both could have done with a little more zing.
Wash it all down with margaritas or grill-inspired cocktails like the refreshing barbecued pineapple Cuban mojito, which is filled to the brim with charred pineapple plus aged rum and Mezcal, or the cocktail/dessert of the richly sweet and smoky charred coconut pina colada.
Limewood
Shop 103 and 104, G/F, The Pulse, 28 Beach Road, Repulse Bay
tel:2866 8668
www.limewood.hk
4. Stan Café
Stan Café at the top of Stanley Plaza is spacious and airy, with views over Murray House and beyond. As you walk in, the deli counter transitions from cakes and breads to cheeses and sausages, with everything piled up to look irresistable. The Parisian feel kicks in with the marble-top tables further inside, and there's a small terrace to the side.
From salads and platters to mains, desserts and drinks, it's a typically French-inspired menu with fine dining portions. The warm goat cheese salad is a fresh but indulgent dish and the sea bass comes with a banana shallot confit. Their popular cheese platters range from three to seven cow, sheep and goat varieties, and charcuterie platters are available too. There are beers and wines from France, naturally, and for children there is Orangina and a huge range of French sirops, or cordials.
5. Chung's Cuisine
It's lucky that Chung's Cuisine is such a large restaurant, because the weekend dim sum sessions are packed. But it's not your common dim sum joint - along with the Western-style design, there's a "no-MSG" promise, the tea comes in a glass teapot placed on a tea light warmer, and many of the dim sum, such as the premium har gao, come in individual steamers made not of the typical bamboo, but colourful silicone. It's a new look, but it seems to work.
The old favourites are all worth ordering: the pork belly has a perfect meat-to-fat ratio and beautifully crispy skin, while the premium siu mai enhances the humble dumpling with luxurious quality pork and shrimp, and the choi sum is beautifully al dente.
At other times of the day, the crispy-skin chicken comes with apple sauce, for an East-meets-West twist. And if you're in a small dining party, keep in mind that the fried rice, fried noodles and soup noodles are served in huge family-sized sharing portions.
If you can pop down on a weekday, you won't have to wait for a table and prices are significantly lower.
6. Pinot Duck
Pinot Duck's quirky interior design mixes concrete, steel and flashes of bright scarlet, drawing the eye towards its semi-open kitchen and out to the alfresco tables. The emphasis on duck, a favourite Chinese ingredient, echoes throughout the menu, with classic and innovative dishes from the mainland and beyond. Signatures include the classic crêpe, a delicate cone of ready-made Peking duck with the trimmings - a clever way to order the bird when there are just a few of you.
There is also a Vietnam-inspired banh mi of pulled roast duck with duck liver paté and salad in a baguette, and duck-fat potato wedges.
Bigger plates include the duck risotto, deliciously flavourful with a poached egg to mix in, while the duck and fennel soup dumplings are nicely moist with a tasty broth.
While pinot is the natural wine choice here, bottles are chosen to complement the dishes, and Moonzen Brewery craft beers are a great accompaniment on a hot day. Sadly, the desserts - like the refreshing braised orange in Hua Diao wine with salty plum - don't include duck in some creative way, but perhaps that's just as well after such a rich meal.
7. Lucy's
For Stanley inhabitants, Lucy's has remained the pinnacle of fine dining for 20 years. Found off a small alleyway in the market, the restaurant is warmly decorated and cosy. While the menu emphasises Mediterranean fare, you'll also find random offerings like a Thai curry or a Middle Eastern dish.
Although the menu changes every four months or so with the seasons, regulars come back frequently for the salmon fishcakes, the pecan pudding and the pavlova. Summer lunches include a refreshing gazpacho soup and salads like the crab, avocado and pomelo, while at dinner the spinach and feta soufflé comes with a roast tomato sauce and the char-grilled lamb is accompanied by a goat's-cheese tart.
This article appeared in the South China Morning Post print edition as: Seaside delights