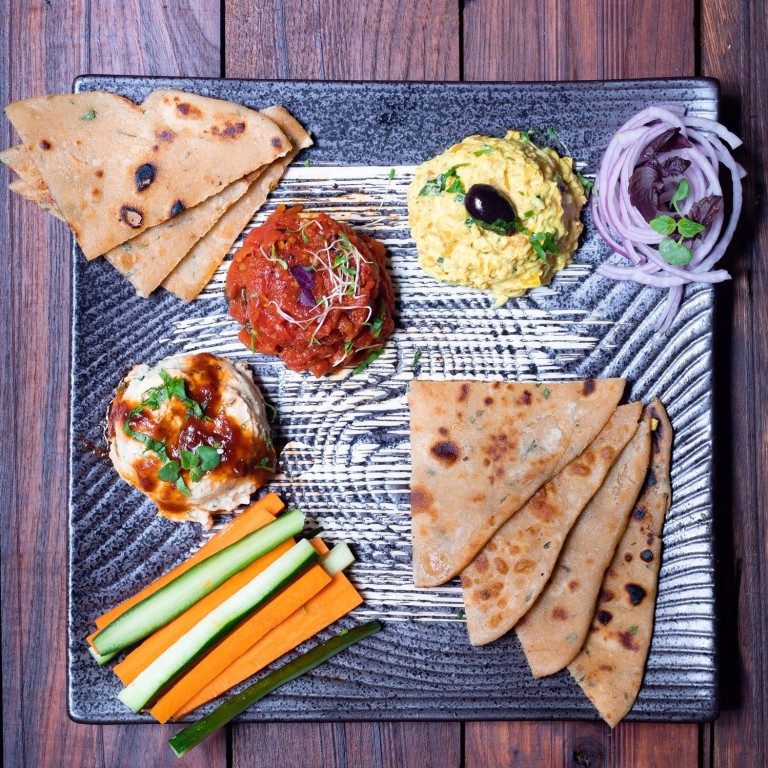 Cardamon Street walks the walk with fresh take on Indian fare and healthy dishes
Unpretentious SoHo eatery serves up fusion food that reinterprets dishes and serves up cocktails with a sly subcontinental twist
FARE Indian fusion.
AMBIENCE Cardamon Street is perched on the corner next to the Soho escalators, opposite famous watering hole Staunton's. The non-tablecloth establishment is decorated with tasteful contemporary Indian art. The vibe is non-pretentious, where you feel you can come and have a meal with friends or drop by for a quick bite.
COST Dishes from HK$68 to HK$188.
WHO TO BRING Foodie friends who like trying new things.
WHAT'S NEW vegan restaurant openings, menus and offerings for meat-free lovers in Hong Kong
TURN-ONS First we tried the Indian mezze platter served with pita bread flavoured with rosemary and other spices. Our favourite of the melee was the babaganoush, which had a smoother texture than what is usually served. It is made with a secret recipe of herbs and spices which gives it a bit of a punch. We also enjoyed the tikka chicken sliders and decided this would the new standard for them from now on. The lamb quinoa biryani was a modern interpretation of the traditional dish, giving it a healthy twist as the superfood base was light and easy to digest. The herbs and spices matched well with the grain. The roast chicken was slathered with a creamy turmeric sauce and served with long grain turmeric rice with a garnish of diced vegetables that added texture and a fresh burst on the palate, making it ideal for anyone who shies away from spice.
TURN OFFS The restaurant is small and seats only about 45. That means the tables are small, too, so you might need to play a bit of Tetris with your plates if you order a lot of food.
DRINKS Cocktails at Cardamon Street have an Indian twist. We tried the Old Fashioned – the addition of cloves introduced a festive element to the classic drink.
CARDAMON STREET
38 Elgin Street, Central