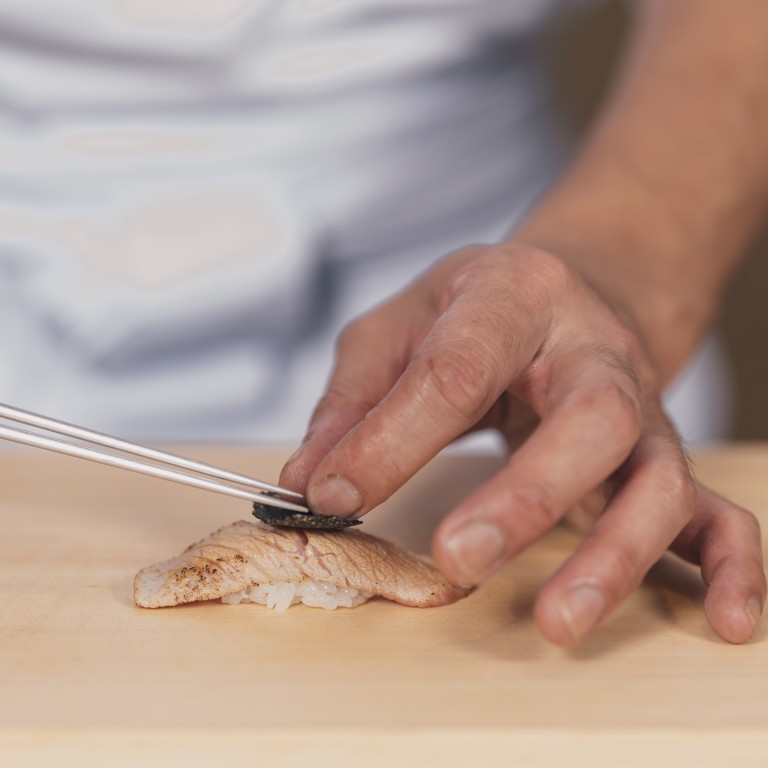 Sushi Zo: a serious dining experience for omakase lovers
Head chef Fumio Azumi serves up a whopping 18 dishes at Sushi Zo restaurant in Tai Kwun, which has the softest sushi in town
Sushi Zo, led by head chef Fumio Azumi, is the newest brainchild of chef Keizo Seki, who has omakase restaurants in Tokyo, Bangkok, Los Angeles and New York.
Hailing from Osaka, but having spent 20 years in Los Angeles, chef Azumi greeted us at our hosted dinner with friendly banter.
Housed inside Tai Kwun, Sushi Zo is located on the lower floors of the main building. Like most omakase experiences where the food is the star of the show, the decor consists of clean lines and fine wood with a 12-seat counter.
For HK$2,500, the omakase at Sushi Zo serves up a whopping 18 dishes. It proudly boasts it has the softest sushi in town – the better to enhance the appreciation of the fresh and exclusive produce. But we found this to be a hit-and-miss approach.
First, the hits. We found that soft sushi works best with similar textured ingredients such as the lightly seared otoro topped with a slice of truffle, where the aromatic ingredients just tingled on the palate. Dashi ikura, or salmon roe infused with broth and served in a bowl of shallow sushi rice, achieved the same effect, with small portions of rice serving as a vehicle to showcase superior produce.
However, the soft concept did not work with the crab leg, which was watery in consistency and meshed on the palate with the rice almost like baby food. Even the white eel had the texture of pre-chewed food.
The price point for Sushi Zo is mid-range, and so is the fare. If you're looking for a more decadent experience or more bang for your buck, there are plenty of other options in the city.
Sushi Zo
Shop 01, LG 103, Tai Kwun 10 Hollywood Road, Central