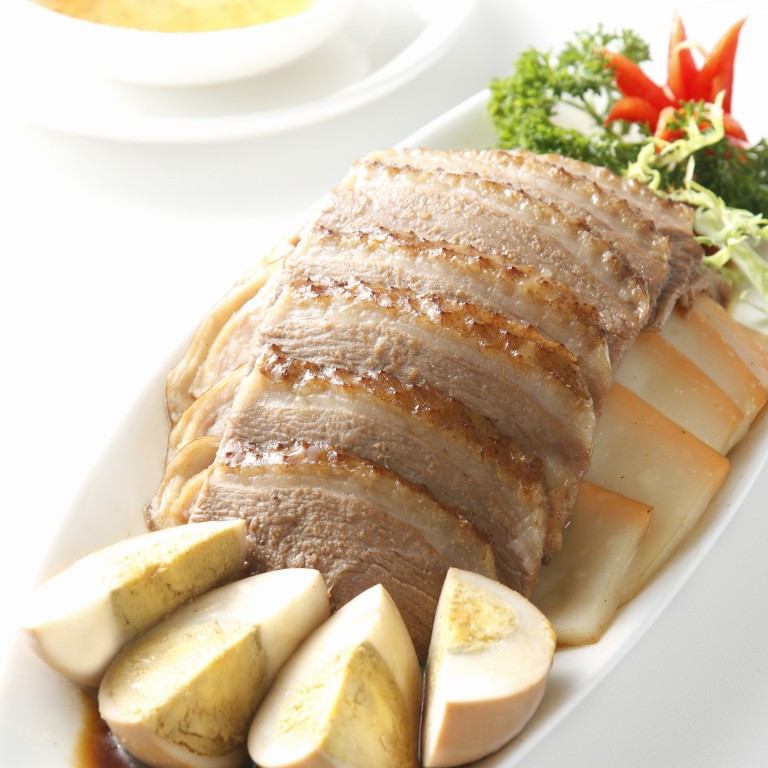 Moon Lok Chiu Chow review: Hongkongers love Teochew cuisine, and Pak Loh's new restaurant ticks many satisfying boxes
The chefs at Moon Lok – the latest offering from the Pak Loh Chiu Chow restaurant group – are well versed in one the city's most popular regional Chinese cuisines
Hearty rice vermicelli with pepper crab in pot, crispy skin sea cucumber with crabmeat and pomelo peel, and double-boiled bird's nest in papaya all hit the spot
Chiu Chow food has a special place in the heart of Hongkongers with its combination of delicious seafood and starches. And Moon Lok, which is the latest offering from the Pak Loh Chiu Chow restaurant group, knows what it is doing when it comes to one of the city's favourite regional cuisines. The bottle green tablecloths along with wood, leather and brass textures lend a contemporary atmosphere to the restaurant.
We start our meal with a small Chiuchow assorted soyed platter (HK$118) which has all the classic fixings of goose, tofu and egg soaked in Chinese brine. The cuts of goose were good, but we feel the egg could do with a bit more brining.
Next up, the crispy skin sea cucumber with crabmeat and pomelo peel (HK$840) stars ingredients that are well loved in Chiuchow cuisine. Fried sea cucumber and pomelo peel is basted in a thick crabmeat and fat sauce. We love the medley of textures that is enhanced by the umami of the shellfish.
Next, we dig into a hearty rice vermicelli with pepper crab in pot (HK$840) where the noodles are soaked in peppery crab oil. Again, it's this combination of seafood and carbs that we love about the regional fare.
This is followed by a bumper double-boiled bird's nest in papaya (HK$300), filled to the brim with the coveted ingredient. The meal ends on sweet note with a classic Chiuchow deep-fried taro chip coated with crispy sugar (HK$78) which hits the right spot.
Moon Lok Chiu Chow, Shop 405, 4/F, FoodLoft, Mira Place One, 132 Nathan Road, Tsim Sha Tsui, 2157 9949