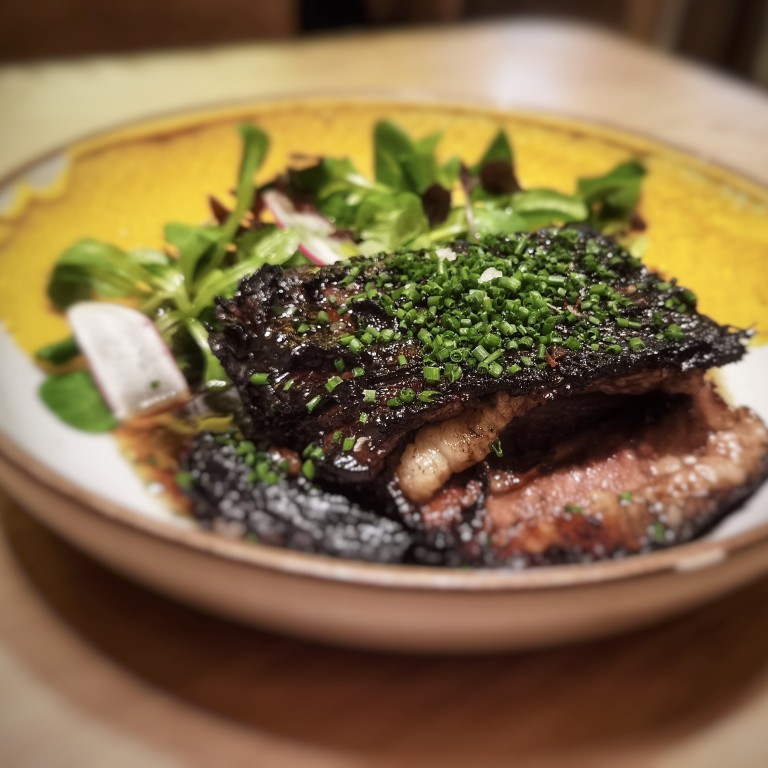 Acme restaurant review: The Baked Group's latest dining venture brings Middle Eastern flair and flavours to Hong Kong's hip Soho neighbourhood
There are only three proper tables at this cosy joint on Soho's Elgin Street, designed by Sean Dix of Yardbird and Hotal Colombo fame
Classic Middle Eastern dishes such as fattoush, babaganoush and labneh are on the menu – with meze dishes starting from just HK$40
FARE Acme, which means "to be the best", offers traditional Middle Eastern fare with contemporary plating. It is the latest dining venture from the Baked Group, best known for their sourdough pastries and sandwiches.
AMBIENCE The restaurant seats 34, with most counter seats facing the kitchen area and only three actual tables. Designed by Sean Dix, known for his work on restaurants such as Yardbird, Crown Super Deluxe and Hotal Colombo, the restaurant is comfortable and cosy.
COST The cost is not prohibitive, with mezes such as labneh starting from HK$40, and the most expensive main of grilled sea bream priced at HK$405, which serves two to four people. We were thrilled that a serving of baklava was only HK$30.
WHO TO BRING Good pals to catch up on old times.
TURN-ONS There was hardly anything to fault with our meal. We started with the babaganoush (HK$68) and the fluffy sourdough flatbread (HK$30) followed by the healthy fattoush (HK$110), which was a refreshing baby gem salad with whipped feta cheese, cucumber, radish and a zingy blood orange citrus dressing.
The culurgiones ($180), home-made dumplings stuffed with grilled merguez sausages and potatoes, were delicious as were the wood-fired mussels ($200), which were topped with caviar and served atop grilled sourdough with labneh and sweet potato chips. The piece de resistance was the melt-in-your-mouth braised short ribs (HK$420), glazed with tamarind. We loved the flakiness of the baklava and the fact that it wasn't too sweet.
TURN-OFFS We were disappointed that the hamachi crudo and the steak tartare that we had set our hearts on were not available that evening. The crudo is apparently leaving the menu and the bone marrow that is served with the tartare wasn't available. It would have been nice to have some other alternatives to the dips and vegetables.
DRINKS They serve four cocktails, a variety of coffee and teas, and a selection of affordable wines, mainly New World, including some choices from Morocco and Lebanon.
Acme, 59, Elgin Street, SoHo, Central, 2885 6066