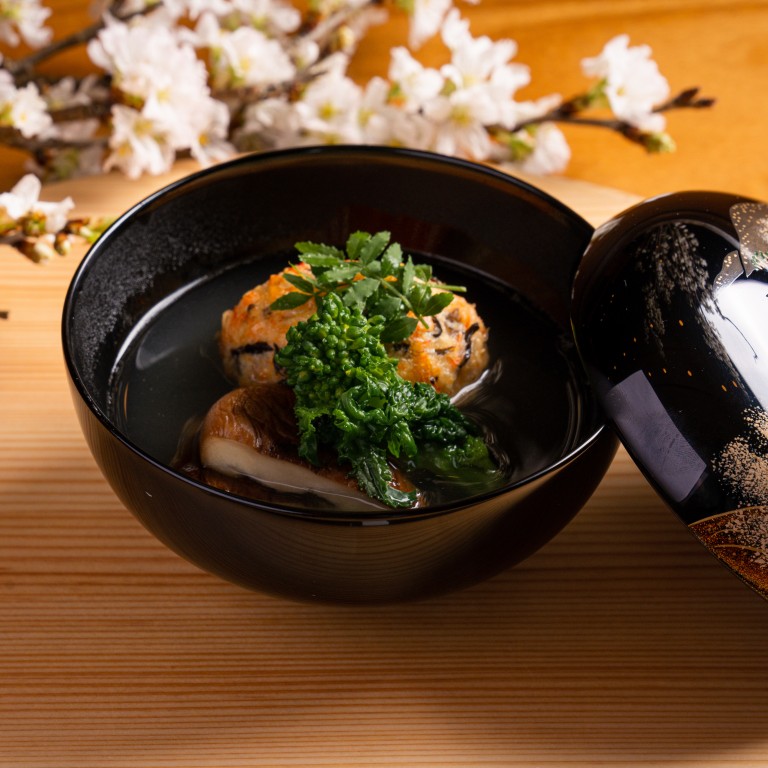 Nagamoto restaurant review: Serving up shun cuisine delivered kappo style, chef Teruhiko Nagamoto takes Japanese fine dining to new highs in Hong Kong's Central
Every meal at Nagamoto is a full sensory experience, from the caviar-topped hassun platter served in an ornate basket to the veritable umami bouquet
Not all Japanese cuisine is created equal. From the casual bento to an exclusive omakase, to the overwhelming onslaught of a multi-course kaiseki meal, the country's culinary offerings have always defied lazy pigeonholing.
So here, at the higher end of things and from the space that used to be Michelin-starred Kashiwaya, comes Nagamoto. Helmed by head chef Teruhiko Nagamoto, the restaurant specialises in shun cuisine, which describes ingredients that are at the peak of their freshness and flavour, delivered kappo style. The menu and even parts of the decor change completely from month to month, which makes a meal here a full sensory experience. Even the flower arrangements are hand-picked by Nagamoto to create synergy with what's served on the plates.
Our favourites of the 13-course Uduki menu (HK$2,380) included the hassun platter served in an ornate basket, which reminded us of the exquisite lunches people in Japan have when picnicking under sakura trees. Of course, for that price, this version is a little more impressive than the average picnic basket – we're talking caviar-topped milt and dashi-simmered roe.
Two courses offered a lesson in umami. The chef asked diners to drink a kombu broth to contrast its profile with freshly shaved bonito flakes – together they make dashi. So next we were served a soup with fresh mushroom, meatballs and vegetables bathed in a clear dashi broth. On this theme, the sashimi course felt less about the fish than about the concentrated sauce, which created a veritable umami bouquet on our palates. We also loved the deep-fried abalone, simmered A4 Wagyu and gohan rice.
Because the menu changes so often at Nagamoto, every month is a new opportunity to try the epitome of Japanese fine dining.
8/F, 18 On Lan Street, Central