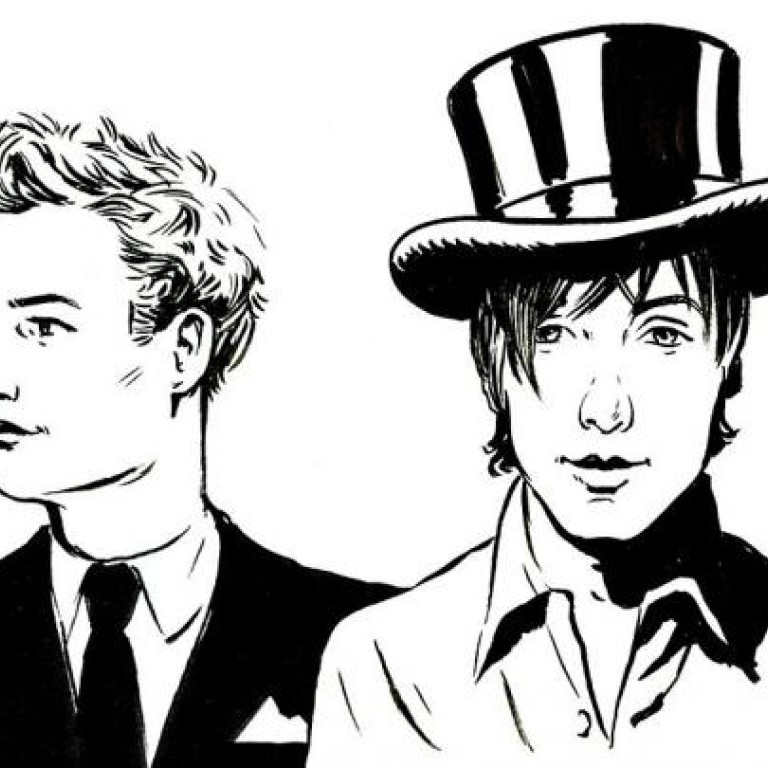 Have you recently taken up Latin or ballroom dancing? That is the only rationale I can conceive that would motivate you to consider such a purchase. In those disciplines, a heel of about 1.5 to two inches is often required. I would therefore direct you to a dance supplies shop. Paul's Ballet Supplies Centre (Admiralty Centre, Admiralty, tel: 2527 2867) carries a selection of ballroom dancing shoes by British brand Supadance in plain or patent black leather (HK$1,010), with full or split suede soles. Alternatively, you could take the custom-made route. Just down the hallway in the same shopping mall is Edwina Shoes & Handbags (tel: 2866 7183), which makes decent men's lace-ups for about HK$2,000 a pair in about two weeks.
Hello? Dapper? He means for cool people. Think rockers such as Jarvis Cocker from Pulp, not some dazed has-been thrown on to revive his career. The latest collection by Comme des Garçons has great, quirky round-heeled shoes (HK$5,300 to HK$5,550; I.T, Ice House Street, Central, tel: 2147 5077). Now, sure, you could go for the plain black leather or suede, but I say go for it with the red version. Just remember that these shoes were designed with a bit of irony, so dress accordingly.
That's rough, but do something now before you become one of those delusional comb-over weirdos. Aveda's Invati line made with Densiplex, a mix of plants such as turmeric and ginseng, is said to promote thicker, fuller hair, and a 12-week clinical trial showed reduced hair loss. Try the Invati Exfoliating Shampoo and Thickening Conditioner (HK$290 each; Faces, Harbour City, Tsim Sha Tsui, tel: 3188 1538) and the Scalp Revitaliser (HK$720). French stylist Rene Furterer invented the Forticea Stimulating Shampoo with orange, verbena, rosemary and lavender (HK$220; Jetfit International, Admiralty Centre, tel: 2866 3482), and the Triphasic Regenerating Treatment with Brazilian ginseng (HK$890) to increase circulation. French hairstylist Frederic Fekkai's anti-ageing line includes Fekkai Ageless Rejuvenating Shampoo and Restructuring Conditioner (HK$400 each; Joyce Beauty, Harbour City, tel: 2367 0860), and Luxe Hair Treatment (HK$690), which promise to keep hair strong and young-looking.
There are many attractive bare-headed men in the world. If one has a well-proportioned head and a razor, it is advisable to shave the noggin when the thinning turns to balding. Should you choose to take the "medi-spa" route, consult established companies such as Nioxin
www.nioxin.com.hk
Got a question for Dandy & Dapper? E-mail them at: [email protected]
This article appeared in the South China Morning Post print edition as: Dandy & Dapper