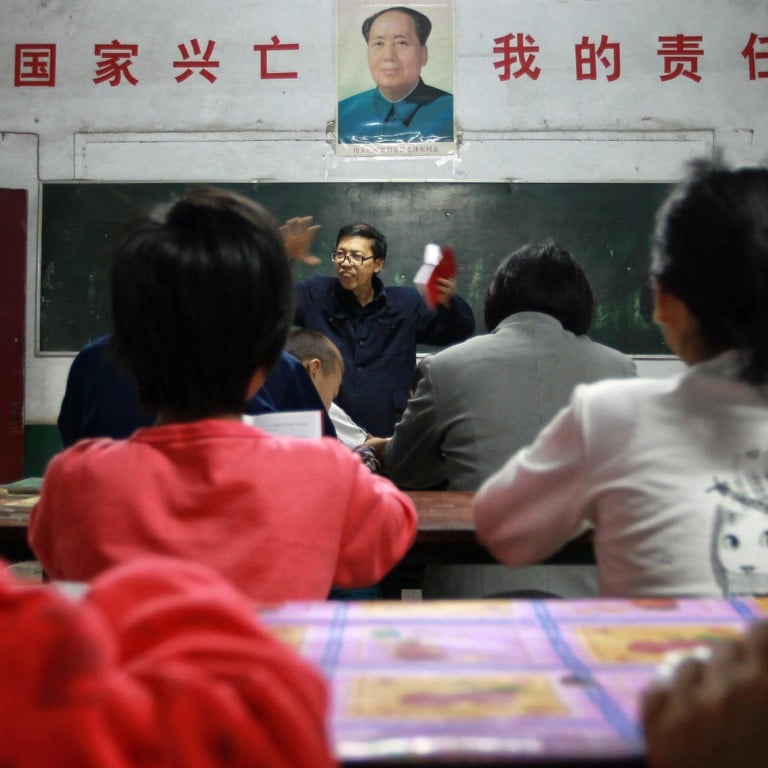 A remote, ramshackle Henan school is teaching its dwindling student body that only the Great Helmsman himself can save the People's Republic. Xu Donghuan meets a principal who dances to his own, old tune. Pictures by Simon Song
As far as Xia Zuhai is concerned, Mao Zedong is more than a desperately missed, great leader. The Henan province school principal thinks of the late chairman as a Buddha-like figure.
When the rain eases on the morning of September 9, the 37th anniversary of Mao's death, Xia, 49, leads a Buddhist ceremony in honour of the Great Helmsman at his village school, on the outskirts of Sitong town, in Zhoukou city, 900 kilometres south of Beijing. In front of a huge painting of Mao on a tiled wall in the centre of the campus, he has set up a shrine with offerings of snacks, fruit and Mao's favourite red chillies, as well as a small stack of publications, including a copy of the , a weekly newspaper and a monthly magazine. The latter two are known for having a liberal stance.
"You should never underestimate Chairman Mao. He wouldn't be annoyed by the criticisms inside," Xia says, with a chuckle. After lighting a cigarette for Mao and putting it on the edge of the incense burner, Xia is joined by his 15-year-old daughter, Yuanyuan, and the two kneel side by side on a bamboo mat and kowtow 81 times.
"The tradition is to kowtow three times but that's not enough to express our gratitude for Mao. So we kowtow 81 times, our highest salute to Mao," Xia will explain later.
The ceremony finishes with a prayer said by Xia and three repetitions of the Amitabha Buddha mantra.
Throughout the ceremony, Xia's students, each wearing a Mao badge on their shirt, have been standing on the side, watching.
"This is purely a family worship, held at the school, which is also our family property and our home," says Xia. Though not involving them, such veneration, which is given several times a year in the presence of the students, and the message it contains may take hold in their young minds.
"My students all love Chairman Mao," says Xia. "I've repeatedly told them that Mao embodies justice and he works selflessly for the people."
Mao remains a deeply controversial figure in modern China and his legacy divides the country; on the one hand, there are die-hard supporters such as Xia who regard Mao as having been a great leader of the people and, on the other, critics who accuse him of having plunged the nation into one disastrous political campaign after another, at a cost of tens of millions of lives. This December, as the country commemorates the 120th anniversary of Mao's birth, debate on his legacy will intensify, and the controversial little red school that Xia has been running since 1996 in the heartland of China provides a glimpse into this discussion.
learning Democracy School.
"By 'democracy', I don't mean 'Western democracy' but the democratic beliefs in Mao Zedong thought, where people are the real masters," he says.
At 5.30 every morning, his students, all boarders, awaken to the song which is blasted from a loudspeaker outside their dormitories. After dressing, they assemble on the school ground for 40 minutes of running. Big horn loudspeakers, which were commonly used to broadcast Mao's propaganda, have largely fallen out of use elsewhere and because of its association with the Cultural Revolution, , which was China's de facto national anthem in the 1960s, is rarely heard these days. To many people, it is an unseemly reminder of Mao's personality cult.
At 6.30am, the students settle at their desks for an hour of reading. Under the gaze of Mao, the students read out loud in unison speeches from his little red book. This morning, the students, each holding a copy of the book, first read Mao's 1944 eulogy to Zhang Side, in which the chairman delivered his famous "Serve the People" speech. Zhang was one of Mao's guards in Yanan and was killed while working in a kiln that collapsed.
The students then read , a military doctrine issued by Mao and his associates for the Red Army in 1928, when they were fighting the Kuomintang. The doctrine, distinctive for espousing respect for civilians during wartime, helped to impress villagers into giving supplies and shelter to the Red Army voluntarily, greatly helping its war effort.
When the students finish, Xia walks to the podium and addresses the class: "The essence of Mao Zedong thought is 'serve the people'. His whole life was devoted to the people. That's why we have the People's Bank, people's railway and People's Hospital."
In the second half of the morning reading session, the students recite from classics such as , by Laozi, founder of philosophical Taoism, and , a Confucian treatise about having respect for one's elders.
After morning reading, the students attend classes that follow the standard national curriculum.
They will go to bed at 8pm to a recording of , a patriotic song written in 1950, on the first anniversary of the founding of the People's Republic.
Students stay at the school for 11 days at a time and then return home for three. The school closes during busy farming seasons, when the students return home to help their parents in the fields.
family, Xia grew up during the Cultural Revolution "listening to Mao's revolutionary songs blared from the big horn loudspeakers at school and in the village every day". So when the news of Mao's death came over the radio on the afternoon of September 9, 1976, 12-year-old Zuhai was terrified.
"It felt like the sky had fallen down," he says, fighting back tears. He can still recite the announcement word for word. "In the mourning week, I visited the mourning hall in the town centre every day. Every time I was there, the deafening cries of the people and the funeral music struck me as unbearably powerful," he says, by now sobbing.
In the late 70s, however, after the chairman's death, Xia's belief in Mao was shaken with the rise of "scar literature" or "literature of the wounded"; works that portrayed the oppression and suffering that was prevalent during the Cultural Revolution.
"'Maybe Mao made mistakes,' I remember asking myself," he says.
In 1981, when he failed the national college entrance examination and was bedridden because of poor health, Xia was introduced to Christianity and then Buddhism. Five years later, he was offered a temporary teaching position at a Sitong high school. During his eight years there, he developed a strong aversion to the exam-oriented teaching the school practised.
He had been a good student himself, he says, and wanted to go to Peking University to study international politics. However, weeks of intense, round-the-clock preparation for the national college entrance exam affected his health. He was running a high fever and was unable to stand on the three days of the exams.
So, in 1996, when he had borrowed enough money to set up his own school, he wanted to try something different: he would run a Mao-style school, where students learn to endure hardship and exams would not be a priority.
A trip to Nanjie, a Maoist village 150 kilometres away from his own, earlier that year had revived his belief in Mao thought. Known for its staunch adherence to Maoist egalitarian principles, Nanjie shot to fame in the mid-80s by collectivising its agriculture and industry when the rest of the country was moving in the opposite direction, following directions set out by Deng Xiaoping.
2,000 square metres. The two-storey building that Xia has built over the years includes 50 rooms designed as classrooms and dormitories. At one end of the campus there is a pigsty and a chicken house. Geese and chickens roam free around the school. Outside the front gate is a large vegetable garden that belongs to the school.
Xia's wife, Mrs Wang, cooks for everyone. On Mao's anniversaries, she cooks meat for the students. Today, for instance, their breakfast includes a small pack of milk and, in their white gourd dish, a tiny piece of meat.
The school is on the list of government-approved educational institutions. Every year, like every other school, Xia's receives from the local education administration funds to help cover costs. The amount given to each school is determined by enrolment and Democracy gets about 40,000 yuan (HK$50,500).
Xia charges exceptionally low fees - just 1,000 yuan per year for each student - which covers food and accommodation and is half or one-third of fees at other schools. At its height, Democracy School accommodated nearly 600 students, but this year, just 20 have returned.
"Students with good learning abilities do not come to our school," says Xia. "Their parents do not agree with our teaching and feel that the future of their children will be ruined if they send their kids here."
Most of the classrooms and dormitories are unoccupied now; they have uneven brick floors, are poorly lit and contain broken tables and chairs.
The remaining students range from preschoolers to those in their mid-teens. Among them are a few mentally retarded children as well as problem youngsters other schools refuse to accept.
Sitong (literally "reaching to all directions") is at the junction of four counties. Once you leave the highway and enter the town, it feels like a different world. Rubbish is piled up on the streets. Because it is remote, the town is known as a haven for couples violating the one-child policy. Some families here include four or five children.
These runaway families are often poor and some cannot afford to send their children anywhere but Democracy School.
Nevertheless, numbers are dropping rapidly, a situation caused by the migration of children with their parents to cities and Xia's inability to stop his teachers from leaving, the principal says.
"Sixty per cent of rural schools have closed down in recent years," he says. "Schools in cities have more capital. We have nothing."
He has just three full-time teaching staff.
Xia admits he is out of step with modern China. He rarely uses a computer because, he says, they make him dizzy. Since he started to use a mobile phone two years ago, he has been able to receive daily news updates - and messages from people who ridicule his school.
"I don't have time to deal with that," he says. "The world has come to a dead end. Only Mao's thought can save us."
Xia is aware many people hold less flattering opinions of Mao, which, he suspects, have been disseminated by the CIA.
"The Americans are smart," he says. "They demonise Mao and mess up our country."
Guo Yuhua, a professor of sociology who studies rural China at Tsinghua University, believes that Xia's little red school is doomed: "It is true that we have lots of problems in our schools but what he does has completely departed from the principles of education," she says in a telephone interview. "This is brainwashing and indoctrinating his students with wrong ideology. This amounts to committing a crime against the young generation.
"Tens of millions lost their lives in the Mao era. Where is the justice and equality?" she asks.
Nevertheless, Xia is confident his school will survive with a blessing from beyond the grave. On December 26, the 120th anniversary of Mao's birth, he will hold a bigger ceremony.
"We'll celebrate it like a festival," says Xia. "There will be fireworks and the students will recite Mao's poems"; 20 young voices harking back to a harsher time.
This article appeared in the South China Morning Post print edition as: Mao 101