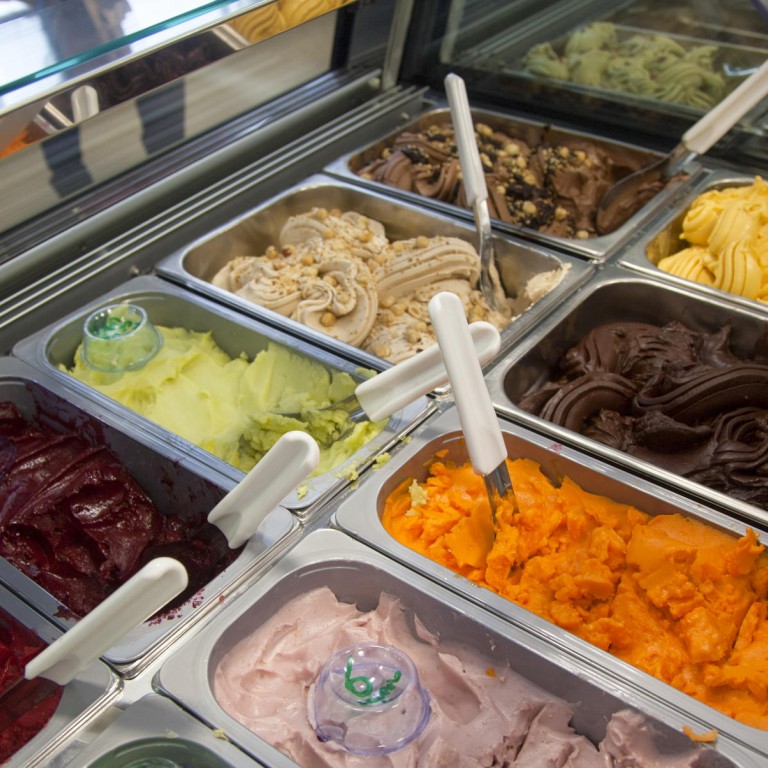 School of cool: study Italy's most famous dessert at Carpigiani Gelato University
Bologna institute offers students from all over the world the inside scoop on Italy's favourite treat - just don't call it ice cream, writes Gary Jones
Home to the first university in Europe, and seemingly a magnet for nicknames, the enchanting city of Bologna is affectionately referred to in Italy as , or "the learned one". It has also been dubbed - "the fat one" - in recognition of the local appetite for eating exceptionally well.
Bologna, then, is the perfect place in which to get to grips with the science behind Italy's favourite feel-good treat.
Established much more recently than the venerable University of Bologna (which opened in 1088), the Carpigiani Gelato University (founded in 2003) lies just outside the capital city of the affluent Emilia-Romagna region of northern Italy. It's the world's fore-most educational institution for learn-ing to make high-quality gelato like an old-school Italian artisan, and I've signed up for the first module in its month-long "Become a Gelatiere" training programme.
Over five days I will sample more frozen dessert than in my previous five years. I'll swoon over vanilla, hazelnut, pistachio, tiramisu, coffee, chocolate, almond, milk (think chocolate chip, but not quite) and other flavours, and melt over sorbets of the orange, strawberry, banana, pineapple, "kibana" (kiwi and banana) and raspberry variety.
In a dozen cases, under the tutelage of an Italian gelato wizard, I will rustle up the stuff myself. Sweet!
Anyone enrolling at the Carpigiani Gelato University should, before arrival, shake off any romantic ideas. There are no dreamy sessions spent rolling out recipes on the sun-kissed verandas of lovingly restored farmhouses, while sipping a fruity Brunello di Montalcino and nibbling on bruschetta. This is not a cookery course set among the fragrant olive groves of rural Tuscany.
The Carpigiani curriculum is intensive, lessons are held in a classroom and a laboratory, and the students are would-be gelato entrepreneurs from across the globe. My class of 14 includes people from Australia, Brazil, Britain, Egypt, Honduras, Indonesia, Israel, Malaysia, Saudi Arabia, Slovakia, and the United States, therefore encompassing every continent except Antarctica. The age range spans more than three decades, from a 25-year-old Indonesian called Tiffany to the august Othman, aged 58.
Backgrounds are also varied - while Othman is a veteran Saudi Arabian Airlines pilot who took voluntary redundancy in 2012, Los Angeles-based TJ is a former nurse and an occasional stand-up comedian.
All have a common goal: to start their own gelato business. Should the gang's dreams come true, coming years will see gelaterias opening in Tel Aviv, Sao Paulo, Singapore, Melbourne, Cairo and Berlin. Tiffany aims to open on Bali, while Othman plans three shops in Jeddah.
Achieving that goal will take know-how, and that's why all have journeyed from across the planet to Italy. In the coming days, gelato master Stefano Tarquinio will divulge the secrets of how to achieve refinement in gelato taste, structure and texture. He will teach us how to balance sugars and how air incorporation affects flavour intensity, spell out pasteurisation and thermal-shock techniques, and so much more. The amount of chemistry and mathematics involved is a surprise, and a calculator is essential.
Other experts are wheeled in to cover food hygiene, gelateria interior design and the economics of a gelato business. But the first thing we learn about gelato is never, ever call it ice cream.
When created by artisanal methods, insists Tarquinio, gelato is "healthy, emotional food" with a significantly lower fat content than the mass-produced confection.
Though the days of study are long, most evenings a few classmates get together for dinner, invariably meeting at Bologna's most notable landmark. The 15th-century Piazza Maggiore is a picturesque square located in the Centro Storico - the charming heart of the old city. Nearby looms the ornate Fontana di Nettuno (Fountain of Neptune), which is lorded over by an impressive 16th-century bronze statue of the Roman god of the oceans created by sculptor Giambologna.
Once all are gathered, the group wanders in search of a bustling pizzeria or a traditional osteria for an evening (the preferred Bologna tipple being an Aperol spritz) and a feed. As well as and , Bologna is also referred to as - "the red one" - and the Centro Storico's architecture boasts a palette of terracotta and cinnamon, of dusty pinks and burnt oranges. Many structures date back to the Renaissance and earlier. ( also refers Bologna's left-wing political leanings - perhaps odd considering that it's one of the wealthiest cities in Italy.)
It doesn't take long to seek out a suitable eatery - Bologna is one of the best cities in all of Italy for dining out. Over mortadella sausage, delicate prosciutto, mozzarella and fresh-pasta dishes, such as artichoke lasagne and gnocchi with courgettes (and now we know where "bolognese" came from, though the local ragu is paired here with tagliatelle, never spaghetti), the group recalls amusing highlights of the day: how one of our number attempted to fill a batch freezer with gelato mixture but, having left its door open, most of the sticky concoction was dumped over the floor; how this writer's attempts to create attractive desserts from soft-serve gelato proved a wilting disaster.
Evenings are usually concluded with a stroll through many elegant porticos in search of frozen perfection. The Centro Storico boasts about 40km of covered walkways that provide shelter from blazing sunshine in summer and snow in winter. Artisan-quality gelaterias are easy to find - Bologna has more than 300, or at least one for every 2,000 inhabitants.
According to the university's director, Kaori Ito, the taste for quality gelato is growing internationally, and the institution now caters to about 7,000 students a year. While Italians make up half of that total, and other Europeans another 30 per cent, interest from Asia and South America is on the rise. Though my lessons are conducted in English, courses are also held in Italian, French, Spanish, German and other languages. In January, classes were taught in Bologna for the first time in Putonghua, with 29 Chinese students attending. Most came from Taipei, Shanghai and Beijing.
What's more, Ito says, in Italy at least, gelato has proven recession-proof, and the economic crisis of recent years resulted in an attendance boom.
"People started looking at their lives, their jobs, and started looking for a change," she says, adding that more than a few students are mavericks who want out of the rat race.
"Many have simply decided to follow their dreams."
Turkish Airlines flies daily from Hong Kong to Istanbul, and from the Turkish city to Bologna. Alternatively, Bologna is about an hour by high-speed train from Milan, which is served daily from Hong Kong by Cathay Pacific.
This article appeared in the South China Morning Post print edition as: Cold comforts