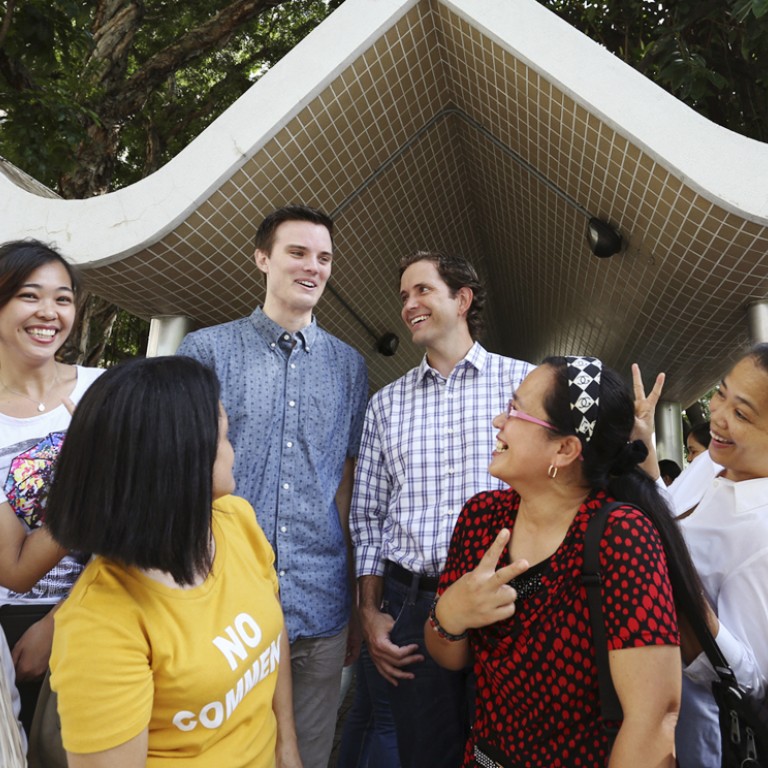 Help for the helpers: New Hong Kong employment agency aims to stamp out 'modern-day slavery'
Failed by the system, many domestic helpers are forced into debt bondage - or modern-day slavery - by unscrupulous recruiters. Now, an ethical employment agency is seeking to protect them from exploitation, writes Angharad Hampshire
''When you think of Hong Kong, you don't imagine this sort of problem," says Scott Stiles, co-founder and general manager of the Fair Employment Agency, a new not-for-profit recruitment organisation for foreign domestic workers.
The problem is debt bondage, a state in which employees - in this case foreign domestic workers or, as they are known colloquially in Hong Kong, helpers - are bound to their job or employer by debt. The United Nations refers to it as a form of "modern-day slavery".
Many helpers in Hong Kong are forced into debt by illegal placement fees. Agencies are allowed to levy a certain charge in a helper's home country. In the Philippines, these fees are for training and a medical examination. In Indonesia, a placement fee can also be charged. But, once a helper sets foot in Hong Kong, the maximum amount an agency can legally charge is 10 per cent of their first pay packet. Based on the current minimum allowable wage, that would amount to HK$401.
However, many unscrupulous agencies in Hong Kong flout this law, charging helpers placement fees of up to HK$21,000. As most cannot foot this sort of bill, they are "loaned" the money and made to pay it back at a rate of 70 per cent to 80 per cent of their monthly salary for seven or eight months. This leaves many helpers bound to their jobs by poverty and debt, making them vulnerable to abuse, overwork and other forms of mistreatment.
"Employers are often unaware of the issue, or choose to ignore the situation," says Stiles. "The root of the problem is the employment agencies overcharging. If you look at the news reports of horrible situations of abuse, for example, the recent case of Erwiana Sulistyaningsih, who was illegally charged HK$18,000, [cases of abuse] generally [involve] people who have been loaded with debt and put into a position of debt bondage.
"In order to solve these problems, you have to take the debt away to remove the pressure, so that someone who is being abused can come forward and say, 'I need out'. If we can solve the debt issue, the other problems of human trafficking and more egregious forms of abuse in Hong Kong will solve themselves."
Holly Allan is manager of Helpers for Domestic Helpers, a charity that offers free advice, counselling and guidance to maids. According to Allan, more than 60 per cent of the cases dealt with by the charity last year involved exploitation by employment agencies in Hong Kong.
"Foreign domestic workers are often required to enter into a loan agreement in order to finance illegal placement fees," says Allan. "Most foreign domestic workers say they cannot get a job in Hong Kong unless they agree to pay excessive fees. And agencies sometimes enlist the help of employers in collecting illegal fees by deducting these from the workers' wages and retaining their passports to ensure full payment."
These unethical and illegal practices have been going on for more than a decade, but now the Fair Employment Agency plans to level the playing field.
in 2012, on a summer internship during his final year studying finance at Brigham Young University, in Hawaii, in the United States. He joined a socially aware work-experience programme run by David Bishop, principal lecturer at the University of Hong Kong's School of Business. Bishop, a lawyer turned academic, also runs charitable organisations and feels strongly about the treatment of helpers in Hong Kong.
Bishop got talking to Stiles about his dismay with the status quo.
"I came to Hong Kong in 2007 as a lawyer and fairly early on saw the domestic helper arena as something I wanted to be involved in," Bishop says.
"After a few years of working with various organisations, I had a sense of frustration because as hard as many of these groups work - and they work very, very hard - and as much good as they do, and they do a lot of good, because of their mandate, they were not able to get ahead of the problem and be a solution. Nobody was looking at the actual root cause of the problem from a commercial perspective to try to solve it."
The problem, again, is debt bondage.
"In terms of human trafficking and migrant labour, this is the largest women's rights issue in the world and especially in Asia," says Bishop. "As Hong Kong is a commercial town, we needed to find a creative, commercial solution to fix this large social issue.
"It is pretty clear the primary issue is the agencies and the secondary issue is the moneylenders that collaborate with the agencies," he continues. "So, the initial plan was to create a domestic helper agency and micro-lending platform. It takes time to do both so we are currently focusing on the primary element, the agency."
Stiles returned to Hawaii to finish his degree fuelled by a passion to make a difference. He wrote a detailed business plan for an ethical, non-profit agency and sent it to Bishop.
Bishop forwarded the plan to Helpers for Domestic Helpers, where it landed in the hands of Tammy Baltz, a management consultant who had been volunteering at the charity for more than a decade. She, too, was trying to work out a way to prevent agencies overcharging helpers. The three met in September last year and the Fair Employment Agency was born.
A social enterprise with a charitable mission, its directors receive no remuneration, there are no dividends and there are restrictions about the distribution of capital. It is the first agency of its kind in Hong Kong.
"Our slogan is 'Fair to Workers, Fair to Employers, Fair to Hong Kong'," says Bishop. "Currently, all three groups are being taken advantage of. Domestic workers are being loaded with illegal debt, employers are paying money for a service that is not as good as it should be, and they are participating in trafficking unknowingly or against their will. And then you have the Hong Kong people who are being criticised by the global media for the marginal cases like [that of] Erwiana Sulistyaningsih.
"Our goal is to right the wrongs on each side. The best way to do that is to solve the debt problem."
The agency will charge standard service fees, about HK$8,000 paid by the employer for the full service of sourcing, vetting and placing a helper. Its office in Wan Chai will be run by Stiles and two or three other full-time members of staff, plus students from Bishop's internship scheme at HKU. A soft launch is planned for this Friday, with the doors opening fully on September 15. The trio are funding the start-up out of their own pockets and they expect the enterprise to quickly become self-sustaining.
"The helpers will pay for their training, but we are sourcing that at a reasonable rate," says Stiles. "We won't charge them 10 per cent of their first pay packet as, while that is legal in Hong Kong, it is against the United Nations' International Labour Organisation standards.
"We view ILO standards as the model we want to follow and work towards. We will also be very careful to get a good match between employer and employee. Often, agencies which charge these illegal fees are incentivised to place a mismatch because then they can replace the helper later and get more illegal fees."
make up about 3 per cent of Hong Kong's population. Last year, there were about 320,000 helpers, of which 50 per cent were from the Philippines, 47 per cent from Indonesia and the rest from Thailand, Myanmar, Bangladesh, Nepal, Pakistan and Sri Lanka. There are 2,664 licensed agencies operating in Hong Kong, of which 1,276 provide placement services for helpers.
Rina Padillia (not her real name), a Filipino helper, signed a contract last year with an agency in Hong Kong. On arrival, it charged her HK$3,000 for her placement, more than seven times the legal amount. The agency did not issue her with a receipt, thus leaving no paper trail, which makes it very difficult for authorities and NGOs to combat the practice.
In March this year, Padillia's contract was terminated after she began experiencing health problems due to smoking in the household. She had been promised it was a no-smoking house.
Mr Wong, the director of the agency, then asked for another HK$1,000 to find her a new employer and withheld her passport. Both of these actions are illegal. She was told that if she wanted her passport back, she would have to pay another HK$500 - also illegal.
On top of this, the agency retained one of her bags. She was told it had been disposed of - once a helper's contract has been terminated, they often have no alternative but to leave their belongings in the care of the agency while they seek accommodation. Inside the bag was her original contract, wallet with her ATM card, jewellery and clothes.
Padillia sought help from Helpers for Domestic Helpers. She was advised to call the police to help her retrieve her passport, a move that was successful. The charity also helped her to file a case at the Small Claims Tribunal for the HK$9,908 owed to her by the agency covering the illegal fees collected and the value of her unreturned luggage. No one from the agency attended the hearing and the tribunal found in Padillia's favour.
However, instead of paying the money owed, the agency is now contesting the case, a common delay tactic, according to Allan.
These processes are time consuming. Padillia has now outstayed her working visa. Despite the fact she has court cases scheduled for August and September against both the agency and her previous employer, who still owes her money in unpaid wages, the Immigration Department has been extending her visa for only three or four days at a time at a cost of HK$160 for each application.
During the most recent application, her seventh such extension, Padillia was told that she would not be issued another visa and was advised to fly back to the Philippines and return for the court cases. As a general rule, litigant foreign domestic workers such as Padillia are not permitted to work pending court cases and are forced to rely on the charity of friends.
When Padillia explained to the immigration officer that she cannot afford to fly backwards and forwards to Hong Kong for each court case, she was told this was "her problem".
Ultimately, this means the agency will likely get away with not returning her money. Padillia has lost her job and it looks like she will return home more than HK$10,000 poorer than when she arrived, despite having worked here for five months. Sadly, her story is not an unusual one.
The Employment Agencies Administration (EAA) is the section of the Labour Department tasked with regulating and investigating offending agencies and ensuring they act within the law.
Queenie Wong Ting-chi is a senior administrative officer at the Policy Support division of the Labour Department. She looks after policy and supervises the EAA.
"We are very serious about the overcharging," says Wong. "I would recommend [helpers] come to the EAA and report the case as soon as possible because, according to the Magistrates Ordinance, there's a six-month time bar for overcharging offences.
"If they come forward as soon as possible and, in particular, if they can produce some evidence, then it will help a lot. We would like to have them act as a prosecution witness because in Hong Kong we practise the rule of law. We need them to be a prosecution witness to secure a higher chance of successful prosecution."
The EAA has received 93 complaints from helpers so far this year. Out of those it has prosecuted just three. Often there is a lack of hard evidence, as agencies are careful not to leave a paper trail of their wrongdoing.
Only one agency prosecuted for overcharging has been convicted. The other two were convicted for operating without a licence.
"According to our law, the maximum fine is HK$50,000 for overcharging," says Wong. "If [an agency] is convicted of overcharging, we will consider revoking the licence."
Allan highlights the problems helpers face when they try to seek recompense: "Despite numerous complaints, very few offending agencies have been prosecuted. Either due to lack of resources or political will, not enough efforts have been made to tackle the problem of exploitation by employment agencies. It is often left to the victims to obtain and provide evidence of the agencies' illegal activities, which is extremely difficult for them to do because the agencies cover their tracks. The EAA has the power to inspect the records of agencies but [helpers] are often discouraged from pursuing their complaints even before an investigation is initiated by the EAA."
Such was the case when Padillia went to file a complaint at the EAA. The duty officer advised her that her case was "weak" and warned her that the head of the agency was a "very tough guy, not an easy guy".
Despite this, Padillia decided to pursue the claim and made a statement. Nearly four months later, she received a letter from the EAA stating, "We could not find any concrete evidence showing that the agency had breached our regulations. As such, our department would not take further action regarding this case."
"I just wish the EAA would investigate properly because, if they don't, other domestic helpers will go to them and become victims like me," says Padillia.
Allan despairs. "This is the second time in recent months that a client of Helpers for Domestic Helpers has filed a complaint at the EAA against this particular agency," she says. "In fact, the owner has pleaded guilty to operating without a licence, and yet they continue to operate freely. I cannot help but feel that the system is failing."
She explains further why the odds are stacked against these workers. "A [helper] can file a claim with the Small Claims Tribunal but it is difficult to do this if she is still employed as few employers will allow her to take time off from work to take this action.
"If a [helper] files the claim after being dismissed from her job, the two-week-rule [which states a helper must leave Hong Kong within 14 days of her job being terminated] makes it difficult for her to obtain an extension of stay to pursue her claim. Even if she is allowed to stay … she would generally not be permitted to take up employment. Many [helpers] therefore abandon their claims as they cannot afford to sustain themselves during the litigation."
Bishop is positive about Hong Kong's ability to change. "Taiwan has these issues; Singapore has these issues; Malaysia and the Middle East have these issues. However, Hong Kong is a fertile ground for change because it adheres to the rule of law and there are good laws in place, they just need to be enforced transparently," he says.
"Hong Kong has a wonderful, educated population who can understand the issues. Hong Kong has domestic helpers that, for the most part, are talented and here because they want to be here - it's a top destination in Asia. In the past, Hong Kong has been an example of good practices and it can be again."
Ultimately, the Fair Employment Agency team hopes to set up an accreditation programme to give the ethical stamp of approval to other agencies in Hong Kong. They are also working on the second element of their plan - founding a microfinance company in Hong Kong.
Kaire Capital will be the first of its kind, providing helpers with an alternative to loan sharks.
"Ethical recruiters like the Fair Employment Agency are the obvious solution to address the issue of debt bondage," says Allan. "They offer an alternative to agencies whose only goal is to maximise profit at the expense of [the helpers]. In addition to strictly complying with laws and regulations, the Fair Employment Agency will also strive to ensure that the [helpers] they recruit have the right skills that match the needs and requirements of the employers that hire them. It's a win-win situation."
"We think the business will be able to … expand because it's a good idea and meets a clear market need," says Stiles.
"However, our goal is to change the environment, not make money. In the best possible world, we wouldn't need to be here in 10 years."
This article appeared in the South China Morning Post print edition as: Maid to pay