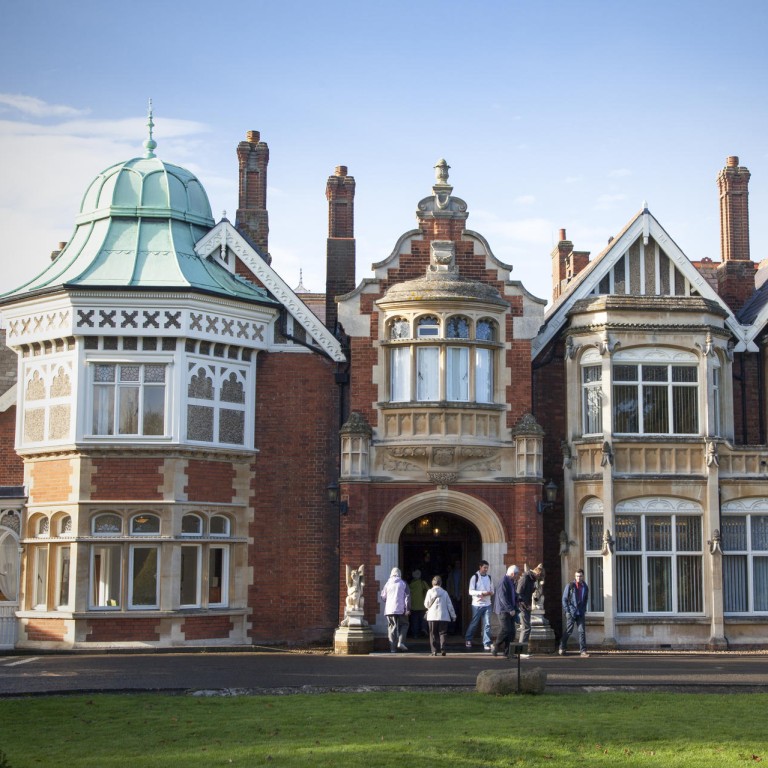 Bletchley Park: now you can decode the enigma of country-estate cipher school
Bletchley Park, where Alan Turing's genius helped cut short a war, is no longer a secret as visitors flock to Britain's famous codebreaking site, writes Gary Jones
"Filming at Bletchley Park was amazing," actor Benedict Cumberbatch said of his leading-man role in . Based on the true story of pioneering computer scientist Alan Turing, the multiple Oscar-nominated movie depicts a race against time to decipher secret German military communications during the second world war. "It really was very special. You really feel like you're playing slightly with ghosts."
Secreted away on the edge of London satellite town Milton Keynes, the low-key country estate of Bletchley Park attracted close to 200,000 visitors from around the world last year. On a crisp and windless winter's morning, however, it is placid and hushed. The manicured lawns are inviting, but their wooden picnic tables rest empty under a crystal-blue sky.
A primary-school outing of tousle-haired children marches past and a lone coot weaves among the grey-brown rushes of the grounds' centrepiece lake. The chimneys and oxidised-copper roof turret of the Victorian mansion opposite - the wartime headquarters of the British Government Code and Cypher School (GC&CS) - are reflected in the dark water. It is difficult to appreciate the full magnitude of what was achieved here.
"By the end of the war, the facility employed about 10,500 people," says Bletchley Park duty manager Dr Joel Greenberg. By then the codebreakers of GC&CS were processing tens of thousands of covert messages every day. It is estimated that their labours shortened the war by two years, possibly saving hundreds of thousands of lives. "There were 8,500 working on the site on a day-to-day basis," adds Greenberg, "and several thousand at surrounding outstations within commuting distance, all working on a three eight-hour shift system."
All Bletchley Park staff had signed the Official Secrets Act, and none were permitted to speak publicly of their work, even after the war. Britain's wartime prime minister, Winston Churchill, referred to them as "the geese that laid the golden eggs and never cackled".
Such large-scale military snooping had been made possible by the purchase of the 22-hectare site by British intelligence agency MI6 for £6,000 in 1938, and the efforts of Turing and other tweedy, brilliant but frequently eccentric mathematicians, chess wizards and puzzle-solving prodigies who had been commandeered by the GC&CS in the early years of the war. They laid the groundwork for what Greenberg calls the "truly industrialised" codebreaking at Bletchley. Their achievement was astounding.
Turing's cumbersome, clacking and mind-bogglingly complex bombe contraption helped to read messages encrypted by Germany's Enigma cipher system, which had been invented at the end of the first world war. Technological advances were made through the years and, by 1939, an Enigma machine could be configured in an astonishing 150 million, million, million different ways (the current probability of winning first prize in the Mark Six lottery, by comparison, is 14 million to one).
To make life even trickier, Enigma machines were always reconfigured at midnight - each day, any discovery made in the previous 24 hours at Bletchley Park was, therefore, rendered useless, and the quest would start again.
Much of the laborious and profoundly stressful intelligence-gathering - real lives were at stake and minutes counted - took place in swiftly thrown-up huts ("Glorified garden sheds," according to Bletchley Park chief executive Iain Standen), a number of which have been restored to their wartime condition thanks to an £8 million (HK$94 million) British National Lottery-funded grant.
With their utilitarian, no-frills interiors and bare wooden floors, life in the huts would have been bleak in the 1940s, not to mention mighty chilly in winter. A number have been restored to look and feel exactly the same today as they did back then, with Bakelite phones, "Careless Talk" signs, double-breasted coats and fedoras hanging from racks, and ashtrays and cups of tea on overflowing desks. The day-to-day grind was clearly anything but glamorous.
"They were brought here for a specific job," says Greenberg - a historian who is also author of a biography on GC&CS codebreaker Gordon Welchman, who made improvements to Turing's bombe - of the average Bletchley Park worker during hostilities. "It was like working in a factory: they had specific tasks to do, and the vast majority had no idea about what they were actually doing."
Away from the huts, Bletchley Park's brick-built Block B houses the main collection of exhibits relating to codebreaking efforts, including the world's only fully operational bombe rebuild and a life-size statue of Turing - brooding over an Enigma machine - created by British sculptor Stephen Kettle from half a million stacked slivers of grey slate.
As well as German communications, Bletchley Park was involved in Japanese codebreaking. (Initially, the GC&CS's Far East Combined Bureau, tasked with intercepting and cracking Japanese naval codes, had operated out of Hong Kong, before moving to Singapore in 1939, and further afield with the Japanese advance.) This was originally carried out at Hut 7 at Bletchley, but in 1943 Japanese operations were heavily expanded, and were nicknamed "the Burma Road", after the 1,150km Allied supply line from China to Burma.
As well as a Tirpitz Enigma machine, designed for carrying messages between Germany and Japan, exhibits in Block B include Japanese-language flash cards and exercise books used by Bletchley Park staff charged with mastering basic Japanese-language skills in mere weeks, and a Japanese flag that probably belonged to a kamikaze soldier. Messages handwritten on the flag include, "I'm sure we will win", "Loyalty and courage", "Let's beat America and England", and "At least I shall kill one enemy for the emperor".
Essentially a historical thriller-cum-biopic, centres on Turing, whose short life ended tragically. Prosecuted in 1952 for homosexual acts (then still criminalised in Britain), he accepted chemical castration as an alternative to prison, and died in 1954, at the age of 41, from cyanide poisoning. Turing's death was recorded as suicide.
The full story of Bletchley Park, however, is the story of thousands of people, and though their work was demanding, it wasn't all algebra and gloom. At the height of its codebreaking exertions, the facility hosted its own drama group, staging productions such as Shakespeare's , and the tennis court would have seen a steady flow of white-togged fitness fanatics. There was a popular chess club (naturally), a billiard room, a Scottish dancing society and more. With most staff in their early 20s, romances blossomed.
"To work where these people breathed, lived, loved, worked, struggled, kept secrets, were quietly, stoically heroic," Cumberbatch concluded, "was overwhelming."
Bletchley railway station can be reached from London Euston. The park entrance is about 100 yards from the station. For opening times and more information, see
www.bletchleypark.org.uk
.
This article appeared in the South China Morning Post print edition as: Open secrets